Speak With a Battery Expert Near You
Find an Expert
Commercial Batteries and Solutions
Doing business with Interstate All Battery Center® means you get more than a battery. You also get the Interstate Advantage™. Whether you're part of a large, national company needing centralized billing and local service or a small locally owned business, we have the people, products and processes to meet your needs.
How can we help you?
Would you like to find out more about specific products and services or open a business account? We're ready to help.
Contact Us
Our company is built on a 65-year legacy of integrity.
PEOPLE YOU CAN COUNT ON MEANS PEACE OF MIND.
We're local, know your needs and provide
FAST, JUST-IN-TIME DELIVERY.
We're more than specs, we're industry specialists.
YOU HAVE A PARTNER, NOT JUST A P.O. NUMBER.
Top quality batteries at competitive prices ensure
LESS DOWNTIME AND MORE PRODUCTIVITY.
Our industry-leading recycling programs help you
ACHIEVE SUSTAINABILITY AND COMPLIANCE.
Industries We Serve
Click on the icons below to discover the products and expertise we bring to these industries: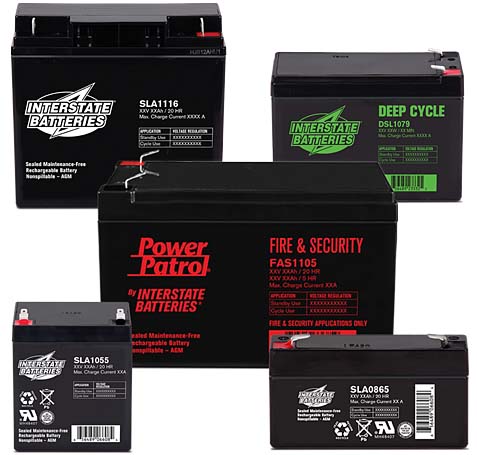 The right expertise.
The right battery.

The right buy for your business.
As industry experts and local service partners, we make sure you get the right sealed lead-acid (SLA) battery for your device – and your business. We consider all of our expectations from performance to service schedules, and more. Our 7-Point Quality Assurance process ensures every battery is tested – and can be trusted – like no other brand.