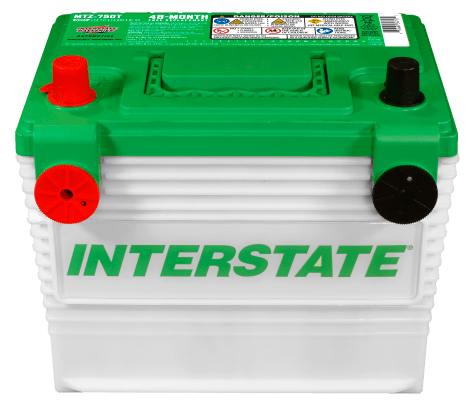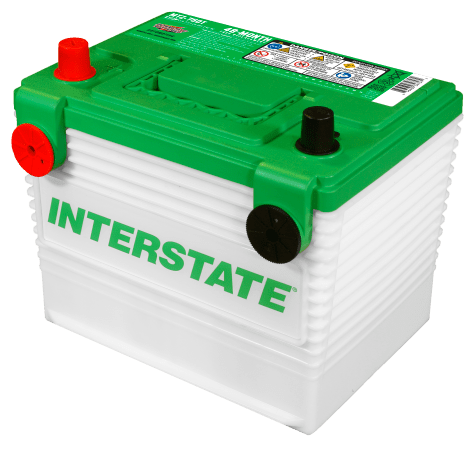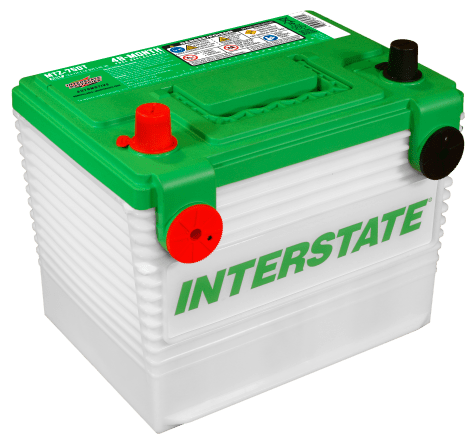 MTZ-75DT
Group Size 7586
715 Cold Cranking Amps (CCA)
48 Month Warranty
715 Cold Cranking Amps (CCA)
Group Size 7586
Mounting Flexiblity
Absorbed Glass-Mat (AGM)
Almost 3X the life of conventional flooded batteries
40% more cranking power
Plenty of power for accessories and plug-ins - even while the engine is off
48 Month Warranty
Free Replacement Warranty and Long Life Performance
Does This Battery Fit My Automobile
This Battery Fits Your Vehicle.
This Battery Does Not Fit Your Vehicle.
Suggested batteries for this vehicle, Click Here!
Enter your vehicle information
Find This Battery Near You
Hours of Operation
Contact Store For Hours of Operation
Description
The Interstate MTZ absorbed glass-mat AGM car battery with Pure Matrix™ power feeds power-hungry vehicles while serving up powerful engine starts. With a 48-month free replacement warranty and longest-life performance, this car battery delivers lasting power for today's high-accessory vehicles and motorists who use plug-ins such as DVD players, phone chargers and GPS devices.
Specifications
MTZ-75DT

7586

715

895

90 minutes

50

9 7/16 inches
7 inches

7 15/16 inches

BOTH TOP POST & SIDE POST

12

D

Pure Lead AGM
Warranty
View warranty by purchase date.
For countries outside the U.S. and Canada, including Puerto Rico, please contact your local dealer for warranties and product availability.
This Battery Also Fits These Vehicles
Acura
1998 Acura TL
1997 Acura TL
1996 Acura TL
Alfa Romeo
1994 Alfa Romeo Spider
1993 Alfa Romeo Spider
1992 Alfa Romeo Spider
1991 Alfa Romeo Spider
American Motors
1980 American Motors Eagle
1980 American Motors Pacer
1979 American Motors AMX
1979 American Motors Concord
1979 American Motors Pacer
1979 American Motors Spirit
1978 American Motors AMX
1978 American Motors Concord
1978 American Motors Gremlin
1978 American Motors Matador
1978 American Motors Pacer
1977 American Motors Gremlin
1977 American Motors Hornet
1977 American Motors Matador
1977 American Motors Pacer
1976 American Motors Gremlin
1976 American Motors Hornet
1976 American Motors Matador
1976 American Motors Pacer
1975 American Motors Gremlin
1975 American Motors Hornet
1975 American Motors Matador
1975 American Motors Pacer
1974 American Motors Ambassador
1974 American Motors Gremlin
1974 American Motors Hornet
1974 American Motors Javelin
1974 American Motors Matador
1973 American Motors Ambassador
1973 American Motors Gremlin
1973 American Motors Hornet
1973 American Motors Javelin
1973 American Motors Matador
1972 American Motors Ambassador
1972 American Motors Gremlin
1972 American Motors Hornet
1972 American Motors Javelin
1972 American Motors Matador
1971 American Motors Ambassador
1971 American Motors Gremlin
1971 American Motors Hornet
1971 American Motors Javelin
1971 American Motors Matador
1970 American Motors Ambassador
1970 American Motors Gremlin
1970 American Motors Hornet
1970 American Motors Javelin
1970 American Motors Rebel
1969 American Motors Ambassador
1969 American Motors Javelin
1969 American Motors Rambler
1969 American Motors Rebel
1968 American Motors Javelin
1968 American Motors Rebel
1967 American Motors Rebel
1960 American Motors Rambler
1959 American Motors Rambler
1958 American Motors Rambler
Asuna
1993 Asuna Sunrunner
1992 Asuna Sunrunner
BMW
1976 BMW 3.0Si
1975 BMW 3.0Si
1974 BMW 2002tii
1974 BMW 3.0CS
1974 BMW 3.0CSi
1974 BMW 3.0S
1973 BMW 2002tii
1973 BMW 3.0CS
1973 BMW 3.0CSi
1973 BMW 3.0S
1972 BMW 2000tii
1972 BMW 2002tii
1972 BMW 3.0CS
1972 BMW 3.0CSi
1972 BMW 3.0S
1971 BMW 1600
1971 BMW 1600-2
1971 BMW 1602
1971 BMW 1800
1971 BMW 2000tii
1971 BMW 2002tii
1971 BMW 2500
1971 BMW 2800
1971 BMW 2800CS
1971 BMW 3.0CS
1971 BMW 3.0CSi
1971 BMW 3.0CSL
1971 BMW 3.0S
1971 BMW 3.0Si
1970 BMW 1600
1970 BMW 1600-2
1970 BMW 1602
1970 BMW 1800
1970 BMW 2000c
1970 BMW 2000cs
1970 BMW 2000ti
1970 BMW 2000tii
1970 BMW 2500
1970 BMW 2800
1970 BMW 2800CS
1969 BMW 1600
1969 BMW 1600-2
1969 BMW 1602
1969 BMW 1800
1969 BMW 2000ti
1969 BMW 2000tii
1969 BMW 2500
1969 BMW 2800
1969 BMW 2800CS
1968 BMW 1600ti
1968 BMW 1602
1968 BMW 2000ti
1968 BMW 2500
1968 BMW 2800CS
Buick
1998 Buick Skylark
1997 Buick Skylark
1996 Buick Century
1996 Buick Skylark
1995 Buick Century
1995 Buick Regal
1995 Buick Skylark
1994 Buick Century
1994 Buick LeSabre
1994 Buick Regal
1994 Buick Roadmaster
1994 Buick Skylark
1993 Buick Century
1993 Buick LeSabre
1993 Buick Park Avenue
1993 Buick Regal
1993 Buick Roadmaster
1993 Buick Skylark
1992 Buick Century
1992 Buick LeSabre
1992 Buick Park Avenue
1992 Buick Regal
1992 Buick Roadmaster
1992 Buick Skylark
1991 Buick Century
1991 Buick LeSabre
1991 Buick Park Avenue
1991 Buick Regal
1991 Buick Roadmaster
1991 Buick Skylark
1990 Buick Century
1990 Buick Electra
1990 Buick LeSabre
1990 Buick Regal
1990 Buick Skylark
1989 Buick Century
1989 Buick Electra
1989 Buick LeSabre
1989 Buick Regal
1989 Buick Skyhawk
1989 Buick Skylark
1988 Buick Century
1988 Buick Electra
1988 Buick LeSabre
1988 Buick Regal
1988 Buick Skyhawk
1988 Buick Skylark
1987 Buick Century
1987 Buick Electra
1987 Buick LeSabre
1987 Buick Regal
1987 Buick Skyhawk
1987 Buick Skylark
1987 Buick Somerset
1986 Buick Century
1986 Buick Electra
1986 Buick LeSabre
1986 Buick Regal
1986 Buick Skyhawk
1986 Buick Skylark
1986 Buick Somerset
1985 Buick Century
1985 Buick Electra
1985 Buick LeSabre
1985 Buick Regal
1985 Buick Riviera
1985 Buick Skyhawk
1985 Buick Skylark
1985 Buick Somerset Regal
1984 Buick Century
1984 Buick Electra
1984 Buick LeSabre
1984 Buick Regal
1984 Buick Riviera
1984 Buick Skyhawk
1984 Buick Skylark
1983 Buick Century
1983 Buick Electra
1983 Buick Estate Wagon
1983 Buick LeSabre
1983 Buick Regal
1983 Buick Riviera
1983 Buick Skyhawk
1983 Buick Skylark
1982 Buick Century
1982 Buick Electra
1982 Buick Estate Wagon
1982 Buick LeSabre
1982 Buick Regal
1982 Buick Riviera
1982 Buick Skyhawk
1982 Buick Skylark
1981 Buick Century
1981 Buick Electra
1981 Buick Estate Wagon
1981 Buick LeSabre
1981 Buick Regal
1981 Buick Riviera
1981 Buick Skylark
1980 Buick Century
1980 Buick Electra
1980 Buick Estate Wagon
1980 Buick LeSabre
1980 Buick Regal
1980 Buick Riviera
1980 Buick Skyhawk
1980 Buick Skylark
1979 Buick Century
1979 Buick Electra
1979 Buick LeSabre
1979 Buick Regal
1979 Buick Riviera
1979 Buick Skyhawk
1979 Buick Skylark
1978 Buick Century
1978 Buick Electra
1978 Buick LeSabre
1978 Buick Regal
1978 Buick Riviera
1978 Buick Skyhawk
1978 Buick Skylark
1977 Buick Century
1977 Buick Electra
1977 Buick LeSabre
1977 Buick Regal
1977 Buick Riviera
1977 Buick Skyhawk
1977 Buick Skylark
1976 Buick Century
1976 Buick Electra
1976 Buick LeSabre
1976 Buick Regal
1976 Buick Skyhawk
1976 Buick Skylark
1975 Buick Apollo
1975 Buick Century
1975 Buick LeSabre
1975 Buick Regal
1975 Buick Skyhawk
1975 Buick Skylark
1974 Buick Apollo
1973 Buick Apollo
1971 Buick Skylark
1970 Buick Skylark
1969 Buick Skylark
1969 Buick Special
1968 Buick Skylark
1968 Buick Special
1967 Buick Skylark
1967 Buick Special
1966 Buick Skylark
1966 Buick Special
1965 Buick Skylark
1964 Buick Skylark
1963 Buick Special
1962 Buick Special
1961 Buick Special
Cadillac
1983 Cadillac Cimarron
1982 Cadillac Cimarron
1982 Cadillac DeVille
1982 Cadillac Eldorado
1982 Cadillac Fleetwood
1982 Cadillac Seville
1981 Cadillac DeVille
1981 Cadillac Eldorado
1981 Cadillac Fleetwood
1981 Cadillac Seville
1980 Cadillac DeVille
1980 Cadillac Eldorado
1980 Cadillac Fleetwood
1980 Cadillac Seville
1978 Cadillac DeVille
1978 Cadillac Eldorado
1978 Cadillac Fleetwood
1978 Cadillac Seville
1977 Cadillac DeVille
1977 Cadillac Eldorado
1977 Cadillac Seville
1976 Cadillac Calais
1976 Cadillac DeVille
1976 Cadillac Eldorado
1976 Cadillac Fleetwood
1976 Cadillac Seville
Chevrolet
2007 Chevrolet Malibu
2007 Chevrolet Monte Carlo
2005 Chevrolet Blazer
2004 Chevrolet Blazer
2004 Chevrolet S10
2004 Chevrolet Tracker
2003 Chevrolet Blazer
2003 Chevrolet Malibu
2003 Chevrolet S10
2003 Chevrolet Tracker
2002 Chevrolet Blazer
2002 Chevrolet Malibu
2002 Chevrolet S10
2002 Chevrolet Tracker
2001 Chevrolet Blazer
2001 Chevrolet Malibu
2001 Chevrolet S10
2001 Chevrolet Tracker
2000 Chevrolet Blazer
2000 Chevrolet Malibu
2000 Chevrolet S10
2000 Chevrolet Tracker
1999 Chevrolet Blazer
1999 Chevrolet Malibu
1999 Chevrolet Monte Carlo
1999 Chevrolet S10
1999 Chevrolet Tracker
1998 Chevrolet Blazer
1998 Chevrolet Malibu
1998 Chevrolet Monte Carlo
1998 Chevrolet S10
1998 Chevrolet Tracker
1997 Chevrolet Blazer
1997 Chevrolet Malibu
1997 Chevrolet Monte Carlo
1997 Chevrolet S10
1996 Chevrolet Blazer
1996 Chevrolet S10
1995 Chevrolet Blazer
1995 Chevrolet Camaro
1995 Chevrolet S10
1994 Chevrolet Camaro
1994 Chevrolet Caprice
1994 Chevrolet S10
1994 Chevrolet S10 Blazer
1993 Chevrolet C1500
1993 Chevrolet C2500
1993 Chevrolet C3500
1993 Chevrolet Camaro
1993 Chevrolet Caprice
1993 Chevrolet K1500
1993 Chevrolet K2500
1993 Chevrolet K3500
1993 Chevrolet S10
1993 Chevrolet S10 Blazer
1992 Chevrolet C1500
1992 Chevrolet C2500
1992 Chevrolet C3500
1992 Chevrolet Camaro
1992 Chevrolet Caprice
1992 Chevrolet K1500
1992 Chevrolet K2500
1992 Chevrolet K3500
1992 Chevrolet S10
1992 Chevrolet S10 Blazer
1991 Chevrolet C1500
1991 Chevrolet C3500
1991 Chevrolet Camaro
1991 Chevrolet Caprice
1991 Chevrolet K3500
1991 Chevrolet P30
1991 Chevrolet R1500 Suburban
1991 Chevrolet R2500 Suburban
1991 Chevrolet R3500
1991 Chevrolet S10
1991 Chevrolet S10 Blazer
1991 Chevrolet Tracker
1991 Chevrolet V1500 Suburban
1991 Chevrolet V2500 Suburban
1991 Chevrolet V3500
1990 Chevrolet Astro
1990 Chevrolet Blazer
1990 Chevrolet C1500
1990 Chevrolet C2500
1990 Chevrolet C3500
1990 Chevrolet Camaro
1990 Chevrolet Caprice
1990 Chevrolet Celebrity
1990 Chevrolet G10
1990 Chevrolet G20
1990 Chevrolet G30
1990 Chevrolet K1500
1990 Chevrolet K2500
1990 Chevrolet K3500
1990 Chevrolet P30
1990 Chevrolet R1500 Suburban
1990 Chevrolet R2500 Suburban
1990 Chevrolet R3500
1990 Chevrolet S10
1990 Chevrolet S10 Blazer
1990 Chevrolet Tracker
1990 Chevrolet V1500 Suburban
1990 Chevrolet V2500 Suburban
1990 Chevrolet V3500
1989 Chevrolet Astro
1989 Chevrolet Beretta
1989 Chevrolet Blazer
1989 Chevrolet C1500
1989 Chevrolet C2500
1989 Chevrolet C3500
1989 Chevrolet Camaro
1989 Chevrolet Caprice
1989 Chevrolet Celebrity
1989 Chevrolet Corsica
1989 Chevrolet G10
1989 Chevrolet G20
1989 Chevrolet G30
1989 Chevrolet K1500
1989 Chevrolet K2500
1989 Chevrolet K3500
1989 Chevrolet LLV
1989 Chevrolet P20
1989 Chevrolet P30
1989 Chevrolet R1500 Suburban
1989 Chevrolet R2500
1989 Chevrolet R2500 Suburban
1989 Chevrolet R3500
1989 Chevrolet S10
1989 Chevrolet S10 Blazer
1989 Chevrolet V1500 Suburban
1989 Chevrolet V2500 Suburban
1989 Chevrolet V3500
1988 Chevrolet Astro
1988 Chevrolet Beretta
1988 Chevrolet Blazer
1988 Chevrolet C1500
1988 Chevrolet C2500
1988 Chevrolet C3500
1988 Chevrolet Camaro
1988 Chevrolet Caprice
1988 Chevrolet Cavalier
1988 Chevrolet Celebrity
1988 Chevrolet Corsica
1988 Chevrolet G10
1988 Chevrolet G20
1988 Chevrolet G30
1988 Chevrolet K1500
1988 Chevrolet K2500
1988 Chevrolet K3500
1988 Chevrolet Monte Carlo
1988 Chevrolet P20
1988 Chevrolet P30
1988 Chevrolet R10 Suburban
1988 Chevrolet R20
1988 Chevrolet R20 Suburban
1988 Chevrolet R30
1988 Chevrolet S10
1988 Chevrolet S10 Blazer
1988 Chevrolet V10 Suburban
1988 Chevrolet V20 Suburban
1988 Chevrolet V30
1987 Chevrolet Astro
1987 Chevrolet Beretta
1987 Chevrolet Blazer
1987 Chevrolet Camaro
1987 Chevrolet Caprice
1987 Chevrolet Cavalier
1987 Chevrolet Celebrity
1987 Chevrolet Chevette
1987 Chevrolet Corsica
1987 Chevrolet El Camino
1987 Chevrolet G10
1987 Chevrolet G20
1987 Chevrolet G30
1987 Chevrolet Monte Carlo
1987 Chevrolet P20
1987 Chevrolet P30
1987 Chevrolet R10
1987 Chevrolet R10 Suburban
1987 Chevrolet R20
1987 Chevrolet R20 Suburban
1987 Chevrolet R30
1987 Chevrolet S10
1987 Chevrolet S10 Blazer
1987 Chevrolet V10
1987 Chevrolet V10 Suburban
1987 Chevrolet V20
1987 Chevrolet V20 Suburban
1987 Chevrolet V30
1986 Chevrolet Astro
1986 Chevrolet C10
1986 Chevrolet C10 Suburban
1986 Chevrolet C20
1986 Chevrolet C20 Suburban
1986 Chevrolet C30
1986 Chevrolet Camaro
1986 Chevrolet Caprice
1986 Chevrolet Cavalier
1986 Chevrolet Celebrity
1986 Chevrolet Chevette
1986 Chevrolet El Camino
1986 Chevrolet G10
1986 Chevrolet G20
1986 Chevrolet G30
1986 Chevrolet K10
1986 Chevrolet K10 Suburban
1986 Chevrolet K20
1986 Chevrolet K20 Suburban
1986 Chevrolet K30
1986 Chevrolet K5 Blazer
1986 Chevrolet Monte Carlo
1986 Chevrolet S10
1986 Chevrolet S10 Blazer
1985 Chevrolet Astro
1985 Chevrolet C10
1985 Chevrolet C10 Suburban
1985 Chevrolet C20
1985 Chevrolet C20 Suburban
1985 Chevrolet C30
1985 Chevrolet Camaro
1985 Chevrolet Caprice
1985 Chevrolet Cavalier
1985 Chevrolet Celebrity
1985 Chevrolet Chevette
1985 Chevrolet Citation II
1985 Chevrolet El Camino
1985 Chevrolet G10
1985 Chevrolet G20
1985 Chevrolet G30
1985 Chevrolet Impala
1985 Chevrolet K10
1985 Chevrolet K10 Suburban
1985 Chevrolet K20
1985 Chevrolet K20 Suburban
1985 Chevrolet K30
1985 Chevrolet K5 Blazer
1985 Chevrolet Monte Carlo
1985 Chevrolet P20
1985 Chevrolet P30
1985 Chevrolet S10
1985 Chevrolet S10 Blazer
1984 Chevrolet C10
1984 Chevrolet C10 Suburban
1984 Chevrolet C20
1984 Chevrolet C20 Suburban
1984 Chevrolet C30
1984 Chevrolet Camaro
1984 Chevrolet Caprice
1984 Chevrolet Cavalier
1984 Chevrolet Celebrity
1984 Chevrolet Chevette
1984 Chevrolet Citation II
1984 Chevrolet El Camino
1984 Chevrolet G10
1984 Chevrolet G20
1984 Chevrolet G30
1984 Chevrolet Impala
1984 Chevrolet K10
1984 Chevrolet K10 Suburban
1984 Chevrolet K20
1984 Chevrolet K20 Suburban
1984 Chevrolet K30
1984 Chevrolet K5 Blazer
1984 Chevrolet Monte Carlo
1984 Chevrolet P20
1984 Chevrolet P30
1984 Chevrolet S10
1984 Chevrolet S10 Blazer
1983 Chevrolet C10
1983 Chevrolet C10 Suburban
1983 Chevrolet C20
1983 Chevrolet C20 Suburban
1983 Chevrolet C30
1983 Chevrolet Camaro
1983 Chevrolet Caprice
1983 Chevrolet Cavalier
1983 Chevrolet Celebrity
1983 Chevrolet Chevette
1983 Chevrolet Citation
1983 Chevrolet El Camino
1983 Chevrolet G10
1983 Chevrolet G20
1983 Chevrolet G30
1983 Chevrolet Impala
1983 Chevrolet K10
1983 Chevrolet K10 Suburban
1983 Chevrolet K20
1983 Chevrolet K20 Suburban
1983 Chevrolet K30
1983 Chevrolet K5 Blazer
1983 Chevrolet Malibu
1983 Chevrolet Monte Carlo
1983 Chevrolet P20
1983 Chevrolet P30
1983 Chevrolet S10
1983 Chevrolet S10 Blazer
1982 Chevrolet C10
1982 Chevrolet C10 Suburban
1982 Chevrolet C20
1982 Chevrolet C20 Suburban
1982 Chevrolet C30
1982 Chevrolet Camaro
1982 Chevrolet Caprice
1982 Chevrolet Cavalier
1982 Chevrolet Celebrity
1982 Chevrolet Chevette
1982 Chevrolet Citation
1982 Chevrolet El Camino
1982 Chevrolet G10
1982 Chevrolet G20
1982 Chevrolet G30
1982 Chevrolet Impala
1982 Chevrolet K10
1982 Chevrolet K10 Suburban
1982 Chevrolet K20
1982 Chevrolet K20 Suburban
1982 Chevrolet K30
1982 Chevrolet K5 Blazer
1982 Chevrolet Malibu
1982 Chevrolet Monte Carlo
1982 Chevrolet P20
1982 Chevrolet P30
1982 Chevrolet S10
1981 Chevrolet Bel Air
1981 Chevrolet C10
1981 Chevrolet C10 Suburban
1981 Chevrolet C20
1981 Chevrolet C20 Suburban
1981 Chevrolet C30
1981 Chevrolet Camaro
1981 Chevrolet Caprice
1981 Chevrolet Chevette
1981 Chevrolet Citation
1981 Chevrolet El Camino
1981 Chevrolet G10
1981 Chevrolet G20
1981 Chevrolet G30
1981 Chevrolet Impala
1981 Chevrolet K10
1981 Chevrolet K10 Suburban
1981 Chevrolet K20
1981 Chevrolet K20 Suburban
1981 Chevrolet K30
1981 Chevrolet K5 Blazer
1981 Chevrolet Malibu
1981 Chevrolet Monte Carlo
1981 Chevrolet P20
1981 Chevrolet P30
1980 Chevrolet C10 Suburban
1980 Chevrolet C20 Suburban
1980 Chevrolet Camaro
1980 Chevrolet Caprice
1980 Chevrolet Chevette
1980 Chevrolet Citation
1980 Chevrolet Corvette
1980 Chevrolet El Camino
1980 Chevrolet G20
1980 Chevrolet Impala
1980 Chevrolet K10
1980 Chevrolet K10 Suburban
1980 Chevrolet K20
1980 Chevrolet K20 Suburban
1980 Chevrolet K30
1980 Chevrolet K5 Blazer
1980 Chevrolet Malibu
1980 Chevrolet Monte Carlo
1980 Chevrolet Monza
1980 Chevrolet P10
1980 Chevrolet P20
1980 Chevrolet P30
1979 Chevrolet C10 Suburban
1979 Chevrolet C20 Suburban
1979 Chevrolet Camaro
1979 Chevrolet Caprice
1979 Chevrolet Chevette
1979 Chevrolet Corvette
1979 Chevrolet El Camino
1979 Chevrolet Impala
1979 Chevrolet K10
1979 Chevrolet K10 Suburban
1979 Chevrolet K20
1979 Chevrolet K20 Suburban
1979 Chevrolet K30
1979 Chevrolet K5 Blazer
1979 Chevrolet Malibu
1979 Chevrolet Monte Carlo
1979 Chevrolet Monza
1979 Chevrolet Nova
1979 Chevrolet P10
1979 Chevrolet P20
1979 Chevrolet P30
1978 Chevrolet C10 Suburban
1978 Chevrolet C20 Suburban
1978 Chevrolet Camaro
1978 Chevrolet Caprice
1978 Chevrolet Chevette
1978 Chevrolet Corvette
1978 Chevrolet El Camino
1978 Chevrolet Impala
1978 Chevrolet K10
1978 Chevrolet K10 Suburban
1978 Chevrolet K20
1978 Chevrolet K20 Suburban
1978 Chevrolet K30
1978 Chevrolet K5 Blazer
1978 Chevrolet Malibu
1978 Chevrolet Monte Carlo
1978 Chevrolet Monza
1978 Chevrolet Nova
1978 Chevrolet P10
1978 Chevrolet P20
1978 Chevrolet P30
1977 Chevrolet C10
1977 Chevrolet C10 Suburban
1977 Chevrolet C20
1977 Chevrolet C20 Suburban
1977 Chevrolet C30
1977 Chevrolet Camaro
1977 Chevrolet Caprice
1977 Chevrolet Chevette
1977 Chevrolet Corvette
1977 Chevrolet El Camino
1977 Chevrolet G10
1977 Chevrolet G20
1977 Chevrolet G30
1977 Chevrolet Impala
1977 Chevrolet K10
1977 Chevrolet K10 Suburban
1977 Chevrolet K20
1977 Chevrolet K20 Suburban
1977 Chevrolet K30
1977 Chevrolet K5 Blazer
1977 Chevrolet Malibu
1977 Chevrolet Monte Carlo
1977 Chevrolet Monza
1977 Chevrolet Nova
1977 Chevrolet P10
1977 Chevrolet P20
1977 Chevrolet P30
1977 Chevrolet Vega
1976 Chevrolet C10 Suburban
1976 Chevrolet C20 Suburban
1976 Chevrolet Camaro
1976 Chevrolet Caprice
1976 Chevrolet Chevette
1976 Chevrolet Corvette
1976 Chevrolet El Camino
1976 Chevrolet G10
1976 Chevrolet G20
1976 Chevrolet Impala
1976 Chevrolet K10
1976 Chevrolet K10 Suburban
1976 Chevrolet K20
1976 Chevrolet K20 Suburban
1976 Chevrolet K5 Blazer
1976 Chevrolet Laguna
1976 Chevrolet Malibu
1976 Chevrolet Monte Carlo
1976 Chevrolet Monza
1976 Chevrolet Nova
1976 Chevrolet P10
1976 Chevrolet P20
1976 Chevrolet P30
1976 Chevrolet Vega
1975 Chevrolet C10 Suburban
1975 Chevrolet C20 Suburban
1975 Chevrolet Camaro
1975 Chevrolet Corvette
1975 Chevrolet El Camino
1975 Chevrolet K10
1975 Chevrolet K10 Suburban
1975 Chevrolet K20
1975 Chevrolet K20 Suburban
1975 Chevrolet K5 Blazer
1975 Chevrolet Malibu
1975 Chevrolet Monte Carlo
1975 Chevrolet Monza
1975 Chevrolet Nova
1975 Chevrolet P10
1975 Chevrolet P20
1975 Chevrolet Vega
1974 Chevrolet Blazer
1974 Chevrolet C10 Pickup
1974 Chevrolet C10 Suburban
1974 Chevrolet C20 Pickup
1974 Chevrolet C20 Suburban
1974 Chevrolet C30 Pickup
1974 Chevrolet Camaro
1974 Chevrolet Caprice
1974 Chevrolet Corvette
1974 Chevrolet El Camino
1974 Chevrolet G10 Van
1974 Chevrolet G20 Van
1974 Chevrolet G30 Van
1974 Chevrolet Impala
1974 Chevrolet K10 Pickup
1974 Chevrolet K10 Suburban
1974 Chevrolet K20 Pickup
1974 Chevrolet K20 Suburban
1974 Chevrolet K30 Pickup
1974 Chevrolet Malibu
1974 Chevrolet Monte Carlo
1974 Chevrolet Nova
1974 Chevrolet P10 Van
1974 Chevrolet P20 Van
1974 Chevrolet P30 Van
1974 Chevrolet Vega
1973 Chevrolet Bel Air
1973 Chevrolet Blazer
1973 Chevrolet C10 Pickup
1973 Chevrolet C10 Suburban
1973 Chevrolet C20 Pickup
1973 Chevrolet C20 Suburban
1973 Chevrolet C30 Pickup
1973 Chevrolet Camaro
1973 Chevrolet Caprice
1973 Chevrolet Chevelle
1973 Chevrolet Corvette
1973 Chevrolet El Camino
1973 Chevrolet G10 Van
1973 Chevrolet G20 Van
1973 Chevrolet G30 Van
1973 Chevrolet Impala
1973 Chevrolet K10 Pickup
1973 Chevrolet K10 Suburban
1973 Chevrolet K20 Pickup
1973 Chevrolet K20 Suburban
1973 Chevrolet K30 Pickup
1973 Chevrolet Malibu
1973 Chevrolet Monte Carlo
1973 Chevrolet Nova
1973 Chevrolet P10 Van
1973 Chevrolet P20 Van
1973 Chevrolet P30 Van
1973 Chevrolet Vega
1972 Chevrolet Bel Air
1972 Chevrolet Blazer
1972 Chevrolet Brookwood
1972 Chevrolet C10 Pickup
1972 Chevrolet C10 Suburban
1972 Chevrolet C20 Pickup
1972 Chevrolet C20 Suburban
1972 Chevrolet C30 Pickup
1972 Chevrolet Camaro
1972 Chevrolet Chevelle
1972 Chevrolet Corvette
1972 Chevrolet El Camino
1972 Chevrolet G10 Van
1972 Chevrolet G20 Van
1972 Chevrolet G30 Van
1972 Chevrolet K10 Pickup
1972 Chevrolet K10 Suburban
1972 Chevrolet K20 Pickup
1972 Chevrolet K20 Suburban
1972 Chevrolet K30 Pickup
1972 Chevrolet Monte Carlo
1972 Chevrolet Nova
1972 Chevrolet P10 Van
1972 Chevrolet P20 Van
1972 Chevrolet P30 Van
1972 Chevrolet Vega
1971 Chevrolet Bel Air
1971 Chevrolet Blazer
1971 Chevrolet Brookwood
1971 Chevrolet Camaro
1971 Chevrolet Chevelle
1971 Chevrolet Corvette
1971 Chevrolet El Camino
1971 Chevrolet G10 Van
1971 Chevrolet G30 Van
1971 Chevrolet K10 Pickup
1971 Chevrolet Monte Carlo
1971 Chevrolet Nova
1971 Chevrolet P30 Van
1971 Chevrolet Vega
1970 Chevrolet Bel Air
1970 Chevrolet Camaro
1970 Chevrolet Chevelle
1970 Chevrolet Corvette
1970 Chevrolet Impala
1970 Chevrolet Nova
1969 Chevrolet Camaro
1969 Chevrolet Caprice
1969 Chevrolet Chevelle
1969 Chevrolet Corvair
1969 Chevrolet Corvette
1969 Chevrolet El Camino
1969 Chevrolet Impala
1969 Chevrolet Nova
1968 Chevrolet Bel Air
1968 Chevrolet Camaro
1968 Chevrolet Caprice
1968 Chevrolet Chevelle
1968 Chevrolet Chevy II
1968 Chevrolet Corvair
1968 Chevrolet El Camino
1968 Chevrolet Impala
1967 Chevrolet Bel Air
1967 Chevrolet Biscayne
1967 Chevrolet Camaro
1967 Chevrolet Caprice
1967 Chevrolet Chevelle
1967 Chevrolet Chevy II
1967 Chevrolet Corvair
1967 Chevrolet El Camino
1967 Chevrolet Impala
1967 Chevrolet Malibu
1966 Chevrolet Bel Air
1966 Chevrolet Biscayne
1966 Chevrolet Chevelle
1966 Chevrolet Chevy II
1966 Chevrolet Corvair
1966 Chevrolet El Camino
1966 Chevrolet Impala
1966 Chevrolet Malibu
1965 Chevrolet Bel Air
1965 Chevrolet Chevelle
1965 Chevrolet Chevy II
1965 Chevrolet Corvair
1965 Chevrolet El Camino
1965 Chevrolet Impala
1964 Chevrolet Bel Air
1964 Chevrolet Chevelle
1964 Chevrolet Chevy II
1964 Chevrolet El Camino
1964 Chevrolet Impala
1963 Chevrolet Bel Air
1963 Chevrolet Chevy II
1963 Chevrolet Impala
1962 Chevrolet Chevy II
Chrysler
1987 Chrysler Town & Country
1986 Chrysler LeBaron
1985 Chrysler LeBaron
1984 Chrysler LeBaron
1983 Chrysler LeBaron
1982 Chrysler LeBaron
1982 Chrysler Town & Country
1981 Chrysler Town & Country
1980 Chrysler Town & Country
1979 Chrysler Town & Country
1978 Chrysler Town & Country
Citroen
1967 Citroen AMI-6
1966 Citroen AMI-6
1965 Citroen AMI-6
1964 Citroen AMI-6
1963 Citroen AMI-6
1962 Citroen AMI-6
1961 Citroen AMI-6
Daewoo
2002 Daewoo Lanos
2002 Daewoo Leganza
2002 Daewoo Nubira
2001 Daewoo Lanos
2001 Daewoo Leganza
2001 Daewoo Nubira
2000 Daewoo Lanos
2000 Daewoo Leganza
2000 Daewoo Nubira
1999 Daewoo Lanos
1999 Daewoo Leganza
1999 Daewoo Nubira
Daihatsu
1989 Daihatsu Charade
1988 Daihatsu Charade
Dodge
1988 Dodge Colt
1987 Dodge Aries
1987 Dodge Caravan
1987 Dodge Colt
1987 Dodge Dakota
1987 Dodge Grand Caravan
1987 Dodge Lancer
1987 Dodge Mini Ram
1987 Dodge Omni
1987 Dodge Shadow
1986 Dodge 600
1986 Dodge Aries
1986 Dodge Charger
1986 Dodge Lancer
1986 Dodge Omni
1985 Dodge 600
1985 Dodge Aries
1985 Dodge Charger
1985 Dodge Lancer
1985 Dodge Omni
1984 Dodge 600
1984 Dodge Aries
1984 Dodge Caravan
1984 Dodge Charger
1984 Dodge Mini Ram
1984 Dodge Omni
1984 Dodge Rampage
1983 Dodge Aries
1983 Dodge Charger
1983 Dodge Mirada
1983 Dodge Omni
1983 Dodge Rampage
1982 Dodge 400
1982 Dodge Aries
1982 Dodge Mirada
1982 Dodge Omni
1982 Dodge Rampage
1981 Dodge Aries
1981 Dodge Mirada
1981 Dodge Omni
1980 Dodge Omni
1979 Dodge Omni
1978 Dodge Omni
1972 Dodge Coronet
1971 Dodge Coronet
1971 Dodge Dart
1971 Dodge Polara
1970 Dodge Coronet
1970 Dodge Polara
Eagle
1989 Eagle Vista
Fiat
1961 Fiat 1500
1961 Fiat 2100
1960 Fiat 1500
1960 Fiat 2100
Ford
1982 Ford Courier
1981 Ford Courier
1980 Ford Courier
1979 Ford Courier
1979 Ford E-350 Econoline Club Wagon
1979 Ford F-100
1979 Ford F-150
1979 Ford F-250
1979 Ford F-350
1978 Ford E-100 Econoline
1978 Ford E-350 Econoline Club Wagon
1978 Ford F-100
1978 Ford F-150
1978 Ford F-250
1978 Ford F-350
1977 Ford Custom 500
1977 Ford E-100 Econoline
1977 Ford E-350 Econoline
1977 Ford E-350 Econoline Club Wagon
1977 Ford F-100
1977 Ford F-150
1977 Ford F-250
1977 Ford F-350
1977 Ford Granada
1977 Ford LTD
1977 Ford LTD II
1977 Ford Maverick
1977 Ford Pinto
1977 Ford Ranchero
1977 Ford Thunderbird
1976 Ford Custom 500
1976 Ford E-100 Econoline
1976 Ford E-350 Econoline
1976 Ford Elite
1976 Ford F-150
1976 Ford F-250
1976 Ford F-350
1976 Ford F-500
1976 Ford Gran Torino
1976 Ford Granada
1976 Ford LTD
1976 Ford Maverick
1976 Ford Pinto
1975 Ford Custom 500
1975 Ford E-100 Econoline
1975 Ford E-350 Econoline
1975 Ford F-100
1975 Ford F-150
1975 Ford F-250
1975 Ford F-350
1975 Ford F-500
1975 Ford Gran Torino
1975 Ford Granada
1975 Ford LTD
1975 Ford Maverick
1975 Ford Pinto
1975 Ford Ranchero
1974 Ford Bronco
1974 Ford Country Sedan
1974 Ford Country Squire
1974 Ford Custom 500
1974 Ford E-100 Econoline
1974 Ford E-200 Econoline
1974 Ford E-300 Econoline
1974 Ford F-100
1974 Ford Galaxie 500
1974 Ford Gran Torino
1974 Ford LTD
1974 Ford Maverick
1974 Ford Pinto
1974 Ford Ranch Wagon
1974 Ford Ranchero
1973 Ford Bronco
1973 Ford Country Sedan
1973 Ford Custom 500
1973 Ford E-100 Econoline
1973 Ford E-200 Econoline
1973 Ford E-300 Econoline
1973 Ford F-100
1973 Ford Galaxie 500
1973 Ford Gran Torino
1973 Ford Maverick
1973 Ford Mustang
1973 Ford Pinto
1973 Ford Ranchero
1972 Ford Country Squire
1972 Ford E-100 Econoline
1972 Ford E-200 Econoline
1972 Ford E-300 Econoline
1972 Ford F-100
1972 Ford Galaxie 500
1972 Ford Gran Torino
1972 Ford LTD
1972 Ford Maverick
1972 Ford Mustang
1972 Ford Pinto
1972 Ford Ranchero
1972 Ford Torino
1971 Ford Country Squire
1971 Ford E-100 Econoline
1971 Ford E-200 Econoline
1971 Ford E-300 Econoline
1971 Ford F-100
1971 Ford LTD
1971 Ford Maverick
1971 Ford Mustang
1971 Ford Pinto
1971 Ford Ranchero
1971 Ford Torino
1970 Ford Country Squire
1970 Ford Custom
1970 Ford Custom 500
1970 Ford E-100 Econoline
1970 Ford E-200 Econoline
1970 Ford E-300 Econoline
1970 Ford F-100
1970 Ford F-250
1970 Ford F-350
1970 Ford Fairlane
1970 Ford Falcon
1970 Ford Galaxie 500
1970 Ford LTD
1970 Ford Mustang
1970 Ford Ranchero
1970 Ford Torino
1969 Ford Country Squire
1969 Ford Custom
1969 Ford Custom 500
1969 Ford E-100 Econoline
1969 Ford E-200 Econoline
1969 Ford E-300 Econoline
1969 Ford F-100
1969 Ford F-250
1969 Ford F-350
1969 Ford Fairlane
1969 Ford Falcon
1969 Ford GT40
1969 Ford LTD
1969 Ford Mustang
1969 Ford Ranchero
1969 Ford Torino
1968 Ford Country Squire
1968 Ford Custom
1968 Ford Custom 500
1968 Ford F-100
1968 Ford F-250
1968 Ford F-350
1968 Ford Fairlane
1968 Ford Falcon
1968 Ford GT40
1968 Ford LTD
1968 Ford Mustang
1968 Ford Ranchero
1968 Ford Torino
1967 Ford Club Wagon
1967 Ford Country Squire
1967 Ford Custom
1967 Ford Custom 500
1967 Ford F-250
1967 Ford F-350
1967 Ford Fairlane
1967 Ford Falcon
1967 Ford Galaxie
1967 Ford Galaxie 500
1967 Ford GT40
1967 Ford LTD
1967 Ford Ranch Wagon
1967 Ford Ranchero
1966 Ford Bronco
1966 Ford Club Wagon
1966 Ford Country Squire
1966 Ford Custom
1966 Ford Custom 500
1966 Ford F-100
1966 Ford F-250
1966 Ford F-350
1966 Ford Fairlane
1966 Ford Falcon
1966 Ford Galaxie
1966 Ford Galaxie 500
1966 Ford GT40
1966 Ford LTD
1966 Ford Ranch Wagon
1966 Ford Ranchero
1965 Ford Country Squire
1965 Ford Custom
1965 Ford Custom 500
1965 Ford F-100
1965 Ford F-250
1965 Ford F-350
1965 Ford Fairlane
1965 Ford Falcon
1965 Ford Falcon Sedan Delivery
1965 Ford Galaxie
1965 Ford LTD
1965 Ford Mustang
1965 Ford Ranch Wagon
1965 Ford Ranchero
1964 Ford Custom 500
1964 Ford Fairlane
1964 Ford Falcon
1964 Ford Falcon Sedan Delivery
1964 Ford Mustang
1963 Ford Club Wagon
1963 Ford Fairlane
1963 Ford Falcon
1963 Ford Falcon Sedan Delivery
1962 Ford Club Wagon
1962 Ford Fairlane
1962 Ford Falcon
1962 Ford Falcon Sedan Delivery
1961 Ford Falcon
1961 Ford Falcon Sedan Delivery
1961 Ford Prefect
1960 Ford Anglia
1960 Ford Escort
1960 Ford Falcon
1960 Ford Prefect
1960 Ford Squire
1959 Ford Anglia
1959 Ford Escort
1959 Ford Prefect
1959 Ford Squire
1958 Ford Anglia
1958 Ford Escort
1958 Ford Prefect
1958 Ford Squire
Geo
1997 Geo Tracker
1996 Geo Tracker
1995 Geo Tracker
1994 Geo Metro
1994 Geo Tracker
1993 Geo Metro
1993 Geo Tracker
1992 Geo Metro
1992 Geo Tracker
1991 Geo Metro
1991 Geo Tracker
1990 Geo Metro
1990 Geo Tracker
GMC
2005 GMC Jimmy
2004 GMC Jimmy
2004 GMC Sonoma
2003 GMC Jimmy
2003 GMC Sonoma
2002 GMC Jimmy
2002 GMC Sonoma
2001 GMC Jimmy
2001 GMC Sonoma
2000 GMC Jimmy
2000 GMC Sonoma
1999 GMC Jimmy
1999 GMC Sonoma
1998 GMC C1500
1998 GMC Jimmy
1998 GMC K1500
1998 GMC Sonoma
1997 GMC C1500
1997 GMC Jimmy
1997 GMC K1500
1997 GMC Sonoma
1996 GMC C1500
1996 GMC Jimmy
1996 GMC K1500
1996 GMC P3500
1996 GMC Sonoma
1995 GMC C1500
1995 GMC C2500
1995 GMC Jimmy
1995 GMC K1500
1995 GMC K2500
1995 GMC P3500
1995 GMC Sonoma
1994 GMC C1500
1994 GMC C2500
1994 GMC Jimmy
1994 GMC K1500
1994 GMC K2500
1994 GMC P3500
1994 GMC Sonoma
1993 GMC C1500
1993 GMC C2500
1993 GMC C3500
1993 GMC Jimmy
1993 GMC K1500
1993 GMC K2500
1993 GMC K3500
1993 GMC P3500
1993 GMC Sonoma
1993 GMC Typhoon
1992 GMC C1500
1992 GMC C2500
1992 GMC C3500
1992 GMC Jimmy
1992 GMC K1500
1992 GMC K2500
1992 GMC K3500
1992 GMC P3500
1992 GMC Sonoma
1992 GMC Typhoon
1991 GMC P3500
1991 GMC S15 Jimmy
1991 GMC Sonoma
1991 GMC Syclone
1991 GMC Tracker
1990 GMC C1500
1990 GMC C2500
1990 GMC C3500
1990 GMC G1500
1990 GMC G2500
1990 GMC G3500
1990 GMC Jimmy
1990 GMC K1500
1990 GMC K2500
1990 GMC K3500
1990 GMC P3500
1990 GMC R1500 Suburban
1990 GMC R2500 Suburban
1990 GMC R3500
1990 GMC S15
1990 GMC S15 Jimmy
1990 GMC Safari
1990 GMC Tracker
1990 GMC V1500 Suburban
1990 GMC V2500 Suburban
1990 GMC V3500
1989 GMC C1500
1989 GMC C2500
1989 GMC C3500
1989 GMC G1500
1989 GMC G2500
1989 GMC G3500
1989 GMC Jimmy
1989 GMC K1500
1989 GMC K2500
1989 GMC K3500
1989 GMC P2500
1989 GMC P3500
1989 GMC R1500 Suburban
1989 GMC R2500
1989 GMC R2500 Suburban
1989 GMC R3500
1989 GMC S15
1989 GMC S15 Jimmy
1989 GMC Safari
1989 GMC V1500 Suburban
1989 GMC V2500 Suburban
1989 GMC V3500
1988 GMC C1500
1988 GMC C2500
1988 GMC C3500
1988 GMC G1500
1988 GMC G2500
1988 GMC G3500
1988 GMC Jimmy
1988 GMC K1500
1988 GMC K2500
1988 GMC K3500
1988 GMC P2500
1988 GMC P3500
1988 GMC R1500 Suburban
1988 GMC R2500
1988 GMC R2500 Suburban
1988 GMC R3500
1988 GMC S15
1988 GMC S15 Jimmy
1988 GMC Safari
1988 GMC V1500 Suburban
1988 GMC V2500 Suburban
1988 GMC V3500
1987 GMC Caballero
1987 GMC G1500
1987 GMC G2500
1987 GMC G3500
1987 GMC Jimmy
1987 GMC P2500
1987 GMC P3500
1987 GMC R1500
1987 GMC R1500 Suburban
1987 GMC R2500
1987 GMC R2500 Suburban
1987 GMC R3500
1987 GMC S15
1987 GMC S15 Jimmy
1987 GMC Safari
1987 GMC V1500
1987 GMC V1500 Suburban
1987 GMC V2500
1987 GMC V2500 Suburban
1987 GMC V3500
1986 GMC C1500
1986 GMC C1500 Suburban
1986 GMC C2500
1986 GMC C2500 Suburban
1986 GMC C3500
1986 GMC Caballero
1986 GMC G1500
1986 GMC G2500
1986 GMC G3500
1986 GMC Jimmy
1986 GMC K1500
1986 GMC K1500 Suburban
1986 GMC K2500
1986 GMC K2500 Suburban
1986 GMC K3500
1986 GMC P2500
1986 GMC P3500
1986 GMC S15
1986 GMC S15 Jimmy
1986 GMC Safari
1985 GMC C1500
1985 GMC C1500 Suburban
1985 GMC C2500
1985 GMC C2500 Suburban
1985 GMC C3500
1985 GMC Caballero
1985 GMC G1500
1985 GMC G2500
1985 GMC G3500
1985 GMC Jimmy
1985 GMC K1500
1985 GMC K1500 Suburban
1985 GMC K2500
1985 GMC K2500 Suburban
1985 GMC K3500
1985 GMC P2500
1985 GMC P3500
1985 GMC S15
1985 GMC S15 Jimmy
1985 GMC Safari
1984 GMC C1500
1984 GMC C1500 Suburban
1984 GMC C2500
1984 GMC C2500 Suburban
1984 GMC C3500
1984 GMC Caballero
1984 GMC G1500
1984 GMC G2500
1984 GMC G3500
1984 GMC Jimmy
1984 GMC K1500
1984 GMC K1500 Suburban
1984 GMC K2500
1984 GMC K2500 Suburban
1984 GMC K3500
1984 GMC P2500
1984 GMC P3500
1984 GMC S15
1984 GMC S15 Jimmy
1983 GMC C1500
1983 GMC C1500 Suburban
1983 GMC C2500
1983 GMC C2500 Suburban
1983 GMC C3500
1983 GMC Caballero
1983 GMC G1500
1983 GMC G2500
1983 GMC G3500
1983 GMC Jimmy
1983 GMC K1500
1983 GMC K1500 Suburban
1983 GMC K2500
1983 GMC K2500 Suburban
1983 GMC K3500
1983 GMC P2500
1983 GMC P3500
1983 GMC S15
1983 GMC S15 Jimmy
1982 GMC C1500
1982 GMC C1500 Suburban
1982 GMC C2500
1982 GMC C2500 Suburban
1982 GMC C3500
1982 GMC Caballero
1982 GMC G1500
1982 GMC G2500
1982 GMC G3500
1982 GMC Jimmy
1982 GMC K1500
1982 GMC K1500 Suburban
1982 GMC K2500
1982 GMC K2500 Suburban
1982 GMC K3500
1982 GMC P2500
1982 GMC S15
1981 GMC C1500
1981 GMC C1500 Suburban
1981 GMC C2500
1981 GMC C2500 Suburban
1981 GMC C3500
1981 GMC Caballero
1981 GMC G1500
1981 GMC G2500
1981 GMC G3500
1981 GMC Jimmy
1981 GMC K1500
1981 GMC K1500 Suburban
1981 GMC K2500
1981 GMC K2500 Suburban
1981 GMC K3500
1981 GMC P2500
1980 GMC C1500
1980 GMC C1500 Suburban
1980 GMC C2500
1980 GMC C2500 Suburban
1980 GMC C3500
1980 GMC Caballero
1980 GMC G1500
1980 GMC G2500
1980 GMC G3500
1980 GMC Jimmy
1980 GMC K1500
1980 GMC K1500 Suburban
1980 GMC K2500
1980 GMC K2500 Suburban
1980 GMC K3500
1980 GMC P1500
1980 GMC P2500
1979 GMC C1500
1979 GMC C1500 Suburban
1979 GMC C2500
1979 GMC C2500 Suburban
1979 GMC C3500
1979 GMC Caballero
1979 GMC G1500
1979 GMC G2500
1979 GMC G3500
1979 GMC Jimmy
1979 GMC K1500
1979 GMC K1500 Suburban
1979 GMC K2500
1979 GMC K2500 Suburban
1979 GMC K3500
1979 GMC P1500
1979 GMC P2500
1978 GMC C15
1978 GMC C15 Suburban
1978 GMC C25
1978 GMC C25 Suburban
1978 GMC C35
1978 GMC Caballero
1978 GMC G15
1978 GMC G25
1978 GMC G35
1978 GMC Jimmy
1978 GMC K15
1978 GMC K15 Suburban
1978 GMC K25
1978 GMC K25 Suburban
1978 GMC K35
1978 GMC P15
1978 GMC P25
1977 GMC C15
1977 GMC C15 Suburban
1977 GMC C25
1977 GMC C25 Suburban
1977 GMC C35
1977 GMC G15
1977 GMC G25
1977 GMC G35
1977 GMC Jimmy
1977 GMC K15
1977 GMC K15 Suburban
1977 GMC K25
1977 GMC K25 Suburban
1977 GMC K35
1977 GMC P15
1977 GMC P25
1977 GMC Sprint
1976 GMC C15
1976 GMC C15 Suburban
1976 GMC C25
1976 GMC C25 Suburban
1976 GMC C35
1976 GMC G15
1976 GMC G25
1976 GMC G35
1976 GMC Jimmy
1976 GMC K15
1976 GMC K15 Suburban
1976 GMC K25
1976 GMC K25 Suburban
1976 GMC P15
1976 GMC P25
1976 GMC Sprint
1975 GMC C15
1975 GMC C15 Suburban
1975 GMC C25
1975 GMC C25 Suburban
1975 GMC C35
1975 GMC G15
1975 GMC G25
1975 GMC G35
1975 GMC Jimmy
1975 GMC K15
1975 GMC K15 Suburban
1975 GMC K25
1975 GMC K25 Suburban
1975 GMC P15
1975 GMC P25
1975 GMC Sprint
1974 GMC C15/C1500 Pickup
1974 GMC C15/C1500 Suburban
1974 GMC C25/C2500 Pickup
1974 GMC C25/C2500 Suburban
1974 GMC C35/C3500 Pickup
1974 GMC G15/G1500 Van
1974 GMC G25/G2500 Van
1974 GMC G35/G3500 Van
1974 GMC Jimmy
1974 GMC K15/K1500 Pickup
1974 GMC K15/K1500 Suburban
1974 GMC K25/K2500 Pickup
1974 GMC K25/K2500 Suburban
1974 GMC K35/K3500 Pickup
1974 GMC P15/P1500 Van
1974 GMC P25/P2500 Van
1974 GMC P35/P3500 Van
1973 GMC C15/C1500 Pickup
1973 GMC C15/C1500 Suburban
1973 GMC C25/C2500 Pickup
1973 GMC C25/C2500 Suburban
1973 GMC C35/C3500 Pickup
1973 GMC G15/G1500 Van
1973 GMC G25/G2500 Van
1973 GMC G35/G3500 Van
1973 GMC Jimmy
1973 GMC K15/K1500 Pickup
1973 GMC K15/K1500 Suburban
1973 GMC K25/K2500 Pickup
1973 GMC K25/K2500 Suburban
1973 GMC K35/K3500 Pickup
1973 GMC P15/P1500 Van
1973 GMC P25/P2500 Van
1973 GMC Sprint
1972 GMC C15/C1500 Pickup
1972 GMC C15/C1500 Suburban
1972 GMC C25/C2500 Pickup
1972 GMC C25/C2500 Suburban
1972 GMC C35/C3500 Pickup
1972 GMC G15/G1500 Van
1972 GMC G25/G2500 Van
1972 GMC G35/G3500 Van
1972 GMC Jimmy
1972 GMC K15/K1500 Pickup
1972 GMC K15/K1500 Suburban
1972 GMC K25/K2500 Pickup
1972 GMC K25/K2500 Suburban
1972 GMC K35/K3500 Pickup
1972 GMC P15/P1500 Van
1972 GMC P25/P2500 Van
1972 GMC Sprint
1971 GMC C25/C2500 Pickup
1971 GMC C25/C2500 Suburban
1971 GMC C35/C3500 Pickup
1971 GMC G15/G1500 Van
1971 GMC G25/G2500 Van
1971 GMC G35/G3500 Van
1971 GMC Jimmy
1971 GMC Sprint
Honda
1989 Honda Accord
1989 Honda Prelude
1988 Honda Accord
1988 Honda Prelude
1987 Honda Accord
1987 Honda Prelude
1986 Honda Accord
1986 Honda Prelude
1985 Honda Accord
1985 Honda Prelude
1984 Honda Accord
1984 Honda Prelude
1983 Honda Accord
1983 Honda Prelude
Infiniti
1992 Infiniti M30
Isuzu
2000 Isuzu Hombre
1999 Isuzu Hombre
1998 Isuzu Hombre
1997 Isuzu Hombre
1996 Isuzu Hombre
1987 Isuzu Pickup
1986 Isuzu Pickup
1985 Isuzu Pickup
1985 Isuzu Trooper
1984 Isuzu Pickup
1984 Isuzu Trooper
1983 Isuzu Pickup
Jaguar
1985 Jaguar XJ12
1985 Jaguar XJS
1984 Jaguar XJ12
1984 Jaguar XJS
1983 Jaguar XJ12
1983 Jaguar XJS
1982 Jaguar XJ12
1982 Jaguar XJS
1981 Jaguar XJ12
1981 Jaguar XJS
1980 Jaguar XJ6
1980 Jaguar XJS
1979 Jaguar XJ12
1979 Jaguar XJ6
1979 Jaguar XJS
1978 Jaguar XJ12
1978 Jaguar XJ6
1978 Jaguar XJS
1977 Jaguar XJ12
1977 Jaguar XJ6
1977 Jaguar XJS
1976 Jaguar XJ12
1976 Jaguar XJ6
1976 Jaguar XJS
1975 Jaguar XJ12
1975 Jaguar XJ6
1974 Jaguar XJ12
1974 Jaguar XJ6
1974 Jaguar XKE
1973 Jaguar XJ12
1973 Jaguar XJ6
1973 Jaguar XKE
1972 Jaguar XJ6
1972 Jaguar XKE
1971 Jaguar XJ
1971 Jaguar XKE
1970 Jaguar XJ
1970 Jaguar XKE
1969 Jaguar XJ
1969 Jaguar XKE
Lincoln
1980 Lincoln Versailles
Mazda
1989 Mazda B2200
1989 Mazda B2600
1988 Mazda B2200
1987 Mazda B2000
1987 Mazda B2200
1986 Mazda B2000
1985 Mazda GLC
1984 Mazda GLC
1983 Mazda GLC
1983 Mazda RX-7
1982 Mazda GLC
1981 Mazda GLC
Mercury
1977 Mercury Bobcat
1977 Mercury Capri
1977 Mercury Comet
1976 Mercury Bobcat
1976 Mercury Capri
1976 Mercury Comet
1976 Mercury Montego
1975 Mercury Bobcat
1975 Mercury Comet
1975 Mercury Montego
1974 Mercury Comet
1974 Mercury Montego
1973 Mercury Comet
1973 Mercury Marquis
1973 Mercury Montego
1973 Mercury Monterey
1972 Mercury Comet
1972 Mercury Montego
1971 Mercury Comet
1971 Mercury Montego
1970 Mercury Marauder
1970 Mercury Marquis
1970 Mercury Montego
1970 Mercury Monterey
1969 Mercury Colony Park
1969 Mercury Comet
1969 Mercury Marauder
1969 Mercury Marquis
1969 Mercury Montego
1969 Mercury Monterey
1968 Mercury Colony Park
1968 Mercury Comet
1968 Mercury Commuter
1968 Mercury Marquis
1968 Mercury Montclair
1968 Mercury Montego
1968 Mercury Monterey
1968 Mercury Park Lane
1967 Mercury Caliente
1967 Mercury Capri
1967 Mercury Comet
1967 Mercury Commuter
1967 Mercury Montclair
1967 Mercury Monterey
1967 Mercury Villager
1967 Mercury Voyager
1966 Mercury Caliente
1966 Mercury Capri
1966 Mercury Comet
1966 Mercury Commuter
1966 Mercury Cyclone
1966 Mercury Montclair
1966 Mercury Monterey
1966 Mercury Park Lane
1966 Mercury Villager
1966 Mercury Voyager
1965 Mercury Caliente
1965 Mercury Comet
1965 Mercury Commuter
1965 Mercury Montclair
1965 Mercury Monterey
1965 Mercury Park Lane
1965 Mercury Villager
1964 Mercury Comet
1963 Mercury Comet
1963 Mercury Meteor
1962 Mercury Comet
1962 Mercury Meteor
1961 Mercury Comet
1960 Mercury Comet
Mitsubishi
1994 Mitsubishi Precis
1993 Mitsubishi Precis
1992 Mitsubishi Precis
1991 Mitsubishi Precis
1990 Mitsubishi Precis
1989 Mitsubishi Mirage
1989 Mitsubishi Precis
1989 Mitsubishi Starion
1988 Mitsubishi Mirage
1988 Mitsubishi Precis
1987 Mitsubishi Precis
Nissan
2002 Nissan Pathfinder
2001 Nissan Pathfinder
1989 Nissan Pathfinder
1988 Nissan Pathfinder
1986 Nissan Stanza
1985 Nissan Stanza
1984 Nissan Maxima
1984 Nissan Stanza
1983 Nissan 280ZX
1983 Nissan Stanza
1982 Nissan 280ZX
Oldsmobile
1999 Oldsmobile Cutlass
1998 Oldsmobile Cutlass
1996 Oldsmobile Cutlass Ciera
1996 Oldsmobile Silhouette
1995 Oldsmobile Cutlass Ciera
1995 Oldsmobile Cutlass Supreme
1995 Oldsmobile Silhouette
1994 Oldsmobile 88
1994 Oldsmobile Bravada
1994 Oldsmobile Cutlass Ciera
1994 Oldsmobile Cutlass Cruiser
1994 Oldsmobile Cutlass Supreme
1994 Oldsmobile Silhouette
1993 Oldsmobile 88
1993 Oldsmobile 98
1993 Oldsmobile Bravada
1993 Oldsmobile Cutlass Ciera
1993 Oldsmobile Cutlass Cruiser
1993 Oldsmobile Cutlass Supreme
1993 Oldsmobile Silhouette
1992 Oldsmobile 88
1992 Oldsmobile 98
1992 Oldsmobile Bravada
1992 Oldsmobile Custom Cruiser
1992 Oldsmobile Cutlass Ciera
1992 Oldsmobile Cutlass Cruiser
1992 Oldsmobile Cutlass Supreme
1992 Oldsmobile Silhouette
1991 Oldsmobile 98
1991 Oldsmobile Bravada
1991 Oldsmobile Custom Cruiser
1991 Oldsmobile Cutlass Ciera
1991 Oldsmobile Cutlass Cruiser
1991 Oldsmobile Cutlass Supreme
1991 Oldsmobile Delta 88
1991 Oldsmobile Silhouette
1990 Oldsmobile 98
1990 Oldsmobile Custom Cruiser
1990 Oldsmobile Cutlass Ciera
1990 Oldsmobile Cutlass Cruiser
1990 Oldsmobile Cutlass Supreme
1990 Oldsmobile Delta 88
1990 Oldsmobile Silhouette
1989 Oldsmobile 98
1989 Oldsmobile Custom Cruiser
1989 Oldsmobile Cutlass Ciera
1989 Oldsmobile Cutlass Cruiser
1989 Oldsmobile Cutlass Supreme
1989 Oldsmobile Delta 88
1988 Oldsmobile 98
1988 Oldsmobile Custom Cruiser
1988 Oldsmobile Cutlass Ciera
1988 Oldsmobile Cutlass Cruiser
1988 Oldsmobile Cutlass Supreme
1988 Oldsmobile Delta 88
1988 Oldsmobile Firenza
1987 Oldsmobile 98
1987 Oldsmobile Custom Cruiser
1987 Oldsmobile Cutlass
1987 Oldsmobile Cutlass Ciera
1987 Oldsmobile Cutlass Cruiser
1987 Oldsmobile Cutlass Salon
1987 Oldsmobile Cutlass Supreme
1987 Oldsmobile Delta 88
1987 Oldsmobile Firenza
1986 Oldsmobile 98
1986 Oldsmobile Custom Cruiser
1986 Oldsmobile Cutlass
1986 Oldsmobile Cutlass Ciera
1986 Oldsmobile Cutlass Salon
1986 Oldsmobile Cutlass Supreme
1986 Oldsmobile Delta 88
1986 Oldsmobile Firenza
1985 Oldsmobile 98
1985 Oldsmobile Custom Cruiser
1985 Oldsmobile Cutlass
1985 Oldsmobile Cutlass Ciera
1985 Oldsmobile Cutlass Salon
1985 Oldsmobile Cutlass Supreme
1985 Oldsmobile Delta 88
1985 Oldsmobile Firenza
1985 Oldsmobile Toronado
1984 Oldsmobile 98
1984 Oldsmobile Custom Cruiser
1984 Oldsmobile Cutlass Calais
1984 Oldsmobile Cutlass Ciera
1984 Oldsmobile Cutlass Supreme
1984 Oldsmobile Delta 88
1984 Oldsmobile Firenza
1984 Oldsmobile Omega
1984 Oldsmobile Toronado
1983 Oldsmobile 98
1983 Oldsmobile Custom Cruiser
1983 Oldsmobile Cutlass Calais
1983 Oldsmobile Cutlass Ciera
1983 Oldsmobile Cutlass Cruiser
1983 Oldsmobile Cutlass Supreme
1983 Oldsmobile Delta 88
1983 Oldsmobile Firenza
1983 Oldsmobile Omega
1983 Oldsmobile Toronado
1982 Oldsmobile 98
1982 Oldsmobile Custom Cruiser
1982 Oldsmobile Cutlass Calais
1982 Oldsmobile Cutlass Ciera
1982 Oldsmobile Cutlass Cruiser
1982 Oldsmobile Cutlass Supreme
1982 Oldsmobile Delta 88
1982 Oldsmobile Firenza
1982 Oldsmobile Omega
1982 Oldsmobile Toronado
1981 Oldsmobile 98
1981 Oldsmobile Custom Cruiser
1981 Oldsmobile Cutlass
1981 Oldsmobile Cutlass Calais
1981 Oldsmobile Cutlass Cruiser
1981 Oldsmobile Cutlass Supreme
1981 Oldsmobile Delta 88
1981 Oldsmobile Omega
1981 Oldsmobile Toronado
1980 Oldsmobile 98
1980 Oldsmobile Custom Cruiser
1980 Oldsmobile Cutlass
1980 Oldsmobile Cutlass Calais
1980 Oldsmobile Cutlass Cruiser
1980 Oldsmobile Cutlass Salon
1980 Oldsmobile Cutlass Supreme
1980 Oldsmobile Delta 88
1980 Oldsmobile Toronado
1979 Oldsmobile 98
1979 Oldsmobile Custom Cruiser
1979 Oldsmobile Cutlass
1979 Oldsmobile Cutlass Calais
1979 Oldsmobile Cutlass Salon
1979 Oldsmobile Cutlass Supreme
1979 Oldsmobile Delta 88
1979 Oldsmobile Omega
1978 Oldsmobile 98
1978 Oldsmobile Custom Cruiser
1978 Oldsmobile Cutlass
1978 Oldsmobile Cutlass Calais
1978 Oldsmobile Cutlass Salon
1978 Oldsmobile Cutlass Supreme
1978 Oldsmobile Delta 88
1978 Oldsmobile Omega
1977 Oldsmobile 98
1977 Oldsmobile Custom Cruiser
1977 Oldsmobile Cutlass
1977 Oldsmobile Cutlass Salon
1977 Oldsmobile Cutlass Supreme
1977 Oldsmobile Delta 88
1977 Oldsmobile Omega
1977 Oldsmobile Starfire
1976 Oldsmobile Cutlass
1976 Oldsmobile Cutlass Salon
1976 Oldsmobile Cutlass Supreme
1976 Oldsmobile Cutlass Tiara
1976 Oldsmobile Delta 88
1976 Oldsmobile Omega
1976 Oldsmobile Starfire
1975 Oldsmobile Cutlass
1975 Oldsmobile Cutlass Salon
1975 Oldsmobile Cutlass Supreme
1975 Oldsmobile Delta 88
1975 Oldsmobile Omega
1975 Oldsmobile Starfire
1975 Oldsmobile Vista Cruiser
1974 Oldsmobile Omega
1973 Oldsmobile Omega
1971 Oldsmobile Cutlass
1971 Oldsmobile F85
1970 Oldsmobile Cutlass
1970 Oldsmobile F85
1969 Oldsmobile Cutlass
1969 Oldsmobile F85
1968 Oldsmobile Cutlass
1968 Oldsmobile F85
1967 Oldsmobile Cutlass
1967 Oldsmobile F85
1966 Oldsmobile F85
1963 Oldsmobile F85
1962 Oldsmobile F85
1961 Oldsmobile F85
Opel
1975 Opel 1900
1975 Opel Manta
1974 Opel 1900
1974 Opel Manta
1973 Opel 1900
1973 Opel Manta
1973 Opel Opel
1972 Opel 1900
1972 Opel Kadett
1972 Opel Manta
1972 Opel Opel
1971 Opel 1900
1971 Opel Deluxe
1971 Opel Kadett
1971 Opel Manta
1971 Opel Opel
1970 Opel Kadett
1970 Opel Opel
1970 Opel Rallye
1969 Opel Kadett
1969 Opel Opel
1969 Opel Rallye
1968 Opel Kadett
1968 Opel Opel
1968 Opel Rallye
1967 Opel Kadett
Plymouth
1989 Plymouth Colt
1988 Plymouth Colt
1987 Plymouth Colt
1987 Plymouth Horizon
1987 Plymouth Reliant
1987 Plymouth Sundance
1987 Plymouth Voyager
1986 Plymouth Colt
1986 Plymouth Horizon
1986 Plymouth Reliant
1985 Plymouth Colt
1985 Plymouth Horizon
1985 Plymouth Reliant
1985 Plymouth Turismo
1984 Plymouth Caravelle
1984 Plymouth Colt
1984 Plymouth Horizon
1984 Plymouth Reliant
1984 Plymouth Turismo
1984 Plymouth Voyager
1983 Plymouth Caravelle
1983 Plymouth Colt
1983 Plymouth Horizon
1983 Plymouth Reliant
1983 Plymouth Scamp
1983 Plymouth Turismo
1982 Plymouth Horizon
1982 Plymouth Reliant
1981 Plymouth Horizon
1981 Plymouth Reliant
1980 Plymouth Horizon
1979 Plymouth Horizon
1978 Plymouth Horizon
1973 Plymouth Fury I
1972 Plymouth Cuda
1972 Plymouth Fury
1972 Plymouth Fury I
1972 Plymouth Fury II
1972 Plymouth Fury III
1972 Plymouth Gran Fury
1972 Plymouth Satellite
1972 Plymouth Scamp
1971 Plymouth Cuda
1971 Plymouth Fury
1971 Plymouth Fury I
1971 Plymouth Fury II
1971 Plymouth Fury III
1971 Plymouth Satellite
1971 Plymouth Scamp
1970 Plymouth Cuda
1970 Plymouth Fury
1970 Plymouth Fury I
1970 Plymouth Fury II
1970 Plymouth Fury III
1969 Plymouth Fury I
1969 Plymouth Fury III
Pontiac
2002 Pontiac Firebird
2001 Pontiac Firebird
2000 Pontiac Firebird
1999 Pontiac Firebird
1998 Pontiac Firebird
1997 Pontiac Firebird
1996 Pontiac Firebird
1996 Pontiac Trans Sport
1995 Pontiac Firebird
1995 Pontiac Trans Sport
1994 Pontiac Bonneville
1994 Pontiac Firebird
1994 Pontiac Trans Sport
1993 Pontiac Bonneville
1993 Pontiac Firebird
1993 Pontiac LeMans
1993 Pontiac Trans Sport
1992 Pontiac Bonneville
1992 Pontiac Firebird
1992 Pontiac Grand Am
1992 Pontiac LeMans
1992 Pontiac Trans Sport
1991 Pontiac 6000
1991 Pontiac Bonneville
1991 Pontiac Firebird
1991 Pontiac Grand Am
1991 Pontiac LeMans
1991 Pontiac Optima
1991 Pontiac Tempest
1991 Pontiac Trans Sport
1990 Pontiac 6000
1990 Pontiac Bonneville
1990 Pontiac Firebird
1990 Pontiac Grand Am
1990 Pontiac LeMans
1990 Pontiac Optima
1990 Pontiac Tempest
1990 Pontiac Trans Sport
1989 Pontiac 6000
1989 Pontiac Bonneville
1989 Pontiac Firebird
1989 Pontiac Grand Am
1989 Pontiac Grand Prix
1989 Pontiac LeMans
1989 Pontiac Optima
1989 Pontiac Safari
1989 Pontiac Tempest
1988 Pontiac 6000
1988 Pontiac Bonneville
1988 Pontiac Fiero
1988 Pontiac Firebird
1988 Pontiac Grand Am
1988 Pontiac Grand Prix
1988 Pontiac LeMans
1988 Pontiac Optima
1988 Pontiac Safari
1988 Pontiac Tempest
1987 Pontiac 6000
1987 Pontiac Acadian
1987 Pontiac Bonneville
1987 Pontiac Fiero
1987 Pontiac Firebird
1987 Pontiac Grand Am
1987 Pontiac Grand Prix
1987 Pontiac Safari
1987 Pontiac Sunbird
1987 Pontiac T1000
1987 Pontiac Tempest
1986 Pontiac 6000
1986 Pontiac Acadian
1986 Pontiac Bonneville
1986 Pontiac Fiero
1986 Pontiac Firebird
1986 Pontiac Grand Am
1986 Pontiac Grand Prix
1986 Pontiac Parisienne
1986 Pontiac Sunbird
1986 Pontiac T1000
1985 Pontiac 6000
1985 Pontiac Acadian
1985 Pontiac Bonneville
1985 Pontiac Fiero
1985 Pontiac Firebird
1985 Pontiac Grand Am
1985 Pontiac Grand Prix
1985 Pontiac J2000 Sunbird
1985 Pontiac Parisienne
1985 Pontiac T1000
1984 Pontiac 6000
1984 Pontiac Acadian
1984 Pontiac Bonneville
1984 Pontiac Fiero
1984 Pontiac Firebird
1984 Pontiac Grand Prix
1984 Pontiac J2000 Sunbird
1984 Pontiac Parisienne
1984 Pontiac Phoenix
1984 Pontiac T1000
1983 Pontiac 6000
1983 Pontiac Acadian
1983 Pontiac Bonneville
1983 Pontiac Firebird
1983 Pontiac Grand LeMans
1983 Pontiac Grand Prix
1983 Pontiac J2000
1983 Pontiac Parisienne
1983 Pontiac Phoenix
1983 Pontiac T1000
1982 Pontiac 6000
1982 Pontiac Bonneville
1982 Pontiac Firebird
1982 Pontiac Grand LeMans
1982 Pontiac Grand Prix
1982 Pontiac J2000
1982 Pontiac Parisienne
1982 Pontiac Phoenix
1982 Pontiac T1000
1981 Pontiac Bonneville
1981 Pontiac Catalina
1981 Pontiac Firebird
1981 Pontiac Grand LeMans
1981 Pontiac Grand Prix
1981 Pontiac Laurentian
1981 Pontiac LeMans
1981 Pontiac Parisienne
1981 Pontiac Phoenix
1981 Pontiac T1000
1980 Pontiac Acadian
1980 Pontiac Bonneville
1980 Pontiac Catalina
1980 Pontiac Grand Am
1980 Pontiac Grand LeMans
1980 Pontiac Laurentian
1980 Pontiac LeMans
1980 Pontiac Parisienne
1980 Pontiac Phoenix
1980 Pontiac Sunbird
1979 Pontiac Acadian
1979 Pontiac Bonneville
1979 Pontiac Catalina
1979 Pontiac Firebird
1979 Pontiac Grand Am
1979 Pontiac Grand LeMans
1979 Pontiac Laurentian
1979 Pontiac LeMans
1979 Pontiac Parisienne
1979 Pontiac Phoenix
1979 Pontiac Sunbird
1978 Pontiac Bonneville
1978 Pontiac Catalina
1978 Pontiac Firebird
1978 Pontiac Grand Am
1978 Pontiac Grand LeMans
1978 Pontiac Grand Safari
1978 Pontiac Laurentian
1978 Pontiac LeMans
1978 Pontiac Parisienne
1978 Pontiac Phoenix
1978 Pontiac Sunbird
1977 Pontiac Acadian
1977 Pontiac Astre
1977 Pontiac Bonneville
1977 Pontiac Catalina
1977 Pontiac Grand LeMans
1977 Pontiac Grand Prix
1977 Pontiac Grand Safari
1977 Pontiac Laurentian
1977 Pontiac LeMans
1977 Pontiac Parisienne
1977 Pontiac Phoenix
1977 Pontiac Sunbird
1977 Pontiac Ventura
1976 Pontiac Acadian
1976 Pontiac Astre
1976 Pontiac Bonneville
1976 Pontiac Catalina
1976 Pontiac Grand LeMans
1976 Pontiac Grand Prix
1976 Pontiac Grand Safari
1976 Pontiac Laurentian
1976 Pontiac LeMans
1976 Pontiac Parisienne
1976 Pontiac Sunbird
1976 Pontiac Ventura
1975 Pontiac Astre
1975 Pontiac Grand Am
1975 Pontiac Grand LeMans
1975 Pontiac Grand Safari
1975 Pontiac Grandville
1975 Pontiac LeMans
1975 Pontiac Ventura
1974 Pontiac Grand Safari
1974 Pontiac LeMans
1974 Pontiac Ventura
1973 Pontiac Grand Am
1973 Pontiac LeMans
1973 Pontiac Ventura
1972 Pontiac LeMans
1972 Pontiac Ventura
1971 Pontiac LeMans
1971 Pontiac Ventura
1970 Pontiac LeMans
1970 Pontiac Tempest
1969 Pontiac LeMans
1969 Pontiac Tempest
1968 Pontiac Catalina
1968 Pontiac Executive
1968 Pontiac LeMans
1968 Pontiac Tempest
1967 Pontiac Catalina
1967 Pontiac Executive
1967 Pontiac Firebird
1967 Pontiac Tempest
1966 Pontiac Catalina
1966 Pontiac Grand Prix
1966 Pontiac Tempest
1965 Pontiac Tempest
1964 Pontiac Tempest
Renault
1984 Renault LeCar
1984 Renault R18i
1983 Renault LeCar
1983 Renault R18i
1982 Renault LeCar
1982 Renault R18i
1981 Renault LeCar
1981 Renault R18i
1975 Renault R12
Rover
1967 Rover 2000
1966 Rover 2000
1965 Rover 2000
Saab
1970 Saab 96
1970 Saab Sonett
1969 Saab 95
1969 Saab 96
1969 Saab Sonett
1968 Saab 95
1968 Saab 96
1968 Saab Shrike
1968 Saab Sonett
1967 Saab 95
1967 Saab 96
1967 Saab Monte Carlo
1967 Saab Shrike
1967 Saab Sonett
1966 Saab Monte Carlo
Saturn
2005 Saturn Vue
2004 Saturn Vue
Subaru
1994 Subaru Loyale
1993 Subaru Loyale
1992 Subaru Loyale
1991 Subaru Loyale
1991 Subaru XT
1990 Subaru Loyale
1990 Subaru XT
1989 Subaru DL
1989 Subaru GL
1989 Subaru GL-10
1989 Subaru RX
1989 Subaru XT
1988 Subaru DL
1988 Subaru GL
1988 Subaru GL-10
1988 Subaru RX
1988 Subaru XT
1987 Subaru Brat
1987 Subaru DL
1987 Subaru GL
1987 Subaru GL-10
1987 Subaru RX
1987 Subaru Standard
1987 Subaru XT
1986 Subaru Brat
1986 Subaru DL
1986 Subaru GL
1986 Subaru GL-10
1986 Subaru RX
1986 Subaru Standard
1986 Subaru XT
1985 Subaru Brat
1985 Subaru DL
1985 Subaru GL
1985 Subaru GL-10
1985 Subaru RX
1985 Subaru Standard
1985 Subaru XT
1984 Subaru Brat
1984 Subaru DL
1984 Subaru GL
1984 Subaru Standard
Toyota
2009 Toyota 4Runner
2008 Toyota 4Runner
2007 Toyota 4Runner
2006 Toyota 4Runner
2005 Toyota 4Runner
2004 Toyota 4Runner
2003 Toyota 4Runner
2000 Toyota 4Runner
1999 Toyota 4Runner
1999 Toyota Tercel
1998 Toyota 4Runner
1998 Toyota T100
1998 Toyota Tercel
1997 Toyota 4Runner
1997 Toyota Paseo
1997 Toyota T100
1997 Toyota Tercel
1996 Toyota 4Runner
1996 Toyota Paseo
1996 Toyota T100
1996 Toyota Tercel
1995 Toyota 4Runner
1995 Toyota Paseo
1995 Toyota T100
1995 Toyota Tercel
1994 Toyota 4Runner
1994 Toyota Paseo
1994 Toyota T100
1994 Toyota Tercel
1993 Toyota 4Runner
1993 Toyota Paseo
1993 Toyota Tercel
1992 Toyota 4Runner
1992 Toyota Paseo
1992 Toyota Tercel
1991 Toyota 4Runner
1991 Toyota Tercel
1990 Toyota Pickup
1989 Toyota Pickup
1989 Toyota Van
1988 Toyota Pickup
1988 Toyota Van
1987 Toyota 4Runner
1987 Toyota Pickup
1987 Toyota Van
1986 Toyota 4Runner
1986 Toyota Pickup
1986 Toyota Van
1985 Toyota 4Runner
1985 Toyota Pickup
1985 Toyota Van
1984 Toyota 4Runner
1984 Toyota Pickup
1984 Toyota Starlet
1984 Toyota Van
1983 Toyota Pickup
1983 Toyota Starlet
1982 Toyota Corona
1982 Toyota Starlet
1981 Toyota Corona
1981 Toyota Starlet
1981 Toyota Tercel