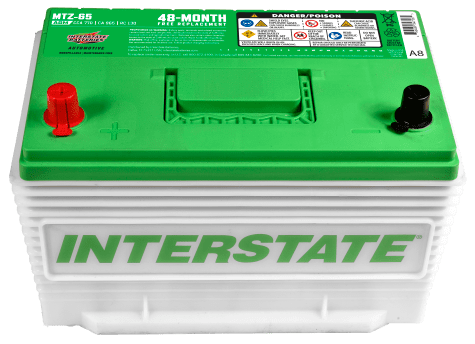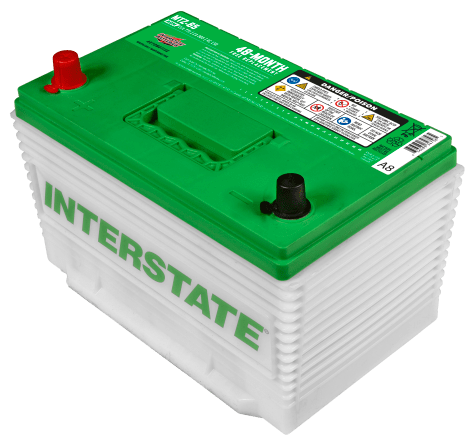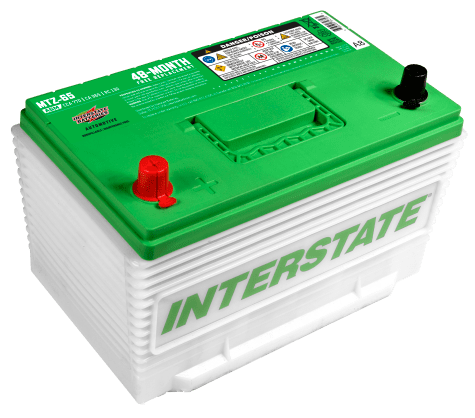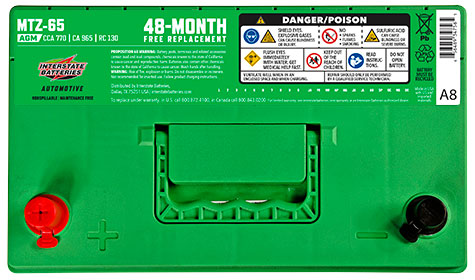 MTZ-65
Group Size 65
770 Cold Cranking Amps (CCA)
48 Month Warranty
770 Cold Cranking Amps (CCA)
Group Size 65
Mounting Flexiblity
Absorbed Glass-Mat (AGM)
Almost 3X the life of conventional flooded batteries
40% more cranking power
Plenty of power for accessories and plug-ins - even while the engine is off
48 Month Warranty
Free Replacement Warranty and Long Life Performance
Does This Battery Fit My Automobile
This Battery Fits Your Vehicle.
This Battery Does Not Fit Your Vehicle.
Suggested batteries for this vehicle, Click Here!
Enter your vehicle information
Find This Battery Near You
Hours of Operation
Contact Store For Hours of Operation
Description
The Interstate MTZ absorbed glass-mat AGM car battery with Pure Matrix™ power feeds power-hungry vehicles while serving up powerful engine starts. With a 48-month free replacement warranty and longest-life performance, this car battery delivers lasting power for today's high-accessory vehicles and motorists who use plug-ins such as DVD players, phone chargers and GPS devices.
Specifications
MTZ-65

65

770

965

130 minutes

65

11 13/16 inches
7 3/16 inches

7 3/8 inches

TOP POST (AUTO TYPE)

12

D

Pure Lead AGM
Warranty
View warranty by purchase date.
For countries outside the U.S. and Canada, including Puerto Rico, please contact your local dealer for warranties and product availability.
This Battery Also Fits These Vehicles
Chrysler
2009 Chrysler Aspen
2008 Chrysler Aspen
2007 Chrysler Aspen
Dodge
2010 Dodge Dakota
2009 Dodge Dakota
2009 Dodge Durango
2009 Dodge Ram 1500
2009 Dodge Ram 2500
2009 Dodge Ram 3500
2008 Dodge Dakota
2008 Dodge Durango
2008 Dodge Ram 1500
2008 Dodge Ram 2500
2008 Dodge Ram 3500
2007 Dodge Dakota
2007 Dodge Durango
2007 Dodge Ram 1500
2007 Dodge Ram 2500
2007 Dodge Ram 3500
2006 Dodge Dakota
2006 Dodge Durango
2006 Dodge Ram 1500
2006 Dodge Ram 2500
2006 Dodge Ram 3500
2005 Dodge Durango
2005 Dodge Ram 1500
2005 Dodge Ram 2500
2005 Dodge Ram 3500
2004 Dodge Durango
2004 Dodge Ram 1500
2004 Dodge Ram 2500
2004 Dodge Ram 3500
2003 Dodge Ram 1500
2003 Dodge Ram 2500
2003 Dodge Ram 3500
2002 Dodge Ram 1500
2002 Dodge Ram 2500
2002 Dodge Ram 3500
Ford
2022 Ford F-250 Super Duty
2022 Ford F-350 Super Duty
2021 Ford E-350 Super Duty
2020 Ford F-250 Super Duty
2020 Ford F-350 Super Duty
2019 Ford E-Series Vans
2019 Ford Explorer
2019 Ford F-250 Super Duty
2019 Ford F-350 Super Duty
2019 Ford F-350, F-350 Super Duty
2019 Ford Flex
2019 Ford Police Interceptor Sedan
2019 Ford Police Interceptor Utility
2019 Ford Taurus, Taurus X
2018 Ford E-350 Super Duty
2018 Ford E-Series Vans
2018 Ford Explorer
2018 Ford F-250 Super Duty
2018 Ford F-350 Super Duty
2018 Ford F-350, F-350 Super Duty
2018 Ford Flex
2018 Ford Police Interceptor Sedan
2018 Ford Police Interceptor Utility
2018 Ford Special Service Police Sedan
2018 Ford Taurus
2017 Ford E-350 Super Duty
2017 Ford E-Series Vans
2017 Ford Expedition
2017 Ford Explorer
2017 Ford F-250 Super Duty
2017 Ford F-250, F-250 Super Duty
2017 Ford F-350 Super Duty
2017 Ford F-350, F-350 Super Duty
2017 Ford Flex
2017 Ford Police Interceptor Sedan
2017 Ford Police Interceptor Utility
2017 Ford Special Service Police Sedan
2017 Ford Taurus
2016 Ford E-350 Super Duty
2016 Ford Expedition
2016 Ford Explorer
2016 Ford F-250 Super Duty
2016 Ford F-350 Super Duty
2016 Ford Flex
2016 Ford Police Interceptor Sedan
2016 Ford Police Interceptor Utility
2016 Ford Special Service Police Sedan
2016 Ford Taurus
2015 Ford E-350 Super Duty
2015 Ford Expedition
2015 Ford Explorer
2015 Ford F-250 Super Duty
2015 Ford F-350 Super Duty
2015 Ford Flex
2015 Ford Police Interceptor Sedan
2015 Ford Police Interceptor Utility
2015 Ford Special Service Police Sedan
2015 Ford Taurus
2014 Ford E-150
2014 Ford E-250
2014 Ford E-350 Super Duty
2014 Ford Edge
2014 Ford Expedition
2014 Ford Explorer
2014 Ford F-150
2014 Ford F-250 Super Duty
2014 Ford F-350 Super Duty
2014 Ford Flex
2014 Ford Police Interceptor Sedan
2014 Ford Police Interceptor Utility
2014 Ford Special Service Police Sedan
2014 Ford Taurus
2013 Ford E-150
2013 Ford E-250
2013 Ford E-350 Super Duty
2013 Ford Edge
2013 Ford Expedition
2013 Ford Explorer
2013 Ford F-150
2013 Ford F-250 Super Duty
2013 Ford F-350 Super Duty
2013 Ford Flex
2013 Ford Police Interceptor Sedan
2013 Ford Taurus
2012 Ford E-150
2012 Ford E-250
2012 Ford E-350 Super Duty
2012 Ford Edge
2012 Ford Expedition
2012 Ford Explorer
2012 Ford F-150
2012 Ford F-250 Super Duty
2012 Ford F-350 Super Duty
2012 Ford Flex
2012 Ford Taurus
2011 Ford Crown Victoria
2011 Ford E-150
2011 Ford E-250
2011 Ford E-350 Super Duty
2011 Ford Edge
2011 Ford Expedition
2011 Ford Explorer
2011 Ford F-150
2011 Ford F-250 Super Duty
2011 Ford F-350 Super Duty
2011 Ford Flex
2011 Ford Taurus
2010 Ford Crown Victoria
2010 Ford E-150
2010 Ford E-250
2010 Ford E-350 Super Duty
2010 Ford Expedition
2010 Ford Explorer
2010 Ford Explorer Sport Trac
2010 Ford F-150
2010 Ford F-250 Super Duty
2010 Ford F-350 Super Duty
2010 Ford Flex
2010 Ford Taurus
2009 Ford Crown Victoria
2009 Ford E-150
2009 Ford E-250
2009 Ford E-350 Super Duty
2009 Ford Expedition
2009 Ford Explorer
2009 Ford Explorer Sport Trac
2009 Ford F-150
2009 Ford F-250 Super Duty
2009 Ford F-350 Super Duty
2009 Ford Flex
2008 Ford Crown Victoria
2008 Ford E-150
2008 Ford E-250
2008 Ford E-350 Super Duty
2008 Ford Expedition
2008 Ford Explorer
2008 Ford Explorer Sport Trac
2008 Ford F-150
2008 Ford F-250 Super Duty
2008 Ford F-350 Super Duty
2007 Ford Crown Victoria
2007 Ford E-150
2007 Ford E-250
2007 Ford E-350 Super Duty
2007 Ford Expedition
2007 Ford Explorer
2007 Ford Explorer Sport Trac
2007 Ford F-150
2007 Ford F-250 Super Duty
2007 Ford F-350 Super Duty
2007 Ford Freestar
2006 Ford Crown Victoria
2006 Ford E-150
2006 Ford E-250
2006 Ford E-350 Super Duty
2006 Ford Expedition
2006 Ford Explorer
2006 Ford F-150
2006 Ford F-250 Super Duty
2006 Ford F-350 Super Duty
2006 Ford Freestar
2005 Ford Crown Victoria
2005 Ford E-150
2005 Ford E-150 Club Wagon
2005 Ford E-250
2005 Ford E-350 Club Wagon
2005 Ford E-350 Super Duty
2005 Ford Excursion
2005 Ford Expedition
2005 Ford Explorer
2005 Ford Explorer Sport Trac
2005 Ford F-150
2005 Ford F-250 Super Duty
2005 Ford F-350 Super Duty
2005 Ford Freestar
2004 Ford Crown Victoria
2004 Ford E-150
2004 Ford E-150 Club Wagon
2004 Ford E-250
2004 Ford E-350 Club Wagon
2004 Ford E-350 Super Duty
2004 Ford Excursion
2004 Ford Expedition
2004 Ford Explorer
2004 Ford Explorer Sport Trac
2004 Ford F-150
2004 Ford F-150 Heritage
2004 Ford F-250 Super Duty
2004 Ford F-350 Super Duty
2004 Ford Freestar
2003 Ford Crown Victoria
2003 Ford E-150
2003 Ford E-150 Club Wagon
2003 Ford E-250
2003 Ford E-350 Club Wagon
2003 Ford E-350 Super Duty
2003 Ford Excursion
2003 Ford Expedition
2003 Ford Explorer
2003 Ford Explorer Sport Trac
2003 Ford F-150
2003 Ford F-250 Super Duty
2003 Ford F-350 Super Duty
2003 Ford Windstar
2002 Ford Crown Victoria
2002 Ford E-150 Econoline
2002 Ford E-150 Econoline Club Wagon
2002 Ford E-250 Econoline
2002 Ford E-350 Econoline Club Wagon
2002 Ford E-350 Super Duty
2002 Ford Excursion
2002 Ford Expedition
2002 Ford Explorer
2002 Ford Explorer Sport Trac
2002 Ford F-150
2002 Ford F-250 Super Duty
2002 Ford F-350 Super Duty
2002 Ford Windstar
2001 Ford Crown Victoria
2001 Ford E-150 Econoline
2001 Ford E-150 Econoline Club Wagon
2001 Ford E-250 Econoline
2001 Ford E-350 Econoline Club Wagon
2001 Ford E-350 Super Duty
2001 Ford Excursion
2001 Ford Expedition
2001 Ford Explorer
2001 Ford Explorer Sport Trac
2001 Ford F-150
2001 Ford F-250 Super Duty
2001 Ford F-350 Super Duty
2001 Ford Windstar
2000 Ford Crown Victoria
2000 Ford E-150 Econoline
2000 Ford E-150 Econoline Club Wagon
2000 Ford E-250 Econoline
2000 Ford E-350 Econoline Club Wagon
2000 Ford E-350 Super Duty
2000 Ford Excursion
2000 Ford Expedition
2000 Ford Explorer
2000 Ford F-150
2000 Ford F-250 Super Duty
2000 Ford F-350 Super Duty
2000 Ford Windstar
1999 Ford Crown Victoria
1999 Ford E-150 Econoline
1999 Ford E-150 Econoline Club Wagon
1999 Ford E-250 Econoline
1999 Ford E-350 Econoline Club Wagon
1999 Ford E-350 Super Duty
1999 Ford Expedition
1999 Ford Explorer
1999 Ford F-150
1999 Ford F-250
1999 Ford F-250 Super Duty
1999 Ford F-350 Super Duty
1999 Ford Windstar
1998 Ford Crown Victoria
1998 Ford E-150 Econoline
1998 Ford E-150 Econoline Club Wagon
1998 Ford E-250 Econoline
1998 Ford E-350 Econoline
1998 Ford E-350 Econoline Club Wagon
1998 Ford Expedition
1998 Ford Explorer
1998 Ford F-150
1998 Ford F-250
1998 Ford Windstar
1997 Ford Aerostar
1997 Ford Crown Victoria
1997 Ford E-150 Econoline
1997 Ford E-150 Econoline Club Wagon
1997 Ford E-250 Econoline
1997 Ford E-350 Econoline
1997 Ford E-350 Econoline Club Wagon
1997 Ford Expedition
1997 Ford Explorer
1997 Ford F-150
1997 Ford F-250
1997 Ford F-250 HD
1997 Ford F-350
1997 Ford Ranger
1997 Ford Thunderbird
1997 Ford Windstar
1996 Ford Aerostar
1996 Ford Bronco
1996 Ford Crown Victoria
1996 Ford E-150 Econoline
1996 Ford E-150 Econoline Club Wagon
1996 Ford E-250 Econoline
1996 Ford E-350 Econoline
1996 Ford E-350 Econoline Club Wagon
1996 Ford Explorer
1996 Ford F-150
1996 Ford F-250
1996 Ford F-350
1996 Ford Ranger
1996 Ford Thunderbird
1996 Ford Windstar
1995 Ford Aerostar
1995 Ford Bronco
1995 Ford Crown Victoria
1995 Ford E-150 Econoline
1995 Ford E-150 Econoline Club Wagon
1995 Ford E-250 Econoline
1995 Ford E-350 Econoline
1995 Ford E-350 Econoline Club Wagon
1995 Ford Explorer
1995 Ford F-150
1995 Ford F-250
1995 Ford F-350
1995 Ford Ranger
1995 Ford Taurus
1995 Ford Thunderbird
1995 Ford Windstar
1994 Ford Aerostar
1994 Ford Bronco
1994 Ford Crown Victoria
1994 Ford E-150 Econoline
1994 Ford E-150 Econoline Club Wagon
1994 Ford E-250 Econoline
1994 Ford E-350 Econoline
1994 Ford E-350 Econoline Club Wagon
1994 Ford Explorer
1994 Ford F-150
1994 Ford F-250
1994 Ford F-350
1994 Ford Ranger
1994 Ford Taurus
1994 Ford Thunderbird
1993 Ford Aerostar
1993 Ford Bronco
1993 Ford Crown Victoria
1993 Ford E-150 Econoline
1993 Ford E-150 Econoline Club Wagon
1993 Ford E-250 Econoline
1993 Ford E-350 Econoline
1993 Ford E-350 Econoline Club Wagon
1993 Ford Explorer
1993 Ford F-150
1993 Ford F-250
1993 Ford F-350
1993 Ford Ranger
1993 Ford Taurus
1993 Ford Thunderbird
1992 Ford Aerostar
1992 Ford Bronco
1992 Ford Crown Victoria
1992 Ford E-150 Econoline
1992 Ford E-150 Econoline Club Wagon
1992 Ford E-250 Econoline
1992 Ford E-350 Econoline
1992 Ford E-350 Econoline Club Wagon
1992 Ford Explorer
1992 Ford F-150
1992 Ford F-250
1992 Ford F-350
1992 Ford Ranger
1992 Ford Taurus
1992 Ford Thunderbird
1991 Ford Aerostar
1991 Ford Bronco
1991 Ford Country Squire
1991 Ford Explorer
1991 Ford F-150
1991 Ford F-250
1991 Ford F-350
1991 Ford LTD Crown Victoria
1991 Ford Ranger
1991 Ford Taurus
1991 Ford Thunderbird
1990 Ford Aerostar
1990 Ford Bronco
1990 Ford Bronco II
1990 Ford Country Squire
1990 Ford F-150
1990 Ford F-250
1990 Ford F-350
1990 Ford LTD Crown Victoria
1990 Ford Ranger
1990 Ford Taurus
1990 Ford Thunderbird
1989 Ford Aerostar
1989 Ford Bronco
1989 Ford Bronco II
1989 Ford Country Squire
1989 Ford F-150
1989 Ford F-250
1989 Ford F-350
1989 Ford LTD Crown Victoria
1989 Ford Ranger
1989 Ford Taurus
1989 Ford Thunderbird
1988 Ford Bronco
1988 Ford Country Squire
1988 Ford F-150
1988 Ford F-250
1988 Ford F-350
1988 Ford LTD Crown Victoria
1988 Ford Taurus
1988 Ford Thunderbird
1987 Ford Bronco
1987 Ford F-150
1987 Ford F-250
1987 Ford F-350
1987 Ford LTD Crown Victoria
1987 Ford Taurus
1987 Ford Thunderbird
1986 Ford Taurus
1986 Ford Thunderbird
Jeep
2004 Jeep Grand Cherokee
2003 Jeep Grand Cherokee
2002 Jeep Grand Cherokee
2001 Jeep Grand Cherokee
2000 Jeep Grand Cherokee
1999 Jeep Grand Cherokee
Lincoln
2019 Lincoln MKT
2018 Lincoln MKT
2017 Lincoln MKT
2017 Lincoln Navigator
2016 Lincoln MKS
2016 Lincoln MKT
2016 Lincoln Navigator
2015 Lincoln MKS
2015 Lincoln MKT
2015 Lincoln MKX
2015 Lincoln Navigator
2014 Lincoln MKS
2014 Lincoln MKT
2014 Lincoln MKX
2014 Lincoln Navigator
2013 Lincoln MKS
2013 Lincoln MKT
2013 Lincoln MKX
2013 Lincoln Navigator
2012 Lincoln MKS
2012 Lincoln MKT
2012 Lincoln MKX
2012 Lincoln Navigator
2011 Lincoln MKS
2011 Lincoln MKT
2011 Lincoln MKX
2011 Lincoln Navigator
2011 Lincoln Town Car
2010 Lincoln MKS
2010 Lincoln MKT
2010 Lincoln Navigator
2010 Lincoln Town Car
2009 Lincoln MKS
2009 Lincoln Navigator
2009 Lincoln Town Car
2008 Lincoln Mark LT
2008 Lincoln Navigator
2008 Lincoln Town Car
2007 Lincoln Mark LT
2007 Lincoln Navigator
2007 Lincoln Town Car
2006 Lincoln Mark LT
2006 Lincoln Navigator
2006 Lincoln Town Car
2005 Lincoln Aviator
2005 Lincoln Navigator
2005 Lincoln Town Car
2004 Lincoln Aviator
2004 Lincoln Navigator
2004 Lincoln Town Car
2003 Lincoln Aviator
2003 Lincoln Navigator
2003 Lincoln Town Car
2002 Lincoln Blackwood
2002 Lincoln Continental
2002 Lincoln Navigator
2002 Lincoln Town Car
2001 Lincoln Continental
2001 Lincoln Navigator
2001 Lincoln Town Car
2000 Lincoln Continental
2000 Lincoln Navigator
2000 Lincoln Town Car
1999 Lincoln Continental
1999 Lincoln Navigator
1999 Lincoln Town Car
1998 Lincoln Continental
1998 Lincoln Mark VIII
1998 Lincoln Navigator
1998 Lincoln Town Car
1997 Lincoln Continental
1997 Lincoln Mark VIII
1997 Lincoln Town Car
1996 Lincoln Continental
1996 Lincoln Mark VIII
1996 Lincoln Town Car
1995 Lincoln Continental
1995 Lincoln Mark VIII
1995 Lincoln Town Car
1994 Lincoln Continental
1994 Lincoln Mark VIII
1994 Lincoln Town Car
1993 Lincoln Continental
1993 Lincoln Mark VIII
1993 Lincoln Town Car
1992 Lincoln Continental
1992 Lincoln Mark VII
1992 Lincoln Town Car
1991 Lincoln Continental
1991 Lincoln Mark VII
1991 Lincoln Town Car
1990 Lincoln Continental
1990 Lincoln Mark VII
1990 Lincoln Town Car
1989 Lincoln Continental
1989 Lincoln Mark VII
1989 Lincoln Town Car
1988 Lincoln Continental
1988 Lincoln Mark VII
1988 Lincoln Town Car
1987 Lincoln Mark VII
1985 Lincoln Mark VII
1984 Lincoln Continental
1984 Lincoln Mark VII
Mazda
1997 Mazda B2300
1997 Mazda B4000
1996 Mazda B2300
1996 Mazda B4000
1995 Mazda B2300
1995 Mazda B4000
1994 Mazda B2300
1994 Mazda B4000
1994 Mazda Navajo
1993 Mazda Navajo
1992 Mazda Navajo
1991 Mazda Navajo
Mercury
2011 Mercury Grand Marquis
2010 Mercury Grand Marquis
2010 Mercury Mountaineer
2009 Mercury Grand Marquis
2009 Mercury Mountaineer
2008 Mercury Grand Marquis
2008 Mercury Mountaineer
2007 Mercury Grand Marquis
2007 Mercury Monterey
2007 Mercury Mountaineer
2006 Mercury Grand Marquis
2006 Mercury Monterey
2006 Mercury Mountaineer
2005 Mercury Grand Marquis
2005 Mercury Monterey
2005 Mercury Mountaineer
2004 Mercury Grand Marquis
2004 Mercury Marauder
2004 Mercury Monterey
2004 Mercury Mountaineer
2003 Mercury Grand Marquis
2003 Mercury Marauder
2003 Mercury Mountaineer
2002 Mercury Grand Marquis
2002 Mercury Mountaineer
2001 Mercury Grand Marquis
2001 Mercury Mountaineer
2000 Mercury Grand Marquis
2000 Mercury Mountaineer
1999 Mercury Grand Marquis
1999 Mercury Mountaineer
1998 Mercury Grand Marquis
1998 Mercury Mountaineer
1997 Mercury Cougar
1997 Mercury Grand Marquis
1997 Mercury Mountaineer
1996 Mercury Cougar
1996 Mercury Grand Marquis
1995 Mercury Cougar
1995 Mercury Grand Marquis
1995 Mercury Sable
1994 Mercury Cougar
1994 Mercury Grand Marquis
1994 Mercury Sable
1993 Mercury Cougar
1993 Mercury Grand Marquis
1993 Mercury Sable
1992 Mercury Cougar
1992 Mercury Grand Marquis
1992 Mercury Sable
1991 Mercury Colony Park
1991 Mercury Cougar
1991 Mercury Grand Marquis
1991 Mercury Sable
1990 Mercury Cougar
1990 Mercury Grand Marquis
1990 Mercury Sable
1989 Mercury Cougar
1989 Mercury Grand Marquis
1989 Mercury Sable
1988 Mercury Colony Park
1988 Mercury Cougar
1988 Mercury Grand Marquis
1988 Mercury Sable
1987 Mercury Cougar
1986 Mercury Cougar
1986 Mercury Sable
Mitsubishi
2009 Mitsubishi Raider
2008 Mitsubishi Raider
2007 Mitsubishi Raider
2006 Mitsubishi Raider
Mobility Ventures
2017 Mobility Ventures MV-1
2016 Mobility Ventures MV-1
2015 Mobility Ventures MV-1
2014 Mobility Ventures MV-1
Ram
2011 Ram Dakota