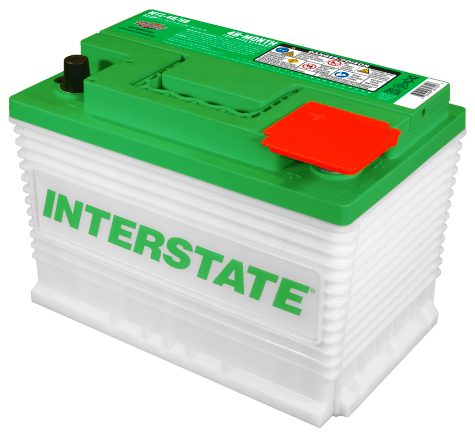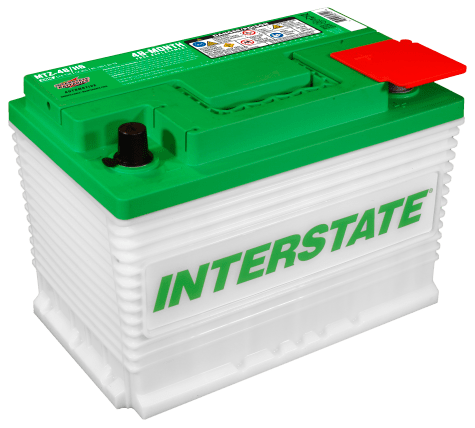 MTZ-48/H6
Group Size H6
730 Cold Cranking Amps (CCA)
48 Month Warranty
730 Cold Cranking Amps (CCA)
Group Size H6
Mounting Flexiblity
Absorbed Glass-Mat (AGM)
Almost 3X the life of conventional flooded batteries
40% more cranking power
Plenty of power for accessories and plug-ins - even while the engine is off
48 Month Warranty
Free Replacement Warranty and Long Life Performance
Does This Battery Fit My Automobile
This Battery Fits Your Vehicle.
This Battery Does Not Fit Your Vehicle.
Suggested batteries for this vehicle, Click Here!
Enter your vehicle information
Find This Battery Near You
Hours of Operation
Contact Store For Hours of Operation
Description
The Interstate MTZ absorbed glass-mat AGM car battery with Pure Matrix™ power feeds power-hungry vehicles while serving up powerful engine starts. With a 48-month free replacement warranty and longest-life performance, this car battery delivers lasting power for today's high-accessory vehicles and motorists who use plug-ins such as DVD players, phone chargers and GPS devices.
Specifications
MTZ-48/H6

H6

730

915

130 minutes

70

10 15/16 inches
6 7/8 inches

7 7/16 inches

TOP POST (AUTO TYPE)

12

D

Pure Lead AGM
Warranty
View warranty by purchase date.
For countries outside the U.S. and Canada, including Puerto Rico, please contact your local dealer for warranties and product availability.
This Battery Also Fits These Vehicles
Acura
2022 Acura MDX
2021 Acura RDX
2020 Acura MDX
2020 Acura RDX
2020 Acura TLX
2019 Acura MDX
2019 Acura RDX
2019 Acura TLX
2018 Acura MDX
2018 Acura TLX
2017 Acura MDX
2017 Acura TLX
2016 Acura MDX
2016 Acura TLX
2015 Acura TLX
Aston Martin
2004 Aston Martin DB7
2003 Aston Martin DB7
2002 Aston Martin DB7
2001 Aston Martin DB7
2000 Aston Martin DB7
1998 Aston Martin DB7
1997 Aston Martin DB7
Audi
2022 Audi A4 allroad
2022 Audi A4 Quattro
2022 Audi A5 Quattro
2022 Audi A5 Sportback
2022 Audi A6 allroad
2022 Audi A6 Quattro
2022 Audi A7 Sportback
2022 Audi e-tron Quattro
2022 Audi Q3
2022 Audi Q5
2022 Audi Q5 PHEV
2022 Audi Q5 Sportback
2022 Audi Q7
2022 Audi Q8
2022 Audi RS Q8
2022 Audi RS6 Avant
2022 Audi RS7 Sportback
2022 Audi S4
2022 Audi S5
2022 Audi S5 Sportback
2022 Audi S7 Sportback
2021 Audi A4 allroad
2021 Audi A4 Quattro
2021 Audi A5 Quattro
2021 Audi A5 Sportback
2021 Audi A6 allroad
2021 Audi A6 Quattro
2021 Audi A7 Sportback
2021 Audi A8 Quattro
2021 Audi e-tron Quattro
2021 Audi e-tron Sportback
2021 Audi Q3
2021 Audi Q5
2021 Audi Q5 PHEV
2021 Audi Q5 Sportback
2021 Audi Q7
2021 Audi Q8
2021 Audi RS Q8
2021 Audi RS6 Avant
2021 Audi RS7 Sportback
2021 Audi S4
2021 Audi S5
2021 Audi S5 Sportback
2021 Audi S6
2021 Audi S7
2021 Audi S7 Sportback
2021 Audi S8
2021 Audi SQ8
2021 Audi TT Quattro
2021 Audi TTS Quattro
2020 Audi A3
2020 Audi A3 Quattro
2020 Audi A4
2020 Audi A4 allroad
2020 Audi A4 Quattro
2020 Audi A5 Quattro
2020 Audi A5 Sportback
2020 Audi A6 allroad
2020 Audi A6 Quattro
2020 Audi A7 Quattro
2020 Audi A7 Sportback
2020 Audi A8 Quattro
2020 Audi e-tron Quattro
2020 Audi e-tron Sportback
2020 Audi Q3
2020 Audi Q5
2020 Audi Q5 PHEV
2020 Audi Q7
2020 Audi Q8
2020 Audi RS Q8
2020 Audi S3
2020 Audi S4
2020 Audi S5
2020 Audi S5 Sportback
2020 Audi S6
2020 Audi S7
2020 Audi S7 Sportback
2020 Audi S8
2020 Audi SQ5
2020 Audi SQ8
2020 Audi TT Quattro
2020 Audi TTS Quattro
2019 Audi A3
2019 Audi A3 Quattro
2019 Audi A4 Quattro
2019 Audi A5 Quattro
2019 Audi A5 Sportback
2019 Audi A6 Quattro
2019 Audi A7 Quattro
2019 Audi A7 Sportback
2019 Audi A8 Quattro
2019 Audi e-tron Quattro
2019 Audi Q3
2019 Audi Q5
2019 Audi Q7
2019 Audi Q8
2019 Audi S3
2019 Audi S4
2019 Audi S5
2019 Audi S5 Sportback
2019 Audi SQ5
2019 Audi TT Quattro
2019 Audi TTS Quattro
2018 Audi A3
2018 Audi A3 Quattro
2018 Audi A3 Sportback e-tron
2018 Audi A4
2018 Audi A4 allroad
2018 Audi A4 Quattro
2018 Audi A5 Quattro
2018 Audi A5 Sportback
2018 Audi A6
2018 Audi A6 Quattro
2018 Audi A7 Quattro
2018 Audi Q3
2018 Audi Q3 Quattro
2018 Audi Q5
2018 Audi Q7
2018 Audi RS 7
2018 Audi RS7
2018 Audi S3
2018 Audi S4
2018 Audi S5
2018 Audi S5 Sportback
2018 Audi S6
2018 Audi S7
2018 Audi TT
2018 Audi TT Quattro
2017 Audi A3
2017 Audi A3 Quattro
2017 Audi A3 Sportback e-tron
2017 Audi A4
2017 Audi A4 allroad
2017 Audi A4 Quattro
2017 Audi A5 Quattro
2017 Audi A6
2017 Audi A6 Quattro
2017 Audi A7 Quattro
2017 Audi Q3
2017 Audi Q3 Quattro
2017 Audi Q5
2017 Audi Q7
2017 Audi RS 7
2017 Audi RS7
2017 Audi S3
2017 Audi S5
2017 Audi S6
2017 Audi S7
2017 Audi TT
2017 Audi TT Quattro
2016 Audi A3
2016 Audi A3 Quattro
2016 Audi A3 Sportback e-tron
2016 Audi A4
2016 Audi A4 allroad
2016 Audi A4 Quattro
2016 Audi A5 Quattro
2016 Audi A6
2016 Audi A6 Quattro
2016 Audi A7 Quattro
2016 Audi allroad
2016 Audi Q3
2016 Audi Q3 Quattro
2016 Audi Q5
2016 Audi RS7
2016 Audi S3
2016 Audi S4
2016 Audi S5
2016 Audi S6
2016 Audi S7
2016 Audi TT Quattro
2015 Audi A3
2015 Audi A3 Quattro
2015 Audi A4
2015 Audi A4 allroad
2015 Audi A4 Quattro
2015 Audi A5 Quattro
2015 Audi A6
2015 Audi A6 Quattro
2015 Audi A7 Quattro
2015 Audi allroad
2015 Audi Q3
2015 Audi Q3 Quattro
2015 Audi Q5
2015 Audi R8
2015 Audi RS7
2015 Audi S3
2015 Audi S4
2015 Audi S5
2015 Audi S6
2015 Audi S7
2014 Audi A4
2014 Audi A4 allroad
2014 Audi A4 Quattro
2014 Audi A5
2014 Audi A5 Quattro
2014 Audi A6
2014 Audi A6 Quattro
2014 Audi A7 Quattro
2014 Audi allroad
2014 Audi Q5
2014 Audi R8
2014 Audi RS7
2014 Audi S4
2014 Audi S5
2014 Audi S6
2014 Audi S7
2013 Audi A3
2013 Audi A3 Quattro
2013 Audi A4
2013 Audi A4 allroad
2013 Audi A4 Quattro
2013 Audi A5
2013 Audi A5 Quattro
2013 Audi A6
2013 Audi A6 Quattro
2013 Audi A7 Quattro
2013 Audi allroad
2013 Audi Q5
2013 Audi S4
2013 Audi S5
2013 Audi S6
2013 Audi S7
2012 Audi A3
2012 Audi A3 Quattro
2012 Audi A5
2012 Audi A5 Quattro
2012 Audi A6
2012 Audi A6 Quattro
2012 Audi A7 Quattro
2012 Audi Q5
2012 Audi R8
2012 Audi S5
2011 Audi A3
2011 Audi A3 Quattro
2011 Audi A5
2011 Audi A5 Quattro
2011 Audi A6
2011 Audi A6 Quattro
2011 Audi Q5
2011 Audi R8
2011 Audi S5
2011 Audi S6
2010 Audi A3
2010 Audi A3 Quattro
2010 Audi A5
2010 Audi A5 Quattro
2010 Audi A6
2010 Audi A6 Quattro
2010 Audi Q5
2010 Audi R8
2010 Audi S5
2010 Audi S6
2009 Audi A3
2009 Audi A3 Quattro
2009 Audi A6
2009 Audi A6 Quattro
2009 Audi Q5
2009 Audi R8
2009 Audi S5
2009 Audi S6
2008 Audi A3
2008 Audi A6
2008 Audi A6 Quattro
2008 Audi R8
2008 Audi S6
2007 Audi A3
2007 Audi A6
2007 Audi A6 Quattro
2007 Audi S6
2006 Audi A3
2006 Audi A6
2006 Audi A6 Quattro
2006 Audi TT
2006 Audi TT Quattro
2005 Audi A6 Quattro
2005 Audi TT
2005 Audi TT Quattro
2004 Audi A6
2004 Audi A6 Quattro
2004 Audi TT
2004 Audi TT Quattro
2003 Audi A6
2003 Audi A6 Quattro
2003 Audi TT
2003 Audi TT Quattro
2002 Audi A4
2002 Audi A4 Quattro
2002 Audi A6
2002 Audi A6 Quattro
2001 Audi A4
2001 Audi A4 Quattro
2001 Audi A6
2001 Audi A6 Quattro
2001 Audi S4
2000 Audi A4
2000 Audi A4 Quattro
2000 Audi A6
2000 Audi A6 Quattro
2000 Audi S4
1999 Audi A4
1999 Audi A4 Quattro
1999 Audi A6
1999 Audi A6 Quattro
1998 Audi A4
1998 Audi A4 Quattro
1998 Audi A6
1998 Audi A6 Quattro
1997 Audi A4
1997 Audi A4 Quattro
1997 Audi A6
1997 Audi A6 Quattro
1996 Audi A4
1996 Audi A4 Quattro
1996 Audi A6
1996 Audi A6 Quattro
1995 Audi A6
1995 Audi A6 Quattro
1986 Audi 5000
1985 Audi Coupe
1985 Audi Quattro
1984 Audi Coupe
1984 Audi Quattro
1983 Audi 4000
1983 Audi 5000
1983 Audi Coupe
1983 Audi Quattro
1982 Audi 4000
1982 Audi 5000
1981 Audi Coupe
Bentley
1998 Bentley Turbo R
1997 Bentley Turbo R
1996 Bentley Turbo R
1995 Bentley Turbo R
1994 Bentley Turbo R
1993 Bentley Turbo R
1992 Bentley Turbo R
1991 Bentley Turbo R
1990 Bentley Turbo R
1989 Bentley Turbo R
BMW
2021 BMW 228i xDrive Gran Coupe
2021 BMW 330i
2021 BMW M235i xDrive Gran Coupe
2021 BMW X2
2019 BMW 330i
2019 BMW 330i xDrive
2019 BMW X1
2019 BMW X2
2018 BMW 320i
2018 BMW 320i xDrive
2018 BMW 320i, 320Xi
2018 BMW 328d
2018 BMW 328d xDrive
2018 BMW 330e
2018 BMW 330i
2018 BMW 330i xDrive
2018 BMW 340i
2018 BMW 340i xDrive
2018 BMW 530i
2018 BMW 530i xDrive
2018 BMW 540i
2018 BMW 540i xDrive
2018 BMW X1
2017 BMW 320i
2017 BMW 320i xDrive
2017 BMW 320i, 320Xi
2017 BMW 328d
2017 BMW 328d xDrive
2017 BMW 330e
2017 BMW 330i
2017 BMW 330i xDrive
2017 BMW 340i
2017 BMW 340i xDrive
2017 BMW 530i
2017 BMW 530i xDrive
2017 BMW 540i
2017 BMW 540i xDrive
2017 BMW X1
2016 BMW 320i
2016 BMW 320i xDrive
2016 BMW 328d
2016 BMW 328d xDrive
2016 BMW 330e
2016 BMW 340i
2016 BMW 340i xDrive
2016 BMW X1
2016 BMW Z4
2015 BMW 320i
2015 BMW 320i xDrive
2015 BMW 328d
2015 BMW 328d xDrive
2015 BMW X1
2015 BMW Z4
2014 BMW 320i
2014 BMW 320i xDrive
2014 BMW 328d
2014 BMW 328d xDrive
2014 BMW X1
2014 BMW X6
2014 BMW Z4
2013 BMW 128i
2013 BMW 135i
2013 BMW 135is
2013 BMW 320i
2013 BMW 320i xDrive
2013 BMW 328i
2013 BMW 328i xDrive
2013 BMW 335i
2013 BMW 335i xDrive
2013 BMW 335is
2013 BMW M3
2013 BMW X1
2013 BMW X5
2013 BMW X6
2013 BMW Z4
2012 BMW 128i
2012 BMW 135i
2012 BMW 320i
2012 BMW 328i
2012 BMW 328i xDrive
2012 BMW 335i
2012 BMW 335i xDrive
2012 BMW 335is
2012 BMW M3
2012 BMW X1
2012 BMW X5
2012 BMW X6
2012 BMW Z4
2011 BMW 1 Series M
2011 BMW 128i
2011 BMW 135i
2011 BMW 323i
2011 BMW 328i
2011 BMW 328i xDrive
2011 BMW 335d
2011 BMW 335i
2011 BMW 335i xDrive
2011 BMW 335is
2011 BMW M3
2011 BMW X5
2011 BMW X6
2011 BMW Z4
2010 BMW 128i
2010 BMW 135i
2010 BMW 323i
2010 BMW 328i
2010 BMW 328i xDrive
2010 BMW 335d
2010 BMW 335i
2010 BMW 335i xDrive
2010 BMW M3
2010 BMW X3
2010 BMW X5
2010 BMW X6
2010 BMW Z4
2009 BMW 128i
2009 BMW 135i
2009 BMW 323i
2009 BMW 328i
2009 BMW 328i xDrive
2009 BMW 335d
2009 BMW 335i
2009 BMW 335i xDrive
2009 BMW M3
2009 BMW X3
2009 BMW X5
2009 BMW X6
2009 BMW Z4
2008 BMW 128i
2008 BMW 135i
2008 BMW 323i
2008 BMW 328i
2008 BMW 328xi
2008 BMW 335i
2008 BMW 335xi
2008 BMW M3
2008 BMW X3
2008 BMW X6
2008 BMW Z4
2007 BMW 323i
2007 BMW 328i
2007 BMW 328xi
2007 BMW 335i
2007 BMW 335xi
2007 BMW X3
2007 BMW Z4
2006 BMW 323i
2006 BMW 325i
2006 BMW 325xi
2006 BMW 330Ci
2006 BMW 330i
2006 BMW 330xi
2006 BMW M3
2006 BMW X3
2006 BMW Z4
2005 BMW 320i
2005 BMW 325Ci
2005 BMW 325i
2005 BMW 325xi
2005 BMW X3
2005 BMW Z4
2004 BMW 320i
2004 BMW 325Ci
2004 BMW 325i
2004 BMW 325xi
2004 BMW X3
2004 BMW Z4
2003 BMW 320i
2003 BMW 325Ci
2003 BMW 325i
2003 BMW 325xi
2003 BMW Z4
2002 BMW 320i
2002 BMW 325Ci
2002 BMW 325i
2002 BMW 325xi
2002 BMW Z3
2001 BMW 320i
2001 BMW 325Ci
2001 BMW 325i
2001 BMW 325xi
2001 BMW 750iL
2001 BMW Z3
2000 BMW 323Ci
2000 BMW 328Ci
2000 BMW 328i
2000 BMW Z3
1999 BMW 750iL
1999 BMW Z3
1998 BMW Z3
1997 BMW Z3
1996 BMW Z3
1987 BMW 325
1987 BMW 325e
1987 BMW 325es
1987 BMW 528e
1987 BMW 535i
1987 BMW L6
1986 BMW 325
1986 BMW 325e
1986 BMW 325es
1986 BMW 535i
1986 BMW L7
1985 BMW 535i
Buick
2021 Buick Encore GX
2019 Buick Encore
2019 Buick LaCrosse
2018 Buick Encore
2018 Buick LaCrosse
2017 Buick Enclave
2017 Buick Encore
2017 Buick Regal
2017 Buick Verano
2016 Buick Enclave
2016 Buick Encore
2016 Buick LaCrosse
2016 Buick Regal
2016 Buick Verano
2015 Buick Enclave
2015 Buick LaCrosse
2015 Buick Regal
2015 Buick Verano
2014 Buick Enclave
2014 Buick LaCrosse
2014 Buick Regal
2014 Buick Verano
2013 Buick Enclave
2013 Buick LaCrosse
2013 Buick Regal
2013 Buick Verano
2012 Buick Enclave
2012 Buick LaCrosse
2012 Buick Regal
2012 Buick Verano
2011 Buick Enclave
2011 Buick LaCrosse
2011 Buick Regal
2010 Buick Allure
2010 Buick Enclave
2010 Buick LaCrosse
2009 Buick Enclave
2008 Buick Enclave
2008 Buick Lucerne
Cadillac
2021 Cadillac CT4
2021 Cadillac CT5
2019 Cadillac ATS
2019 Cadillac XTS
2018 Cadillac ATS
2018 Cadillac XTS
2017 Cadillac ATS
2017 Cadillac XTS
2016 Cadillac ATS
2016 Cadillac SRX
2016 Cadillac XTS
2015 Cadillac ATS
2015 Cadillac CTS
2015 Cadillac Escalade
2015 Cadillac Escalade ESV
2015 Cadillac SRX
2015 Cadillac XTS
2014 Cadillac ATS
2014 Cadillac CTS
2014 Cadillac Escalade
2014 Cadillac Escalade ESV
2014 Cadillac SRX
2014 Cadillac XTS
2013 Cadillac ATS
2013 Cadillac CTS
2013 Cadillac Escalade
2013 Cadillac Escalade ESV
2013 Cadillac Escalade EXT
2013 Cadillac SRX
2013 Cadillac XTS
2012 Cadillac CTS
2012 Cadillac Escalade
2012 Cadillac Escalade ESV
2012 Cadillac Escalade EXT
2012 Cadillac SRX
2011 Cadillac CTS
2011 Cadillac Escalade
2011 Cadillac Escalade ESV
2011 Cadillac Escalade EXT
2011 Cadillac SRX
2011 Cadillac STS
2010 Cadillac CTS
2010 Cadillac Escalade
2010 Cadillac Escalade ESV
2010 Cadillac Escalade EXT
2010 Cadillac SRX
2010 Cadillac STS
2009 Cadillac CTS
2009 Cadillac Escalade
2009 Cadillac Escalade ESV
2009 Cadillac Escalade EXT
2009 Cadillac SRX
2009 Cadillac STS
2008 Cadillac CTS
2008 Cadillac DTS
2008 Cadillac Escalade
2008 Cadillac Escalade ESV
2008 Cadillac Escalade EXT
2008 Cadillac SRX
2008 Cadillac STS
2007 Cadillac Escalade
2007 Cadillac Escalade ESV
2007 Cadillac Escalade EXT
Chevrolet
2022 Chevrolet Camaro
2022 Chevrolet Colorado
2022 Chevrolet Corvette
2022 Chevrolet Equinox
2022 Chevrolet Malibu
2022 Chevrolet Silverado 2500 HD
2022 Chevrolet Silverado 3500 HD
2021 Chevrolet Camaro
2021 Chevrolet Colorado
2021 Chevrolet Corvette
2021 Chevrolet Equinox
2021 Chevrolet Malibu
2021 Chevrolet Silverado 1500
2021 Chevrolet Silverado 2500 HD
2021 Chevrolet Silverado 3500 HD
2020 Chevrolet Camaro
2020 Chevrolet Colorado
2020 Chevrolet Corvette
2020 Chevrolet Equinox
2020 Chevrolet Impala
2020 Chevrolet Malibu
2020 Chevrolet Silverado 1500
2020 Chevrolet Silverado 2500 HD
2020 Chevrolet Silverado 3500 HD
2020 Chevrolet Suburban
2020 Chevrolet Tahoe
2020 Chevrolet Trax
2019 Chevrolet Camaro
2019 Chevrolet Colorado
2019 Chevrolet Corvette
2019 Chevrolet Equinox
2019 Chevrolet Impala
2019 Chevrolet Malibu
2019 Chevrolet Malibu, Monte Carlo
2019 Chevrolet Silverado 2500 HD
2019 Chevrolet Suburban
2019 Chevrolet Suburban 3500 HD
2019 Chevrolet Tahoe
2019 Chevrolet Trax
2018 Chevrolet Camaro
2018 Chevrolet Colorado
2018 Chevrolet Corvette
2018 Chevrolet Cruze
2018 Chevrolet Equinox
2018 Chevrolet Impala
2018 Chevrolet Malibu
2018 Chevrolet Silverado 1500
2018 Chevrolet Silverado 2500 HD
2018 Chevrolet Silverado 3500 HD
2018 Chevrolet Trax
2017 Chevrolet Camaro
2017 Chevrolet Caprice
2017 Chevrolet Colorado
2017 Chevrolet Corvette
2017 Chevrolet Cruze
2017 Chevrolet Equinox
2017 Chevrolet Impala
2017 Chevrolet Malibu
2017 Chevrolet Silverado 1500
2017 Chevrolet Silverado 2500 HD
2017 Chevrolet Silverado 3500 HD
2017 Chevrolet SS
2017 Chevrolet Traverse
2016 Chevrolet Camaro
2016 Chevrolet Caprice
2016 Chevrolet Colorado
2016 Chevrolet Corvette
2016 Chevrolet Cruze
2016 Chevrolet Cruze Limited
2016 Chevrolet Equinox
2016 Chevrolet Impala
2016 Chevrolet Malibu
2016 Chevrolet Silverado 1500
2016 Chevrolet Silverado 2500 HD
2016 Chevrolet Silverado 3500 HD
2016 Chevrolet SS
2016 Chevrolet Traverse
2015 Chevrolet Camaro
2015 Chevrolet Caprice
2015 Chevrolet Captiva Sport
2015 Chevrolet Colorado
2015 Chevrolet Corvette
2015 Chevrolet Equinox
2015 Chevrolet Impala
2015 Chevrolet Silverado 1500
2015 Chevrolet Silverado 2500 HD
2015 Chevrolet Silverado 3500 HD
2015 Chevrolet SS
2015 Chevrolet Tahoe
2015 Chevrolet Traverse
2014 Chevrolet Camaro
2014 Chevrolet Caprice
2014 Chevrolet Captiva Sport
2014 Chevrolet Corvette
2014 Chevrolet Equinox
2014 Chevrolet Impala
2014 Chevrolet Orlando
2014 Chevrolet Silverado 1500
2014 Chevrolet Silverado 2500 HD
2014 Chevrolet Silverado 3500 HD
2014 Chevrolet SS
2014 Chevrolet Suburban 1500
2014 Chevrolet Tahoe
2014 Chevrolet Traverse
2013 Chevrolet Avalanche
2013 Chevrolet Captiva Sport
2013 Chevrolet Equinox
2013 Chevrolet Orlando
2013 Chevrolet Silverado 1500
2013 Chevrolet Silverado 2500 HD
2013 Chevrolet Silverado 3500 HD
2013 Chevrolet Suburban 1500
2013 Chevrolet Suburban 2500
2013 Chevrolet Tahoe
2013 Chevrolet Traverse
2012 Chevrolet Avalanche
2012 Chevrolet Captiva Sport
2012 Chevrolet Equinox
2012 Chevrolet Orlando
2012 Chevrolet Silverado 1500
2012 Chevrolet Silverado 2500 HD
2012 Chevrolet Silverado 3500 HD
2012 Chevrolet Suburban 1500
2012 Chevrolet Suburban 2500
2012 Chevrolet Tahoe
2012 Chevrolet Traverse
2011 Chevrolet Avalanche
2011 Chevrolet Equinox
2011 Chevrolet Silverado 1500
2011 Chevrolet Silverado 2500 HD
2011 Chevrolet Silverado 3500 HD
2011 Chevrolet Suburban 1500
2011 Chevrolet Suburban 2500
2011 Chevrolet Tahoe
2011 Chevrolet Traverse
2010 Chevrolet Avalanche
2010 Chevrolet Equinox
2010 Chevrolet Silverado 1500
2010 Chevrolet Silverado 2500 HD
2010 Chevrolet Silverado 3500 HD
2010 Chevrolet Suburban 1500
2010 Chevrolet Suburban 2500
2010 Chevrolet Tahoe
2010 Chevrolet Traverse
2009 Chevrolet Avalanche
2009 Chevrolet Silverado 1500
2009 Chevrolet Silverado 2500 HD
2009 Chevrolet Silverado 3500 HD
2009 Chevrolet Suburban 1500
2009 Chevrolet Suburban 2500
2009 Chevrolet Tahoe
2009 Chevrolet Traverse
2008 Chevrolet Avalanche
2008 Chevrolet Silverado 1500
2008 Chevrolet Silverado 2500 HD
2008 Chevrolet Silverado 3500 HD
2008 Chevrolet Suburban 1500
2008 Chevrolet Suburban 2500
2008 Chevrolet Tahoe
2007 Chevrolet Avalanche
2007 Chevrolet Silverado 1500
2007 Chevrolet Silverado 2500 HD
2007 Chevrolet Silverado 2500 HD Classic
2007 Chevrolet Silverado 3500 Classic
2007 Chevrolet Silverado 3500 HD
2007 Chevrolet Suburban 1500
2007 Chevrolet Suburban 2500
2007 Chevrolet Tahoe
Chrysler
2022 Chrysler Pacifica
2022 Chrysler Voyager
2021 Chrysler Pacifica
2021 Chrysler Voyager
2020 Chrysler Pacifica
2020 Chrysler Voyager
2019 Chrysler Pacifica
2018 Chrysler Pacifica
2017 Chrysler 200
2017 Chrysler Pacifica
2016 Chrysler 200
2015 Chrysler 200
2008 Chrysler Crossfire
2007 Chrysler Crossfire
2006 Chrysler Crossfire
2005 Chrysler Crossfire
2004 Chrysler Crossfire
Dodge
2021 Dodge Durango
2020 Dodge Durango
2019 Dodge Durango
2018 Dodge Durango
2017 Dodge Durango
2016 Dodge Dart
2016 Dodge Durango
2015 Dodge Dart
2014 Dodge Dart
2013 Dodge Dart
Ferrari
2019 Ferrari 488 GTB
2018 Ferrari 488 GTB
Fiat
2017 Fiat 124 Spider
2016 Fiat 500X
Ford
2022 Ford Transit-150
2022 Ford Transit-250
2022 Ford Transit-350
2022 Ford Transit-350 HD
2021 Ford EcoSport
2021 Ford Edge
2021 Ford Escape
2021 Ford Explorer
2021 Ford F-150
2021 Ford Ranger
2021 Ford Transit-150
2021 Ford Transit-250
2021 Ford Transit-350
2021 Ford Transit-350 HD
2020 Ford Edge
2020 Ford Ranger
2020 Ford Transit-150
2020 Ford Transit-250
2020 Ford Transit-350
2019 Ford Ranger
2019 Ford Transit-150
2019 Ford Transit-250
2019 Ford Transit-350
2018 Ford EcoSport
2018 Ford Edge
2018 Ford Escape
2018 Ford F-150
2018 Ford Focus
2018 Ford Fusion
2018 Ford Transit-150
2018 Ford Transit-250
2018 Ford Transit-350
2017 Ford Edge
2017 Ford F-150
2017 Ford Focus
2017 Ford Fusion
2017 Ford Transit-150
2017 Ford Transit-250
2017 Ford Transit-350
2016 Ford Edge
2016 Ford F-150
2016 Ford Focus
2016 Ford Transit-150
2016 Ford Transit-250
2016 Ford Transit-350
2016 Ford Transit-350 HD
2015 Ford Edge
2015 Ford F-150
2015 Ford Focus
2015 Ford Transit-150
2015 Ford Transit-250
2015 Ford Transit-350
2015 Ford Transit-350 HD
Freightliner
2017 Freightliner Sprinter 2500
2017 Freightliner Sprinter 3500
2016 Freightliner Sprinter 2500
2016 Freightliner Sprinter 3500
2015 Freightliner Sprinter 2500
2015 Freightliner Sprinter 3500
GMC
2022 GMC Canyon
2022 GMC Sierra 2500 HD
2022 GMC Sierra 3500 HD
2022 GMC Terrain
2021 GMC Canyon
2021 GMC Sierra 1500
2021 GMC Sierra 2500 HD
2021 GMC Sierra 3500 HD
2021 GMC Terrain
2020 GMC Canyon
2020 GMC Sierra 1500
2020 GMC Sierra 2500 HD
2020 GMC Sierra 3500 HD
2020 GMC Terrain
2020 GMC Yukon
2020 GMC Yukon XL
2019 GMC Acadia
2019 GMC Canyon
2019 GMC Sierra 1500
2019 GMC Sierra 1500 Limited
2019 GMC Sierra 2500HD
2019 GMC Sierra 3500 HD
2019 GMC Terrain
2019 GMC Yukon XL
2019 GMC Yukon, Yukon XL 1500, Yukon XL 2500
2018 GMC Acadia
2018 GMC Canyon
2018 GMC Sierra 1500
2018 GMC Sierra 2500 HD
2018 GMC Sierra 3500 HD
2018 GMC Terrain
2018 GMC Yukon
2018 GMC Yukon XL
2017 GMC Acadia
2017 GMC Acadia Limited
2017 GMC Canyon
2017 GMC Sierra 1500
2017 GMC Sierra 2500 HD
2017 GMC Sierra 3500 HD
2017 GMC Terrain
2017 GMC Yukon
2016 GMC Acadia
2016 GMC Canyon
2016 GMC Sierra 1500
2016 GMC Sierra 2500 HD
2016 GMC Sierra 3500 HD
2016 GMC Terrain
2015 GMC Acadia
2015 GMC Canyon
2015 GMC Sierra 1500
2015 GMC Sierra 2500 HD
2015 GMC Sierra 3500 HD
2015 GMC Terrain
2015 GMC Yukon
2014 GMC Acadia
2014 GMC Sierra 1500
2014 GMC Sierra 2500 HD
2014 GMC Sierra 3500 HD
2014 GMC Terrain
2014 GMC Yukon
2014 GMC Yukon XL 1500
2013 GMC Acadia
2013 GMC Sierra 1500
2013 GMC Sierra 2500 HD
2013 GMC Sierra 3500 HD
2013 GMC Terrain
2013 GMC Yukon
2013 GMC Yukon XL 1500
2013 GMC Yukon XL 2500
2012 GMC Acadia
2012 GMC Sierra 1500
2012 GMC Sierra 2500 HD
2012 GMC Sierra 3500 HD
2012 GMC Terrain
2012 GMC Yukon
2012 GMC Yukon XL 1500
2012 GMC Yukon XL 2500
2011 GMC Acadia
2011 GMC Sierra 1500
2011 GMC Sierra 2500 HD
2011 GMC Sierra 3500 HD
2011 GMC Terrain
2011 GMC Yukon
2011 GMC Yukon XL 1500
2011 GMC Yukon XL 2500
2010 GMC Acadia
2010 GMC Sierra 1500
2010 GMC Sierra 2500 HD
2010 GMC Sierra 3500 HD
2010 GMC Terrain
2010 GMC Yukon
2010 GMC Yukon XL 1500
2010 GMC Yukon XL 2500
2009 GMC Acadia
2009 GMC Sierra 1500
2009 GMC Sierra 2500 HD
2009 GMC Sierra 3500 HD
2009 GMC Yukon
2009 GMC Yukon XL 1500
2009 GMC Yukon XL 2500
2008 GMC Acadia
2008 GMC Sierra 1500
2008 GMC Sierra 2500 HD
2008 GMC Sierra 3500 HD
2008 GMC Yukon
2008 GMC Yukon XL 1500
2008 GMC Yukon XL 2500
2007 GMC Acadia
2007 GMC Sierra 1500
2007 GMC Sierra 1500 Classic
2007 GMC Sierra 1500 HD Classic
2007 GMC Sierra 2500 HD
2007 GMC Sierra 2500 HD Classic
2007 GMC Sierra 3500 Classic
2007 GMC Sierra 3500 HD
2007 GMC Yukon
2007 GMC Yukon XL 1500
2007 GMC Yukon XL 2500
Honda
2022 Honda Accord
2022 Honda Odyssey
2021 Honda Accord
2021 Honda Odyssey
2021 Honda Passport
2021 Honda Pilot
2020 Honda Accord
2020 Honda Odyssey
2020 Honda Passport
2020 Honda Pilot
2020 Honda Ridgeline
2019 Honda Accord
2019 Honda Odyssey
2019 Honda Passport
2019 Honda Pilot
2019 Honda Ridgeline
2018 Honda Accord
2018 Honda Odyssey
2018 Honda Pilot
2018 Honda Ridgeline
2017 Honda Pilot
2017 Honda Ridgeline
2016 Honda Pilot
Hummer
2009 Hummer H2
2008 Hummer H2
Hyundai
2021 Hyundai Tucson
2019 Hyundai Elantra
2019 Hyundai Elantra GT
2019 Hyundai Tucson
2018 Hyundai Elantra
2018 Hyundai Elantra GT
2018 Hyundai Tucson
2017 Hyundai Elantra
2017 Hyundai Elantra GT
2017 Hyundai Tucson
2016 Hyundai Elantra
2016 Hyundai Sonata
2016 Hyundai Tucson
2015 Hyundai Elantra
2015 Hyundai Sonata
2014 Hyundai Elantra
2014 Hyundai Sonata
2013 Hyundai Elantra
2012 Hyundai Elantra
2011 Hyundai Elantra
Jaguar
1996 Jaguar XJS
1995 Jaguar XJS
1994 Jaguar XJ6
1993 Jaguar XJ6
1992 Jaguar XJ6
1991 Jaguar XJ6
1990 Jaguar XJ6
Jeep
2021 Jeep Compass
2021 Jeep Gladiator
2021 Jeep Grand Cherokee
2021 Jeep Renegade
2021 Jeep Wrangler
2020 Jeep Compass
2020 Jeep Gladiator
2020 Jeep Grand Cherokee
2020 Jeep Wrangler
2019 Jeep Compass
2019 Jeep Grand Cherokee
2018 Jeep Cherokee
2018 Jeep Compass
2018 Jeep Renegade
2018 Jeep Wrangler
2018 Jeep Wrangler JK
2017 Jeep Cherokee
2017 Jeep Compass
2017 Jeep Grand Cherokee
2017 Jeep Renegade
2017 Jeep Wrangler
2016 Jeep Cherokee
2016 Jeep Grand Cherokee
2016 Jeep Renegade
2016 Jeep Wrangler
2015 Jeep Cherokee
2015 Jeep Renegade
2015 Jeep Wrangler
2014 Jeep Cherokee
2014 Jeep Wrangler
2013 Jeep Wrangler
2012 Jeep Wrangler
Kia
2021 Kia K5
2021 Kia Soul
2021 Kia Sportage
2020 Kia Optima
2020 Kia Sportage
2019 Kia Optima
2019 Kia Sportage
2018 Kia Sportage
2017 Kia Forte
2017 Kia Forte5
2017 Kia Sportage
2016 Kia Forte
2016 Kia Forte Koup
2016 Kia Forte5
2016 Kia Optima
2016 Kia Soul
2015 Kia Forte
2015 Kia Forte Koup
2015 Kia Forte5
2014 Kia Forte
2014 Kia Forte Koup
2014 Kia Forte5
Land Rover
2005 Land Rover Freelander
2004 Land Rover Freelander
2003 Land Rover Freelander
2002 Land Rover Freelander
Lexus
2021 Lexus ES350
2021 Lexus LC500h
2021 Lexus UX200
2019 Lexus LC500
2019 Lexus LS500
2019 Lexus UX200
2018 Lexus LC500
2018 Lexus LC500h
2018 Lexus LS500
2018 Lexus LS500h
2010 Lexus SC430
2009 Lexus SC430
2008 Lexus SC430
2007 Lexus SC430
2006 Lexus SC430
2005 Lexus SC430
2004 Lexus SC430
2003 Lexus SC430
2002 Lexus SC430
Lincoln
2022 Lincoln Corsair
2021 Lincoln Corsair
2019 Lincoln MKC
2018 Lincoln Continental
2018 Lincoln MKC
2017 Lincoln Continental
2017 Lincoln MKC
2016 Lincoln MKC
2015 Lincoln MKC
Lotus
2009 Lotus Exige
2008 Lotus Exige
Maserati
2013 Maserati GranTurismo
2012 Maserati GranTurismo
2011 Maserati GranTurismo
2011 Maserati Quattroporte
2010 Maserati GranTurismo
2010 Maserati Quattroporte
2009 Maserati GranTurismo
2009 Maserati Quattroporte
2008 Maserati GranTurismo
2008 Maserati Quattroporte
2007 Maserati Coupe
2007 Maserati GranSport
2007 Maserati Quattroporte
2006 Maserati Coupe
2006 Maserati GranSport
2006 Maserati Quattroporte
2006 Maserati Spyder
2005 Maserati Coupe
2005 Maserati GranSport
2005 Maserati Quattroporte
2005 Maserati Spyder
2004 Maserati Coupe
2004 Maserati Quattroporte
2004 Maserati Spyder
2003 Maserati Coupe
2003 Maserati Spyder
2002 Maserati Spyder
Mercedes-Benz
2021 Mercedes-Benz A35 AMG
2021 Mercedes-Benz AMG GT 53
2021 Mercedes-Benz C43 AMG
2021 Mercedes-Benz GLC300
2020 Mercedes-Benz Metris
2019 Mercedes-Benz A220
2019 Mercedes-Benz A250
2019 Mercedes-Benz B250
2019 Mercedes-Benz C43 AMG
2019 Mercedes-Benz CLA250
2019 Mercedes-Benz CLA45 AMG
2019 Mercedes-Benz E300
2019 Mercedes-Benz Metris
2019 Mercedes-Benz S65 AMG
2018 Mercedes-Benz C300
2018 Mercedes-Benz C43 AMG
2018 Mercedes-Benz CLA250
2018 Mercedes-Benz CLA45 AMG
2018 Mercedes-Benz E300
2018 Mercedes-Benz E400
2018 Mercedes-Benz E43 AMG
2018 Mercedes-Benz GLA250
2018 Mercedes-Benz GLA45 AMG
2018 Mercedes-Benz GLC300
2018 Mercedes-Benz GLC43 AMG
2018 Mercedes-Benz Metris
2018 Mercedes-Benz S63 AMG
2017 Mercedes-Benz AMG GT
2017 Mercedes-Benz AMG GT S
2017 Mercedes-Benz C300
2017 Mercedes-Benz C43 AMG
2017 Mercedes-Benz CLA250
2017 Mercedes-Benz CLA45 AMG
2017 Mercedes-Benz CLS400
2017 Mercedes-Benz E300
2017 Mercedes-Benz E400
2017 Mercedes-Benz E43 AMG
2017 Mercedes-Benz GLA250
2017 Mercedes-Benz GLA45 AMG
2017 Mercedes-Benz GLC300
2017 Mercedes-Benz GLC43 AMG
2017 Mercedes-Benz Maybach S550
2017 Mercedes-Benz Maybach S600
2017 Mercedes-Benz Metris
2017 Mercedes-Benz S550e
2017 Mercedes-Benz S600
2017 Mercedes-Benz S63 AMG
2017 Mercedes-Benz S65 AMG
2017 Mercedes-Benz SLC300
2017 Mercedes-Benz SLC43 AMG
2017 Mercedes-Benz Sprinter 2500
2017 Mercedes-Benz Sprinter 3500
2016 Mercedes-Benz AMG GT S
2016 Mercedes-Benz B250
2016 Mercedes-Benz C300
2016 Mercedes-Benz C450 AMG
2016 Mercedes-Benz CLA250
2016 Mercedes-Benz CLA45 AMG
2016 Mercedes-Benz CLS400
2016 Mercedes-Benz E250
2016 Mercedes-Benz E300
2016 Mercedes-Benz E350
2016 Mercedes-Benz E400
2016 Mercedes-Benz E63 AMG S
2016 Mercedes-Benz GLA250
2016 Mercedes-Benz GLA45 AMG
2016 Mercedes-Benz GLC300
2016 Mercedes-Benz Maybach S600
2016 Mercedes-Benz Metris
2016 Mercedes-Benz S550e
2016 Mercedes-Benz S600
2016 Mercedes-Benz S63 AMG
2016 Mercedes-Benz S65 AMG
2016 Mercedes-Benz SLK300
2016 Mercedes-Benz SLK350
2016 Mercedes-Benz SLK55 AMG
2016 Mercedes-Benz Sprinter 2500
2016 Mercedes-Benz Sprinter 3500
2015 Mercedes-Benz B250
2015 Mercedes-Benz C250
2015 Mercedes-Benz C300
2015 Mercedes-Benz C400
2015 Mercedes-Benz CLA250
2015 Mercedes-Benz CLA45 AMG
2015 Mercedes-Benz CLS400
2015 Mercedes-Benz E250
2015 Mercedes-Benz E300
2015 Mercedes-Benz E350
2015 Mercedes-Benz E400
2015 Mercedes-Benz E63 AMG
2015 Mercedes-Benz E63 AMG S
2015 Mercedes-Benz GLA250
2015 Mercedes-Benz GLA45 AMG
2015 Mercedes-Benz GLK350
2015 Mercedes-Benz S550e
2015 Mercedes-Benz S600
2015 Mercedes-Benz S63 AMG
2015 Mercedes-Benz S65 AMG
2015 Mercedes-Benz SL63 AMG
2015 Mercedes-Benz SL65 AMG
2015 Mercedes-Benz SLK250
2015 Mercedes-Benz SLK350
2015 Mercedes-Benz SLK55 AMG
2015 Mercedes-Benz SLS AMG
2015 Mercedes-Benz Sprinter 2500
2015 Mercedes-Benz Sprinter 3500
2014 Mercedes-Benz B250
2014 Mercedes-Benz C250
2014 Mercedes-Benz CLA250
2014 Mercedes-Benz CLA45 AMG
2014 Mercedes-Benz E250
2014 Mercedes-Benz E350
2014 Mercedes-Benz E63 AMG
2014 Mercedes-Benz E63 AMG S
2014 Mercedes-Benz GLK350
2014 Mercedes-Benz S63 AMG
2014 Mercedes-Benz SL65 AMG
2014 Mercedes-Benz SLK250
2014 Mercedes-Benz SLK350
2014 Mercedes-Benz SLK55 AMG
2014 Mercedes-Benz SLS AMG
2014 Mercedes-Benz Sprinter 2500
2014 Mercedes-Benz Sprinter 3500
2013 Mercedes-Benz B250
2013 Mercedes-Benz C250
2013 Mercedes-Benz E350
2013 Mercedes-Benz E63 AMG
2013 Mercedes-Benz GLK350
2013 Mercedes-Benz R350
2013 Mercedes-Benz S400
2013 Mercedes-Benz SL65 AMG
2013 Mercedes-Benz SLK250
2013 Mercedes-Benz SLK350
2013 Mercedes-Benz SLK55 AMG
2013 Mercedes-Benz SLS AMG
2013 Mercedes-Benz Sprinter 2500
2013 Mercedes-Benz Sprinter 3500
2012 Mercedes-Benz C250
2012 Mercedes-Benz E350
2012 Mercedes-Benz E63 AMG
2012 Mercedes-Benz GLK350
2012 Mercedes-Benz R350
2012 Mercedes-Benz S400
2012 Mercedes-Benz SL550
2012 Mercedes-Benz SL63 AMG
2012 Mercedes-Benz SLK250
2012 Mercedes-Benz SLK350
2012 Mercedes-Benz SLK55 AMG
2012 Mercedes-Benz SLS AMG
2012 Mercedes-Benz Sprinter 2500
2012 Mercedes-Benz Sprinter 3500
2011 Mercedes-Benz B200
2011 Mercedes-Benz C250
2011 Mercedes-Benz E350
2011 Mercedes-Benz E63 AMG
2011 Mercedes-Benz GLK350
2011 Mercedes-Benz S400
2011 Mercedes-Benz SL550
2011 Mercedes-Benz SL600
2011 Mercedes-Benz SL63 AMG
2011 Mercedes-Benz SL65 AMG
2011 Mercedes-Benz SLK300
2011 Mercedes-Benz SLK350
2011 Mercedes-Benz SLK55 AMG
2011 Mercedes-Benz SLS AMG
2011 Mercedes-Benz Sprinter 2500
2011 Mercedes-Benz Sprinter 3500
2010 Mercedes-Benz B200
2010 Mercedes-Benz C250
2010 Mercedes-Benz CL550
2010 Mercedes-Benz E350
2010 Mercedes-Benz E63 AMG
2010 Mercedes-Benz GLK350
2010 Mercedes-Benz S400
2010 Mercedes-Benz SL550
2010 Mercedes-Benz SL600
2010 Mercedes-Benz SL63 AMG
2010 Mercedes-Benz SL65 AMG
2010 Mercedes-Benz SLK300
2010 Mercedes-Benz SLK350
2010 Mercedes-Benz SLK55 AMG
2010 Mercedes-Benz Sprinter 2500
2010 Mercedes-Benz Sprinter 3500
2009 Mercedes-Benz B200
2009 Mercedes-Benz CL550
2009 Mercedes-Benz E350
2009 Mercedes-Benz SL550
2009 Mercedes-Benz SL600
2009 Mercedes-Benz SL63 AMG
2009 Mercedes-Benz SL65 AMG
2009 Mercedes-Benz SLK300
2009 Mercedes-Benz SLK350
2009 Mercedes-Benz SLK55 AMG
2008 Mercedes-Benz B200
2008 Mercedes-Benz CL550
2008 Mercedes-Benz CLK63 AMG
2008 Mercedes-Benz E350
2008 Mercedes-Benz SL55 AMG
2008 Mercedes-Benz SL550
2008 Mercedes-Benz SL600
2008 Mercedes-Benz SL65 AMG
2008 Mercedes-Benz SLK280
2008 Mercedes-Benz SLK350
2008 Mercedes-Benz SLK55 AMG
2007 Mercedes-Benz B200
2007 Mercedes-Benz CL550
2007 Mercedes-Benz E350
2007 Mercedes-Benz SL55 AMG
2007 Mercedes-Benz SL550
2007 Mercedes-Benz SL600
2007 Mercedes-Benz SL65 AMG
2007 Mercedes-Benz SLK280
2007 Mercedes-Benz SLK350
2007 Mercedes-Benz SLK55 AMG
2006 Mercedes-Benz B200
2006 Mercedes-Benz E350
2006 Mercedes-Benz SL500
2006 Mercedes-Benz SL55 AMG
2006 Mercedes-Benz SL600
2006 Mercedes-Benz SL65 AMG
2006 Mercedes-Benz SLK280
2006 Mercedes-Benz SLK350
2006 Mercedes-Benz SLK55 AMG
2005 Mercedes-Benz SL500
2005 Mercedes-Benz SL55 AMG
2005 Mercedes-Benz SL600
2005 Mercedes-Benz SL65 AMG
2005 Mercedes-Benz SLK350
2005 Mercedes-Benz SLK55 AMG
2004 Mercedes-Benz SL500
2004 Mercedes-Benz SL55 AMG
2004 Mercedes-Benz SL600
2004 Mercedes-Benz SLK230
2004 Mercedes-Benz SLK32 AMG
2004 Mercedes-Benz SLK320
2003 Mercedes-Benz SL500
2003 Mercedes-Benz SL55 AMG
2003 Mercedes-Benz SLK230
2003 Mercedes-Benz SLK32 AMG
2003 Mercedes-Benz SLK320
2002 Mercedes-Benz C32 AMG
2002 Mercedes-Benz C320
2002 Mercedes-Benz SLK230
2002 Mercedes-Benz SLK32 AMG
2002 Mercedes-Benz SLK320
2001 Mercedes-Benz SLK320
1999 Mercedes-Benz SLK230
1998 Mercedes-Benz E320
1998 Mercedes-Benz SLK230
1997 Mercedes-Benz E320
1997 Mercedes-Benz E420
1996 Mercedes-Benz E320
1995 Mercedes-Benz E320
1994 Mercedes-Benz E320
1993 Mercedes-Benz 190E
1993 Mercedes-Benz 300CE
1993 Mercedes-Benz 300E
1993 Mercedes-Benz 300TE
1992 Mercedes-Benz 190E
1992 Mercedes-Benz 300CE
1992 Mercedes-Benz 300E
1992 Mercedes-Benz 300TE
1991 Mercedes-Benz 190E
1991 Mercedes-Benz 300CE
1991 Mercedes-Benz 300E
1991 Mercedes-Benz 300TE
1990 Mercedes-Benz 190E
1990 Mercedes-Benz 300CE
1990 Mercedes-Benz 300E
1990 Mercedes-Benz 300TE
1989 Mercedes-Benz 190E
1989 Mercedes-Benz 260E
1989 Mercedes-Benz 300CE
1989 Mercedes-Benz 300E
1989 Mercedes-Benz 300SE
1989 Mercedes-Benz 300SEL
1989 Mercedes-Benz 300TE
1988 Mercedes-Benz 190E
1988 Mercedes-Benz 260E
1988 Mercedes-Benz 300CE
1988 Mercedes-Benz 300E
1988 Mercedes-Benz 300SE
1988 Mercedes-Benz 300SEL
1988 Mercedes-Benz 300TE
1987 Mercedes-Benz 300E
1987 Mercedes-Benz 420SEL
1986 Mercedes-Benz 300E
1986 Mercedes-Benz 420SEL
1985 Mercedes-Benz 190D
1985 Mercedes-Benz 380SE
1985 Mercedes-Benz 500SEC
1985 Mercedes-Benz 500SEL
1984 Mercedes-Benz 190D
1984 Mercedes-Benz 380SE
1984 Mercedes-Benz 500SEC
1984 Mercedes-Benz 500SEL
1983 Mercedes-Benz 380SEC
1983 Mercedes-Benz 380SEL
1982 Mercedes-Benz 380SEC
1982 Mercedes-Benz 380SEL
1981 Mercedes-Benz 380SEL
1980 Mercedes-Benz 450SEL
1979 Mercedes-Benz 450SEL
1978 Mercedes-Benz 450SEL
1977 Mercedes-Benz 230
1977 Mercedes-Benz 450SEL
1976 Mercedes-Benz 230
1976 Mercedes-Benz 240D
1976 Mercedes-Benz 280C
1975 Mercedes-Benz 230
1975 Mercedes-Benz 240D
1975 Mercedes-Benz 280
1975 Mercedes-Benz 280C
1975 Mercedes-Benz 300D
1974 Mercedes-Benz 230
1974 Mercedes-Benz 240D
1974 Mercedes-Benz 280
1974 Mercedes-Benz 280C
1973 Mercedes-Benz 220
1973 Mercedes-Benz 280
1973 Mercedes-Benz 280C
1972 Mercedes-Benz 250
1972 Mercedes-Benz 250C
1972 Mercedes-Benz 280SE
1972 Mercedes-Benz 280SEL
1972 Mercedes-Benz 350SL
1971 Mercedes-Benz 250
1971 Mercedes-Benz 250C
1971 Mercedes-Benz 280S
1971 Mercedes-Benz 280SE
1971 Mercedes-Benz 280SEL
1971 Mercedes-Benz 280SL
1970 Mercedes-Benz 250
1970 Mercedes-Benz 250C
1970 Mercedes-Benz 280S
1970 Mercedes-Benz 280SE
1970 Mercedes-Benz 280SEL
1970 Mercedes-Benz 280SL
1969 Mercedes-Benz 230
1969 Mercedes-Benz 250
1969 Mercedes-Benz 280S
1969 Mercedes-Benz 280SE
1969 Mercedes-Benz 280SEL
1969 Mercedes-Benz 280SL
Mini
2017 Mini Cooper
2017 Mini Cooper Clubman
2017 Mini Cooper Countryman
2016 Mini Cooper
2016 Mini Cooper Clubman
2016 Mini Cooper Countryman
2016 Mini Cooper Paceman
2015 Mini Cooper
2015 Mini Cooper Countryman
2015 Mini Cooper Paceman
2014 Mini Cooper
2014 Mini Cooper Countryman
2014 Mini Cooper Paceman
2013 Mini Cooper
2013 Mini Cooper Countryman
2013 Mini Cooper Paceman
2012 Mini Cooper
2012 Mini Cooper Countryman
2011 Mini Cooper
2011 Mini Cooper Countryman
2010 Mini Cooper
2009 Mini Cooper
2008 Mini Cooper
2007 Mini Cooper
Nissan
2019 Nissan Rogue
Peugeot
1991 Peugeot 505
1990 Peugeot 505
1989 Peugeot 505
1988 Peugeot 505
1987 Peugeot 505
1986 Peugeot 505
1985 Peugeot 505
Porsche
2020 Porsche 718 Boxster
2020 Porsche 718 Cayman
2019 Porsche 718 Boxster
2019 Porsche 718 Cayman
2005 Porsche Boxster
2005 Porsche Carrera GT
2004 Porsche 911
2004 Porsche Boxster
2004 Porsche Carrera GT
2003 Porsche 911
2003 Porsche Boxster
2002 Porsche 911
2002 Porsche Boxster
2001 Porsche 911
2001 Porsche Boxster
2000 Porsche 911
2000 Porsche Boxster
1999 Porsche 911
1999 Porsche Boxster
1998 Porsche 911
1998 Porsche Boxster
1997 Porsche 911
1997 Porsche Boxster
1996 Porsche 911
1995 Porsche 911
1995 Porsche 928
1994 Porsche 911
1994 Porsche 928
1993 Porsche 911
1993 Porsche 928
1992 Porsche 911
1991 Porsche 911
1991 Porsche 928
1990 Porsche 911
1990 Porsche 928
1989 Porsche 911
1988 Porsche 911
1987 Porsche 911
1987 Porsche 928
1986 Porsche 911
1986 Porsche 928
1985 Porsche 911
1985 Porsche 928
1984 Porsche 911
1984 Porsche 928
1983 Porsche 928
Ram
2019 Ram ProMaster City
2017 Ram ProMaster City
2016 Ram ProMaster City
2015 Ram ProMaster City
Rolls-Royce
2015 Rolls-Royce Phantom
2014 Rolls-Royce Phantom
2013 Rolls-Royce Phantom
2012 Rolls-Royce Phantom
2011 Rolls-Royce Phantom
2010 Rolls-Royce Phantom
2009 Rolls-Royce Phantom
2008 Rolls-Royce Phantom
2007 Rolls-Royce Phantom
2006 Rolls-Royce Phantom
2005 Rolls-Royce Phantom
2004 Rolls-Royce Phantom
Saab
2011 Saab 9-3
2011 Saab 9-3X
2011 Saab 9-4X
2011 Saab 9-5
2010 Saab 9-3
2010 Saab 9-3X
2010 Saab 9-5
2009 Saab 9-3
2009 Saab 9-5
2008 Saab 9-3
2008 Saab 9-5
2007 Saab 9-3
2007 Saab 9-5
2006 Saab 9-3
2006 Saab 9-5
2005 Saab 9-3
2005 Saab 9-5
2004 Saab 9-3
2004 Saab 9-5
2003 Saab 9-3
2003 Saab 9-5
2002 Saab 9-5
2001 Saab 9-5
2000 Saab 9-5
1999 Saab 9-5
Saturn
2010 Saturn Outlook
2010 Saturn Vue
2009 Saturn Outlook
2009 Saturn Vue
2008 Saturn Outlook
2008 Saturn Vue
2007 Saturn Outlook
Toyota
2022 Toyota Avalon
2022 Toyota Camry
2021 Toyota Avalon
2021 Toyota Camry
2021 Toyota Highlander
2020 Toyota Avalon
2020 Toyota Camry
2020 Toyota Highlander
2019 Toyota Avalon
2019 Toyota Camry, Solara
2018 Toyota Camry
Volkswagen
2021 Volkswagen Arteon
2021 Volkswagen Passat
2020 Volkswagen Arteon
2020 Volkswagen Atlas
2020 Volkswagen e-Golf
2020 Volkswagen Golf
2020 Volkswagen GTI
2020 Volkswagen Jetta
2020 Volkswagen Passat
2020 Volkswagen Tiguan
2019 Volkswagen Arteon
2019 Volkswagen Atlas
2019 Volkswagen Beetle
2019 Volkswagen e-Golf
2019 Volkswagen Golf
2019 Volkswagen Golf Alltrack
2019 Volkswagen Golf R
2019 Volkswagen Golf SportWagen
2019 Volkswagen GTI
2019 Volkswagen Jetta
2019 Volkswagen Passat
2019 Volkswagen Tiguan
2018 Volkswagen Atlas
2017 Volkswagen Beetle
2017 Volkswagen CC
2017 Volkswagen e-Golf
2017 Volkswagen Golf
2017 Volkswagen Golf Alltrack
2017 Volkswagen Golf R
2017 Volkswagen Golf SportWagen
2017 Volkswagen GTI
2017 Volkswagen Jetta
2017 Volkswagen Passat
2017 Volkswagen Tiguan
2016 Volkswagen Beetle
2016 Volkswagen CC
2016 Volkswagen e-Golf
2016 Volkswagen Eos
2016 Volkswagen Golf
2016 Volkswagen Golf R
2016 Volkswagen Golf SportWagen
2016 Volkswagen GTI
2016 Volkswagen Jetta
2016 Volkswagen Passat
2016 Volkswagen Tiguan
2015 Volkswagen Beetle
2015 Volkswagen CC
2015 Volkswagen e-Golf
2015 Volkswagen Eos
2015 Volkswagen Golf
2015 Volkswagen Golf R
2015 Volkswagen Golf SportWagen
2015 Volkswagen GTI
2015 Volkswagen Jetta
2015 Volkswagen Passat
2015 Volkswagen Tiguan
2014 Volkswagen Beetle
2014 Volkswagen CC
2014 Volkswagen Eos
2014 Volkswagen Golf
2014 Volkswagen GTI
2014 Volkswagen Jetta
2014 Volkswagen Passat
2014 Volkswagen Tiguan
2014 Volkswagen Touareg
2013 Volkswagen Beetle
2013 Volkswagen CC
2013 Volkswagen Eos
2013 Volkswagen Golf
2013 Volkswagen GTI
2013 Volkswagen Jetta
2013 Volkswagen Passat
2013 Volkswagen Tiguan
2013 Volkswagen Touareg
2012 Volkswagen Beetle
2012 Volkswagen CC
2012 Volkswagen Eos
2012 Volkswagen Golf
2012 Volkswagen Golf R
2012 Volkswagen GTI
2012 Volkswagen Jetta
2012 Volkswagen Passat
2012 Volkswagen Tiguan
2012 Volkswagen Touareg
2011 Volkswagen CC
2011 Volkswagen Eos
2011 Volkswagen Golf
2011 Volkswagen GTI
2011 Volkswagen Jetta
2011 Volkswagen Tiguan
2011 Volkswagen Touareg
2010 Volkswagen Beetle
2010 Volkswagen CC
2010 Volkswagen Eos
2010 Volkswagen Golf
2010 Volkswagen GTI
2010 Volkswagen Jetta
2010 Volkswagen Passat
2010 Volkswagen Passat CC
2010 Volkswagen Tiguan
2009 Volkswagen Beetle
2009 Volkswagen CC
2009 Volkswagen Eos
2009 Volkswagen GTI
2009 Volkswagen Jetta
2009 Volkswagen Jetta City
2009 Volkswagen Passat
2009 Volkswagen Passat CC
2009 Volkswagen Rabbit
2009 Volkswagen Tiguan
2008 Volkswagen Beetle
2008 Volkswagen Eos
2008 Volkswagen GTI
2008 Volkswagen Jetta
2008 Volkswagen Jetta City
2008 Volkswagen Passat
2008 Volkswagen Rabbit
2007 Volkswagen Beetle
2007 Volkswagen Eos
2007 Volkswagen GTI
2007 Volkswagen Jetta
2007 Volkswagen Jetta City
2007 Volkswagen Passat
2007 Volkswagen Rabbit
2006 Volkswagen Beetle
2006 Volkswagen Golf
2006 Volkswagen GTI
2006 Volkswagen Jetta
2006 Volkswagen Passat
2006 Volkswagen Rabbit
2005 Volkswagen Jetta
2005 Volkswagen Passat
2004 Volkswagen Beetle
2004 Volkswagen Jetta
2004 Volkswagen Passat
2003 Volkswagen Beetle
2003 Volkswagen Jetta
2003 Volkswagen Passat
2002 Volkswagen Beetle
2002 Volkswagen Jetta
2002 Volkswagen Passat
2001 Volkswagen Beetle
2001 Volkswagen Golf
2001 Volkswagen Jetta
2001 Volkswagen Passat
2000 Volkswagen Beetle
2000 Volkswagen Golf
2000 Volkswagen Jetta
2000 Volkswagen Passat
1999 Volkswagen Beetle
1999 Volkswagen Golf
1999 Volkswagen Jetta
1999 Volkswagen Passat
1998 Volkswagen Beetle
1998 Volkswagen Jetta
1998 Volkswagen Passat
Volvo
2020 Volvo XC40
2019 Volvo XC40
2018 Volvo S60
2018 Volvo S60 Cross Country
2018 Volvo V60
2018 Volvo V60 Cross Country
2017 Volvo S60 Cross Country
2016 Volvo S60
2016 Volvo S60 Cross Country
2016 Volvo S80
2016 Volvo V60
2016 Volvo V60 Cross Country
2016 Volvo XC60
2016 Volvo XC70
2015 Volvo S60
2015 Volvo S80
2015 Volvo V60
2015 Volvo V60 Cross Country
2015 Volvo XC60
2015 Volvo XC70
2014 Volvo S60
2014 Volvo S80
2014 Volvo XC60
2014 Volvo XC70
2014 Volvo XC90
2013 Volvo S60
2013 Volvo S80
2013 Volvo XC60
2013 Volvo XC70
2013 Volvo XC90
2012 Volvo S60
2012 Volvo S80
2012 Volvo XC60
2012 Volvo XC70
2012 Volvo XC90
2011 Volvo S60
2011 Volvo S80
2011 Volvo XC60
2011 Volvo XC70
2011 Volvo XC90
2010 Volvo S80
2010 Volvo V70
2010 Volvo XC60
2010 Volvo XC70
2010 Volvo XC90
2009 Volvo S60
2009 Volvo S80
2009 Volvo V70
2009 Volvo XC70
2009 Volvo XC90
2008 Volvo S60
2008 Volvo S80
2008 Volvo V70
2008 Volvo XC70
2008 Volvo XC90
2007 Volvo S60
2007 Volvo S80
2007 Volvo V70
2007 Volvo XC70
2007 Volvo XC90
2006 Volvo S60
2006 Volvo S80
2006 Volvo V70
2006 Volvo XC70
2006 Volvo XC90
2005 Volvo S60
2005 Volvo S80
2005 Volvo V70
2005 Volvo XC70
2005 Volvo XC90
2004 Volvo C70
2004 Volvo S40
2004 Volvo S60
2004 Volvo S80
2004 Volvo V40
2004 Volvo V70
2004 Volvo XC70
2004 Volvo XC90
2003 Volvo C70
2003 Volvo S40
2003 Volvo S60
2003 Volvo S80
2003 Volvo V40
2003 Volvo V70
2003 Volvo XC70
2003 Volvo XC90
2002 Volvo C70
2002 Volvo S40
2002 Volvo S60
2002 Volvo S80
2002 Volvo V40
2002 Volvo V70
2001 Volvo C70
2001 Volvo S40
2001 Volvo S60
2001 Volvo S80
2001 Volvo V40
2001 Volvo V70
2000 Volvo S40
2000 Volvo S70
2000 Volvo S80
2000 Volvo V40
2000 Volvo V70
1999 Volvo S70
1999 Volvo S80
1999 Volvo V70
1998 Volvo S70
1998 Volvo S90
1998 Volvo V70
1998 Volvo V90
1997 Volvo 960
1997 Volvo S90
1997 Volvo V90
1996 Volvo 960
1995 Volvo 960
1994 Volvo 960
1993 Volvo 960
1992 Volvo 240
1992 Volvo 740
1992 Volvo 940
1992 Volvo 960
1991 Volvo 240
1991 Volvo 740
1991 Volvo 780
1991 Volvo 940
1990 Volvo 740
1990 Volvo 760
1990 Volvo 780
1989 Volvo 740
1989 Volvo 760
1989 Volvo 780
1988 Volvo 740
1988 Volvo 760
1988 Volvo 780
1987 Volvo 740
1987 Volvo 760
1987 Volvo 780
1986 Volvo 740
1986 Volvo 760
1985 Volvo 740
1985 Volvo 745
1985 Volvo 760
1984 Volvo 760
1983 Volvo 760