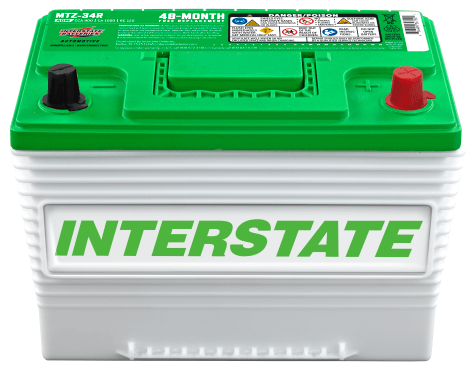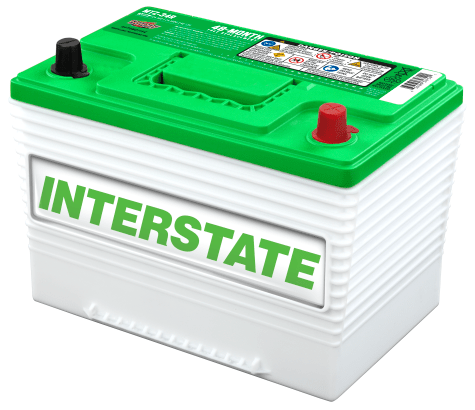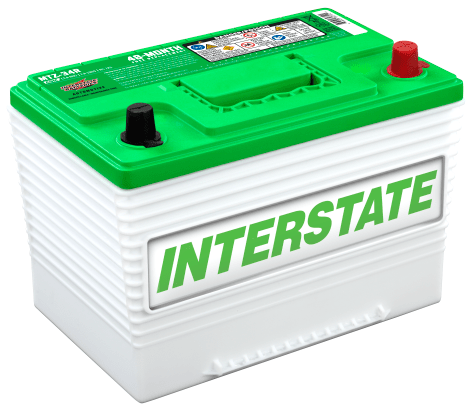 MTZ-34R
Price: Not Available
Group Size 34R
800 Cold Cranking Amps (CCA)
48 Month Warranty
800 Cold Cranking Amps (CCA)
Group Size 34R
Mounting Flexiblity
Absorbed Glass-Mat (AGM)
Almost 3X the life of conventional flooded batteries
40% more cranking power
Plenty of power for accessories and plug-ins - even while the engine is off
48 Month Warranty
Free Replacement Warranty and Long Life Performance
Does This Battery Fit My Automobile
This Battery Fits Your Vehicle.
This Battery Does Not Fit Your Vehicle.
Suggested batteries for this vehicle, Click Here!
Enter your vehicle information
Find This Battery Near You
Hours of Operation
Contact Store For Hours of Operation
Description
The Interstate MTZ absorbed glass-mat AGM car battery with Pure Matrix™ power feeds power-hungry vehicles while serving up powerful engine starts. With a 48-month free replacement warranty and longest-life performance, this car battery delivers lasting power for today's high-accessory vehicles and motorists who use plug-ins such as DVD players, phone chargers and GPS devices.
Specifications
MTZ-34R

34R

800

1000

125 minutes

62

10 13/16 inches
6 3/4 inches

7 13/16 inches

TOP POST (AUTO TYPE)

12

D

Pure Lead AGM
Warranty
View warranty by purchase date.
For countries outside the U.S. and Canada, including Puerto Rico, please contact your local dealer for warranties and product availability.
This Battery Also Fits These Vehicles
Acura
2020 Acura RLX
2019 Acura RLX
2018 Acura RDX
2018 Acura RLX
2017 Acura RDX
2017 Acura RLX
2016 Acura RDX
2016 Acura RLX
2015 Acura MDX
2015 Acura RDX
2015 Acura RLX
2014 Acura MDX
2014 Acura RDX
2014 Acura RLX
2014 Acura TL
2014 Acura TSX
2013 Acura MDX
2013 Acura RDX
2013 Acura TL
2013 Acura TSX
2013 Acura ZDX
2012 Acura MDX
2012 Acura TL
2012 Acura TSX
2012 Acura ZDX
2011 Acura MDX
2011 Acura TL
2011 Acura TSX
2011 Acura ZDX
2010 Acura MDX
2010 Acura TL
2010 Acura TSX
2010 Acura ZDX
2009 Acura MDX
2009 Acura TL
2008 Acura MDX
2008 Acura TL
2007 Acura MDX
2007 Acura TL
2006 Acura MDX
2006 Acura TL
2005 Acura MDX
2005 Acura NSX
2005 Acura TL
2004 Acura MDX
2004 Acura NSX
2004 Acura TL
2003 Acura MDX
2003 Acura NSX
2002 Acura MDX
2002 Acura NSX
2001 Acura MDX
2001 Acura NSX
2000 Acura NSX
1999 Acura CL
1999 Acura NSX
1998 Acura CL
1998 Acura NSX
1997 Acura CL
1997 Acura NSX
1996 Acura NSX
1995 Acura NSX
1994 Acura NSX
1993 Acura NSX
1992 Acura NSX
1991 Acura NSX
1990 Acura Legend
1989 Acura Legend
1988 Acura Legend
1987 Acura Legend
1986 Acura Legend
Alfa Romeo
2008 Alfa Romeo 8C
1990 Alfa Romeo Spider
1989 Alfa Romeo Milano
1989 Alfa Romeo Spider
1988 Alfa Romeo Milano
1988 Alfa Romeo Spider
1987 Alfa Romeo Milano
1987 Alfa Romeo Spider
1986 Alfa Romeo GTV-6
1986 Alfa Romeo Spider
1980 Alfa Romeo Spider
1979 Alfa Romeo Spider
1979 Alfa Romeo Sport
1979 Alfa Romeo Sprint
1978 Alfa Romeo Spider
1978 Alfa Romeo Sport
1978 Alfa Romeo Sprint
1977 Alfa Romeo Alfetta
1977 Alfa Romeo Spider
1977 Alfa Romeo Sprint
1976 Alfa Romeo Alfetta
1976 Alfa Romeo Spider
1975 Alfa Romeo Alfetta
1975 Alfa Romeo Spider
American Motors
1969 American Motors Rebel
Ferrari
2014 Ferrari California
2013 Ferrari California
2012 Ferrari California
2011 Ferrari California
2010 Ferrari 612 Scaglietti
2010 Ferrari California
2009 Ferrari 599 GTB
2009 Ferrari 612 Scaglietti
2009 Ferrari California
2009 Ferrari F430
2008 Ferrari 599 GTB
2008 Ferrari 612 Scaglietti
2008 Ferrari F430
2007 Ferrari 599 GTB
2007 Ferrari 612 Scaglietti
2007 Ferrari F430
2006 Ferrari 612 Scaglietti
2006 Ferrari F430
2005 Ferrari 360
2005 Ferrari 575 M Maranello
2005 Ferrari 612 Scaglietti
2005 Ferrari Superamerica
2004 Ferrari 360
2003 Ferrari 360
2002 Ferrari 360
2001 Ferrari 360
2000 Ferrari 360
1995 Ferrari 348 Spider
1994 Ferrari 348 GTB
1994 Ferrari 348 GTS
1994 Ferrari 348 Spider
1993 Ferrari 348 GTB
1993 Ferrari 348 GTS
1993 Ferrari 348 Spider
1992 Ferrari 348 TB
1992 Ferrari 348 TS
1991 Ferrari 348 TB
1991 Ferrari 348 TS
1990 Ferrari 348 TB
1990 Ferrari 348 TS
1990 Ferrari Mondial t
1989 Ferrari 328 GTB
1989 Ferrari 328 GTS
1989 Ferrari 348 TS
1988 Ferrari 328 GTB
1988 Ferrari 328 GTS
1988 Ferrari Mondial 3.2
1988 Ferrari Testarossa
1987 Ferrari 328 GTB
1987 Ferrari 328 GTS
1987 Ferrari GTO
1987 Ferrari Mondial 3.2
1987 Ferrari Testarossa
1986 Ferrari 328 GTB
1986 Ferrari 328 GTS
1986 Ferrari GTO
1986 Ferrari Mondial 3.2
1986 Ferrari Testarossa
1985 Ferrari 308 GTB
1985 Ferrari 308 GTS
1985 Ferrari 328 GTB
1985 Ferrari 328 GTS
1985 Ferrari 512 BB
1985 Ferrari GTO
1985 Ferrari Mondial
1985 Ferrari Mondial 8
1985 Ferrari Testarossa
1984 Ferrari 308 GTB
1984 Ferrari 308 GTS
1984 Ferrari 512 BB
1984 Ferrari GTO
1984 Ferrari Mondial
1984 Ferrari Mondial 8
1983 Ferrari 308 GTB
1983 Ferrari 308 GTS
1983 Ferrari 512 BB
1983 Ferrari Mondial
1983 Ferrari Mondial 8
1982 Ferrari 308 GTB
1982 Ferrari 308 GTBi
1982 Ferrari 308 GTS
1982 Ferrari 308 GTSi
1982 Ferrari 512 BB
1982 Ferrari Mondial 8
1981 Ferrari 308 GTBi
1981 Ferrari 308 GTSi
1981 Ferrari 512 BB
1981 Ferrari Mondial 8
1980 Ferrari 308 GTB
1980 Ferrari 308 GTS
1980 Ferrari 512 BB
1980 Ferrari Mondial 8
1979 Ferrari 308 GTB
1979 Ferrari 308 GTS
1979 Ferrari 512 BB
1979 Ferrari Dino 308 GT4
1978 Ferrari 308 GTB
1978 Ferrari 308 GTS
1978 Ferrari 512 BB
1978 Ferrari Dino 308 GT4
1977 Ferrari 308 GTB
1977 Ferrari 308 GTS
1977 Ferrari 512 BB
1977 Ferrari Dino 308 GT4
1976 Ferrari 308 GTB
1976 Ferrari 365 GT4
1976 Ferrari Dino 308 GT4
1975 Ferrari 308 GTB
1975 Ferrari 365 GT4
1975 Ferrari Dino 308 GT4
1974 Ferrari 365 GT4
1974 Ferrari 365 GT4 BB
1974 Ferrari 365 GTB/4
1974 Ferrari 365 GTS/4
1974 Ferrari Dino 308 GT4
1973 Ferrari 365 GT4
1973 Ferrari 365 GTB/4
1973 Ferrari 365 GTS/4
1973 Ferrari Dino 246 GT
1973 Ferrari Dino 246 GTS
1973 Ferrari Dino 308 GT4
1972 Ferrari 365 GTB/4
1972 Ferrari 365 GTC/4
1972 Ferrari 365 GTS/4
1972 Ferrari Dino 246 GT
1972 Ferrari Dino 246 GTS
1971 Ferrari 365 GT
1971 Ferrari 365 GTB/4
1971 Ferrari 365 GTC/4
1971 Ferrari 365 GTS/4
1971 Ferrari Dino 246 GT
1970 Ferrari 365 GT
1970 Ferrari 365 GTB/4
1970 Ferrari 365 GTC
1970 Ferrari 365 GTS
1970 Ferrari 365 GTS/4
1970 Ferrari Dino 246 GT
1969 Ferrari 365 GT
1969 Ferrari 365 GTB/4
1969 Ferrari 365 GTC
1969 Ferrari 365 GTS
1969 Ferrari Dino 206 GT
1969 Ferrari Dino 246 GT
1968 Ferrari 275 GT
1968 Ferrari 275 GTB
1968 Ferrari 330 GT
1968 Ferrari 330 GTC
1968 Ferrari 330 GTS
1968 Ferrari 365 GT
1968 Ferrari 365 GTB/4
1968 Ferrari 365 GTC
1968 Ferrari 365 GTS
1968 Ferrari Dino 206 GT
1967 Ferrari 275 GTB
1967 Ferrari 330 GT
1967 Ferrari 330 GTC
1967 Ferrari 330 GTS
1967 Ferrari 365 GT
1967 Ferrari Dino 206 GT
1966 Ferrari 275 GTB
1966 Ferrari 275 GTS
1966 Ferrari 330 GT
1966 Ferrari 330 GTC
1966 Ferrari 330 GTS
1966 Ferrari 400 Superamerica
1966 Ferrari 500 Superfast
1957 Ferrari 250 GT
1957 Ferrari 410 Superamerica
1956 Ferrari 250 GT
1956 Ferrari 410 Superamerica
1955 Ferrari 250 Europa
1955 Ferrari 250 GT
1955 Ferrari 375 America
1954 Ferrari 250 Europa
1954 Ferrari 250 GT
1954 Ferrari 375 America
1953 Ferrari 166
1953 Ferrari 195
1953 Ferrari 212
1953 Ferrari 340 America
1953 Ferrari 342 America
1953 Ferrari 375 America
1952 Ferrari 166
1952 Ferrari 195
1952 Ferrari 212
1952 Ferrari 340 America
1952 Ferrari 342 America
1952 Ferrari 375 America
1951 Ferrari 166
1951 Ferrari 195
1951 Ferrari 212
1951 Ferrari 340 America
1951 Ferrari 342 America
1951 Ferrari 375 America
1950 Ferrari 166
1950 Ferrari 195
1950 Ferrari 212
Ford
1991 Ford E-150 Econoline
1991 Ford E-150 Econoline Club Wagon
1991 Ford E-250 Econoline
1991 Ford E-250 Econoline Club Wagon
1991 Ford E-350 Econoline
1991 Ford E-350 Econoline Club Wagon
1990 Ford E-150 Econoline
1990 Ford E-150 Econoline Club Wagon
1990 Ford E-250 Econoline
1990 Ford E-250 Econoline Club Wagon
1990 Ford E-350 Econoline
1990 Ford E-350 Econoline Club Wagon
1989 Ford E-150 Econoline
1989 Ford E-150 Econoline Club Wagon
1989 Ford E-250 Econoline
1989 Ford E-250 Econoline Club Wagon
1989 Ford E-350 Econoline
1989 Ford E-350 Econoline Club Wagon
1988 Ford E-150 Econoline
1988 Ford E-150 Econoline Club Wagon
1988 Ford E-250 Econoline
1988 Ford E-250 Econoline Club Wagon
1988 Ford E-350 Econoline
1988 Ford E-350 Econoline Club Wagon
1987 Ford E-150 Econoline
1987 Ford E-150 Econoline Club Wagon
1987 Ford E-250 Econoline
1987 Ford E-250 Econoline Club Wagon
1987 Ford E-350 Econoline
1987 Ford E-350 Econoline Club Wagon
1986 Ford E-150 Econoline
1986 Ford E-150 Econoline Club Wagon
1986 Ford E-250 Econoline
1986 Ford E-250 Econoline Club Wagon
1986 Ford E-350 Econoline
1986 Ford E-350 Econoline Club Wagon
1985 Ford E-250 Econoline Club Wagon
1985 Ford E-350 Econoline
1985 Ford E-350 Econoline Club Wagon
1985 Ford F-250
1985 Ford F-350
1985 Ford LTD
1984 Ford E-250 Econoline Club Wagon
1984 Ford E-350 Econoline
1984 Ford E-350 Econoline Club Wagon
1984 Ford F-250
1984 Ford F-350
1984 Ford LTD
1983 Ford E-100 Econoline Club Wagon
1983 Ford E-250 Econoline Club Wagon
1983 Ford E-350 Econoline
1983 Ford E-350 Econoline Club Wagon
1983 Ford F-250
1983 Ford F-350
1983 Ford Fairmont
1982 Ford E-250 Econoline Club Wagon
1982 Ford E-350 Econoline
1982 Ford E-350 Econoline Club Wagon
1981 Ford E-250 Econoline Club Wagon
1981 Ford E-350 Econoline
1981 Ford E-350 Econoline Club Wagon
1980 Ford E-250 Econoline
1980 Ford E-350 Econoline Club Wagon
1980 Ford F-350
1980 Ford Fairmont
1979 Ford Bronco
1979 Ford E-100 Econoline
1979 Ford E-100 Econoline Club Wagon
1979 Ford E-150 Econoline
1979 Ford E-150 Econoline Club Wagon
1979 Ford E-250 Econoline
1979 Ford E-250 Econoline Club Wagon
1979 Ford E-350 Econoline
1979 Ford E-350 Econoline Club Wagon
1979 Ford F-350
1979 Ford Ranchero
1979 Ford Thunderbird
1978 Ford Bronco
1978 Ford E-100 Econoline
1978 Ford E-100 Econoline Club Wagon
1978 Ford E-150 Econoline
1978 Ford E-150 Econoline Club Wagon
1978 Ford E-250 Econoline
1978 Ford E-250 Econoline Club Wagon
1978 Ford E-350 Econoline
1978 Ford E-350 Econoline Club Wagon
1978 Ford F-100
1978 Ford F-150
1978 Ford F-350
1978 Ford LTD
1978 Ford Ranchero
1978 Ford Thunderbird
1977 Ford Bronco
1977 Ford Custom 500
1977 Ford E-250 Econoline Club Wagon
1977 Ford F-250
1977 Ford F-350
1977 Ford F-500
1977 Ford LTD
1977 Ford LTD II
1977 Ford Maverick
1977 Ford Ranchero
1977 Ford Thunderbird
1976 Ford Bronco
1976 Ford Custom 500
1976 Ford E-250 Econoline Club Wagon
1976 Ford Elite
1976 Ford F-100
1976 Ford F-150
1976 Ford F-250
1976 Ford F-350
1976 Ford F-500
1976 Ford Gran Torino
1976 Ford LTD
1976 Ford Maverick
1976 Ford Ranchero
1976 Ford Thunderbird
1976 Ford Torino
1975 Ford Bronco
1975 Ford Custom 500
1975 Ford E-250 Econoline Club Wagon
1975 Ford F-100
1975 Ford F-150
1975 Ford F-250
1975 Ford F-350
1975 Ford F-500
1975 Ford Gran Torino
1975 Ford LTD
1975 Ford Maverick
1975 Ford Ranchero
1975 Ford Thunderbird
1975 Ford Torino
1974 Ford Bronco
1974 Ford Country Sedan
1974 Ford Country Squire
1974 Ford Custom 500
1974 Ford E-100 Econoline
1974 Ford E-200 Econoline
1974 Ford E-300 Econoline
1974 Ford F-250
1974 Ford F-350
1974 Ford Galaxie 500
1974 Ford Gran Torino
1974 Ford LTD
1974 Ford M-450
1974 Ford Maverick
1974 Ford P-350
1974 Ford Ranch Wagon
1974 Ford Ranchero
1974 Ford Thunderbird
1974 Ford Torino
1973 Ford Bronco
1973 Ford Country Sedan
1973 Ford Country Squire
1973 Ford Custom 500
1973 Ford F-250
1973 Ford F-350
1973 Ford Galaxie 500
1973 Ford Gran Torino
1973 Ford LTD
1973 Ford M-400
1973 Ford Maverick
1973 Ford Mustang
1973 Ford P-100
1973 Ford P-350
1973 Ford Ranch Wagon
1973 Ford Ranchero
1973 Ford Thunderbird
1973 Ford Torino
1972 Ford Bronco
1972 Ford Country Sedan
1972 Ford Country Squire
1972 Ford Custom
1972 Ford Custom 500
1972 Ford F-250
1972 Ford F-350
1972 Ford Galaxie 500
1972 Ford Gran Torino
1972 Ford LTD
1972 Ford M-400
1972 Ford Maverick
1972 Ford Mustang
1972 Ford P-100
1972 Ford P-350
1972 Ford Ranch Wagon
1972 Ford Ranchero
1972 Ford Thunderbird
1972 Ford Torino
1971 Ford Bronco
1971 Ford Country Sedan
1971 Ford Country Squire
1971 Ford Custom
1971 Ford Custom 500
1971 Ford F-250
1971 Ford F-350
1971 Ford Galaxie 500
1971 Ford LTD
1971 Ford M-400
1971 Ford Maverick
1971 Ford Mustang
1971 Ford P-100
1971 Ford P-350
1971 Ford Ranch Wagon
1971 Ford Ranchero
1971 Ford Thunderbird
1971 Ford Torino
1970 Ford Bronco
1970 Ford Country Sedan
1970 Ford Country Squire
1970 Ford Custom
1970 Ford Custom 500
1970 Ford F-350
1970 Ford Fairlane
1970 Ford Falcon
1970 Ford Galaxie 500
1970 Ford LTD
1970 Ford Maverick
1970 Ford Mustang
1970 Ford P-100
1970 Ford P-350
1970 Ford Ranch Wagon
1970 Ford Ranchero
1970 Ford Thunderbird
1970 Ford Torino
1969 Ford Bronco
1969 Ford Country Sedan
1969 Ford Country Squire
1969 Ford Custom
1969 Ford Custom 500
1969 Ford F-350
1969 Ford Fairlane
1969 Ford Falcon
1969 Ford Galaxie 500
1969 Ford GT40
1969 Ford LTD
1969 Ford Mustang
1969 Ford P-100
1969 Ford P-350
1969 Ford Ranch Wagon
1969 Ford Ranchero
1969 Ford Thunderbird
1969 Ford Torino
1968 Ford Bronco
1968 Ford Country Sedan
1968 Ford Country Squire
1968 Ford Custom
1968 Ford Custom 500
1968 Ford F-350
1968 Ford Fairlane
1968 Ford Falcon
1968 Ford Galaxie 500
1968 Ford GT40
1968 Ford LTD
1968 Ford Mustang
1968 Ford P-100
1968 Ford P-350
1968 Ford Ranch Wagon
1968 Ford Ranchero
1968 Ford Thunderbird
1968 Ford Torino
1967 Ford Bronco
1967 Ford Club Wagon
1967 Ford Country Sedan
1967 Ford Country Squire
1967 Ford Custom
1967 Ford Custom 500
1967 Ford Econoline
1967 Ford F-100
1967 Ford F-250
1967 Ford F-350
1967 Ford Fairlane
1967 Ford Falcon
1967 Ford Galaxie
1967 Ford Galaxie 500
1967 Ford GT40
1967 Ford LTD
1967 Ford Mustang
1967 Ford P-350
1967 Ford Ranch Wagon
1967 Ford Ranchero
1967 Ford Thunderbird
1966 Ford Bronco
1966 Ford Club Wagon
1966 Ford Country Sedan
1966 Ford Country Squire
1966 Ford Custom
1966 Ford Custom 500
1966 Ford Econoline
1966 Ford F-100
1966 Ford F-250
1966 Ford F-350
1966 Ford Fairlane
1966 Ford Falcon
1966 Ford Galaxie
1966 Ford Galaxie 500
1966 Ford GT40
1966 Ford LTD
1966 Ford Mustang
1966 Ford P-350
1966 Ford Ranch Wagon
1966 Ford Ranchero
1966 Ford Thunderbird
1965 Ford Club Wagon
1965 Ford Country Sedan
1965 Ford Country Squire
1965 Ford Custom
1965 Ford Custom 500
1965 Ford Econoline
1965 Ford F-100
1965 Ford F-250
1965 Ford F-350
1965 Ford Fairlane
1965 Ford Falcon
1965 Ford Galaxie
1965 Ford Galaxie 500
1965 Ford GT40
1965 Ford LTD
1965 Ford Mustang
1965 Ford P-350
1965 Ford Ranch Wagon
1965 Ford Ranchero
1965 Ford Station Bus
1965 Ford Thunderbird
1964 Ford Club Wagon
1964 Ford Country Sedan
1964 Ford Country Squire
1964 Ford Custom
1964 Ford Custom 500
1964 Ford Econoline
1964 Ford Fairlane
1964 Ford Falcon
1964 Ford Galaxie
1964 Ford Galaxie 500
1964 Ford GT40
1964 Ford Ranch Wagon
1964 Ford Ranchero
1964 Ford Sprint
1964 Ford Station Bus
1964 Ford Zodiac
1963 Ford 300
1963 Ford Club Wagon
1963 Ford Country Sedan
1963 Ford Country Squire
1963 Ford Econoline
1963 Ford Fairlane
1963 Ford Falcon
1963 Ford Ford 300
1963 Ford Galaxie
1963 Ford Galaxie 500
1963 Ford Ranch Wagon
1963 Ford Ranchero
1963 Ford Sprint
1963 Ford Station Bus
1963 Ford Zephyr
1963 Ford Zodiac
1962 Ford Club Wagon
1962 Ford Country Sedan
1962 Ford Country Squire
1962 Ford Econoline
1962 Ford Fairlane
1962 Ford Falcon
1962 Ford Galaxie
1962 Ford Galaxie 500
1962 Ford Ranch Wagon
1962 Ford Ranchero
1962 Ford Station Bus
1962 Ford Zephyr
1961 Ford Consul
1961 Ford Country Sedan
1961 Ford Country Squire
1961 Ford Econoline
1961 Ford Fairlane
1961 Ford Falcon
1961 Ford Galaxie
1961 Ford Ranch Wagon
1961 Ford Ranchero
1961 Ford Zephyr
1961 Ford Zodiac
1960 Ford Consul
1960 Ford Country Sedan
1960 Ford Country Squire
1960 Ford Courier Sedan Delivery
1960 Ford Custom 300
1960 Ford Fairlane
1960 Ford Falcon
1960 Ford Galaxie
1960 Ford Ranch Wagon
1960 Ford Ranchero
1960 Ford Starliner
1960 Ford Sunliner
1960 Ford Victoria
1960 Ford Zephyr
1960 Ford Zodiac
1959 Ford Club
1959 Ford Consul
1959 Ford Country Sedan
1959 Ford Country Squire
1959 Ford Courier Sedan Delivery
1959 Ford Custom 300
1959 Ford Fairlane
1959 Ford Galaxie
1959 Ford Ranch Wagon
1959 Ford Ranchero
1959 Ford Skyliner
1959 Ford Sunliner
1959 Ford Victoria
1959 Ford Zephyr
1959 Ford Zodiac
1958 Ford Club
1958 Ford Consul
1958 Ford Country Sedan
1958 Ford Country Squire
1958 Ford Courier Sedan Delivery
1958 Ford Custom 300
1958 Ford Del Rio Wagon
1958 Ford Fairlane
1958 Ford Ranch Wagon
1958 Ford Ranchero
1958 Ford Skyliner
1958 Ford Sunliner
1958 Ford Thunderbird
1958 Ford Victoria
1958 Ford Zephyr
1958 Ford Zodiac
1957 Ford Del Rio Wagon
1957 Ford Ranchero
1953 Ford Club
Honda
2017 Honda Accord
2017 Honda Odyssey
2016 Honda Accord
2016 Honda Odyssey
2015 Honda Accord
2015 Honda Crosstour
2015 Honda Odyssey
2015 Honda Pilot
2014 Honda Accord
2014 Honda Crosstour
2014 Honda Odyssey
2014 Honda Pilot
2014 Honda Ridgeline
2013 Honda Accord
2013 Honda Crosstour
2013 Honda Odyssey
2013 Honda Pilot
2013 Honda Ridgeline
2012 Honda Accord
2012 Honda Crosstour
2012 Honda Odyssey
2012 Honda Pilot
2012 Honda Ridgeline
2011 Honda Accord
2011 Honda Accord Crosstour
2011 Honda Odyssey
2011 Honda Pilot
2011 Honda Ridgeline
2010 Honda Accord
2010 Honda Accord Crosstour
2010 Honda Odyssey
2010 Honda Pilot
2010 Honda Ridgeline
2009 Honda Accord
2009 Honda Odyssey
2009 Honda Pilot
2009 Honda Ridgeline
2008 Honda Accord
2008 Honda Odyssey
2008 Honda Pilot
2008 Honda Ridgeline
2007 Honda Odyssey
2007 Honda Pilot
2007 Honda Ridgeline
2006 Honda Odyssey
2006 Honda Pilot
2006 Honda Ridgeline
2005 Honda Odyssey
2005 Honda Pilot
2004 Honda Odyssey
2004 Honda Pilot
2003 Honda Odyssey
2003 Honda Pilot
2002 Honda Odyssey
2002 Honda Passport
2001 Honda Odyssey
2001 Honda Passport
2001 Honda Prelude
2000 Honda Odyssey
2000 Honda Passport
2000 Honda Prelude
1999 Honda Odyssey
1999 Honda Passport
1999 Honda Prelude
1998 Honda Odyssey
1998 Honda Passport
1998 Honda Prelude
1997 Honda Accord
1997 Honda Odyssey
1997 Honda Prelude
1996 Honda Accord
1996 Honda Odyssey
1996 Honda Prelude
1995 Honda Accord
1995 Honda Odyssey
1995 Honda Prelude
1994 Honda Accord
1994 Honda Prelude
1993 Honda Prelude
1992 Honda Prelude
Infiniti
2019 Infiniti Q70
2018 Infiniti Q70
2018 Infiniti QX50
2017 Infiniti Q70
2017 Infiniti QX50
2016 Infiniti Q70
2016 Infiniti QX50
2016 Infiniti QX70
2015 Infiniti Q60
2015 Infiniti QX50
2015 Infiniti QX60
2015 Infiniti QX70
2014 Infiniti Q60
2014 Infiniti QX50
2014 Infiniti QX60
2014 Infiniti QX70
2013 Infiniti EX37
2013 Infiniti FX37
2013 Infiniti FX50
2013 Infiniti JX35
2013 Infiniti M37
2013 Infiniti M56
2012 Infiniti FX50
2012 Infiniti G25
2012 Infiniti M37
2012 Infiniti M56
2011 Infiniti FX50
2011 Infiniti G25
2011 Infiniti M37
2011 Infiniti M56
2010 Infiniti FX50
2010 Infiniti M35
2010 Infiniti M45
2009 Infiniti FX50
2009 Infiniti M35
2009 Infiniti M45
2008 Infiniti FX35
2008 Infiniti FX45
2008 Infiniti M35
2008 Infiniti M45
2007 Infiniti FX35
2007 Infiniti FX45
2007 Infiniti G35
2007 Infiniti M35
2007 Infiniti M45
2006 Infiniti FX45
2006 Infiniti G35
2006 Infiniti M35
2006 Infiniti M45
2006 Infiniti Q45
2005 Infiniti G35
2005 Infiniti Q45
2004 Infiniti G35
2004 Infiniti I35
2004 Infiniti Q45
2003 Infiniti G35
2003 Infiniti I35
2003 Infiniti Q45
2002 Infiniti G20
2002 Infiniti I35
2002 Infiniti Q45
2001 Infiniti G20
2001 Infiniti I30
2000 Infiniti G20
2000 Infiniti I30
1999 Infiniti G20
1999 Infiniti I30
1998 Infiniti I30
1997 Infiniti I30
1996 Infiniti G20
1996 Infiniti I30
1995 Infiniti G20
1994 Infiniti G20
1993 Infiniti G20
1992 Infiniti G20
1991 Infiniti G20
Isuzu
2004 Isuzu Axiom
2004 Isuzu Rodeo
2003 Isuzu Axiom
2003 Isuzu Rodeo
2003 Isuzu Rodeo Sport
2002 Isuzu Axiom
2002 Isuzu Rodeo
2002 Isuzu Rodeo Sport
2001 Isuzu Rodeo
2001 Isuzu Rodeo Sport
2000 Isuzu Amigo
2000 Isuzu Rodeo
1999 Isuzu Amigo
1999 Isuzu Oasis
1999 Isuzu Rodeo
1998 Isuzu Amigo
1998 Isuzu Oasis
1998 Isuzu Rodeo
1997 Isuzu Oasis
1996 Isuzu Oasis
Kia
2005 Kia Sedona
2004 Kia Amanti
2004 Kia Sedona
2003 Kia Sedona
2002 Kia Sedona
Lamborghini
2007 Lamborghini Murcielago
2006 Lamborghini Murcielago
2005 Lamborghini Murcielago
2004 Lamborghini Murcielago
2003 Lamborghini Murcielago
2002 Lamborghini Murcielago
2001 Lamborghini Diablo
2001 Lamborghini Murcielago
2000 Lamborghini Diablo
1999 Lamborghini Diablo
1998 Lamborghini Diablo
1997 Lamborghini Diablo
1996 Lamborghini Diablo
1995 Lamborghini Diablo
1994 Lamborghini Diablo
1993 Lamborghini Diablo
1992 Lamborghini Diablo
1991 Lamborghini Diablo
1990 Lamborghini Diablo
Lexus
2021 Lexus NX300
2021 Lexus RX350
2021 Lexus RX350L
2019 Lexus GX460
2019 Lexus NX300
2019 Lexus RX350
2019 Lexus RX350L
2018 Lexus ES350
2018 Lexus GX460
2018 Lexus NX300
2018 Lexus RX350
2018 Lexus RX350L
2017 Lexus ES350
2017 Lexus GX460
2017 Lexus LX570
2017 Lexus NX200t
2017 Lexus RX350
2016 Lexus ES350
2016 Lexus GX460
2016 Lexus LX570
2016 Lexus NX200t
2016 Lexus RX350
2015 Lexus ES350
2015 Lexus GX460
2015 Lexus LX570
2015 Lexus NX200t
2015 Lexus RX350
2014 Lexus ES350
2014 Lexus GX460
2014 Lexus LX570
2014 Lexus RX350
2013 Lexus ES350
2013 Lexus GX460
2013 Lexus LX570
2013 Lexus RX350
2012 Lexus ES350
2012 Lexus GX460
2012 Lexus RX350
2011 Lexus ES350
2011 Lexus GX460
2011 Lexus RX350
2010 Lexus ES350
2010 Lexus GX460
2010 Lexus RX350
2009 Lexus ES350
2009 Lexus RX350
2008 Lexus ES350
2008 Lexus RX350
2007 Lexus ES350
2007 Lexus RX350
2006 Lexus ES330
2006 Lexus LS430
2006 Lexus RX330
2005 Lexus ES330
2005 Lexus LS430
2005 Lexus RX330
2004 Lexus ES330
2004 Lexus LS430
2004 Lexus RX330
2003 Lexus ES300
2003 Lexus LS430
2003 Lexus RX300
2002 Lexus ES300
2002 Lexus LS430
2002 Lexus RX300
2001 Lexus ES300
2001 Lexus LS430
2001 Lexus RX300
2000 Lexus ES300
2000 Lexus LS400
2000 Lexus RX300
2000 Lexus SC300
1999 Lexus ES300
1999 Lexus LS400
1999 Lexus RX300
1999 Lexus SC300
1998 Lexus ES300
1998 Lexus LS400
1998 Lexus SC300
1997 Lexus ES300
1997 Lexus GS300
1997 Lexus LS400
1997 Lexus SC300
1996 Lexus ES300
1996 Lexus GS300
1996 Lexus LS400
1995 Lexus ES300
1995 Lexus GS300
1995 Lexus LS400
1994 Lexus ES300
1994 Lexus GS300
1993 Lexus ES300
1993 Lexus GS300
1992 Lexus ES300
Lincoln
1983 Lincoln Continental
1983 Lincoln Town Car
1982 Lincoln Town Car
1979 Lincoln Continental
1979 Lincoln Mark V
1979 Lincoln Versailles
1978 Lincoln Continental
1978 Lincoln Mark V
1978 Lincoln Versailles
1977 Lincoln Continental
1977 Lincoln Mark V
1977 Lincoln Versailles
1976 Lincoln Continental
1976 Lincoln Mark IV
1975 Lincoln Continental
1975 Lincoln Mark IV
1974 Lincoln Continental
1974 Lincoln Mark IV
1973 Lincoln Continental
1973 Lincoln Mark IV
1972 Lincoln Mark IV
1971 Lincoln Continental
1971 Lincoln Mark III
1965 Lincoln Continental
1964 Lincoln Continental
1963 Lincoln Continental
1962 Lincoln Continental
1961 Lincoln Continental
Mazda
2019 Mazda CX-5
2015 Mazda CX-9
2014 Mazda CX-9
2013 Mazda CX-9
2012 Mazda CX-7
2012 Mazda CX-9
2011 Mazda CX-7
2011 Mazda CX-9
2011 Mazda RX-8
2010 Mazda CX-7
2010 Mazda CX-9
2009 Mazda CX-9
2008 Mazda CX-9
2007 Mazda 3
2007 Mazda CX-9
2006 Mazda MPV
2005 Mazda MPV
2004 Mazda MPV
2003 Mazda MPV
2002 Mazda Millenia
2002 Mazda MPV
2001 Mazda Millenia
2001 Mazda MPV
2000 Mazda Millenia
2000 Mazda MPV
1999 Mazda Millenia
1998 Mazda Millenia
1998 Mazda MPV
1997 Mazda Millenia
1997 Mazda MPV
1996 Mazda Millenia
1996 Mazda MPV
1995 Mazda 929
1995 Mazda Millenia
1995 Mazda MPV
1995 Mazda RX-7
1994 Mazda 929
1994 Mazda MPV
1994 Mazda MX-3
1994 Mazda RX-7
1993 Mazda 929
1993 Mazda MPV
1993 Mazda RX-7
1992 Mazda 929
1992 Mazda MPV
1991 Mazda 929
1991 Mazda MPV
1990 Mazda 929
1990 Mazda MPV
1989 Mazda 929
1989 Mazda MPV
1988 Mazda 929
1988 Mazda B2600
1987 Mazda B2600
Mercedes-Benz
1971 Mercedes-Benz 220D
1970 Mercedes-Benz 220D
1969 Mercedes-Benz 220
1969 Mercedes-Benz 220D
1967 Mercedes-Benz 230
1967 Mercedes-Benz 230S
1967 Mercedes-Benz 250SL
1967 Mercedes-Benz 300SEL
1966 Mercedes-Benz 220SE
1966 Mercedes-Benz 230
1966 Mercedes-Benz 230S
1966 Mercedes-Benz 230SL
1966 Mercedes-Benz 250S
1966 Mercedes-Benz 300SE
1966 Mercedes-Benz 300SEL
1965 Mercedes-Benz 190
1965 Mercedes-Benz 190DC
1965 Mercedes-Benz 220
1965 Mercedes-Benz 220S
1965 Mercedes-Benz 220SE
1965 Mercedes-Benz 230SL
1965 Mercedes-Benz 300SEL
1964 Mercedes-Benz 190
1964 Mercedes-Benz 190DC
1964 Mercedes-Benz 220
1964 Mercedes-Benz 220S
1964 Mercedes-Benz 220SE
1964 Mercedes-Benz 230SL
1963 Mercedes-Benz 180C
1963 Mercedes-Benz 180D
1963 Mercedes-Benz 190DC
1963 Mercedes-Benz 220
1963 Mercedes-Benz 220S
1963 Mercedes-Benz 220SE
1963 Mercedes-Benz 230SL
1962 Mercedes-Benz 180b
1962 Mercedes-Benz 180D
1962 Mercedes-Benz 190DB
1962 Mercedes-Benz 220
1962 Mercedes-Benz 220SE
1961 Mercedes-Benz 180b
1961 Mercedes-Benz 180D
1961 Mercedes-Benz 190DB
1961 Mercedes-Benz 220
1961 Mercedes-Benz 220SE
1960 Mercedes-Benz 180b
1960 Mercedes-Benz 180D
1960 Mercedes-Benz 190DB
1960 Mercedes-Benz 220
1960 Mercedes-Benz 220S
1960 Mercedes-Benz 220SE
1959 Mercedes-Benz 180A
1959 Mercedes-Benz 190
1959 Mercedes-Benz 190SL
1959 Mercedes-Benz 220
1959 Mercedes-Benz 220SE
1958 Mercedes-Benz 180A
1958 Mercedes-Benz 190
1958 Mercedes-Benz 190SL
1958 Mercedes-Benz 220
Mercury
2002 Mercury Villager
2001 Mercury Villager
2000 Mercury Villager
1999 Mercury Villager
1998 Mercury Villager
1997 Mercury Villager
1996 Mercury Villager
1995 Mercury Villager
1994 Mercury Villager
1993 Mercury Villager
1985 Mercury Grand Marquis
1982 Mercury Zephyr
1980 Mercury Zephyr
1978 Mercury Marquis
1977 Mercury Cougar
1977 Mercury Grand Marquis
1977 Mercury Marquis
1976 Mercury Cougar
1976 Mercury Grand Marquis
1976 Mercury Marquis
1976 Mercury Montego
1975 Mercury Cougar
1975 Mercury Grand Marquis
1975 Mercury Marquis
1975 Mercury Montego
1974 Mercury Colony Park
1974 Mercury Cougar
1974 Mercury Marquis
1974 Mercury Montego
1974 Mercury Monterey
1973 Mercury Colony Park
1973 Mercury Cougar
1973 Mercury Marquis
1973 Mercury Montego
1973 Mercury Monterey
1972 Mercury Colony Park
1972 Mercury Cougar
1972 Mercury Marquis
1972 Mercury Montego
1972 Mercury Monterey
1971 Mercury Capri
1971 Mercury Colony Park
1971 Mercury Cougar
1971 Mercury Cyclone
1971 Mercury Marquis
1971 Mercury Montego
1971 Mercury Monterey
1970 Mercury Capri
1970 Mercury Colony Park
1970 Mercury Cougar
1970 Mercury Cyclone
1970 Mercury Marauder
1970 Mercury Marquis
1970 Mercury Montego
1970 Mercury Monterey
1969 Mercury Colony Park
1969 Mercury Comet
1969 Mercury Cougar
1969 Mercury Cyclone
1969 Mercury Marauder
1969 Mercury Marquis
1969 Mercury Montego
1969 Mercury Monterey
1968 Mercury Colony Park
1968 Mercury Comet
1968 Mercury Commuter
1968 Mercury Cougar
1968 Mercury Cyclone
1968 Mercury Marquis
1968 Mercury Montclair
1968 Mercury Montego
1968 Mercury Monterey
1968 Mercury Park Lane
1967 Mercury Brougham
1967 Mercury Caliente
1967 Mercury Colony Park
1967 Mercury Comet
1967 Mercury Commuter
1967 Mercury Cougar
1967 Mercury Cyclone
1967 Mercury Marauder
1967 Mercury Marquis
1967 Mercury Montclair
1967 Mercury Monterey
1967 Mercury Park Lane
1967 Mercury Villager
1967 Mercury Voyager
1966 Mercury Caliente
1966 Mercury Colony Park
1966 Mercury Comet
1966 Mercury Commuter
1966 Mercury Cyclone
1966 Mercury Montclair
1966 Mercury Monterey
1966 Mercury Park Lane
1966 Mercury Villager
1966 Mercury Voyager
1965 Mercury Caliente
1965 Mercury Colony Park
1965 Mercury Comet
1965 Mercury Commuter
1965 Mercury Cyclone
1965 Mercury Marauder
1965 Mercury Montclair
1965 Mercury Monterey
1965 Mercury Park Lane
1965 Mercury Villager
1964 Mercury Caliente
1964 Mercury Colony Park
1964 Mercury Comet
1964 Mercury Commuter
1964 Mercury Cyclone
1964 Mercury Marauder
1964 Mercury Montclair
1964 Mercury Monterey
1964 Mercury Park Lane
1964 Mercury Villager
1963 Mercury Colony Park
1963 Mercury Commuter
1963 Mercury Country Cruiser
1963 Mercury Marauder
1963 Mercury Meteor
1963 Mercury Monterey
1963 Mercury Villager
1962 Mercury Colony Park
1962 Mercury Comet
1962 Mercury Commuter
1962 Mercury Meteor
1962 Mercury Monterey
1962 Mercury Villager
1961 Mercury Colony Park
1961 Mercury Comet
1961 Mercury Commuter
1961 Mercury Meteor
1961 Mercury Monterey
1960 Mercury Colony Park
1960 Mercury Comet
1960 Mercury Commuter
1960 Mercury Country Cruiser
1960 Mercury Montclair
1960 Mercury Monterey
1959 Mercury Park Lane
1958 Mercury Park Lane
Mitsubishi
2020 Mitsubishi Outlander
2019 Mitsubishi Outlander
2018 Mitsubishi Outlander
2017 Mitsubishi Outlander
2016 Mitsubishi Outlander
2015 Mitsubishi Outlander
2014 Mitsubishi Outlander
2011 Mitsubishi Outlander
2010 Mitsubishi Outlander
2009 Mitsubishi Outlander
2008 Mitsubishi Outlander
2007 Mitsubishi Outlander
2006 Mitsubishi Montero
2006 Mitsubishi Outlander
2005 Mitsubishi Montero
2005 Mitsubishi Outlander
2004 Mitsubishi Montero
2004 Mitsubishi Outlander
2003 Mitsubishi Montero
2002 Mitsubishi Montero
2001 Mitsubishi Montero
Nissan
2020 Nissan NV2500
2020 Nissan NV3500
2019 Nissan NV1500
2019 Nissan NV2500
2019 Nissan NV3500
2019 Nissan Titan XD
2018 Nissan NV1500
2017 Nissan NV1500
2017 Nissan Quest
2016 Nissan NV1500
2016 Nissan NV2500
2016 Nissan NV3500
2016 Nissan Quest
2015 Nissan Armada
2015 Nissan NV1500
2015 Nissan NV2500
2015 Nissan NV3500
2015 Nissan Quest
2015 Nissan Titan
2014 Nissan Armada
2014 Nissan NV1500
2014 Nissan NV2500
2014 Nissan NV3500
2014 Nissan Quest
2014 Nissan Titan
2013 Nissan Armada
2013 Nissan NV1500
2013 Nissan NV2500
2013 Nissan NV3500
2013 Nissan Quest
2013 Nissan Titan
2012 Nissan Armada
2012 Nissan NV1500
2012 Nissan NV2500
2012 Nissan NV3500
2012 Nissan Pathfinder
2012 Nissan Quest
2012 Nissan Titan
2011 Nissan Armada
2011 Nissan Pathfinder
2011 Nissan Quest
2011 Nissan Titan
2010 Nissan Armada
2010 Nissan Frontier
2010 Nissan Pathfinder
2010 Nissan Titan
2009 Nissan Armada
2009 Nissan Frontier
2009 Nissan Pathfinder
2009 Nissan Quest
2009 Nissan Titan
2009 Nissan Xterra
2008 Nissan Armada
2008 Nissan Frontier
2008 Nissan Maxima
2008 Nissan Pathfinder
2008 Nissan Quest
2008 Nissan Titan
2008 Nissan Xterra
2007 Nissan Armada
2007 Nissan Frontier
2007 Nissan Maxima
2007 Nissan Murano
2007 Nissan Pathfinder
2007 Nissan Quest
2007 Nissan Titan
2007 Nissan Xterra
2006 Nissan Altima
2006 Nissan Armada
2006 Nissan Frontier
2006 Nissan Maxima
2006 Nissan Murano
2006 Nissan Pathfinder
2006 Nissan Quest
2006 Nissan Titan
2006 Nissan Xterra
2006 Nissan X-Trail
2005 Nissan Altima
2005 Nissan Armada
2005 Nissan Frontier
2005 Nissan Maxima
2005 Nissan Murano
2005 Nissan Pathfinder
2005 Nissan Quest
2005 Nissan Titan
2005 Nissan Xterra
2004 Nissan Altima
2004 Nissan Maxima
2004 Nissan Murano
2004 Nissan Pathfinder Armada
2004 Nissan Quest
2004 Nissan Titan
2003 Nissan Altima
2003 Nissan Maxima
2002 Nissan Altima
2002 Nissan Maxima
2002 Nissan Quest
2001 Nissan Altima
2001 Nissan Maxima
2001 Nissan Quest
2000 Nissan Altima
2000 Nissan Maxima
2000 Nissan Quest
1999 Nissan Altima
1999 Nissan Maxima
1999 Nissan Quest
1998 Nissan 200SX
1998 Nissan Altima
1998 Nissan Maxima
1998 Nissan Quest
1998 Nissan Sentra
1997 Nissan 200SX
1997 Nissan Altima
1997 Nissan Maxima
1997 Nissan Quest
1997 Nissan Sentra
1996 Nissan 200SX
1996 Nissan 300ZX
1996 Nissan Altima
1996 Nissan Maxima
1996 Nissan Quest
1996 Nissan Sentra
1995 Nissan 200SX
1995 Nissan 300ZX
1995 Nissan Altima
1995 Nissan Maxima
1995 Nissan Quest
1995 Nissan Sentra
1994 Nissan 300ZX
1994 Nissan Altima
1994 Nissan Maxima
1994 Nissan Quest
1994 Nissan Sentra
1993 Nissan 300ZX
1993 Nissan Altima
1993 Nissan Maxima
1993 Nissan NX
1993 Nissan Quest
1993 Nissan Sentra
1992 Nissan 300ZX
1992 Nissan Axxess
1992 Nissan Maxima
1992 Nissan NX
1992 Nissan Sentra
1992 Nissan Stanza
1991 Nissan 300ZX
1991 Nissan Axxess
1991 Nissan Maxima
1991 Nissan NX
1991 Nissan Sentra
1991 Nissan Stanza
1990 Nissan 300ZX
1990 Nissan Axxess
1990 Nissan Maxima
1990 Nissan Pulsar NX
1990 Nissan Sentra
1990 Nissan Stanza
1989 Nissan Maxima
1989 Nissan Pulsar NX
1989 Nissan Sentra
1989 Nissan Stanza
1988 Nissan Multi
1988 Nissan Pulsar NX
1988 Nissan Sentra
1988 Nissan Stanza
1987 Nissan Multi
1987 Nissan Pulsar NX
1987 Nissan Sentra
1987 Nissan Stanza
1986 Nissan Multi
1986 Nissan Pulsar NX
1986 Nissan Sentra
1986 Nissan Stanza
1985 Nissan Pulsar NX
1985 Nissan Sentra
1984 Nissan Pulsar NX
1983 Nissan Pulsar
1983 Nissan Pulsar NX
Pontiac
2010 Pontiac Vibe
2009 Pontiac Vibe
Rover
1964 Rover 2000
Saab
1991 Saab 9000
1990 Saab 9000
1989 Saab 9000
1988 Saab 9000
1987 Saab 9000
1986 Saab 9000
1980 Saab 900
1980 Saab 99
1979 Saab 900
1979 Saab 99
1978 Saab 99
1977 Saab 99
1976 Saab 99
1975 Saab 99
1974 Saab 99
1974 Saab Sonett
1973 Saab 95
1973 Saab 96
1973 Saab 99
1973 Saab Sonett
1972 Saab 95
1972 Saab 96
1972 Saab Sonett
1971 Saab 95
1971 Saab 96
1971 Saab Sonett
1970 Saab 95
1970 Saab 96
Scion
2016 Scion tC
2015 Scion tC
2015 Scion xB
2014 Scion tC
2014 Scion xB
2013 Scion tC
2013 Scion xB
2012 Scion tC
2012 Scion xB
2011 Scion tC
2011 Scion xB
2010 Scion xB
2009 Scion xB
2008 Scion xB
Shelby
1967 Shelby Cobra
1966 Shelby Cobra
Sterling
1991 Sterling 827
1990 Sterling 827
1989 Sterling 827
Subaru
1972 Subaru Star
1971 Subaru Star
Suzuki
2013 Suzuki Grand Vitara
2013 Suzuki Kizashi
2012 Suzuki Equator
2012 Suzuki Grand Vitara
2012 Suzuki Kizashi
2011 Suzuki Equator
2011 Suzuki Grand Vitara
2011 Suzuki Kizashi
2010 Suzuki Equator
2010 Suzuki Grand Vitara
2010 Suzuki Kizashi
2009 Suzuki Equator
2009 Suzuki Grand Vitara
2008 Suzuki Grand Vitara
2007 Suzuki Aerio
2007 Suzuki Grand Vitara
2006 Suzuki Aerio
2006 Suzuki Grand Vitara
2006 Suzuki XL-7
2005 Suzuki Aerio
2005 Suzuki Grand Vitara
2005 Suzuki XL-7
2004 Suzuki Aerio
2004 Suzuki Grand Vitara
2004 Suzuki XL-7
2003 Suzuki Aerio
2002 Suzuki Aerio
2001 Suzuki Grand Vitara
Toyota
2022 Toyota 4Runner
2021 Toyota 4Runner
2020 Toyota 4Runner
2020 Toyota Land Cruiser
2020 Toyota Sequoia
2020 Toyota Sienna
2020 Toyota Tacoma
2020 Toyota Tundra
2019 Toyota 4Runner
2019 Toyota Sequoia
2019 Toyota Sienna
2019 Toyota Tacoma
2019 Toyota Tundra
2018 Toyota 4Runner
2018 Toyota Avalon
2018 Toyota Highlander
2018 Toyota Sienna
2018 Toyota Tacoma
2018 Toyota Tundra
2017 Toyota 4Runner
2017 Toyota Avalon
2017 Toyota Camry
2017 Toyota Highlander
2017 Toyota Land Cruiser
2017 Toyota Sienna
2017 Toyota Tacoma
2017 Toyota Tundra
2016 Toyota 4Runner
2016 Toyota Avalon
2016 Toyota Camry
2016 Toyota Highlander
2016 Toyota Land Cruiser
2016 Toyota Sequoia
2016 Toyota Sienna
2016 Toyota Tacoma
2016 Toyota Tundra
2016 Toyota Venza
2015 Toyota 4Runner
2015 Toyota Avalon
2015 Toyota Camry
2015 Toyota Highlander
2015 Toyota Land Cruiser
2015 Toyota Sequoia
2015 Toyota Sienna
2015 Toyota Tacoma
2015 Toyota Tundra
2015 Toyota Venza
2014 Toyota 4Runner
2014 Toyota Avalon
2014 Toyota Camry
2014 Toyota FJ Cruiser
2014 Toyota Highlander
2014 Toyota Land Cruiser
2014 Toyota Sequoia
2014 Toyota Sienna
2014 Toyota Tacoma
2014 Toyota Tundra
2014 Toyota Venza
2013 Toyota 4Runner
2013 Toyota Avalon
2013 Toyota Camry
2013 Toyota FJ Cruiser
2013 Toyota Highlander
2013 Toyota Land Cruiser
2013 Toyota Matrix
2013 Toyota RAV4
2013 Toyota Sequoia
2013 Toyota Sienna
2013 Toyota Tacoma
2013 Toyota Tundra
2013 Toyota Venza
2012 Toyota 4Runner
2012 Toyota Avalon
2012 Toyota Camry
2012 Toyota Corolla
2012 Toyota FJ Cruiser
2012 Toyota Highlander
2012 Toyota Matrix
2012 Toyota RAV4
2012 Toyota Sequoia
2012 Toyota Sienna
2012 Toyota Tacoma
2012 Toyota Tundra
2012 Toyota Venza
2011 Toyota 4Runner
2011 Toyota Avalon
2011 Toyota Camry
2011 Toyota Corolla
2011 Toyota FJ Cruiser
2011 Toyota Highlander
2011 Toyota Land Cruiser
2011 Toyota Matrix
2011 Toyota RAV4
2011 Toyota Sequoia
2011 Toyota Sienna
2011 Toyota Tacoma
2011 Toyota Tundra
2011 Toyota Venza
2010 Toyota 4Runner
2010 Toyota Avalon
2010 Toyota Camry
2010 Toyota Corolla
2010 Toyota FJ Cruiser
2010 Toyota Highlander
2010 Toyota Land Cruiser
2010 Toyota Matrix
2010 Toyota RAV4
2010 Toyota Sequoia
2010 Toyota Sienna
2010 Toyota Tacoma
2010 Toyota Tundra
2010 Toyota Venza
2009 Toyota 4Runner
2009 Toyota Avalon
2009 Toyota Camry
2009 Toyota Corolla
2009 Toyota FJ Cruiser
2009 Toyota Highlander
2009 Toyota Land Cruiser
2009 Toyota Matrix
2009 Toyota RAV4
2009 Toyota Sequoia
2009 Toyota Sienna
2009 Toyota Tacoma
2009 Toyota Tundra
2009 Toyota Venza
2008 Toyota 4Runner
2008 Toyota Avalon
2008 Toyota Camry
2008 Toyota FJ Cruiser
2008 Toyota Highlander
2008 Toyota Land Cruiser
2008 Toyota RAV4
2008 Toyota Sequoia
2008 Toyota Sienna
2008 Toyota Solara
2008 Toyota Tacoma
2008 Toyota Tundra
2007 Toyota 4Runner
2007 Toyota Avalon
2007 Toyota Camry
2007 Toyota FJ Cruiser
2007 Toyota Highlander
2007 Toyota Land Cruiser
2007 Toyota RAV4
2007 Toyota Sequoia
2007 Toyota Sienna
2007 Toyota Solara
2007 Toyota Tacoma
2007 Toyota Tundra
2006 Toyota 4Runner
2006 Toyota Avalon
2006 Toyota Camry
2006 Toyota Highlander
2006 Toyota Land Cruiser
2006 Toyota RAV4
2006 Toyota Sequoia
2006 Toyota Sienna
2006 Toyota Solara
2006 Toyota Tacoma
2006 Toyota Tundra
2005 Toyota 4Runner
2005 Toyota Avalon
2005 Toyota Camry
2005 Toyota Highlander
2005 Toyota Land Cruiser
2005 Toyota RAV4
2005 Toyota Sequoia
2005 Toyota Sienna
2005 Toyota Solara
2005 Toyota Tacoma
2005 Toyota Tundra
2004 Toyota 4Runner
2004 Toyota Avalon
2004 Toyota Camry
2004 Toyota Highlander
2004 Toyota Land Cruiser
2004 Toyota RAV4
2004 Toyota Sequoia
2004 Toyota Sienna
2004 Toyota Solara
2004 Toyota Tacoma
2004 Toyota Tundra
2003 Toyota 4Runner
2003 Toyota Avalon
2003 Toyota Camry
2003 Toyota Highlander
2003 Toyota Land Cruiser
2003 Toyota Sequoia
2003 Toyota Sienna
2003 Toyota Solara
2003 Toyota Tacoma
2003 Toyota Tundra
2002 Toyota 4Runner
2002 Toyota Avalon
2002 Toyota Camry
2002 Toyota Highlander
2002 Toyota Land Cruiser
2002 Toyota Sequoia
2002 Toyota Sienna
2002 Toyota Solara
2002 Toyota Tacoma
2002 Toyota Tundra
2001 Toyota 4Runner
2001 Toyota Avalon
2001 Toyota Camry
2001 Toyota Highlander
2001 Toyota Land Cruiser
2001 Toyota Sequoia
2001 Toyota Sienna
2001 Toyota Solara
2001 Toyota Tacoma
2001 Toyota Tundra
2000 Toyota Avalon
2000 Toyota Camry
2000 Toyota Land Cruiser
2000 Toyota Sienna
2000 Toyota Solara
2000 Toyota Tacoma
2000 Toyota Tundra
1999 Toyota Avalon
1999 Toyota Camry
1999 Toyota Land Cruiser
1999 Toyota Sienna
1999 Toyota Solara
1999 Toyota Tacoma
1998 Toyota Avalon
1998 Toyota Camry
1998 Toyota Land Cruiser
1998 Toyota Sienna
1998 Toyota Supra
1998 Toyota T100
1998 Toyota Tacoma
1997 Toyota Avalon
1997 Toyota Camry
1997 Toyota Land Cruiser
1997 Toyota Previa
1997 Toyota Supra
1997 Toyota T100
1997 Toyota Tacoma
1996 Toyota Avalon
1996 Toyota Camry
1996 Toyota Land Cruiser
1996 Toyota Previa
1996 Toyota Supra
1996 Toyota T100
1996 Toyota Tacoma
1995 Toyota Avalon
1995 Toyota Camry
1995 Toyota Land Cruiser
1995 Toyota MR2
1995 Toyota Previa
1995 Toyota Supra
1995 Toyota T100
1995 Toyota Tacoma
1994 Toyota Camry
1994 Toyota Land Cruiser
1994 Toyota MR2
1994 Toyota Previa
1994 Toyota Supra
1993 Toyota Camry
1993 Toyota Celica
1993 Toyota Land Cruiser
1993 Toyota MR2
1993 Toyota Previa
1993 Toyota Supra
1992 Toyota Camry
1992 Toyota Celica
1992 Toyota Cressida
1992 Toyota Previa
1992 Toyota Supra
1991 Toyota Cressida
1991 Toyota Previa
1991 Toyota Supra
1990 Toyota Cressida
1990 Toyota Supra
1989 Toyota Cressida
1989 Toyota Supra
1988 Toyota Cressida
1988 Toyota Supra
1987 Toyota Cressida
1987 Toyota Pickup
1987 Toyota Supra
1986 Toyota Celica
1986 Toyota Cressida
1986 Toyota Pickup
1986 Toyota Supra
1985 Toyota Celica
1985 Toyota Corolla
1985 Toyota Cressida
1985 Toyota Land Cruiser
1985 Toyota Pickup
1984 Toyota Celica
1984 Toyota Corolla
1984 Toyota Cressida
1984 Toyota Land Cruiser
1984 Toyota Pickup
1983 Toyota Celica
1983 Toyota Cressida
1983 Toyota Land Cruiser
1983 Toyota Pickup
1982 Toyota Celica
1982 Toyota Cressida
1982 Toyota Land Cruiser
1982 Toyota Pickup
1981 Toyota Celica
1981 Toyota Corolla
1981 Toyota Cressida
1981 Toyota Land Cruiser
1981 Toyota Pickup
1980 Toyota Celica
1980 Toyota Cressida
1980 Toyota Land Cruiser
1979 Toyota Celica
1979 Toyota Corolla
1979 Toyota Cressida
1979 Toyota Land Cruiser
1978 Toyota Corolla
1978 Toyota Cressida
1978 Toyota Land Cruiser
1977 Toyota Corolla
1977 Toyota Land Cruiser
1976 Toyota Corolla
1976 Toyota Land Cruiser
1976 Toyota Mark II
1975 Toyota Celica
1975 Toyota Corolla
1975 Toyota Land Cruiser
1975 Toyota Mark II
1974 Toyota Celica
1974 Toyota Corolla
1974 Toyota Land Cruiser
1974 Toyota Mark II
1974 Toyota Pickup
1973 Toyota Celica
1973 Toyota Corolla
1973 Toyota Corona
1973 Toyota Hi-Lux
1973 Toyota Land Cruiser
1973 Toyota Mark II
1973 Toyota Pickup
1972 Toyota Celica
1972 Toyota Corolla
1972 Toyota Corona
1972 Toyota Crown
1972 Toyota Hi-Lux
1972 Toyota Mark II
1972 Toyota Pickup
1971 Toyota Carina
1971 Toyota Celica
1971 Toyota Corolla
1971 Toyota Crown
1971 Toyota Hi-Lux
1971 Toyota Pickup
1970 Toyota Corona
1970 Toyota Crown
1970 Toyota Hi-Lux
1970 Toyota Pickup
1969 Toyota Corona
1969 Toyota Crown
1969 Toyota Hi-Lux
1969 Toyota Land Cruiser
1969 Toyota Pickup
1968 Toyota 2000GT
1968 Toyota Corona
1968 Toyota Crown
1968 Toyota Stout
Volvo
1968 Volvo 142
1968 Volvo 144
1968 Volvo 145
1967 Volvo 144