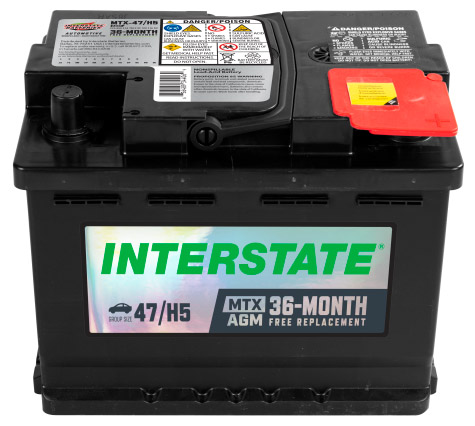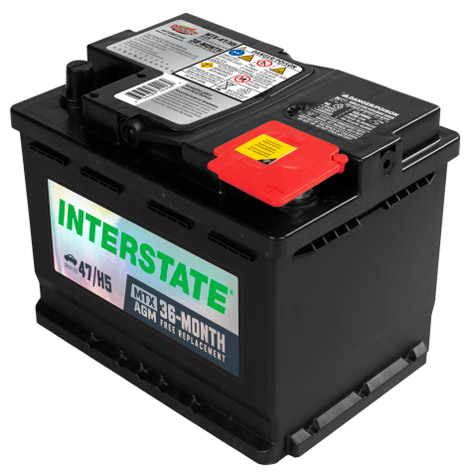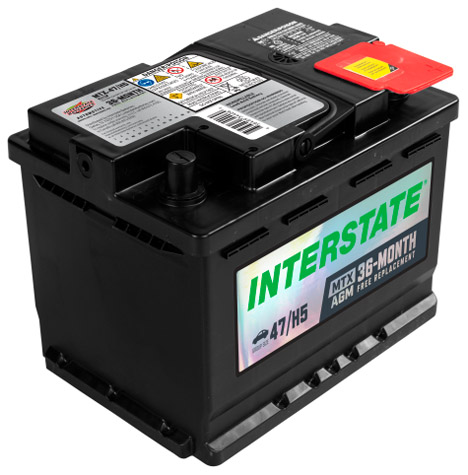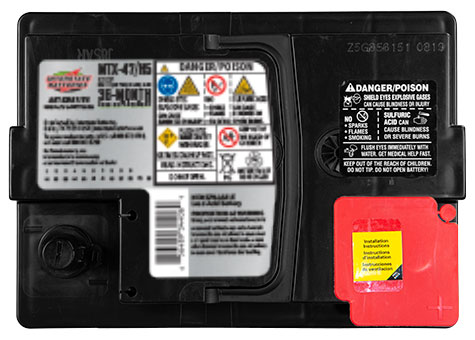 MTX-47/H5
Group Size H5
650 Cold Cranking Amps (CCA)
36 month warranty
650 Cold Cranking Amps (CCA)
Group Size H5
Mounting Flexiblity
Absorbed Glass-Mat (AGM)
2X the life of conventional flooded batteries
Plenty of power for accessories and plug-ins - even while the engine is off
Superior starting power
36 month warranty
Free replacement warranty
Does This Battery Fit My Automobile
This Battery Fits Your Vehicle.
This Battery Does Not Fit Your Vehicle.
Suggested batteries for this vehicle, Click Here!
Enter your vehicle information
Find This Battery Near You
Hours of Operation
Contact Store For Hours of Operation
Description
Interstate's MTX absorbed glass-mat (AGM) battery will meet or exceed your car's starting requirements while delivering premium battery performance to power all your accessories and plug ins.
Specifications
MTX-47/H5

H5

650

810

100 minutes

60

9 9/16 inches
6 15/16 inches

7 1/2 inches

POST TYPE

12

D

AGM
Warranty
View warranty by purchase date.
For countries outside the U.S. and Canada, including Puerto Rico, please contact your local dealer for warranties and product availability.
This Battery Also Fits These Vehicles
Acura
2021 Acura NSX
2020 Acura NSX
2018 Acura NSX
2017 Acura NSX
Audi
2022 Audi A4 allroad
2022 Audi A4 Quattro
2022 Audi A5 Quattro
2022 Audi A5 Sportback
2022 Audi Q3
2022 Audi S4
2022 Audi S5
2022 Audi S5 Sportback
2021 Audi A4 allroad
2021 Audi A4 Quattro
2021 Audi A5 Quattro
2021 Audi A5 Sportback
2021 Audi Q3
2021 Audi S4
2021 Audi S5
2021 Audi S5 Sportback
2020 Audi A3
2020 Audi A3 Quattro
2020 Audi A4
2020 Audi A4 allroad
2020 Audi A4 Quattro
2020 Audi A5 Quattro
2020 Audi A5 Sportback
2020 Audi S3
2020 Audi S4
2020 Audi S5
2020 Audi S5 Sportback
2019 Audi A3
2019 Audi A3 Quattro
2019 Audi S3
2019 Audi S4
2019 Audi S5
2019 Audi S5 Sportback
2018 Audi A3
2018 Audi A3 Quattro
2018 Audi A3 Sportback e-tron
2018 Audi A4 allroad
2018 Audi A4 Quattro
2018 Audi Q3
2018 Audi Q3 Quattro
2018 Audi S3
2017 Audi A3
2017 Audi A3 Quattro
2017 Audi A3 Sportback e-tron
2017 Audi A4 allroad
2017 Audi A4 Quattro
2017 Audi A5 Quattro
2017 Audi Q3
2017 Audi Q3 Quattro
2017 Audi Q5
2017 Audi S3
2017 Audi S5
2016 Audi A3
2016 Audi A3 Quattro
2016 Audi A3 Sportback e-tron
2016 Audi A4 allroad
2016 Audi A4 Quattro
2016 Audi A5 Quattro
2016 Audi allroad
2016 Audi Q3
2016 Audi Q3 Quattro
2016 Audi Q5
2016 Audi S3
2016 Audi S5
2015 Audi A3
2015 Audi A3 Quattro
2015 Audi A4
2015 Audi A4 allroad
2015 Audi A4 Quattro
2015 Audi A5 Quattro
2015 Audi allroad
2015 Audi Q3
2015 Audi Q3 Quattro
2015 Audi Q5
2015 Audi S3
2015 Audi S4
2015 Audi S5
2015 Audi TT Quattro
2014 Audi A4
2014 Audi A4 allroad
2014 Audi A4 Quattro
2014 Audi A5
2014 Audi A5 Quattro
2014 Audi allroad
2014 Audi Q5
2014 Audi S4
2014 Audi S5
2014 Audi TT Quattro
2013 Audi A3
2013 Audi A3 Quattro
2013 Audi A4
2013 Audi A4 allroad
2013 Audi A4 Quattro
2013 Audi A5
2013 Audi A5 Quattro
2013 Audi allroad
2013 Audi Q5
2013 Audi S4
2013 Audi S5
2012 Audi A3
2012 Audi A3 Quattro
2012 Audi A5
2012 Audi A5 Quattro
2012 Audi Q5
2012 Audi S5
2011 Audi A3
2011 Audi A3 Quattro
2011 Audi A5
2011 Audi A5 Quattro
2011 Audi Q5
2011 Audi S5
2010 Audi A3
2010 Audi A3 Quattro
2010 Audi A5
2010 Audi A5 Quattro
2010 Audi Q5
2010 Audi S5
2009 Audi A3
2009 Audi A3 Quattro
2009 Audi Q5
2009 Audi S5
2008 Audi A3
2008 Audi A3 Quattro
2007 Audi A3
2007 Audi A3 Quattro
2006 Audi A3
2006 Audi A3 Quattro
1997 Audi A4
1996 Audi A4 Quattro
Bentley
2017 Bentley Flying Spur
2016 Bentley Flying Spur
2015 Bentley Flying Spur
2014 Bentley Continental
2014 Bentley Flying Spur
2014 Bentley Mulsanne
2013 Bentley Continental
2013 Bentley Mulsanne
2012 Bentley Continental
2012 Bentley Mulsanne
2011 Bentley Continental
2011 Bentley Mulsanne
2010 Bentley Continental
2009 Bentley Continental
2008 Bentley Continental
2007 Bentley Continental
2006 Bentley Continental
2005 Bentley Continental
2004 Bentley Continental
BMW
2021 BMW 228i xDrive Gran Coupe
2019 BMW 530e
2019 BMW 530e xDrive
2019 BMW 530i
2019 BMW 530i xDrive
2019 BMW 540i
2019 BMW 540i xDrive
2019 BMW 640i xDrive Gran Turismo
2019 BMW 740e xDrive
2019 BMW 740i
2019 BMW 740i xDrive
2019 BMW 750i xDrive
2019 BMW Alpina B7
2019 BMW M550i xDrive
2019 BMW M760i xDrive
2019 BMW M850i xDrive
2019 BMW X3
2019 BMW X5
2019 BMW X7
2018 BMW 530e
2018 BMW 530i
2018 BMW 530i xDrive
2018 BMW 540i
2018 BMW 540i xDrive
2018 BMW 640i xDrive Gran Turismo
2018 BMW 740e xDrive
2018 BMW 750 Series
2018 BMW M550i xDrive
2018 BMW M760i xDrive
2017 BMW 530i
2017 BMW 530i xDrive
2017 BMW 540i
2017 BMW 540i xDrive
2017 BMW 740e xDrive
2017 BMW 740i
2017 BMW 740i xDrive
2017 BMW 750i
2017 BMW 750i xDrive
2017 BMW M760i xDrive
2016 BMW 740i
2016 BMW 750i
2016 BMW 750i xDrive
2008 BMW Z4
2007 BMW Z4
2006 BMW Z4
2005 BMW Z4
2004 BMW Z4
1985 BMW 528e
1984 BMW 528e
1983 BMW 528e
1983 BMW 733i
1982 BMW 320i
1982 BMW 528e
1981 BMW 320i
1981 BMW 528i
1980 BMW 320i
1980 BMW 528i
1980 BMW 633CSi
1980 BMW 733i
1979 BMW 320i
1979 BMW 528i
1979 BMW 633CSi
1979 BMW 733i
1978 BMW 320i
1978 BMW 530i
1978 BMW 630CSi
1978 BMW 633CSi
1978 BMW 733i
1977 BMW 320i
1977 BMW 530i
1977 BMW 630CSi
1976 BMW 530i
1975 BMW 530i
1974 BMW Bavaria
1973 BMW Bavaria
1972 BMW Bavaria
Buick
2022 Buick Encore
2021 Buick Encore
2020 Buick Encore
2019 Buick Encore
2018 Buick Encore
2017 Buick Encore
2016 Buick Encore
2016 Buick LaCrosse
2016 Buick Regal
2015 Buick Encore
2015 Buick LaCrosse
2015 Buick Regal
2014 Buick Encore
2014 Buick LaCrosse
2014 Buick Regal
2013 Buick Encore
2013 Buick LaCrosse
2013 Buick Regal
2012 Buick LaCrosse
2012 Buick Regal
Chevrolet
2020 Chevrolet Sonic
2020 Chevrolet Trax
2019 Chevrolet Malibu, Monte Carlo
2019 Chevrolet Sonic
2019 Chevrolet Trax
2019 Chevrolet Volt
2018 Chevrolet Cruze
2018 Chevrolet Malibu
2018 Chevrolet Sonic
2018 Chevrolet Trax
2018 Chevrolet Volt
2017 Chevrolet Cruze
2017 Chevrolet Equinox
2017 Chevrolet Malibu
2017 Chevrolet Sonic
2017 Chevrolet Trax
2017 Chevrolet Volt
2016 Chevrolet Cruze
2016 Chevrolet Equinox
2016 Chevrolet Malibu
2016 Chevrolet Sonic
2016 Chevrolet Trax
2016 Chevrolet Volt
2015 Chevrolet Cruze
2015 Chevrolet Equinox
2015 Chevrolet Malibu
2015 Chevrolet Sonic
2015 Chevrolet Trax
2015 Chevrolet Volt
2014 Chevrolet Cruze
2014 Chevrolet Equinox
2014 Chevrolet Impala
2014 Chevrolet Malibu
2014 Chevrolet Sonic
2014 Chevrolet Trax
2014 Chevrolet Volt
2013 Chevrolet Cruze
2013 Chevrolet Equinox
2013 Chevrolet Malibu
2013 Chevrolet Sonic
2013 Chevrolet Trax
2013 Chevrolet Volt
2012 Chevrolet Cruze
2012 Chevrolet Equinox
2012 Chevrolet Sonic
2012 Chevrolet Volt
2011 Chevrolet Cruze
2011 Chevrolet Equinox
2011 Chevrolet Volt
2010 Chevrolet Equinox
2009 Chevrolet Equinox
2008 Chevrolet Equinox
2007 Chevrolet Equinox
Dodge
2016 Dodge Dart
2015 Dodge Dart
2014 Dodge Dart
2013 Dodge Dart
Fiat
2019 Fiat 500
2017 Fiat 500L
2016 Fiat 500
2016 Fiat 500L
2016 Fiat 500X
2015 Fiat 500
2015 Fiat 500L
2014 Fiat 500
2014 Fiat 500L
2013 Fiat 500
2012 Fiat 500
GMC
2018 GMC Terrain
2017 GMC Terrain
2016 GMC Terrain
2015 GMC Terrain
2014 GMC Terrain
2013 GMC Terrain
2012 GMC Terrain
2011 GMC Terrain
2010 GMC Terrain
Honda
2021 Honda Civic
2020 Honda Accord
2020 Honda Civic
2019 Honda Accord
2019 Honda Civic
2018 Honda Accord
2018 Honda Civic
2018 Honda CR-V
Hyundai
2021 Hyundai Accent
2021 Hyundai Elantra
2020 Hyundai Accent
2019 Hyundai Accent
2019 Hyundai Elantra
2019 Hyundai Elantra GT
2018 Hyundai Accent
2018 Hyundai Elantra
2018 Hyundai Elantra GT
2017 Hyundai Accent
2017 Hyundai Elantra
2017 Hyundai Tucson
2016 Hyundai Accent
2016 Hyundai Elantra
2016 Hyundai Elantra GT
2016 Hyundai Tucson
2016 Hyundai Veloster
2015 Hyundai Accent
2015 Hyundai Elantra
2015 Hyundai Elantra GT
2015 Hyundai Tucson
2015 Hyundai Veloster
2014 Hyundai Accent
2014 Hyundai Elantra
2014 Hyundai Elantra Coupe
2014 Hyundai Elantra GT
2014 Hyundai Veloster
2013 Hyundai Elantra
2013 Hyundai Elantra Coupe
2013 Hyundai Elantra GT
2013 Hyundai Veloster
2012 Hyundai Elantra
2011 Hyundai Elantra
Jaguar
1996 Jaguar Vanden Plas
1996 Jaguar XJ12
1996 Jaguar XJR
1995 Jaguar Vanden Plas
1995 Jaguar XJ12
1995 Jaguar XJR
1995 Jaguar XJS
1994 Jaguar Vanden Plas
1994 Jaguar XJ12
1994 Jaguar XJS
1993 Jaguar Vanden Plas
1993 Jaguar XJRS
1993 Jaguar XJS
1992 Jaguar Vanden Plas
1992 Jaguar XJ12
1992 Jaguar XJS
1991 Jaguar Vanden Plas
1991 Jaguar XJ12
1991 Jaguar XJS
Jeep
2021 Jeep Compass
2020 Jeep Compass
2019 Jeep Compass
2018 Jeep Compass
2018 Jeep Renegade
2017 Jeep Compass
2017 Jeep Renegade
Kia
2021 Kia Forte
2021 Kia Forte5
2021 Kia Rio
2021 Kia Seltos
2021 Kia Sorento
2021 Kia Soul
2020 Kia Forte
2020 Kia Forte5
2020 Kia Rio
2019 Kia Rio
2019 Kia Soul
2018 Kia Forte
2018 Kia Forte5
2018 Kia Rio
2018 Kia Soul
2017 Kia Forte
2017 Kia Forte Koup
2017 Kia Forte5
2016 Kia Forte
2016 Kia Forte Koup
2016 Kia Forte5
2015 Kia Forte
2015 Kia Forte Koup
2015 Kia Forte5
2014 Kia Forte
2014 Kia Forte Koup
2014 Kia Forte5
2003 Kia Optima
2002 Kia Optima
2001 Kia Optima
Land Rover
2005 Land Rover Freelander
2004 Land Rover Freelander
Lexus
2021 Lexus NX300h
2021 Lexus RX450h
2019 Lexus NX300h
2019 Lexus RX450h
2018 Lexus NX300h
2017 Lexus NX300h
2017 Lexus RX450h
2016 Lexus NX300h
2016 Lexus RX450h
2015 Lexus NX300h
Lotus
2009 Lotus Elise
2008 Lotus Elise
Mazda
2021 Mazda CX-30
2020 Mazda 3
2020 Mazda 3 Sport
2020 Mazda CX-30
2019 Mazda 3
2019 Mazda 3 Sport
Mercedes-Benz
2021 Mercedes-Benz A220
2021 Mercedes-Benz A250
2020 Mercedes-Benz A220
2020 Mercedes-Benz A250
2019 Mercedes-Benz A220
2019 Mercedes-Benz A250
2019 Mercedes-Benz AMG GT
2019 Mercedes-Benz AMG GT C
2019 Mercedes-Benz AMG GT R
2019 Mercedes-Benz AMG GT S
2019 Mercedes-Benz C63 AMG
2019 Mercedes-Benz C63 AMG S
2019 Mercedes-Benz E300
2018 Mercedes-Benz AMG GT
2018 Mercedes-Benz AMG GT C
2018 Mercedes-Benz AMG GT R
2018 Mercedes-Benz AMG GT S
2018 Mercedes-Benz C63 AMG S
2018 Mercedes-Benz E300
2018 Mercedes-Benz E400
2018 Mercedes-Benz E43 AMG
2017 Mercedes-Benz AMG GT
2017 Mercedes-Benz AMG GT S
2017 Mercedes-Benz B250e
2017 Mercedes-Benz C300
2017 Mercedes-Benz E43 AMG
2017 Mercedes-Benz GLC300
2016 Mercedes-Benz C300
2016 Mercedes-Benz GLC300
2015 Mercedes-Benz B Electric Drive
2015 Mercedes-Benz C300
2014 Mercedes-Benz B Electric Drive
2011 Mercedes-Benz SLK350
2010 Mercedes-Benz CL63 AMG
2010 Mercedes-Benz SLK350
2009 Mercedes-Benz CL63 AMG
2009 Mercedes-Benz SLK350
2008 Mercedes-Benz CL63 AMG
2008 Mercedes-Benz S550
2008 Mercedes-Benz SLK350
2007 Mercedes-Benz S550
2007 Mercedes-Benz SLK350
2006 Mercedes-Benz SLK350
2005 Mercedes-Benz SLK350
1987 Mercedes-Benz 190E
1987 Mercedes-Benz 260E
1986 Mercedes-Benz 190E
1985 Mercedes-Benz 190E
1984 Mercedes-Benz 190E
1981 Mercedes-Benz 280CE
1981 Mercedes-Benz 280E
1980 Mercedes-Benz 280CE
1980 Mercedes-Benz 280E
1980 Mercedes-Benz 280SE
1979 Mercedes-Benz 280CE
1979 Mercedes-Benz 280E
1979 Mercedes-Benz 280SE
1978 Mercedes-Benz 280CE
1978 Mercedes-Benz 280E
1978 Mercedes-Benz 280SE
1977 Mercedes-Benz 280E
1977 Mercedes-Benz 280SE
1976 Mercedes-Benz 280
1976 Mercedes-Benz 280S
1975 Mercedes-Benz 280S
1972 Mercedes-Benz 220
1971 Mercedes-Benz 220
1970 Mercedes-Benz 220
Merkur
1989 Merkur Scorpio
1989 Merkur XR4Ti
1988 Merkur Scorpio
1988 Merkur XR4Ti
1987 Merkur XR4Ti
1986 Merkur XR4Ti
1985 Merkur XR4Ti
Mini
2016 Mini Cooper Countryman
2016 Mini Cooper Paceman
2015 Mini Cooper
2015 Mini Cooper Countryman
2015 Mini Cooper Paceman
2014 Mini Cooper
2014 Mini Cooper Countryman
2014 Mini Cooper Paceman
2013 Mini Cooper
2013 Mini Cooper Countryman
2013 Mini Cooper Paceman
2012 Mini Cooper
2012 Mini Cooper Countryman
2011 Mini Cooper
2011 Mini Cooper Countryman
2010 Mini Cooper
2009 Mini Cooper
2008 Mini Cooper
2007 Mini Cooper
2006 Mini Cooper
2005 Mini Cooper
2004 Mini Cooper
2003 Mini Cooper
2002 Mini Cooper
Nissan
2020 Nissan Maxima
2020 Nissan Murano
2020 Nissan Pathfinder
2019 Nissan Frontier
2019 Nissan Maxima
2019 Nissan Murano
2019 Nissan Pathfinder
Pontiac
2009 Pontiac Torrent
2008 Pontiac Torrent
2007 Pontiac Torrent
Saab
2003 Saab 9-3
2002 Saab 9-3
2001 Saab 9-3
2000 Saab 9-3
1999 Saab 9-3
1998 Saab 900
1997 Saab 900
1996 Saab 900
1995 Saab 900
1994 Saab 900
1993 Saab 9000
1992 Saab 9000
1991 Saab 9000
1990 Saab 9000
1989 Saab 9000
1988 Saab 9000
1987 Saab 9000
1986 Saab 9000
Saturn
2010 Saturn Vue
2009 Saturn Vue
2008 Saturn Vue
Smart
2016 Smart Fortwo
2015 Smart Fortwo
2014 Smart Fortwo
2013 Smart Fortwo
2012 Smart Fortwo
2011 Smart Fortwo
2010 Smart Fortwo
2009 Smart Fortwo
2008 Smart Fortwo
2007 Smart Fortwo
2006 Smart Fortwo
2005 Smart Fortwo
Sterling
1988 Sterling 825
1987 Sterling 825
Suzuki
2009 Suzuki XL-7
2008 Suzuki XL-7
2007 Suzuki XL-7
Toyota
2022 Toyota Avalon
2022 Toyota Camry
2022 Toyota Corolla
2022 Toyota RAV4 Prime
2021 Toyota Avalon
2021 Toyota Camry
2021 Toyota C-HR
2021 Toyota Corolla
2021 Toyota Highlander
2021 Toyota RAV4
2021 Toyota RAV4 Prime
2020 Toyota Avalon
2020 Toyota Camry
2020 Toyota C-HR
2020 Toyota Corolla
2020 Toyota Highlander
2020 Toyota RAV4
2019 Toyota Avalon
2019 Toyota Camry, Solara
2019 Toyota C-HR
2019 Toyota Corolla
2019 Toyota RAV4
2019 Toyota Yaris
2018 Toyota Camry
2018 Toyota C-HR
2018 Toyota Yaris
2017 Toyota Yaris
2016 Toyota Yaris
Volkswagen
2021 Volkswagen Arteon
2021 Volkswagen Passat
2020 Volkswagen Arteon
2020 Volkswagen Atlas
2020 Volkswagen e-Golf
2020 Volkswagen Golf
2020 Volkswagen GTI
2020 Volkswagen Jetta
2020 Volkswagen Passat
2020 Volkswagen Tiguan
2019 Volkswagen Arteon
2019 Volkswagen Atlas
2019 Volkswagen Beetle
2019 Volkswagen e-Golf
2019 Volkswagen Golf
2019 Volkswagen Golf Alltrack
2019 Volkswagen Golf R
2019 Volkswagen Golf SportWagen
2019 Volkswagen GTI
2019 Volkswagen Jetta
2019 Volkswagen Passat
2019 Volkswagen Tiguan
2018 Volkswagen Atlas
2017 Volkswagen Beetle
2017 Volkswagen CC
2017 Volkswagen e-Golf
2017 Volkswagen Golf
2017 Volkswagen Golf Alltrack
2017 Volkswagen Golf R
2017 Volkswagen Golf SportWagen
2017 Volkswagen GTI
2017 Volkswagen Jetta
2017 Volkswagen Passat
2017 Volkswagen Tiguan
2016 Volkswagen Beetle
2016 Volkswagen CC
2016 Volkswagen e-Golf
2016 Volkswagen Eos
2016 Volkswagen Golf
2016 Volkswagen Golf R
2016 Volkswagen Golf SportWagen
2016 Volkswagen GTI
2016 Volkswagen Jetta
2016 Volkswagen Passat
2016 Volkswagen Tiguan
2015 Volkswagen Beetle
2015 Volkswagen CC
2015 Volkswagen e-Golf
2015 Volkswagen Eos
2015 Volkswagen Golf
2015 Volkswagen Golf R
2015 Volkswagen Golf SportWagen
2015 Volkswagen GTI
2015 Volkswagen Jetta
2015 Volkswagen Passat
2015 Volkswagen Tiguan
2014 Volkswagen Beetle
2014 Volkswagen CC
2014 Volkswagen Eos
2014 Volkswagen Golf
2014 Volkswagen GTI
2014 Volkswagen Jetta
2014 Volkswagen Passat
2014 Volkswagen Tiguan
2013 Volkswagen Beetle
2013 Volkswagen CC
2013 Volkswagen Eos
2013 Volkswagen Golf
2013 Volkswagen GTI
2013 Volkswagen Jetta
2013 Volkswagen Passat
2013 Volkswagen Tiguan
2012 Volkswagen Beetle
2012 Volkswagen CC
2012 Volkswagen Eos
2012 Volkswagen Golf
2012 Volkswagen Golf R
2012 Volkswagen GTI
2012 Volkswagen Jetta
2012 Volkswagen Passat
2012 Volkswagen Tiguan
2011 Volkswagen CC
2011 Volkswagen Eos
2011 Volkswagen Golf
2011 Volkswagen GTI
2011 Volkswagen Jetta
2011 Volkswagen Tiguan
2010 Volkswagen Beetle
2010 Volkswagen CC
2010 Volkswagen Eos
2010 Volkswagen Golf
2010 Volkswagen Golf City
2010 Volkswagen Jetta
2010 Volkswagen Passat
2010 Volkswagen Passat CC
2010 Volkswagen Tiguan
2009 Volkswagen Beetle
2009 Volkswagen CC
2009 Volkswagen Eos
2009 Volkswagen Golf City
2009 Volkswagen Jetta
2009 Volkswagen Jetta City
2009 Volkswagen Passat
2009 Volkswagen Passat CC
2009 Volkswagen Tiguan
2008 Volkswagen Beetle
2008 Volkswagen Eos
2008 Volkswagen Golf City
2008 Volkswagen Jetta
2008 Volkswagen Jetta City
2008 Volkswagen Passat
2007 Volkswagen Beetle
2007 Volkswagen Eos
2007 Volkswagen Golf City
2007 Volkswagen Jetta
2007 Volkswagen Jetta City
2007 Volkswagen Passat
2006 Volkswagen Beetle
2006 Volkswagen Golf
2006 Volkswagen Jetta
2006 Volkswagen Passat
2006 Volkswagen Phaeton
2005 Volkswagen Beetle
2005 Volkswagen Golf
2005 Volkswagen Jetta
2005 Volkswagen Phaeton
2004 Volkswagen Beetle
2004 Volkswagen Golf
2004 Volkswagen Jetta
2004 Volkswagen Phaeton
2003 Volkswagen Beetle
2003 Volkswagen Golf
2003 Volkswagen Jetta
2002 Volkswagen Beetle
2002 Volkswagen Cabrio
2002 Volkswagen Golf
2002 Volkswagen Jetta
2001 Volkswagen Beetle
2001 Volkswagen Cabrio
2001 Volkswagen Golf
2001 Volkswagen Jetta
2000 Volkswagen Beetle
2000 Volkswagen Cabrio
2000 Volkswagen Golf
2000 Volkswagen Jetta
1999 Volkswagen Beetle
1999 Volkswagen Jetta
1998 Volkswagen Beetle
1998 Volkswagen Jetta
Volvo
2018 Volvo S60
2018 Volvo S60 Cross Country
2018 Volvo V60
2018 Volvo V60 Cross Country
2007 Volvo V70
2007 Volvo XC70
2006 Volvo V70
2006 Volvo XC70
2005 Volvo V70
2005 Volvo XC70
2004 Volvo V70
2004 Volvo XC70
2003 Volvo V70
2003 Volvo XC70
2002 Volvo V70
2001 Volvo V70
2000 Volvo C70
2000 Volvo S70
2000 Volvo V70
1999 Volvo C70
1999 Volvo S70
1999 Volvo V70
1998 Volvo C70
1998 Volvo S70
1998 Volvo V70
1997 Volvo 850
1996 Volvo 850
1995 Volvo 850
1995 Volvo 940
1994 Volvo 850
1994 Volvo 940
1993 Volvo 240
1993 Volvo 850
1993 Volvo 940
1992 Volvo 240
1992 Volvo 740
1992 Volvo 940
1991 Volvo 240
1991 Volvo 740
1991 Volvo 780
1991 Volvo 940
1990 Volvo 240
1990 Volvo 740
1990 Volvo 760
1990 Volvo 780
1989 Volvo 244
1989 Volvo 245
1989 Volvo 740
1989 Volvo 760
1989 Volvo 780
1988 Volvo 244
1988 Volvo 245
1988 Volvo 740
1988 Volvo 760
1988 Volvo 780
1987 Volvo 740
1987 Volvo 760
1987 Volvo 780
1986 Volvo 740
1986 Volvo 760
1985 Volvo 740
1985 Volvo 745
1985 Volvo 760
1984 Volvo 760
1983 Volvo 760