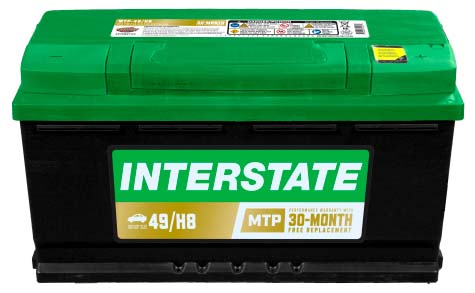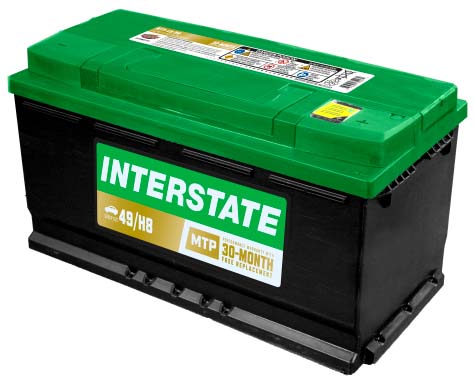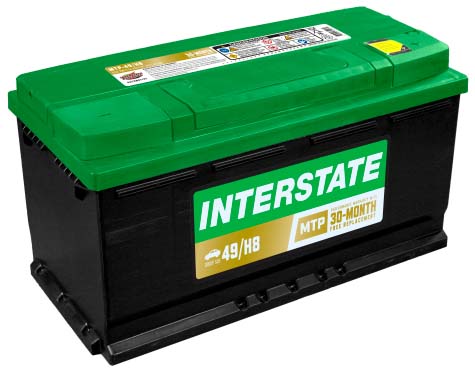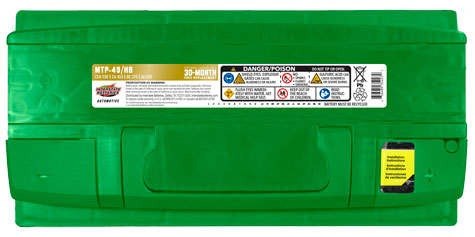 MTP-49/H8
Group Size H8
730 Cold Cranking Amps (CCA)
30 Month Warranty
730 Cold Cranking Amps (CCA)
Group Size H8
Our best flooded, non-AGM battery
High-cranking performance in cold to moderate climates
Meets or exceeds vehicle starting needs
30 Month Warranty
Free Replacement / 6 Year Performance Warranty
Does This Battery Fit My Automobile
This Battery Fits Your Vehicle.
This Battery Does Not Fit Your Vehicle.
Suggested batteries for this vehicle, Click Here!
Enter your vehicle information
Find This Battery Near You
Hours of Operation
Contact Store For Hours of Operation
Description
Interstate's MTP series delivers long life and superior performance while matching your car's original equipment manufacturer specifications.
Specifications
MTP-49/H8

H8

730

910

175 minutes

100

13 7/8 inches
6 7/8 inches

9 7/16 inches

POST TYPE

12

W

Flooded
Warranty
View warranty by purchase date.
For countries outside the U.S. and Canada, including Puerto Rico, please contact your local dealer for warranties and product availability.
This Battery Also Fits These Vehicles
Aston Martin
2017 Aston Martin Rapide
2017 Aston Martin V12 Vantage
2017 Aston Martin V8 Vantage
2017 Aston Martin Vanquish
2016 Aston Martin DB9
2016 Aston Martin Rapide
2016 Aston Martin V12 Vantage
2016 Aston Martin V8 Vantage
2016 Aston Martin Vanquish
2015 Aston Martin DB9
2015 Aston Martin Rapide
2015 Aston Martin V12 Vantage
2015 Aston Martin V8 Vantage
2015 Aston Martin Vanquish
2014 Aston Martin DB9
2014 Aston Martin Rapide
2014 Aston Martin V8 Vantage
2014 Aston Martin Vanquish
2013 Aston Martin DB9
2013 Aston Martin Rapide
2013 Aston Martin V12 Vantage
2013 Aston Martin V8 Vantage
2012 Aston Martin DB9
2012 Aston Martin DBS
2012 Aston Martin Rapide
2012 Aston Martin V12 Vantage
2012 Aston Martin V8 Vantage
2012 Aston Martin Virage
2011 Aston Martin DB9
2011 Aston Martin DBS
2011 Aston Martin One-77
2011 Aston Martin Rapide
2011 Aston Martin V12 Vantage
2011 Aston Martin V8 Vantage
2010 Aston Martin DB9
2010 Aston Martin DBS
2010 Aston Martin V12 Vantage
2010 Aston Martin V8 Vantage
2009 Aston Martin DB9
2009 Aston Martin DBS
2009 Aston Martin V8 Vantage
2008 Aston Martin DB9
2008 Aston Martin DBS
2008 Aston Martin V8 Vantage
2007 Aston Martin DB9
2007 Aston Martin V8 Vantage
2006 Aston Martin DB9
2006 Aston Martin V8 Vantage
2006 Aston Martin Vanquish
2005 Aston Martin DB9
2005 Aston Martin Vanquish
2004 Aston Martin Vanquish
2003 Aston Martin Vanquish
2002 Aston Martin Vanquish
2001 Aston Martin Vanquish
Audi
2021 Audi A4 allroad
2021 Audi A4 Quattro
2021 Audi A5 Quattro
2021 Audi A5 Sportback
2021 Audi S4
2021 Audi S5
2021 Audi S5 Sportback
2021 Audi TT Quattro
2021 Audi TTS Quattro
2020 Audi A4
2020 Audi A4 allroad
2020 Audi A4 Quattro
2020 Audi A5 Quattro
2020 Audi A5 Sportback
2020 Audi S4
2020 Audi S5
2020 Audi S5 Sportback
2020 Audi TT Quattro
2020 Audi TTS Quattro
2019 Audi A4
2019 Audi A4 allroad
2019 Audi A4 Quattro
2019 Audi A5 Sportback
2019 Audi S4
2019 Audi S5
2019 Audi S5 Sportback
2019 Audi TT Quattro
2019 Audi TTS Quattro
2018 Audi A4
2018 Audi A4 allroad
2018 Audi A4 Quattro
2018 Audi A6
2018 Audi A6 Quattro
2018 Audi A7 Quattro
2018 Audi A8 Quattro
2018 Audi RS 7
2018 Audi RS7
2018 Audi S4
2018 Audi S6
2018 Audi S7
2018 Audi S8
2018 Audi TT
2018 Audi TT Quattro
2017 Audi A4
2017 Audi A4 allroad
2017 Audi A4 Quattro
2017 Audi A5 Quattro
2017 Audi A6
2017 Audi A6 Quattro
2017 Audi A7 Quattro
2017 Audi A8 Quattro
2017 Audi Q5
2017 Audi RS 7
2017 Audi RS7
2017 Audi S5
2017 Audi S6
2017 Audi S7
2017 Audi S8
2017 Audi TT
2017 Audi TT Quattro
2016 Audi A4
2016 Audi A4 allroad
2016 Audi A4 Quattro
2016 Audi A5 Quattro
2016 Audi A6
2016 Audi A6 Quattro
2016 Audi A7 Quattro
2016 Audi A8 Quattro
2016 Audi allroad
2016 Audi Q5
2016 Audi RS7
2016 Audi S4
2016 Audi S5
2016 Audi S6
2016 Audi S7
2016 Audi S8
2016 Audi TT Quattro
2015 Audi A4
2015 Audi A4 allroad
2015 Audi A4 Quattro
2015 Audi A5 Quattro
2015 Audi A6
2015 Audi A6 Quattro
2015 Audi A7 Quattro
2015 Audi A8 Quattro
2015 Audi allroad
2015 Audi Q5
2015 Audi Q7
2015 Audi RS7
2015 Audi S4
2015 Audi S5
2015 Audi S6
2015 Audi S7
2015 Audi S8
2014 Audi A4
2014 Audi A4 allroad
2014 Audi A4 Quattro
2014 Audi A5
2014 Audi A5 Quattro
2014 Audi A6
2014 Audi A6 Quattro
2014 Audi A7 Quattro
2014 Audi A8 Quattro
2014 Audi allroad
2014 Audi Q5
2014 Audi Q7
2014 Audi RS7
2014 Audi S4
2014 Audi S5
2014 Audi S6
2014 Audi S7
2014 Audi S8
2013 Audi A4
2013 Audi A4 allroad
2013 Audi A4 Quattro
2013 Audi A5
2013 Audi A5 Quattro
2013 Audi A6
2013 Audi A6 Quattro
2013 Audi A7 Quattro
2013 Audi A8 Quattro
2013 Audi allroad
2013 Audi Q5
2013 Audi Q7
2013 Audi S4
2013 Audi S5
2013 Audi S6
2013 Audi S7
2013 Audi S8
2012 Audi A4
2012 Audi A4 Quattro
2012 Audi A5
2012 Audi A5 Quattro
2012 Audi A6
2012 Audi A6 Quattro
2012 Audi A7 Quattro
2012 Audi A8 Quattro
2012 Audi Q5
2012 Audi Q7
2012 Audi S4
2012 Audi S5
2011 Audi A4
2011 Audi A4 Quattro
2011 Audi A5
2011 Audi A5 Quattro
2011 Audi A6
2011 Audi A6 Quattro
2011 Audi A8 Quattro
2011 Audi Q5
2011 Audi Q7
2011 Audi S4
2011 Audi S5
2011 Audi S6
2010 Audi A4
2010 Audi A4 Quattro
2010 Audi A5
2010 Audi A5 Quattro
2010 Audi A6
2010 Audi A6 Quattro
2010 Audi A8 Quattro
2010 Audi Q5
2010 Audi Q7
2010 Audi S4
2010 Audi S5
2010 Audi S6
2009 Audi A4
2009 Audi A4 Quattro
2009 Audi A5 Quattro
2009 Audi A6
2009 Audi A6 Quattro
2009 Audi Q5
2009 Audi Q7
2009 Audi S4
2009 Audi S5
2009 Audi S6
2008 Audi A4
2008 Audi A4 Quattro
2008 Audi A5 Quattro
2008 Audi A6
2008 Audi A6 Quattro
2008 Audi S4
2008 Audi S5
2008 Audi S6
2007 Audi A4
2007 Audi A4 Quattro
2007 Audi A6
2007 Audi A6 Quattro
2007 Audi S4
2007 Audi S6
2006 Audi A4
2006 Audi A4 Quattro
2006 Audi A6
2006 Audi A6 Quattro
2006 Audi S4
2005 Audi A4
2005 Audi A4 Quattro
2005 Audi A6 Quattro
2005 Audi Allroad Quattro
2005 Audi S4
2004 Audi A4
2004 Audi A4 Quattro
2004 Audi A6
2004 Audi A6 Quattro
2004 Audi Allroad Quattro
2004 Audi S4
2003 Audi A4
2003 Audi A4 Quattro
2003 Audi A6
2003 Audi A6 Quattro
2003 Audi A8 Quattro
2003 Audi Allroad Quattro
2003 Audi S8
2002 Audi A4
2002 Audi A4 Quattro
2002 Audi A6
2002 Audi A6 Quattro
2002 Audi A8 Quattro
2002 Audi S6
2002 Audi S8
2001 Audi A8 Quattro
2000 Audi A8 Quattro
1999 Audi A8
1999 Audi A8 Quattro
1998 Audi A8
1998 Audi A8 Quattro
1997 Audi A8
1997 Audi A8 Quattro
1987 Audi 4000 Quattro
1985 Audi 5000
1984 Audi 5000
1983 Audi 4000
1983 Audi 5000
1982 Audi 4000
1982 Audi 5000
1981 Audi 5000
Bentley
2014 Bentley Continental
2014 Bentley Mulsanne
2013 Bentley Continental
2013 Bentley Mulsanne
2012 Bentley Mulsanne
2011 Bentley Mulsanne
BMW
2018 BMW 230i xDrive
2013 BMW 128i
2013 BMW 135i
2013 BMW 135is
2013 BMW 328i
2013 BMW 328i xDrive
2013 BMW 335i
2013 BMW 335i xDrive
2013 BMW 335is
2013 BMW M3
2012 BMW 128i
2012 BMW 135i
2012 BMW 328i
2012 BMW 328i xDrive
2012 BMW 335i
2012 BMW 335i xDrive
2012 BMW 335is
2012 BMW M3
2011 BMW 128i
2011 BMW 135i
2011 BMW 323i
2011 BMW 328i
2011 BMW 328i xDrive
2011 BMW 335d
2011 BMW 335i
2011 BMW 335i xDrive
2011 BMW 335is
2011 BMW M3
2010 BMW 128i
2010 BMW 135i
2010 BMW 323i
2010 BMW 328i
2010 BMW 328i xDrive
2010 BMW 335d
2010 BMW 335i
2010 BMW 335i xDrive
2010 BMW 535i
2010 BMW 535i GT
2010 BMW 535i xDrive
2010 BMW 550i
2010 BMW M3
2010 BMW M5
2010 BMW X3
2009 BMW 128i
2009 BMW 135i
2009 BMW 323i
2009 BMW 328i
2009 BMW 328i xDrive
2009 BMW 335d
2009 BMW 335i
2009 BMW 335i xDrive
2009 BMW 528i
2009 BMW 528i xDrive
2009 BMW 535i
2009 BMW 535i xDrive
2009 BMW 550i
2009 BMW M3
2009 BMW M5
2009 BMW X3
2008 BMW 128i
2008 BMW 135i
2008 BMW 323i
2008 BMW 328i
2008 BMW 328xi
2008 BMW 335i
2008 BMW 335xi
2008 BMW 528i
2008 BMW 528xi
2008 BMW 535i
2008 BMW 535xi
2008 BMW 550i
2008 BMW 760Li
2008 BMW Alpina B7
2008 BMW M3
2008 BMW M5
2008 BMW X3
2007 BMW 323i
2007 BMW 328i
2007 BMW 328xi
2007 BMW 335i
2007 BMW 335xi
2007 BMW 525i
2007 BMW 525xi
2007 BMW 530i
2007 BMW 530xi
2007 BMW 550i
2007 BMW 760Li
2007 BMW Alpina B7
2007 BMW M5
2007 BMW X3
2006 BMW 323i
2006 BMW 325i
2006 BMW 325xi
2006 BMW 525i
2006 BMW 525xi
2006 BMW 530i
2006 BMW 530xi
2006 BMW 550i
2006 BMW 760i
2006 BMW 760Li
2006 BMW M5
2006 BMW X3
2006 BMW X5
2005 BMW 325Ci
2005 BMW 325i
2005 BMW 325xi
2005 BMW 525i
2005 BMW 530i
2005 BMW 545i
2005 BMW 760i
2005 BMW 760Li
2005 BMW X3
2005 BMW X5
2004 BMW 325Ci
2004 BMW 325i
2004 BMW 325xi
2004 BMW 525i
2004 BMW 530i
2004 BMW 545i
2004 BMW 760i
2004 BMW 760Li
2004 BMW X3
2004 BMW X5
2003 BMW 525i
2003 BMW 530i
2003 BMW 540i
2003 BMW 760Li
2003 BMW X5
2003 BMW Z8
2002 BMW 525i
2002 BMW 530i
2002 BMW 540i
2002 BMW X5
2002 BMW Z8
2001 BMW 525i
2001 BMW 530i
2001 BMW 540i
2001 BMW X5
2001 BMW Z8
2000 BMW 528i
2000 BMW 540i
2000 BMW X5
2000 BMW Z8
1999 BMW 528i
1999 BMW 540i
1998 BMW 528i
1998 BMW 540i
1997 BMW 528i
1997 BMW 540i
1986 BMW 524td
1985 BMW 524td
Ford
1960 Ford Anglia
1960 Ford Prefect
1959 Ford Anglia
1959 Ford Prefect
1957 Ford Anglia
1957 Ford Prefect
1957 Ford Squire
1956 Ford Anglia
1956 Ford Prefect
1956 Ford Squire
1955 Ford Anglia
1955 Ford Prefect
1954 Ford Anglia
1954 Ford Prefect
Freightliner
2017 Freightliner Sprinter 2500
2017 Freightliner Sprinter 3500
2016 Freightliner Sprinter 2500
2016 Freightliner Sprinter 3500
2015 Freightliner Sprinter 2500
2015 Freightliner Sprinter 3500
2014 Freightliner Sprinter 2500
2014 Freightliner Sprinter 3500
2013 Freightliner Sprinter 2500
2013 Freightliner Sprinter 3500
2012 Freightliner Sprinter 2500
2012 Freightliner Sprinter 3500
2011 Freightliner Sprinter 2500
2011 Freightliner Sprinter 3500
2010 Freightliner Sprinter 2500
2010 Freightliner Sprinter 3500
2009 Freightliner Sprinter 2500
2009 Freightliner Sprinter 3500
2008 Freightliner Sprinter 2500
2008 Freightliner Sprinter 3500
2007 Freightliner Sprinter 2500
2007 Freightliner Sprinter 3500
2006 Freightliner Sprinter 2500
2006 Freightliner Sprinter 3500
2005 Freightliner Sprinter 2500
2005 Freightliner Sprinter 3500
2004 Freightliner Sprinter 2500
2004 Freightliner Sprinter 3500
2003 Freightliner Sprinter 2500
2003 Freightliner Sprinter 3500
2002 Freightliner Sprinter 2500
2002 Freightliner Sprinter 3500
GMC
2016 GMC Canyon
Hyundai
2016 Hyundai Equus
2016 Hyundai Genesis
2016 Hyundai Genesis Coupe
2015 Hyundai Equus
2014 Hyundai Equus
2014 Hyundai Genesis
2013 Hyundai Equus
2013 Hyundai Genesis
2012 Hyundai Equus
2012 Hyundai Genesis
2011 Hyundai Equus
2011 Hyundai Genesis
2010 Hyundai Genesis
2009 Hyundai Genesis
Jaguar
2015 Jaguar XF
2015 Jaguar XFR
2015 Jaguar XFR-S
2014 Jaguar XF
2014 Jaguar XFR
2014 Jaguar XFR-S
2013 Jaguar XF
2013 Jaguar XFR
2013 Jaguar XFR-S
2013 Jaguar XJ
2013 Jaguar XK
2013 Jaguar XKR
2013 Jaguar XKR-S
2012 Jaguar XF
2012 Jaguar XFR
2012 Jaguar XJ
2012 Jaguar XK
2012 Jaguar XKR
2012 Jaguar XKR-S
2011 Jaguar XF
2011 Jaguar XFR
2011 Jaguar XJ
2011 Jaguar XK
2011 Jaguar XKR
2010 Jaguar XF
2010 Jaguar XFR
2010 Jaguar XK
2010 Jaguar XKR
2009 Jaguar XF
2009 Jaguar XJ8
2009 Jaguar XJR
2008 Jaguar S-Type
2008 Jaguar XJ8
2008 Jaguar XJR
2007 Jaguar S-Type
2007 Jaguar XJ8
2007 Jaguar XJR
2006 Jaguar S-Type
2006 Jaguar XJ8
2006 Jaguar XJR
2006 Jaguar XK8
2006 Jaguar XKR
2005 Jaguar S-Type
2005 Jaguar XJ8
2005 Jaguar XJR
2005 Jaguar XK8
2005 Jaguar XKR
2004 Jaguar S-Type
2004 Jaguar XJ8
2004 Jaguar XJR
2004 Jaguar XK8
2004 Jaguar XKR
2003 Jaguar S-Type
2003 Jaguar Vanden Plas
2003 Jaguar XJ8
2003 Jaguar XJR
2003 Jaguar XK8
2003 Jaguar XKR
2002 Jaguar S-Type
2002 Jaguar Vanden Plas
2002 Jaguar XJ8
2002 Jaguar XJR
2002 Jaguar XK8
2002 Jaguar XKR
2001 Jaguar S-Type
2001 Jaguar Vanden Plas
2001 Jaguar XJ8
2001 Jaguar XJR
2001 Jaguar XK8
2001 Jaguar XKR
2000 Jaguar S-Type
2000 Jaguar Vanden Plas
2000 Jaguar XJ8
2000 Jaguar XJR
2000 Jaguar XK8
2000 Jaguar XKR
1999 Jaguar Vanden Plas
1999 Jaguar XJ8
1999 Jaguar XJR
1999 Jaguar XK8
1998 Jaguar Vanden Plas
1998 Jaguar XJ8
1998 Jaguar XJR
1998 Jaguar XK8
1997 Jaguar XJ6
1997 Jaguar XJR
1997 Jaguar XK8
1996 Jaguar XJ6
1995 Jaguar XJ6
Jeep
2009 Jeep Grand Cherokee
2007 Jeep Grand Cherokee
Lamborghini
2012 Lamborghini Aventador
2012 Lamborghini Gallardo
2011 Lamborghini Gallardo
2010 Lamborghini Gallardo
2010 Lamborghini Murcielago
2009 Lamborghini Gallardo
2009 Lamborghini Murcielago
2008 Lamborghini Gallardo
2008 Lamborghini Murcielago
Land Rover
2015 Land Rover Range Rover
2012 Land Rover Range Rover
2011 Land Rover Range Rover
2010 Land Rover Range Rover
2009 Land Rover LR3
2009 Land Rover Range Rover
2009 Land Rover Range Rover Sport
2008 Land Rover LR3
2008 Land Rover Range Rover
2008 Land Rover Range Rover Sport
2007 Land Rover LR3
2007 Land Rover Range Rover
2007 Land Rover Range Rover Sport
2006 Land Rover LR3
2006 Land Rover Range Rover
2006 Land Rover Range Rover Sport
2005 Land Rover LR3
Lexus
2018 Lexus LS500
2018 Lexus LS500h
Maserati
2013 Maserati Quattroporte
2012 Maserati Quattroporte
2011 Maserati Quattroporte
2010 Maserati Quattroporte
2009 Maserati Quattroporte
Mercedes-Benz
2018 Mercedes-Benz Metris
2017 Mercedes-Benz Metris
2017 Mercedes-Benz Sprinter 2500
2017 Mercedes-Benz Sprinter 3500
2016 Mercedes-Benz Metris
2016 Mercedes-Benz Sprinter 2500
2016 Mercedes-Benz Sprinter 3500
2015 Mercedes-Benz ML550
2015 Mercedes-Benz Sprinter 2500
2015 Mercedes-Benz Sprinter 3500
2014 Mercedes-Benz ML550
2014 Mercedes-Benz Sprinter 2500
2014 Mercedes-Benz Sprinter 3500
2013 Mercedes-Benz E300
2013 Mercedes-Benz ML550
2013 Mercedes-Benz Sprinter 2500
2013 Mercedes-Benz Sprinter 3500
2012 Mercedes-Benz E300
2012 Mercedes-Benz ML550
2012 Mercedes-Benz Sprinter 2500
2012 Mercedes-Benz Sprinter 3500
2011 Mercedes-Benz E550
2011 Mercedes-Benz ML450
2011 Mercedes-Benz ML550
2011 Mercedes-Benz Sprinter 2500
2011 Mercedes-Benz Sprinter 3500
2010 Mercedes-Benz E550
2010 Mercedes-Benz ML450
2010 Mercedes-Benz ML550
2010 Mercedes-Benz Sprinter 2500
2010 Mercedes-Benz Sprinter 3500
2009 Mercedes-Benz C230
2009 Mercedes-Benz CLK350
2009 Mercedes-Benz CLK550
2009 Mercedes-Benz CLK63 AMG
2009 Mercedes-Benz E300
2009 Mercedes-Benz E350
2009 Mercedes-Benz GL320
2009 Mercedes-Benz ML320
2009 Mercedes-Benz ML550
2008 Mercedes-Benz C230
2008 Mercedes-Benz CLK350
2008 Mercedes-Benz CLK550
2008 Mercedes-Benz CLK63 AMG
2008 Mercedes-Benz E300
2008 Mercedes-Benz E350
2008 Mercedes-Benz G500
2008 Mercedes-Benz GL320
2008 Mercedes-Benz ML320
2008 Mercedes-Benz ML550
2007 Mercedes-Benz C230
2007 Mercedes-Benz C280
2007 Mercedes-Benz C350
2007 Mercedes-Benz CLK350
2007 Mercedes-Benz CLK550
2007 Mercedes-Benz CLK63 AMG
2007 Mercedes-Benz E280
2007 Mercedes-Benz E350
2007 Mercedes-Benz G500
2007 Mercedes-Benz G55 AMG
2007 Mercedes-Benz GL320
2007 Mercedes-Benz ML320
2006 Mercedes-Benz C230
2006 Mercedes-Benz C280
2006 Mercedes-Benz C350
2006 Mercedes-Benz C55 AMG
2006 Mercedes-Benz CLK350
2006 Mercedes-Benz CLK500
2006 Mercedes-Benz CLK55 AMG
2006 Mercedes-Benz CLS500
2006 Mercedes-Benz CLS55 AMG
2006 Mercedes-Benz E350
2006 Mercedes-Benz G500
2006 Mercedes-Benz G55 AMG
2005 Mercedes-Benz C230
2005 Mercedes-Benz C240
2005 Mercedes-Benz C320
2005 Mercedes-Benz C55 AMG
2005 Mercedes-Benz CLK320
2005 Mercedes-Benz CLK500
2005 Mercedes-Benz CLK55 AMG
2005 Mercedes-Benz E320
2005 Mercedes-Benz G500
2005 Mercedes-Benz G55 AMG
2005 Mercedes-Benz ML350
2005 Mercedes-Benz ML500
2005 Mercedes-Benz SLK55 AMG
2005 Mercedes-Benz SLR McLaren
2004 Mercedes-Benz C230
2004 Mercedes-Benz C240
2004 Mercedes-Benz C32 AMG
2004 Mercedes-Benz C320
2004 Mercedes-Benz CLK320
2004 Mercedes-Benz CLK500
2004 Mercedes-Benz CLK55 AMG
2004 Mercedes-Benz E320
2004 Mercedes-Benz G500
2004 Mercedes-Benz G55 AMG
2004 Mercedes-Benz ML350
2004 Mercedes-Benz ML500
2003 Mercedes-Benz C240
2003 Mercedes-Benz C32 AMG
2003 Mercedes-Benz CLK320
2003 Mercedes-Benz CLK430
2003 Mercedes-Benz CLK500
2003 Mercedes-Benz CLK55 AMG
2003 Mercedes-Benz E320
2003 Mercedes-Benz E55 AMG
2003 Mercedes-Benz G500
2003 Mercedes-Benz G55 AMG
2003 Mercedes-Benz ML320
2003 Mercedes-Benz ML350
2003 Mercedes-Benz ML500
2003 Mercedes-Benz ML55 AMG
2003 Mercedes-Benz S55 AMG
2002 Mercedes-Benz C230
2002 Mercedes-Benz C240
2002 Mercedes-Benz C32 AMG
2002 Mercedes-Benz C320
2002 Mercedes-Benz CL600
2002 Mercedes-Benz CLK320
2002 Mercedes-Benz CLK430
2002 Mercedes-Benz CLK55 AMG
2002 Mercedes-Benz E320
2002 Mercedes-Benz E430
2002 Mercedes-Benz E55 AMG
2002 Mercedes-Benz G500
2002 Mercedes-Benz ML320
2002 Mercedes-Benz ML500
2002 Mercedes-Benz ML55 AMG
2002 Mercedes-Benz S600
2002 Mercedes-Benz SL500
2002 Mercedes-Benz SL600
2001 Mercedes-Benz C240
2001 Mercedes-Benz C320
2001 Mercedes-Benz CL500
2001 Mercedes-Benz CL55 AMG
2001 Mercedes-Benz CL600
2001 Mercedes-Benz CLK320
2001 Mercedes-Benz CLK430
2001 Mercedes-Benz CLK55 AMG
2001 Mercedes-Benz E320
2001 Mercedes-Benz E430
2001 Mercedes-Benz E55 AMG
2001 Mercedes-Benz ML320
2001 Mercedes-Benz ML430
2001 Mercedes-Benz ML55 AMG
2001 Mercedes-Benz S430
2001 Mercedes-Benz S500
2001 Mercedes-Benz S600
2001 Mercedes-Benz SL500
2001 Mercedes-Benz SL600
2001 Mercedes-Benz SLK230
2000 Mercedes-Benz C230
2000 Mercedes-Benz C280
2000 Mercedes-Benz C43 AMG
2000 Mercedes-Benz CL500
2000 Mercedes-Benz CLK320
2000 Mercedes-Benz CLK430
2000 Mercedes-Benz E320
2000 Mercedes-Benz E430
2000 Mercedes-Benz E55 AMG
2000 Mercedes-Benz ML320
2000 Mercedes-Benz ML430
2000 Mercedes-Benz ML55 AMG
2000 Mercedes-Benz S430
2000 Mercedes-Benz S500
2000 Mercedes-Benz SL500
2000 Mercedes-Benz SL600
2000 Mercedes-Benz SLK230
1999 Mercedes-Benz C230
1999 Mercedes-Benz C280
1999 Mercedes-Benz C43 AMG
1999 Mercedes-Benz CL500
1999 Mercedes-Benz CL600
1999 Mercedes-Benz CLK320
1999 Mercedes-Benz CLK430
1999 Mercedes-Benz E300
1999 Mercedes-Benz E320
1999 Mercedes-Benz E430
1999 Mercedes-Benz E55 AMG
1999 Mercedes-Benz ML320
1999 Mercedes-Benz ML430
1999 Mercedes-Benz S320
1999 Mercedes-Benz S420
1999 Mercedes-Benz S500
1999 Mercedes-Benz S600
1999 Mercedes-Benz SL500
1999 Mercedes-Benz SL600
1998 Mercedes-Benz C230
1998 Mercedes-Benz C280
1998 Mercedes-Benz C43 AMG
1998 Mercedes-Benz CL500
1998 Mercedes-Benz CL600
1998 Mercedes-Benz CLK320
1998 Mercedes-Benz E300
1998 Mercedes-Benz E320
1998 Mercedes-Benz E430
1998 Mercedes-Benz ML320
1998 Mercedes-Benz S320
1998 Mercedes-Benz S420
1998 Mercedes-Benz S500
1998 Mercedes-Benz S600
1998 Mercedes-Benz SL500
1998 Mercedes-Benz SL600
1997 Mercedes-Benz C230
1997 Mercedes-Benz C280
1997 Mercedes-Benz C36 AMG
1997 Mercedes-Benz E300
1997 Mercedes-Benz E320
1997 Mercedes-Benz E420
1997 Mercedes-Benz S320
1997 Mercedes-Benz S420
1997 Mercedes-Benz S500
1997 Mercedes-Benz S600
1997 Mercedes-Benz SL320
1997 Mercedes-Benz SL500
1997 Mercedes-Benz SL600
1996 Mercedes-Benz C220
1996 Mercedes-Benz C280
1996 Mercedes-Benz C36 AMG
1996 Mercedes-Benz E300
1996 Mercedes-Benz E320
1996 Mercedes-Benz S320
1996 Mercedes-Benz S420
1996 Mercedes-Benz S500
1996 Mercedes-Benz S600
1996 Mercedes-Benz SL320
1996 Mercedes-Benz SL500
1996 Mercedes-Benz SL600
1995 Mercedes-Benz C220
1995 Mercedes-Benz C280
1995 Mercedes-Benz C36 AMG
1995 Mercedes-Benz E300
1995 Mercedes-Benz E320
1995 Mercedes-Benz E420
1995 Mercedes-Benz S320
1995 Mercedes-Benz S350
1995 Mercedes-Benz S420
1995 Mercedes-Benz S500
1995 Mercedes-Benz S600
1995 Mercedes-Benz SL320
1995 Mercedes-Benz SL500
1995 Mercedes-Benz SL600
1994 Mercedes-Benz C220
1994 Mercedes-Benz C280
1994 Mercedes-Benz E320
1994 Mercedes-Benz E420
1994 Mercedes-Benz E500
1994 Mercedes-Benz S320
1994 Mercedes-Benz S350
1994 Mercedes-Benz S420
1994 Mercedes-Benz S500
1994 Mercedes-Benz S600
1994 Mercedes-Benz SL320
1994 Mercedes-Benz SL500
1994 Mercedes-Benz SL600
1993 Mercedes-Benz 300D
1993 Mercedes-Benz 300SD
1993 Mercedes-Benz 300SE
1993 Mercedes-Benz 300SL
1993 Mercedes-Benz 400E
1993 Mercedes-Benz 400SEL
1993 Mercedes-Benz 500E
1993 Mercedes-Benz 500SEC
1993 Mercedes-Benz 500SEL
1993 Mercedes-Benz 500SL
1993 Mercedes-Benz 600SEC
1993 Mercedes-Benz 600SEL
1993 Mercedes-Benz 600SL
1992 Mercedes-Benz 300D
1992 Mercedes-Benz 300SD
1992 Mercedes-Benz 300SE
1992 Mercedes-Benz 300SL
1992 Mercedes-Benz 400E
1992 Mercedes-Benz 400SE
1992 Mercedes-Benz 500E
1992 Mercedes-Benz 500SEL
1992 Mercedes-Benz 500SL
1992 Mercedes-Benz 600SEL
1991 Mercedes-Benz 300D
1991 Mercedes-Benz 300SE
1991 Mercedes-Benz 300SEL
1991 Mercedes-Benz 300SL
1991 Mercedes-Benz 350SD
1991 Mercedes-Benz 350SDL
1991 Mercedes-Benz 420SEL
1991 Mercedes-Benz 500SL
1991 Mercedes-Benz 560SEC
1991 Mercedes-Benz 560SEL
1990 Mercedes-Benz 300D
1990 Mercedes-Benz 300SE
1990 Mercedes-Benz 300SEL
1990 Mercedes-Benz 300SL
1990 Mercedes-Benz 350SDL
1990 Mercedes-Benz 420SEL
1990 Mercedes-Benz 500SL
1990 Mercedes-Benz 560SEC
1990 Mercedes-Benz 560SEL
1989 Mercedes-Benz 190D
1989 Mercedes-Benz 420SEL
1989 Mercedes-Benz 560SEC
1989 Mercedes-Benz 560SEL
1989 Mercedes-Benz 560SL
1988 Mercedes-Benz 190D
1988 Mercedes-Benz 420SEL
1988 Mercedes-Benz 560SEC
1988 Mercedes-Benz 560SEL
1988 Mercedes-Benz 560SL
1987 Mercedes-Benz 190D
1987 Mercedes-Benz 300D
1987 Mercedes-Benz 300SDL
1987 Mercedes-Benz 300TD
1987 Mercedes-Benz 560SEC
1987 Mercedes-Benz 560SEL
1987 Mercedes-Benz 560SL
1986 Mercedes-Benz 190D
1986 Mercedes-Benz 300SDL
1986 Mercedes-Benz 560SEC
1986 Mercedes-Benz 560SEL
1986 Mercedes-Benz 560SL
1985 Mercedes-Benz 300CD
1985 Mercedes-Benz 300D
1985 Mercedes-Benz 300SD
1985 Mercedes-Benz 300TD
1985 Mercedes-Benz 380SL
1984 Mercedes-Benz 300CD
1984 Mercedes-Benz 300D
1984 Mercedes-Benz 300SD
1984 Mercedes-Benz 300TD
1984 Mercedes-Benz 380SL
1983 Mercedes-Benz 240D
1983 Mercedes-Benz 300CD
1983 Mercedes-Benz 300D
1983 Mercedes-Benz 300SD
1983 Mercedes-Benz 300TD
1983 Mercedes-Benz 380SL
1982 Mercedes-Benz 240D
1982 Mercedes-Benz 300CD
1982 Mercedes-Benz 300D
1982 Mercedes-Benz 300SD
1982 Mercedes-Benz 300TD
1982 Mercedes-Benz 380SL
1981 Mercedes-Benz 240D
1981 Mercedes-Benz 300CD
1981 Mercedes-Benz 300D
1981 Mercedes-Benz 300SD
1981 Mercedes-Benz 300TD
1981 Mercedes-Benz 380SL
1981 Mercedes-Benz 380SLC
1980 Mercedes-Benz 240D
1980 Mercedes-Benz 300CD
1980 Mercedes-Benz 300D
1980 Mercedes-Benz 300SD
1980 Mercedes-Benz 300TD
1980 Mercedes-Benz 450SL
1980 Mercedes-Benz 450SLC
1979 Mercedes-Benz 240D
1979 Mercedes-Benz 300CD
1979 Mercedes-Benz 300D
1979 Mercedes-Benz 300SD
1979 Mercedes-Benz 300TD
1979 Mercedes-Benz 450SL
1979 Mercedes-Benz 450SLC
1978 Mercedes-Benz 300CD
1978 Mercedes-Benz 300D
1978 Mercedes-Benz 300SD
1978 Mercedes-Benz 450SL
1978 Mercedes-Benz 450SLC
1977 Mercedes-Benz 240D
1977 Mercedes-Benz 300D
1977 Mercedes-Benz 450SL
1977 Mercedes-Benz 450SLC
1976 Mercedes-Benz 240D
1976 Mercedes-Benz 300D
1976 Mercedes-Benz 450SE
1976 Mercedes-Benz 450SEL
1976 Mercedes-Benz 450SL
1976 Mercedes-Benz 450SLC
1975 Mercedes-Benz 240D
1975 Mercedes-Benz 300D
1975 Mercedes-Benz 450SE
1975 Mercedes-Benz 450SEL
1975 Mercedes-Benz 450SL
1975 Mercedes-Benz 450SLC
1974 Mercedes-Benz 240D
1974 Mercedes-Benz 450SE
1974 Mercedes-Benz 450SEL
1974 Mercedes-Benz 450SL
1974 Mercedes-Benz 450SLC
1973 Mercedes-Benz 220D
1973 Mercedes-Benz 280SE
1973 Mercedes-Benz 280SEL
1973 Mercedes-Benz 300SEL
1973 Mercedes-Benz 450SE
1973 Mercedes-Benz 450SEL
1973 Mercedes-Benz 450SL
1973 Mercedes-Benz 450SLC
1972 Mercedes-Benz 220D
1972 Mercedes-Benz 280SE
1972 Mercedes-Benz 300SEL
Peugeot
1987 Peugeot 505
1985 Peugeot 505
Porsche
2016 Porsche 911
2015 Porsche 911
2014 Porsche 911
2014 Porsche Cayenne
2014 Porsche Cayman
2014 Porsche Panamera
2013 Porsche 911
2013 Porsche Cayenne
2013 Porsche Panamera
2012 Porsche 911
2012 Porsche Cayenne
2012 Porsche Cayman
2012 Porsche Panamera
2011 Porsche 911
2011 Porsche Cayenne
2011 Porsche Cayman
2011 Porsche Panamera
2010 Porsche 911
2010 Porsche Cayenne
2010 Porsche Cayman
2010 Porsche Panamera
2009 Porsche 911
2009 Porsche Cayenne
2009 Porsche Cayman
2008 Porsche Cayenne
2006 Porsche Cayenne
2005 Porsche Cayenne
2004 Porsche Cayenne
2003 Porsche Cayenne
1989 Porsche 911
1988 Porsche 911
1987 Porsche 911
1986 Porsche 911
1986 Porsche 928
1985 Porsche 911
1985 Porsche 928
1984 Porsche 911
1984 Porsche 928
1983 Porsche 928
1982 Porsche 928
1981 Porsche 928
1980 Porsche 911
1979 Porsche 911
1978 Porsche 911
Ram
2018 Ram ProMaster 2500
2017 Ram ProMaster 1500
2017 Ram ProMaster 2500
2017 Ram ProMaster 3500
2016 Ram ProMaster 1500
2016 Ram ProMaster 2500
2016 Ram ProMaster 3500
2015 Ram ProMaster 1500
2015 Ram ProMaster 2500
2015 Ram ProMaster 3500
2014 Ram ProMaster 1500
2014 Ram ProMaster 2500
2014 Ram ProMaster 3500
Volkswagen
2021 Volkswagen Passat
2020 Volkswagen Passat
2019 Volkswagen Passat
2017 Volkswagen CC
2016 Volkswagen CC
2015 Volkswagen CC
2015 Volkswagen Passat
2014 Volkswagen CC
2014 Volkswagen Passat
2014 Volkswagen Touareg
2013 Volkswagen CC
2013 Volkswagen Passat
2013 Volkswagen Touareg
2012 Volkswagen CC
2012 Volkswagen Passat
2012 Volkswagen Touareg
2011 Volkswagen CC
2011 Volkswagen Touareg
2010 Volkswagen CC
2010 Volkswagen Passat CC
2010 Volkswagen Touareg
2009 Volkswagen CC
2009 Volkswagen Passat CC
2009 Volkswagen Touareg
2008 Volkswagen Passat
2008 Volkswagen Touareg
2007 Volkswagen Passat
2007 Volkswagen Touareg
2006 Volkswagen Passat
2006 Volkswagen Phaeton
2006 Volkswagen Touareg
2005 Volkswagen Passat
2005 Volkswagen Phaeton
2005 Volkswagen Touareg
2004 Volkswagen Phaeton
2004 Volkswagen Touareg
2001 Volkswagen Jetta
Volvo
2014 Volvo XC90
2013 Volvo XC90
2012 Volvo XC90
2011 Volvo XC90
2010 Volvo XC90
2009 Volvo S60
2009 Volvo XC90
2008 Volvo S60
2008 Volvo XC90
2007 Volvo S60
2007 Volvo V70
2007 Volvo XC70
2007 Volvo XC90
2006 Volvo S60
2006 Volvo S80
2006 Volvo V70
2006 Volvo XC70
2006 Volvo XC90
2005 Volvo S60
2005 Volvo S80
2005 Volvo V70
2005 Volvo XC70
2005 Volvo XC90
2004 Volvo S60
2004 Volvo S80
2004 Volvo V70
2004 Volvo XC70
2004 Volvo XC90
2003 Volvo S60
2003 Volvo S80
2003 Volvo V70
2003 Volvo XC70
2003 Volvo XC90
2002 Volvo S60
2002 Volvo S80
2002 Volvo V70
2001 Volvo S60
2001 Volvo S80
2000 Volvo S80
1999 Volvo S80
1986 Volvo 740
1985 Volvo 745
1985 Volvo 760
1984 Volvo 244
1984 Volvo 245
1984 Volvo 760
1983 Volvo 244
1983 Volvo 245
1983 Volvo 760
1982 Volvo 244
1982 Volvo 245
1981 Volvo 264