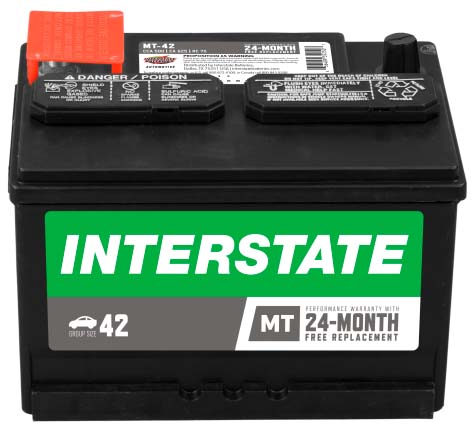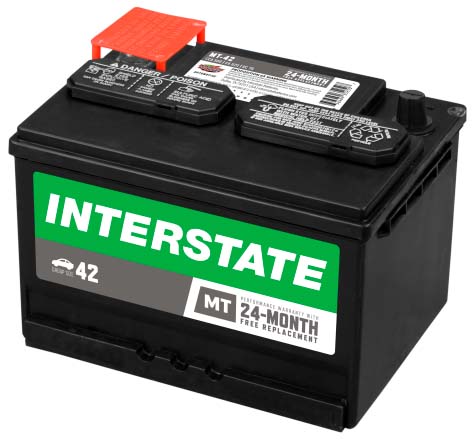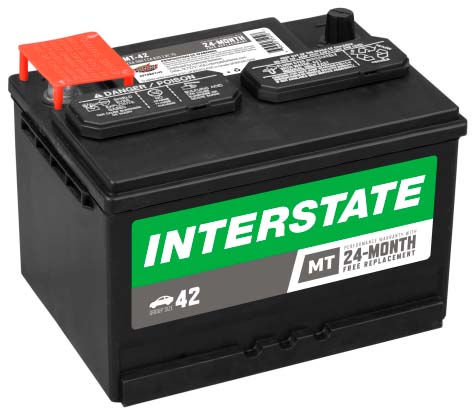 MT-42
Group Size 42
500 Cold Cranking Amps (CCA)
24 Months Warranty
500 Cold Cranking Amps (CCA)
Group Size 42
Our better flooded, non-AGM battery
Classic performance in hot to moderate climates
Affordable and dependable
24 Months Warranty
Free / 5 Year Performance Warranty
Does This Battery Fit My Automobile
This Battery Fits Your Vehicle.
This Battery Does Not Fit Your Vehicle.
Suggested batteries for this vehicle, Click Here!
Enter your vehicle information
Find This Battery Near You
Hours of Operation
Contact Store For Hours of Operation
Description
The Interstate MT series delivers reliable battery life and enhanced performance in hot to moderate climates for an affordable price.
Specifications
MT-42

42

500

625

75 minutes

N/A

9 5/8 inches
7 inches

6 3/4 inches

Common Code A

12

W

Flooded
Warranty
View warranty by purchase date.
For countries outside the U.S. and Canada, including Puerto Rico, please contact your local dealer for warranties and product availability.
This Battery Also Fits These Vehicles
Audi
1987 Audi 4000
1986 Audi 4000
1985 Audi 4000
1984 Audi 4000
1983 Audi 4000
1982 Audi 4000
1981 Audi 4000
1980 Audi 4000
1979 Audi Fox
1978 Audi Fox
1977 Audi 100 Series
1977 Audi Fox
1976 Audi 100 Series
1976 Audi Fox
1975 Audi 100 Series
1975 Audi Fox
1974 Audi 100 Series
1974 Audi Fox
1973 Audi 100 Series
1973 Audi Fox
1972 Audi 100 Series
1972 Audi Super 90
1971 Audi 100 Series
1971 Audi Super 90
1970 Audi Super 90
BMW
1985 BMW 318i
1984 BMW 318i
1983 BMW 320i
1982 BMW 733i
1981 BMW 733i
1976 BMW 2002
1975 BMW 2002
1974 BMW 2002
1973 BMW 2002
1972 BMW 2000
1972 BMW 2002
1971 BMW 1800
1971 BMW 1802
1971 BMW 2.8 Bavaria
1971 BMW 2000
1971 BMW 2000ti
1971 BMW 2002
1971 BMW 2002ti
1970 BMW 1800
1969 BMW 1800
1968 BMW 1600ti
1968 BMW 1800
1967 BMW 2000
1967 BMW 2002
1966 BMW 2000
1966 BMW 2002
Ford
1980 Ford Fiesta
1979 Ford Fiesta
1978 Ford Fiesta
Jaguar
1991 Jaguar XJ6
1990 Jaguar XJ6
Mercury
1975 Mercury Capri
1974 Mercury Capri
1973 Mercury Capri
1972 Mercury Capri
Plymouth
1971 Plymouth Cricket
Porsche
1976 Porsche 912
1976 Porsche 914
1975 Porsche 911
1975 Porsche 914
1974 Porsche 911
1974 Porsche 914
Renault
1986 Renault R18i
1985 Renault Fuego
1985 Renault R18i
Triumph
1981 Triumph TR8
1980 Triumph TR8
Volkswagen
1999 Volkswagen EuroVan
1997 Volkswagen Cabrio
1997 Volkswagen EuroVan
1997 Volkswagen Golf
1997 Volkswagen Jetta
1997 Volkswagen Passat
1996 Volkswagen Cabrio
1996 Volkswagen Passat
1995 Volkswagen Cabrio
1995 Volkswagen Corrado
1995 Volkswagen EuroVan
1995 Volkswagen Passat
1994 Volkswagen Corrado
1994 Volkswagen EuroVan
1994 Volkswagen Passat
1993 Volkswagen Corrado
1993 Volkswagen EuroVan
1993 Volkswagen Fox
1993 Volkswagen Passat
1992 Volkswagen Corrado
1992 Volkswagen EuroVan
1992 Volkswagen Passat
1991 Volkswagen Corrado
1991 Volkswagen Passat
1990 Volkswagen Corrado
1990 Volkswagen Passat
1987 Volkswagen Jetta
1986 Volkswagen Jetta
1985 Volkswagen Cabriolet
1985 Volkswagen Golf
1985 Volkswagen Jetta
1985 Volkswagen Scirocco
1985 Volkswagen Transporter
1984 Volkswagen Jetta
1984 Volkswagen Rabbit
1984 Volkswagen Rabbit Convertible
1984 Volkswagen Scirocco
1983 Volkswagen Jetta
1983 Volkswagen Rabbit
1983 Volkswagen Rabbit Convertible
1983 Volkswagen Rabbit Pickup
1983 Volkswagen Scirocco
1982 Volkswagen Jetta
1982 Volkswagen Rabbit
1982 Volkswagen Rabbit Convertible
1982 Volkswagen Rabbit Pickup
1982 Volkswagen Scirocco
1981 Volkswagen Jetta
1981 Volkswagen Rabbit
1981 Volkswagen Rabbit Convertible
1981 Volkswagen Rabbit Pickup
1981 Volkswagen Scirocco
1981 Volkswagen Vanagon
1980 Volkswagen Dasher
1980 Volkswagen Jetta
1980 Volkswagen Rabbit
1980 Volkswagen Rabbit Convertible
1980 Volkswagen Rabbit Pickup
1980 Volkswagen Scirocco
1980 Volkswagen Vanagon
1979 Volkswagen Beetle
1979 Volkswagen Dasher
1979 Volkswagen Rabbit
1979 Volkswagen Scirocco
1978 Volkswagen Beetle
1978 Volkswagen Dasher
1978 Volkswagen Rabbit
1978 Volkswagen Scirocco
1977 Volkswagen Beetle
1977 Volkswagen Dasher
1977 Volkswagen Rabbit
1977 Volkswagen Scirocco
1976 Volkswagen Beetle
1976 Volkswagen Dasher
1976 Volkswagen Rabbit
1976 Volkswagen Scirocco
1975 Volkswagen Beetle
1975 Volkswagen Dasher
1975 Volkswagen Rabbit
1975 Volkswagen Super Beetle
1975 Volkswagen Transporter
1974 Volkswagen 412
1974 Volkswagen Beetle
1974 Volkswagen Campmobile
1974 Volkswagen Dasher
1974 Volkswagen Karmann Ghia
1974 Volkswagen Super Beetle
1974 Volkswagen Thing
1974 Volkswagen Transporter
1973 Volkswagen 411
1973 Volkswagen 412
1973 Volkswagen Beetle
1973 Volkswagen Campmobile
1973 Volkswagen Fastback
1973 Volkswagen Karmann Ghia
1973 Volkswagen Squareback
1973 Volkswagen Super Beetle
1973 Volkswagen Thing
1973 Volkswagen Transporter
1972 Volkswagen 411
1972 Volkswagen Beetle
1972 Volkswagen Campmobile
1972 Volkswagen Fastback
1972 Volkswagen Karmann Ghia
1972 Volkswagen Squareback
1972 Volkswagen Super Beetle
1972 Volkswagen Transporter
1971 Volkswagen 411
1971 Volkswagen Beetle
1971 Volkswagen Campmobile
1971 Volkswagen Fastback
1971 Volkswagen Karmann Ghia
1971 Volkswagen Squareback
1971 Volkswagen Super Beetle
1971 Volkswagen Transporter
1970 Volkswagen Beetle
1970 Volkswagen Campmobile
1970 Volkswagen Fastback
1970 Volkswagen Karmann Ghia
1970 Volkswagen Squareback
1970 Volkswagen Transporter
1969 Volkswagen Beetle
1969 Volkswagen Campmobile
1969 Volkswagen Fastback
1969 Volkswagen Karmann Ghia
1969 Volkswagen Squareback
1969 Volkswagen Transporter
1968 Volkswagen Beetle
1968 Volkswagen Campmobile
1968 Volkswagen Fastback
1968 Volkswagen Karmann Ghia
1968 Volkswagen Squareback
1968 Volkswagen Transporter
1967 Volkswagen Beetle
1967 Volkswagen Fastback
1967 Volkswagen Karmann Ghia
1967 Volkswagen Squareback
1967 Volkswagen Transporter
Yugo
1992 Yugo Cabrio