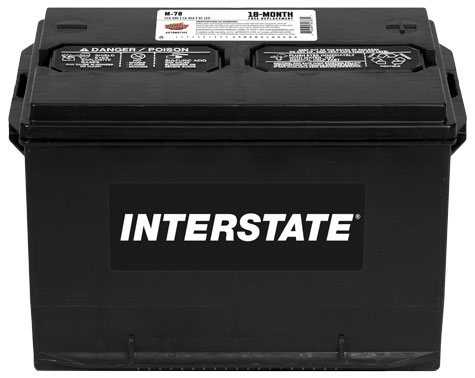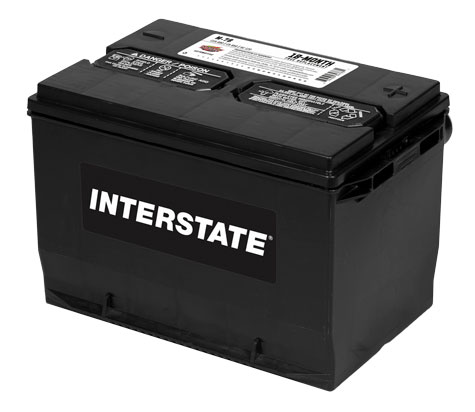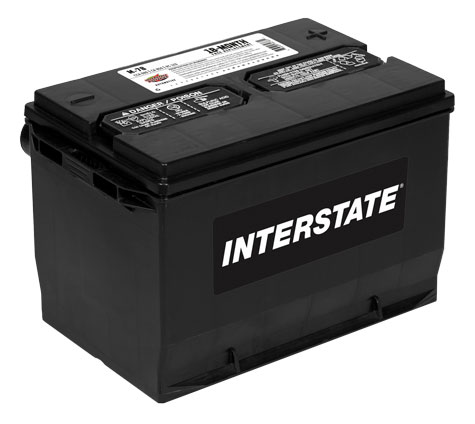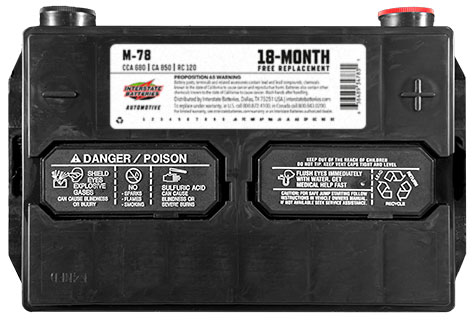 M-78
Group Size 78
680 Cold Cranking Amps (CCA)
18 Months Warranty
680 Cold Cranking Amps (CCA)
Group Size 78
Standard performance life with ample cranking power
Perfect for the value minded customer
Standard cycle life for accessories
18 Months Warranty
Free Replacement Warranty
Does This Battery Fit My Automobile
This Battery Fits Your Vehicle.
This Battery Does Not Fit Your Vehicle.
Suggested batteries for this vehicle, Click Here!
Enter your vehicle information
Find This Battery Near You
Hours of Operation
Contact Store For Hours of Operation
Description
Interstate's M series provides Interstate quality and standard performance for the value-minded customer.
Specifications
M-78

78

680

850

120 minutes

N/A

10 1/4 inches
7 1/2 inches

8 3/4 inches

SIDE MOUNT OR SIDE POST

12

W

Flooded
Warranty
View warranty by purchase date.
For countries outside the U.S. and Canada, including Puerto Rico, please contact your local dealer for warranties and product availability.
This Battery Also Fits These Vehicles
Buick
2007 Buick Rainier
2007 Buick Rendezvous
2006 Buick Rainier
2006 Buick Rendezvous
2005 Buick Century
2005 Buick Rainier
2005 Buick Rendezvous
2004 Buick Century
2004 Buick Rainier
2004 Buick Regal
2004 Buick Rendezvous
2003 Buick Century
2003 Buick Rendezvous
2002 Buick Century
2002 Buick Rendezvous
2001 Buick Century
2000 Buick Century
1999 Buick Century
1998 Buick Century
1997 Buick Century
1996 Buick Regal
1996 Buick Roadmaster
1995 Buick Park Avenue
1995 Buick Roadmaster
1994 Buick Park Avenue
1987 Buick Riviera
1986 Buick Electra
1986 Buick Riviera
1985 Buick Electra
1985 Buick LeSabre
1985 Buick Regal
1985 Buick Riviera
1984 Buick Electra
1984 Buick LeSabre
1984 Buick Regal
1984 Buick Riviera
1984 Buick Skyhawk
1983 Buick Electra
1983 Buick Estate Wagon
1983 Buick LeSabre
1983 Buick Regal
1983 Buick Riviera
1982 Buick Electra
1982 Buick Estate Wagon
1982 Buick LeSabre
1982 Buick Regal
1982 Buick Riviera
1981 Buick Century
1981 Buick Electra
1981 Buick Estate Wagon
1981 Buick LeSabre
1981 Buick Regal
1981 Buick Riviera
1980 Buick Century
1980 Buick Electra
1980 Buick Estate Wagon
1980 Buick LeSabre
1980 Buick Regal
1980 Buick Riviera
1979 Buick Century
1979 Buick Electra
1979 Buick Estate Wagon
1979 Buick Regal
1978 Buick Century
1978 Buick Electra
1978 Buick Estate Wagon
1978 Buick LeSabre
1978 Buick Regal
1978 Buick Riviera
1977 Buick Century
1977 Buick Electra
1977 Buick Estate Wagon
1977 Buick LeSabre
1977 Buick Regal
1977 Buick Riviera
1976 Buick Century
1976 Buick Electra
1976 Buick Estate Wagon
1976 Buick LeSabre
1976 Buick Regal
1976 Buick Riviera
1975 Buick Apollo
1975 Buick Century
1975 Buick Electra
1975 Buick Estate Wagon
1975 Buick LeSabre
1975 Buick Regal
1975 Buick Riviera
1974 Buick Century
1974 Buick Electra
1974 Buick Estate Wagon
1974 Buick LeSabre
1974 Buick Regal
1974 Buick Riviera
1973 Buick Centurion
1973 Buick Century
1973 Buick Electra
1973 Buick Estate Wagon
1973 Buick LeSabre
1973 Buick Regal
1973 Buick Riviera
1972 Buick Centurion
1972 Buick Electra
1972 Buick Estate Wagon
1972 Buick GS
1972 Buick GS 455
1972 Buick LeSabre
1972 Buick Riviera
1971 Buick Centurion
1971 Buick Electra
1971 Buick GS
1971 Buick GS 455
1971 Buick LeSabre
1971 Buick Riviera
Cadillac
2006 Cadillac Escalade
2006 Cadillac Escalade ESV
2006 Cadillac Escalade EXT
2005 Cadillac Escalade
2005 Cadillac Escalade ESV
2005 Cadillac Escalade EXT
2004 Cadillac Escalade
2004 Cadillac Escalade ESV
2004 Cadillac Escalade EXT
2003 Cadillac Escalade
2003 Cadillac Escalade ESV
2003 Cadillac Escalade EXT
2002 Cadillac Escalade
2002 Cadillac Escalade EXT
2000 Cadillac Escalade
1999 Cadillac Escalade
1993 Cadillac DeVille
1993 Cadillac Fleetwood
1992 Cadillac DeVille
1992 Cadillac Fleetwood
1991 Cadillac DeVille
1991 Cadillac Fleetwood
1990 Cadillac DeVille
1990 Cadillac Fleetwood
1989 Cadillac DeVille
1989 Cadillac Fleetwood
1987 Cadillac Brougham
1987 Cadillac DeVille
1987 Cadillac Eldorado
1987 Cadillac Seville
1986 Cadillac DeVille
1986 Cadillac Eldorado
1986 Cadillac Fleetwood
1986 Cadillac Seville
1985 Cadillac DeVille
1985 Cadillac Eldorado
1985 Cadillac Fleetwood
1985 Cadillac Seville
1984 Cadillac Commercial Chassis
1984 Cadillac DeVille
1984 Cadillac Eldorado
1984 Cadillac Fleetwood
1984 Cadillac Seville
1983 Cadillac Commercial Chassis
1983 Cadillac DeVille
1983 Cadillac Eldorado
1983 Cadillac Fleetwood
1983 Cadillac Seville
1982 Cadillac Commercial Chassis
1982 Cadillac DeVille
1982 Cadillac Eldorado
1982 Cadillac Fleetwood
1982 Cadillac Seville
1981 Cadillac Commercial Chassis
1981 Cadillac DeVille
1981 Cadillac Eldorado
1981 Cadillac Fleetwood
1981 Cadillac Seville
1980 Cadillac Commercial Chassis
1980 Cadillac DeVille
1980 Cadillac Eldorado
1980 Cadillac Fleetwood
1980 Cadillac Seville
1979 Cadillac Commercial Chassis
1979 Cadillac DeVille
1979 Cadillac Eldorado
1979 Cadillac Fleetwood
1979 Cadillac Seville
1978 Cadillac Commercial Chassis
1978 Cadillac DeVille
1978 Cadillac Eldorado
1978 Cadillac Fleetwood
1978 Cadillac Seville
1977 Cadillac Commercial Chassis
1977 Cadillac Fleetwood
1976 Cadillac Commercial Chassis
1975 Cadillac Calais
1975 Cadillac Commercial Chassis
1975 Cadillac DeVille
1975 Cadillac Eldorado
1975 Cadillac Fleetwood
1974 Cadillac Calais
1974 Cadillac DeVille
1974 Cadillac Eldorado
1974 Cadillac Fleetwood
1973 Cadillac Calais
1973 Cadillac DeVille
1973 Cadillac Eldorado
1973 Cadillac Fleetwood
1972 Cadillac Eldorado
1971 Cadillac Eldorado
Checker
1979 Checker Marathon
1978 Checker Marathon
1977 Checker Marathon
1976 Checker Marathon
1975 Checker Marathon
1973 Checker Marathon
Chevrolet
2021 Chevrolet Express 2500
2021 Chevrolet Express 3500
2020 Chevrolet Express 2500
2020 Chevrolet Express 3500
2019 Chevrolet Express Vans (1500-4500, Cargo)
2019 Chevrolet Silverado (1500, 2500, 3500)
2018 Chevrolet Express 2500
2018 Chevrolet Express 3500
2017 Chevrolet Express 2500
2017 Chevrolet Express 3500
2016 Chevrolet Express 2500
2016 Chevrolet Express 3500
2015 Chevrolet Express 2500
2015 Chevrolet Express 3500
2014 Chevrolet Express 1500
2014 Chevrolet Express 2500
2014 Chevrolet Express 3500
2013 Chevrolet Express 1500
2013 Chevrolet Express 2500
2013 Chevrolet Express 3500
2012 Chevrolet Express 1500
2012 Chevrolet Express 2500
2012 Chevrolet Express 3500
2011 Chevrolet Express 1500
2011 Chevrolet Express 2500
2011 Chevrolet Express 3500
2010 Chevrolet Express 1500
2010 Chevrolet Express 2500
2010 Chevrolet Express 3500
2009 Chevrolet Express 1500
2009 Chevrolet Express 2500
2009 Chevrolet Express 3500
2009 Chevrolet Trailblazer
2008 Chevrolet Express 1500
2008 Chevrolet Express 2500
2008 Chevrolet Express 3500
2008 Chevrolet Trailblazer
2007 Chevrolet Express 1500
2007 Chevrolet Express 2500
2007 Chevrolet Express 3500
2007 Chevrolet Silverado 1500
2007 Chevrolet Silverado 2500 HD
2007 Chevrolet Silverado 2500 HD Classic
2007 Chevrolet Silverado 3500 Classic
2007 Chevrolet Silverado 3500 HD
2007 Chevrolet Trailblazer
2006 Chevrolet Avalanche 1500
2006 Chevrolet Avalanche 2500
2006 Chevrolet Express 1500
2006 Chevrolet Express 2500
2006 Chevrolet Express 3500
2006 Chevrolet Silverado 1500
2006 Chevrolet Silverado 1500 HD
2006 Chevrolet Silverado 2500 HD
2006 Chevrolet Silverado 3500
2006 Chevrolet SSR
2006 Chevrolet Suburban 1500
2006 Chevrolet Suburban 2500
2006 Chevrolet Tahoe
2006 Chevrolet Trailblazer
2006 Chevrolet Trailblazer EXT
2005 Chevrolet Astro
2005 Chevrolet Avalanche 1500
2005 Chevrolet Avalanche 2500
2005 Chevrolet Express 1500
2005 Chevrolet Express 2500
2005 Chevrolet Express 3500
2005 Chevrolet Impala
2005 Chevrolet Monte Carlo
2005 Chevrolet Silverado 1500
2005 Chevrolet Silverado 1500 HD
2005 Chevrolet Silverado 2500 HD
2005 Chevrolet Silverado 3500
2005 Chevrolet SSR
2005 Chevrolet Suburban 1500
2005 Chevrolet Suburban 2500
2005 Chevrolet Tahoe
2005 Chevrolet Trailblazer
2005 Chevrolet Trailblazer EXT
2005 Chevrolet Venture
2004 Chevrolet Astro
2004 Chevrolet Avalanche 1500
2004 Chevrolet Avalanche 2500
2004 Chevrolet Express 1500
2004 Chevrolet Express 2500
2004 Chevrolet Express 3500
2004 Chevrolet Impala
2004 Chevrolet Monte Carlo
2004 Chevrolet Silverado 1500
2004 Chevrolet Silverado 2500
2004 Chevrolet Silverado 2500 HD
2004 Chevrolet Silverado 3500
2004 Chevrolet SSR
2004 Chevrolet Suburban 1500
2004 Chevrolet Suburban 2500
2004 Chevrolet Tahoe
2004 Chevrolet Trailblazer
2004 Chevrolet Trailblazer EXT
2004 Chevrolet Venture
2003 Chevrolet Astro
2003 Chevrolet Avalanche 1500
2003 Chevrolet Avalanche 2500
2003 Chevrolet Express 1500
2003 Chevrolet Express 2500
2003 Chevrolet Express 3500
2003 Chevrolet Impala
2003 Chevrolet Monte Carlo
2003 Chevrolet Silverado 1500
2003 Chevrolet Silverado 1500 HD
2003 Chevrolet Silverado 2500
2003 Chevrolet Silverado 2500 HD
2003 Chevrolet Silverado 3500
2003 Chevrolet SSR
2003 Chevrolet Suburban 1500
2003 Chevrolet Suburban 2500
2003 Chevrolet Tahoe
2003 Chevrolet Trailblazer
2003 Chevrolet Trailblazer EXT
2003 Chevrolet Venture
2002 Chevrolet Astro
2002 Chevrolet Avalanche 1500
2002 Chevrolet Avalanche 2500
2002 Chevrolet Express 1500
2002 Chevrolet Express 2500
2002 Chevrolet Express 3500
2002 Chevrolet Impala
2002 Chevrolet Monte Carlo
2002 Chevrolet Silverado 1500
2002 Chevrolet Silverado 1500 HD
2002 Chevrolet Silverado 2500
2002 Chevrolet Silverado 2500 HD
2002 Chevrolet Silverado 3500
2002 Chevrolet Suburban 1500
2002 Chevrolet Suburban 2500
2002 Chevrolet Tahoe
2002 Chevrolet Trailblazer
2002 Chevrolet Trailblazer EXT
2002 Chevrolet Venture
2001 Chevrolet Astro
2001 Chevrolet Express 1500
2001 Chevrolet Express 2500
2001 Chevrolet Express 3500
2001 Chevrolet Impala
2001 Chevrolet Lumina
2001 Chevrolet Monte Carlo
2001 Chevrolet Silverado 1500
2001 Chevrolet Silverado 1500 HD
2001 Chevrolet Silverado 2500
2001 Chevrolet Silverado 2500 HD
2001 Chevrolet Silverado 3500
2001 Chevrolet Suburban 1500
2001 Chevrolet Suburban 2500
2001 Chevrolet Tahoe
2001 Chevrolet Venture
2000 Chevrolet Astro
2000 Chevrolet C2500
2000 Chevrolet C3500
2000 Chevrolet Corvette
2000 Chevrolet Express 1500
2000 Chevrolet Express 2500
2000 Chevrolet Express 3500
2000 Chevrolet Impala
2000 Chevrolet K2500
2000 Chevrolet K3500
2000 Chevrolet Lumina
2000 Chevrolet Monte Carlo
2000 Chevrolet Silverado 1500
2000 Chevrolet Silverado 2500
2000 Chevrolet Suburban 1500
2000 Chevrolet Suburban 2500
2000 Chevrolet Tahoe
2000 Chevrolet Venture
1999 Chevrolet Astro
1999 Chevrolet C1500
1999 Chevrolet C1500 Suburban
1999 Chevrolet C2500
1999 Chevrolet C2500 Suburban
1999 Chevrolet C3500
1999 Chevrolet Corvette
1999 Chevrolet Express 1500
1999 Chevrolet Express 2500
1999 Chevrolet Express 3500
1999 Chevrolet K1500
1999 Chevrolet K1500 Suburban
1999 Chevrolet K2500
1999 Chevrolet K2500 Suburban
1999 Chevrolet K3500
1999 Chevrolet Lumina
1999 Chevrolet Malibu
1999 Chevrolet Monte Carlo
1999 Chevrolet P30
1999 Chevrolet Silverado 1500
1999 Chevrolet Silverado 2500
1999 Chevrolet Tahoe
1999 Chevrolet Venture
1998 Chevrolet Astro
1998 Chevrolet C1500
1998 Chevrolet C1500 Suburban
1998 Chevrolet C2500
1998 Chevrolet C2500 Suburban
1998 Chevrolet C3500
1998 Chevrolet Corvette
1998 Chevrolet Express 1500
1998 Chevrolet Express 2500
1998 Chevrolet Express 3500
1998 Chevrolet K1500
1998 Chevrolet K1500 Suburban
1998 Chevrolet K2500
1998 Chevrolet K2500 Suburban
1998 Chevrolet K3500
1998 Chevrolet Lumina
1998 Chevrolet Malibu
1998 Chevrolet Monte Carlo
1998 Chevrolet P30
1998 Chevrolet Tahoe
1998 Chevrolet Venture
1997 Chevrolet Astro
1997 Chevrolet C1500
1997 Chevrolet C1500 Suburban
1997 Chevrolet C2500
1997 Chevrolet C2500 Suburban
1997 Chevrolet C3500
1997 Chevrolet Corvette
1997 Chevrolet Express 1500
1997 Chevrolet Express 2500
1997 Chevrolet Express 3500
1997 Chevrolet K1500
1997 Chevrolet K1500 Suburban
1997 Chevrolet K2500
1997 Chevrolet K2500 Suburban
1997 Chevrolet K3500
1997 Chevrolet Lumina
1997 Chevrolet Malibu
1997 Chevrolet Monte Carlo
1997 Chevrolet P30
1997 Chevrolet Tahoe
1997 Chevrolet Venture
1996 Chevrolet Astro
1996 Chevrolet C1500
1996 Chevrolet C1500 Suburban
1996 Chevrolet C2500
1996 Chevrolet C2500 Suburban
1996 Chevrolet C3500
1996 Chevrolet Caprice
1996 Chevrolet Express 1500
1996 Chevrolet Express 2500
1996 Chevrolet Express 3500
1996 Chevrolet G30
1996 Chevrolet Impala
1996 Chevrolet K1500
1996 Chevrolet K1500 Suburban
1996 Chevrolet K2500
1996 Chevrolet K2500 Suburban
1996 Chevrolet K3500
1996 Chevrolet Lumina
1996 Chevrolet Monte Carlo
1996 Chevrolet P30
1996 Chevrolet Tahoe
1995 Chevrolet Astro
1995 Chevrolet C1500
1995 Chevrolet C1500 Suburban
1995 Chevrolet C2500
1995 Chevrolet C2500 Suburban
1995 Chevrolet C3500
1995 Chevrolet Caprice
1995 Chevrolet G10
1995 Chevrolet G20
1995 Chevrolet G30
1995 Chevrolet Impala
1995 Chevrolet K1500
1995 Chevrolet K1500 Suburban
1995 Chevrolet K2500
1995 Chevrolet K2500 Suburban
1995 Chevrolet K3500
1995 Chevrolet P30
1995 Chevrolet Tahoe
1994 Chevrolet Astro
1994 Chevrolet Blazer
1994 Chevrolet C1500
1994 Chevrolet C1500 Suburban
1994 Chevrolet C2500
1994 Chevrolet C2500 Suburban
1994 Chevrolet C3500
1994 Chevrolet G10
1994 Chevrolet G20
1994 Chevrolet G30
1994 Chevrolet K1500
1994 Chevrolet K1500 Suburban
1994 Chevrolet K2500
1994 Chevrolet K2500 Suburban
1994 Chevrolet K3500
1994 Chevrolet P30
1993 Chevrolet Astro
1993 Chevrolet Blazer
1993 Chevrolet C1500
1993 Chevrolet C1500 Suburban
1993 Chevrolet C2500
1993 Chevrolet C2500 Suburban
1993 Chevrolet C3500
1993 Chevrolet G10
1993 Chevrolet G20
1993 Chevrolet G30
1993 Chevrolet K1500
1993 Chevrolet K1500 Suburban
1993 Chevrolet K2500
1993 Chevrolet K2500 Suburban
1993 Chevrolet K3500
1993 Chevrolet P30
1993 Chevrolet S10
1993 Chevrolet S10 Blazer
1992 Chevrolet Astro
1992 Chevrolet Blazer
1992 Chevrolet C1500
1992 Chevrolet C1500 Suburban
1992 Chevrolet C2500
1992 Chevrolet C2500 Suburban
1992 Chevrolet C3500
1992 Chevrolet G10
1992 Chevrolet G20
1992 Chevrolet G30
1992 Chevrolet K1500
1992 Chevrolet K1500 Suburban
1992 Chevrolet K2500
1992 Chevrolet K2500 Suburban
1992 Chevrolet K3500
1992 Chevrolet P30
1992 Chevrolet S10
1992 Chevrolet S10 Blazer
1991 Chevrolet Astro
1991 Chevrolet Blazer
1991 Chevrolet C1500
1991 Chevrolet C2500
1991 Chevrolet C3500
1991 Chevrolet G10
1991 Chevrolet G20
1991 Chevrolet G30
1991 Chevrolet K1500
1991 Chevrolet K2500
1991 Chevrolet K3500
1991 Chevrolet P30
1991 Chevrolet R1500 Suburban
1991 Chevrolet R2500 Suburban
1991 Chevrolet R3500
1991 Chevrolet S10
1991 Chevrolet S10 Blazer
1991 Chevrolet V1500 Suburban
1991 Chevrolet V2500 Suburban
1991 Chevrolet V3500
1990 Chevrolet Astro
1990 Chevrolet Blazer
1990 Chevrolet C1500
1990 Chevrolet C2500
1990 Chevrolet C3500
1990 Chevrolet G20
1990 Chevrolet G30
1990 Chevrolet K1500
1990 Chevrolet K2500
1990 Chevrolet K3500
1990 Chevrolet P30
1990 Chevrolet R1500 Suburban
1990 Chevrolet R2500 Suburban
1990 Chevrolet R3500
1990 Chevrolet S10
1990 Chevrolet S10 Blazer
1990 Chevrolet V1500 Suburban
1990 Chevrolet V2500 Suburban
1990 Chevrolet V3500
1989 Chevrolet Astro
1989 Chevrolet Blazer
1989 Chevrolet C1500
1989 Chevrolet C2500
1989 Chevrolet C3500
1989 Chevrolet G10
1989 Chevrolet G20
1989 Chevrolet G30
1989 Chevrolet K1500
1989 Chevrolet K2500
1989 Chevrolet K3500
1989 Chevrolet P20
1989 Chevrolet P30
1989 Chevrolet R1500 Suburban
1989 Chevrolet R2500
1989 Chevrolet R2500 Suburban
1989 Chevrolet R3500
1989 Chevrolet S10
1989 Chevrolet S10 Blazer
1989 Chevrolet V1500 Suburban
1989 Chevrolet V2500 Suburban
1989 Chevrolet V3500
1988 Chevrolet Astro
1988 Chevrolet Blazer
1988 Chevrolet C1500
1988 Chevrolet C2500
1988 Chevrolet C3500
1988 Chevrolet G10
1988 Chevrolet G20
1988 Chevrolet G30
1988 Chevrolet K1500
1988 Chevrolet K2500
1988 Chevrolet K3500
1988 Chevrolet P20
1988 Chevrolet P30
1988 Chevrolet R10 Suburban
1988 Chevrolet R20
1988 Chevrolet R20 Suburban
1988 Chevrolet R30
1988 Chevrolet S10
1988 Chevrolet S10 Blazer
1988 Chevrolet V10 Suburban
1988 Chevrolet V20 Suburban
1988 Chevrolet V30
1987 Chevrolet Astro
1987 Chevrolet Blazer
1987 Chevrolet G10
1987 Chevrolet G20
1987 Chevrolet G30
1987 Chevrolet P20
1987 Chevrolet P30
1987 Chevrolet R10
1987 Chevrolet R10 Suburban
1987 Chevrolet R20
1987 Chevrolet R20 Suburban
1987 Chevrolet R30
1987 Chevrolet S10
1987 Chevrolet S10 Blazer
1987 Chevrolet V10
1987 Chevrolet V10 Suburban
1987 Chevrolet V20
1987 Chevrolet V20 Suburban
1987 Chevrolet V30
1986 Chevrolet Astro
1986 Chevrolet C10
1986 Chevrolet C10 Suburban
1986 Chevrolet C20
1986 Chevrolet C20 Suburban
1986 Chevrolet C30
1986 Chevrolet Chevette
1986 Chevrolet G10
1986 Chevrolet G20
1986 Chevrolet G30
1986 Chevrolet K10
1986 Chevrolet K10 Suburban
1986 Chevrolet K20
1986 Chevrolet K20 Suburban
1986 Chevrolet K30
1986 Chevrolet K5 Blazer
1986 Chevrolet P20
1986 Chevrolet P30
1986 Chevrolet S10
1986 Chevrolet S10 Blazer
1985 Chevrolet Astro
1985 Chevrolet C10
1985 Chevrolet C10 Suburban
1985 Chevrolet C20
1985 Chevrolet C20 Suburban
1985 Chevrolet C30
1985 Chevrolet Caprice
1985 Chevrolet Chevette
1985 Chevrolet G10
1985 Chevrolet G20
1985 Chevrolet G30
1985 Chevrolet Impala
1985 Chevrolet K10
1985 Chevrolet K10 Suburban
1985 Chevrolet K20
1985 Chevrolet K20 Suburban
1985 Chevrolet K30
1985 Chevrolet K5 Blazer
1985 Chevrolet Monte Carlo
1985 Chevrolet P20
1985 Chevrolet P30
1985 Chevrolet S10
1985 Chevrolet S10 Blazer
1984 Chevrolet C10
1984 Chevrolet C10 Suburban
1984 Chevrolet C20
1984 Chevrolet C20 Suburban
1984 Chevrolet C30
1984 Chevrolet Caprice
1984 Chevrolet Chevette
1984 Chevrolet El Camino
1984 Chevrolet G10
1984 Chevrolet G20
1984 Chevrolet G30
1984 Chevrolet Impala
1984 Chevrolet K10
1984 Chevrolet K10 Suburban
1984 Chevrolet K20
1984 Chevrolet K20 Suburban
1984 Chevrolet K30
1984 Chevrolet K5 Blazer
1984 Chevrolet Monte Carlo
1984 Chevrolet P20
1984 Chevrolet P30
1984 Chevrolet S10
1984 Chevrolet S10 Blazer
1983 Chevrolet C10
1983 Chevrolet C10 Suburban
1983 Chevrolet C20
1983 Chevrolet C20 Suburban
1983 Chevrolet C30
1983 Chevrolet Caprice
1983 Chevrolet Chevette
1983 Chevrolet El Camino
1983 Chevrolet G10
1983 Chevrolet G20
1983 Chevrolet G30
1983 Chevrolet Impala
1983 Chevrolet K10
1983 Chevrolet K10 Suburban
1983 Chevrolet K20
1983 Chevrolet K20 Suburban
1983 Chevrolet K30
1983 Chevrolet K5 Blazer
1983 Chevrolet Malibu
1983 Chevrolet Monte Carlo
1983 Chevrolet P20
1983 Chevrolet P30
1983 Chevrolet S10
1983 Chevrolet S10 Blazer
1982 Chevrolet C10
1982 Chevrolet C10 Suburban
1982 Chevrolet C20
1982 Chevrolet C20 Suburban
1982 Chevrolet C30
1982 Chevrolet Caprice
1982 Chevrolet Chevette
1982 Chevrolet G10
1982 Chevrolet G20
1982 Chevrolet G30
1982 Chevrolet Impala
1982 Chevrolet K10
1982 Chevrolet K10 Suburban
1982 Chevrolet K20
1982 Chevrolet K20 Suburban
1982 Chevrolet K30
1982 Chevrolet K5 Blazer
1982 Chevrolet Malibu
1982 Chevrolet Monte Carlo
1982 Chevrolet P20
1982 Chevrolet P30
1981 Chevrolet Camaro
1981 Chevrolet Caprice
1981 Chevrolet Chevette
1981 Chevrolet El Camino
1981 Chevrolet Impala
1981 Chevrolet K20 Suburban
1981 Chevrolet Malibu
1981 Chevrolet Monte Carlo
1980 Chevrolet C10
1980 Chevrolet C10 Suburban
1980 Chevrolet C20
1980 Chevrolet C20 Suburban
1980 Chevrolet C30
1980 Chevrolet Camaro
1980 Chevrolet Caprice
1980 Chevrolet Citation
1980 Chevrolet Corvette
1980 Chevrolet El Camino
1980 Chevrolet Impala
1980 Chevrolet K10
1980 Chevrolet K20
1980 Chevrolet K20 Suburban
1980 Chevrolet K30
1980 Chevrolet Malibu
1980 Chevrolet Monte Carlo
1980 Chevrolet P30
1979 Chevrolet C10
1979 Chevrolet C20
1979 Chevrolet C20 Suburban
1979 Chevrolet C30
1979 Chevrolet Camaro
1979 Chevrolet Caprice
1979 Chevrolet Corvette
1979 Chevrolet El Camino
1979 Chevrolet Impala
1979 Chevrolet K10
1979 Chevrolet Malibu
1979 Chevrolet Monte Carlo
1979 Chevrolet Monza
1979 Chevrolet Nova
1979 Chevrolet P20
1979 Chevrolet P30
1978 Chevrolet C10
1978 Chevrolet C20 Suburban
1978 Chevrolet C30
1978 Chevrolet Camaro
1978 Chevrolet Caprice
1978 Chevrolet Corvette
1978 Chevrolet Impala
1978 Chevrolet K20
1978 Chevrolet Malibu
1978 Chevrolet Monte Carlo
1978 Chevrolet Monza
1978 Chevrolet Nova
1978 Chevrolet P10
1978 Chevrolet P30
1977 Chevrolet C10
1977 Chevrolet C20
1977 Chevrolet C20 Suburban
1977 Chevrolet C30
1977 Chevrolet Camaro
1977 Chevrolet Caprice
1977 Chevrolet Corvette
1977 Chevrolet G10
1977 Chevrolet G20
1977 Chevrolet G30
1977 Chevrolet Impala
1977 Chevrolet K20
1977 Chevrolet K30
1977 Chevrolet Malibu
1977 Chevrolet Monte Carlo
1977 Chevrolet Nova
1977 Chevrolet P10
1977 Chevrolet P30
1976 Chevrolet C10
1976 Chevrolet C20
1976 Chevrolet C20 Suburban
1976 Chevrolet C30
1976 Chevrolet Camaro
1976 Chevrolet Caprice
1976 Chevrolet Corvette
1976 Chevrolet G10
1976 Chevrolet G20
1976 Chevrolet G30
1976 Chevrolet K10
1976 Chevrolet K20
1976 Chevrolet Laguna
1976 Chevrolet Malibu
1976 Chevrolet Monte Carlo
1976 Chevrolet Nova
1976 Chevrolet P20
1976 Chevrolet P30
1976 Chevrolet Vega
1975 Chevrolet Bel Air
1975 Chevrolet C10 Suburban
1975 Chevrolet C20 Suburban
1975 Chevrolet Camaro
1975 Chevrolet Caprice
1975 Chevrolet Corvette
1975 Chevrolet El Camino
1975 Chevrolet G10
1975 Chevrolet G20
1975 Chevrolet G30
1975 Chevrolet Impala
1975 Chevrolet K10
1975 Chevrolet K10 Suburban
1975 Chevrolet K20
1975 Chevrolet K20 Suburban
1975 Chevrolet K5 Blazer
1975 Chevrolet Laguna
1975 Chevrolet Malibu
1975 Chevrolet Monte Carlo
1975 Chevrolet Nova
1975 Chevrolet P10
1975 Chevrolet P20
1975 Chevrolet P30
1974 Chevrolet Bel Air
1974 Chevrolet Blazer
1974 Chevrolet C10 Pickup
1974 Chevrolet C10 Suburban
1974 Chevrolet C20 Pickup
1974 Chevrolet C20 Suburban
1974 Chevrolet C30 Pickup
1974 Chevrolet Camaro
1974 Chevrolet Caprice
1974 Chevrolet Corvette
1974 Chevrolet El Camino
1974 Chevrolet G10 Van
1974 Chevrolet G20 Van
1974 Chevrolet G30 Van
1974 Chevrolet Impala
1974 Chevrolet K10 Pickup
1974 Chevrolet K10 Suburban
1974 Chevrolet K20 Pickup
1974 Chevrolet K20 Suburban
1974 Chevrolet K30 Pickup
1974 Chevrolet Laguna
1974 Chevrolet Malibu
1974 Chevrolet Monte Carlo
1974 Chevrolet Nova
1974 Chevrolet P20 Van
1974 Chevrolet P30 Van
1973 Chevrolet Bel Air
1973 Chevrolet Blazer
1973 Chevrolet C10 Pickup
1973 Chevrolet C10 Suburban
1973 Chevrolet C20 Pickup
1973 Chevrolet C20 Suburban
1973 Chevrolet C30 Pickup
1973 Chevrolet Camaro
1973 Chevrolet Caprice
1973 Chevrolet Chevelle
1973 Chevrolet Corvette
1973 Chevrolet El Camino
1973 Chevrolet G10 Van
1973 Chevrolet G20 Van
1973 Chevrolet G30 Van
1973 Chevrolet Impala
1973 Chevrolet K10 Pickup
1973 Chevrolet K10 Suburban
1973 Chevrolet K20 Pickup
1973 Chevrolet K20 Suburban
1973 Chevrolet K30 Pickup
1973 Chevrolet Laguna
1973 Chevrolet Malibu
1973 Chevrolet Monte Carlo
1973 Chevrolet Nova
1973 Chevrolet P10 Van
1973 Chevrolet P20 Van
1973 Chevrolet P30 Van
1972 Chevrolet Bel Air
1972 Chevrolet Biscayne
1972 Chevrolet Blazer
1972 Chevrolet Brookwood
1972 Chevrolet C10 Pickup
1972 Chevrolet C10 Suburban
1972 Chevrolet C20 Pickup
1972 Chevrolet C20 Suburban
1972 Chevrolet C30 Pickup
1972 Chevrolet Camaro
1972 Chevrolet Caprice
1972 Chevrolet Chevelle
1972 Chevrolet Corvette
1972 Chevrolet El Camino
1972 Chevrolet G10 Van
1972 Chevrolet G20 Van
1972 Chevrolet G30 Van
1972 Chevrolet Impala
1972 Chevrolet K10 Pickup
1972 Chevrolet K10 Suburban
1972 Chevrolet K20 Pickup
1972 Chevrolet K20 Suburban
1972 Chevrolet K30 Pickup
1972 Chevrolet Kingswood
1972 Chevrolet Monte Carlo
1972 Chevrolet Nova
1972 Chevrolet P20 Van
1972 Chevrolet P30 Van
1972 Chevrolet Townsman
1971 Chevrolet Bel Air
1971 Chevrolet Biscayne
1971 Chevrolet Blazer
1971 Chevrolet Brookwood
1971 Chevrolet C10 Pickup
1971 Chevrolet C10 Suburban
1971 Chevrolet C20 Pickup
1971 Chevrolet C20 Suburban
1971 Chevrolet C30 Pickup
1971 Chevrolet Camaro
1971 Chevrolet Caprice
1971 Chevrolet Chevelle
1971 Chevrolet Corvette
1971 Chevrolet El Camino
1971 Chevrolet G10 Van
1971 Chevrolet G20 Van
1971 Chevrolet G30 Van
1971 Chevrolet Impala
1971 Chevrolet K10 Pickup
1971 Chevrolet K10 Suburban
1971 Chevrolet K20 Pickup
1971 Chevrolet K20 Suburban
1971 Chevrolet K30 Pickup
1971 Chevrolet Kingswood
1971 Chevrolet Monte Carlo
1971 Chevrolet Nova
1971 Chevrolet P10 Van
1971 Chevrolet P20 Van
1971 Chevrolet P30 Van
1971 Chevrolet Townsman
1970 Chevrolet Bel Air
1970 Chevrolet Biscayne
1970 Chevrolet Brookwood
1970 Chevrolet Camaro
1970 Chevrolet Caprice
1970 Chevrolet Chevelle
1970 Chevrolet Corvette
1970 Chevrolet Impala
1970 Chevrolet Kingswood
1970 Chevrolet Monte Carlo
1970 Chevrolet Nova
1970 Chevrolet Townsman
1969 Chevrolet Camaro
1969 Chevrolet Corvette
1969 Chevrolet Kingswood
1969 Chevrolet Townsman
Dodge
2002 Dodge Viper
2001 Dodge Viper
2000 Dodge Viper
1999 Dodge Viper
1998 Dodge Viper
1997 Dodge Viper
1992 Dodge Viper
GMC
2021 GMC Savana 2500
2021 GMC Savana 3500
2020 GMC Savana 2500
2020 GMC Savana 3500
2019 GMC Savana 2500
2019 GMC Savana 3500
2018 GMC Savana 2500
2018 GMC Savana 3500
2017 GMC Savana 2500
2017 GMC Savana 3500
2016 GMC Savana 2500
2016 GMC Savana 3500
2015 GMC Savana 2500
2015 GMC Savana 3500
2014 GMC Savana 1500
2014 GMC Savana 2500
2014 GMC Savana 3500
2013 GMC Savana 1500
2013 GMC Savana 2500
2013 GMC Savana 3500
2012 GMC Savana 1500
2012 GMC Savana 2500
2012 GMC Savana 3500
2011 GMC Savana 1500
2011 GMC Savana 2500
2011 GMC Savana 3500
2010 GMC Savana 1500
2010 GMC Savana 2500
2010 GMC Savana 3500
2009 GMC Envoy
2009 GMC Savana 1500
2009 GMC Savana 2500
2009 GMC Savana 3500
2008 GMC Envoy
2008 GMC Savana 1500
2008 GMC Savana 2500
2008 GMC Savana 3500
2007 GMC Envoy
2007 GMC Savana 1500
2007 GMC Savana 2500
2007 GMC Savana 3500
2007 GMC Sierra 1500
2007 GMC Sierra 1500 Classic
2007 GMC Sierra 1500 HD Classic
2007 GMC Sierra 2500 HD
2007 GMC Sierra 2500 HD Classic
2007 GMC Sierra 3500 Classic
2007 GMC Sierra 3500 HD
2006 GMC Envoy
2006 GMC Envoy XL
2006 GMC Savana 1500
2006 GMC Savana 2500
2006 GMC Savana 3500
2006 GMC Sierra 1500
2006 GMC Sierra 1500 HD
2006 GMC Sierra 2500 HD
2006 GMC Sierra 3500
2006 GMC Yukon
2006 GMC Yukon XL 1500
2006 GMC Yukon XL 2500
2005 GMC Envoy
2005 GMC Envoy XL
2005 GMC Envoy XUV
2005 GMC Safari
2005 GMC Savana 1500
2005 GMC Savana 2500
2005 GMC Savana 3500
2005 GMC Sierra 1500
2005 GMC Sierra 1500 HD
2005 GMC Sierra 2500 HD
2005 GMC Sierra 3500
2005 GMC Yukon
2005 GMC Yukon XL 1500
2005 GMC Yukon XL 2500
2004 GMC Envoy
2004 GMC Envoy XL
2004 GMC Envoy XUV
2004 GMC Safari
2004 GMC Savana 1500
2004 GMC Savana 2500
2004 GMC Savana 3500
2004 GMC Sierra 1500
2004 GMC Sierra 2500
2004 GMC Sierra 2500 HD
2004 GMC Sierra 3500
2004 GMC Yukon
2004 GMC Yukon XL 1500
2004 GMC Yukon XL 2500
2003 GMC Envoy
2003 GMC Envoy XL
2003 GMC Safari
2003 GMC Savana 1500
2003 GMC Savana 2500
2003 GMC Savana 3500
2003 GMC Sierra 1500
2003 GMC Sierra 1500 HD
2003 GMC Sierra 2500
2003 GMC Sierra 2500 HD
2003 GMC Sierra 3500
2003 GMC Yukon
2003 GMC Yukon XL 1500
2003 GMC Yukon XL 2500
2002 GMC Envoy
2002 GMC Envoy XL
2002 GMC Safari
2002 GMC Savana 1500
2002 GMC Savana 2500
2002 GMC Savana 3500
2002 GMC Sierra 1500
2002 GMC Sierra 1500 HD
2002 GMC Sierra 2500
2002 GMC Sierra 2500 HD
2002 GMC Sierra 3500
2002 GMC Yukon
2002 GMC Yukon XL 1500
2002 GMC Yukon XL 2500
2001 GMC Safari
2001 GMC Savana 1500
2001 GMC Savana 2500
2001 GMC Savana 3500
2001 GMC Sierra 1500
2001 GMC Sierra 1500 HD
2001 GMC Sierra 2500
2001 GMC Sierra 2500 HD
2001 GMC Sierra 3500
2001 GMC Yukon
2001 GMC Yukon XL 1500
2001 GMC Yukon XL 2500
2000 GMC C2500
2000 GMC C3500
2000 GMC K2500
2000 GMC K3500
2000 GMC Safari
2000 GMC Savana 1500
2000 GMC Savana 2500
2000 GMC Savana 3500
2000 GMC Sierra 1500
2000 GMC Sierra 2500
2000 GMC Yukon
2000 GMC Yukon XL 1500
2000 GMC Yukon XL 2500
1999 GMC C1500
1999 GMC C1500 Suburban
1999 GMC C2500
1999 GMC C2500 Suburban
1999 GMC C3500
1999 GMC K1500
1999 GMC K1500 Suburban
1999 GMC K2500
1999 GMC K2500 Suburban
1999 GMC K3500
1999 GMC P3500
1999 GMC Safari
1999 GMC Savana 1500
1999 GMC Savana 2500
1999 GMC Savana 3500
1999 GMC Sierra 1500
1999 GMC Sierra 2500
1999 GMC Yukon
1998 GMC C1500
1998 GMC C1500 Suburban
1998 GMC C2500
1998 GMC C2500 Suburban
1998 GMC C3500
1998 GMC K1500
1998 GMC K1500 Suburban
1998 GMC K2500
1998 GMC K2500 Suburban
1998 GMC K3500
1998 GMC P3500
1998 GMC Safari
1998 GMC Savana 1500
1998 GMC Savana 2500
1998 GMC Savana 3500
1998 GMC Yukon
1997 GMC C1500
1997 GMC C1500 Suburban
1997 GMC C2500
1997 GMC C2500 Suburban
1997 GMC C3500
1997 GMC K1500
1997 GMC K1500 Suburban
1997 GMC K2500
1997 GMC K2500 Suburban
1997 GMC K3500
1997 GMC P3500
1997 GMC Safari
1997 GMC Savana 1500
1997 GMC Savana 2500
1997 GMC Savana 3500
1997 GMC Yukon
1996 GMC C1500
1996 GMC C1500 Suburban
1996 GMC C2500
1996 GMC C2500 Suburban
1996 GMC C3500
1996 GMC G3500
1996 GMC K1500
1996 GMC K1500 Suburban
1996 GMC K2500
1996 GMC K2500 Suburban
1996 GMC K3500
1996 GMC P3500
1996 GMC Safari
1996 GMC Savana 1500
1996 GMC Savana 2500
1996 GMC Savana 3500
1996 GMC Yukon
1995 GMC C1500
1995 GMC C1500 Suburban
1995 GMC C2500
1995 GMC C2500 Suburban
1995 GMC C3500
1995 GMC G1500
1995 GMC G2500
1995 GMC G3500
1995 GMC K1500
1995 GMC K1500 Suburban
1995 GMC K2500
1995 GMC K2500 Suburban
1995 GMC K3500
1995 GMC P3500
1995 GMC Safari
1995 GMC Yukon
1994 GMC C1500
1994 GMC C1500 Suburban
1994 GMC C2500
1994 GMC C2500 Suburban
1994 GMC C3500
1994 GMC G1500
1994 GMC G2500
1994 GMC G3500
1994 GMC K1500
1994 GMC K1500 Suburban
1994 GMC K2500
1994 GMC K2500 Suburban
1994 GMC K3500
1994 GMC P3500
1994 GMC Safari
1994 GMC Yukon
1993 GMC C1500
1993 GMC C1500 Suburban
1993 GMC C2500
1993 GMC C2500 Suburban
1993 GMC C3500
1993 GMC G1500
1993 GMC G2500
1993 GMC G3500
1993 GMC Jimmy
1993 GMC K1500
1993 GMC K1500 Suburban
1993 GMC K2500
1993 GMC K2500 Suburban
1993 GMC K3500
1993 GMC P3500
1993 GMC Safari
1993 GMC Sonoma
1993 GMC Typhoon
1993 GMC Yukon
1992 GMC C1500
1992 GMC C1500 Suburban
1992 GMC C2500
1992 GMC C2500 Suburban
1992 GMC C3500
1992 GMC G1500
1992 GMC G2500
1992 GMC G3500
1992 GMC Jimmy
1992 GMC K1500
1992 GMC K1500 Suburban
1992 GMC K2500
1992 GMC K2500 Suburban
1992 GMC K3500
1992 GMC P3500
1992 GMC Safari
1992 GMC Sonoma
1992 GMC Typhoon
1992 GMC Yukon
1991 GMC C1500
1991 GMC C2500
1991 GMC C3500
1991 GMC G1500
1991 GMC G2500
1991 GMC G3500
1991 GMC Jimmy
1991 GMC K1500
1991 GMC K2500
1991 GMC K3500
1991 GMC P3500
1991 GMC R1500 Suburban
1991 GMC R2500 Suburban
1991 GMC R3500
1991 GMC S15 Jimmy
1991 GMC Safari
1991 GMC Sonoma
1991 GMC Syclone
1991 GMC V1500 Suburban
1991 GMC V2500 Suburban
1991 GMC V3500
1990 GMC C1500
1990 GMC C2500
1990 GMC C3500
1990 GMC G2500
1990 GMC G3500
1990 GMC Jimmy
1990 GMC K1500
1990 GMC K2500
1990 GMC K3500
1990 GMC P3500
1990 GMC R1500 Suburban
1990 GMC R2500 Suburban
1990 GMC R3500
1990 GMC S15
1990 GMC S15 Jimmy
1990 GMC Safari
1990 GMC V1500 Suburban
1990 GMC V2500 Suburban
1990 GMC V3500
1989 GMC C1500
1989 GMC C2500
1989 GMC C3500
1989 GMC G1500
1989 GMC G2500
1989 GMC G3500
1989 GMC Jimmy
1989 GMC K1500
1989 GMC K2500
1989 GMC K3500
1989 GMC P2500
1989 GMC P3500
1989 GMC R2500
1989 GMC R2500 Suburban
1989 GMC R3500
1989 GMC S15
1989 GMC S15 Jimmy
1989 GMC Safari
1989 GMC V3500
1988 GMC C1500
1988 GMC C2500
1988 GMC C3500
1988 GMC G1500
1988 GMC G2500
1988 GMC G3500
1988 GMC Jimmy
1988 GMC K1500
1988 GMC K2500
1988 GMC K3500
1988 GMC R2500
1988 GMC R2500 Suburban
1988 GMC R3500
1988 GMC S15
1988 GMC S15 Jimmy
1988 GMC Safari
1988 GMC V3500
1987 GMC G1500
1987 GMC G2500
1987 GMC G3500
1987 GMC Jimmy
1987 GMC R1500
1987 GMC R1500 Suburban
1987 GMC R2500
1987 GMC R2500 Suburban
1987 GMC R3500
1987 GMC S15
1987 GMC S15 Jimmy
1987 GMC Safari
1987 GMC V1500
1987 GMC V2500
1987 GMC V3500
1986 GMC C1500
1986 GMC C1500 Suburban
1986 GMC C2500
1986 GMC C2500 Suburban
1986 GMC C3500
1986 GMC G1500
1986 GMC G2500
1986 GMC G3500
1986 GMC Jimmy
1986 GMC K1500
1986 GMC K1500 Suburban
1986 GMC K2500
1986 GMC K2500 Suburban
1986 GMC K3500
1986 GMC S15
1986 GMC S15 Jimmy
1986 GMC Safari
1985 GMC C1500
1985 GMC C1500 Suburban
1985 GMC C2500
1985 GMC C2500 Suburban
1985 GMC C3500
1985 GMC G1500
1985 GMC G2500
1985 GMC G3500
1985 GMC Jimmy
1985 GMC K1500
1985 GMC K1500 Suburban
1985 GMC K2500
1985 GMC K2500 Suburban
1985 GMC K3500
1985 GMC S15
1985 GMC S15 Jimmy
1985 GMC Safari
1984 GMC C1500
1984 GMC C1500 Suburban
1984 GMC C2500
1984 GMC C2500 Suburban
1984 GMC C3500
1984 GMC Caballero
1984 GMC G1500
1984 GMC G2500
1984 GMC G3500
1984 GMC Jimmy
1984 GMC K1500
1984 GMC K1500 Suburban
1984 GMC K2500
1984 GMC K2500 Suburban
1984 GMC K3500
1984 GMC S15
1984 GMC S15 Jimmy
1983 GMC C1500
1983 GMC C1500 Suburban
1983 GMC C2500
1983 GMC C2500 Suburban
1983 GMC C3500
1983 GMC Caballero
1983 GMC G1500
1983 GMC G2500
1983 GMC G3500
1983 GMC Jimmy
1983 GMC K1500
1983 GMC K1500 Suburban
1983 GMC K2500
1983 GMC K2500 Suburban
1983 GMC K3500
1983 GMC S15
1983 GMC S15 Jimmy
1982 GMC C1500
1982 GMC C1500 Suburban
1982 GMC C2500
1982 GMC C2500 Suburban
1982 GMC C3500
1982 GMC G1500
1982 GMC G2500
1982 GMC G3500
1982 GMC Jimmy
1982 GMC K1500
1982 GMC K1500 Suburban
1982 GMC K2500
1982 GMC K2500 Suburban
1982 GMC K3500
1982 GMC P3500
1981 GMC Caballero
1981 GMC P3500
1980 GMC C1500
1980 GMC C1500 Suburban
1980 GMC C2500
1980 GMC C2500 Suburban
1980 GMC C3500
1980 GMC Caballero
1980 GMC K1500
1980 GMC K3500
1980 GMC P3500
1979 GMC C1500
1979 GMC C1500 Suburban
1979 GMC C2500
1979 GMC C2500 Suburban
1979 GMC C3500
1979 GMC Caballero
1979 GMC K1500
1979 GMC K3500
1979 GMC P3500
1978 GMC C15
1978 GMC C15 Suburban
1978 GMC C25
1978 GMC C25 Suburban
1978 GMC C35
1978 GMC Caballero
1978 GMC K25
1978 GMC P35
1977 GMC C15
1977 GMC C15 Suburban
1977 GMC C25
1977 GMC C25 Suburban
1977 GMC C35
1977 GMC K25
1977 GMC P25
1977 GMC P35
1977 GMC Sprint
1976 GMC C15
1976 GMC C15 Suburban
1976 GMC C25
1976 GMC C25 Suburban
1976 GMC C35
1976 GMC G25
1976 GMC G35
1976 GMC Jimmy
1976 GMC K15
1976 GMC K25
1976 GMC K25 Suburban
1976 GMC P25
1976 GMC P35
1976 GMC Sprint
1975 GMC C15
1975 GMC C15 Suburban
1975 GMC C25
1975 GMC C25 Suburban
1975 GMC C35
1975 GMC G25
1975 GMC Jimmy
1975 GMC P25
1975 GMC P35
1975 GMC Sprint
1974 GMC C15/C1500 Pickup
1974 GMC C15/C1500 Suburban
1974 GMC C25/C2500 Pickup
1974 GMC C25/C2500 Suburban
1974 GMC C35/C3500 Pickup
1974 GMC G35/G3500 Van
1974 GMC Jimmy
1974 GMC K15/K1500 Suburban
1974 GMC K25/K2500 Pickup
1974 GMC K25/K2500 Suburban
1974 GMC K35/K3500 Pickup
1974 GMC P25/P2500 Van
1974 GMC P35/P3500 Van
1974 GMC Sprint
1973 GMC C15/C1500 Pickup
1973 GMC C15/C1500 Suburban
1973 GMC C25/C2500 Pickup
1973 GMC C25/C2500 Suburban
1973 GMC C35/C3500 Pickup
1973 GMC Jimmy
1973 GMC K25/K2500 Pickup
1973 GMC K35/K3500 Pickup
1973 GMC P15/P1500 Van
1973 GMC P25/P2500 Van
1973 GMC P35/P3500 Van
1973 GMC Sprint
1972 GMC C15/C1500 Pickup
1972 GMC C15/C1500 Suburban
1972 GMC C25/C2500 Pickup
1972 GMC C25/C2500 Suburban
1972 GMC C35/C3500 Pickup
1972 GMC Jimmy
1972 GMC K15/K1500 Pickup
1972 GMC K15/K1500 Suburban
1972 GMC K25/K2500 Pickup
1972 GMC K25/K2500 Suburban
1972 GMC K35/K3500 Pickup
1972 GMC P15/P1500 Van
1972 GMC P25/P2500 Van
1972 GMC P35/P3500 Van
1972 GMC Sprint
1971 GMC C15/C1500 Pickup
1971 GMC C15/C1500 Suburban
1971 GMC C25/C2500 Pickup
1971 GMC C25/C2500 Suburban
1971 GMC C35/C3500 Pickup
1971 GMC G25/G2500 Van
1971 GMC G35/G3500 Van
1971 GMC Jimmy
1971 GMC P15/P1500 Van
1971 GMC P25/P2500 Van
1971 GMC P35/P3500 Van
1971 GMC Sprint
1970 GMC G25/G2500 Van
International
1980 International Scout II
1979 International Scout II
1978 International Scout II
1977 International Scout II
1976 International Scout II
1975 International Scout II
1974 International Scout II
1973 International Scout II
1972 International Scout II
1971 International Scout II
Isuzu
2008 Isuzu Ascender
2007 Isuzu Ascender
2006 Isuzu Ascender
2005 Isuzu Ascender
2004 Isuzu Ascender
2003 Isuzu Ascender
Jaguar
1985 Jaguar Vanden Plas
1985 Jaguar XJ6
1984 Jaguar Vanden Plas
1984 Jaguar XJ6
1983 Jaguar Vanden Plas
1983 Jaguar XJ6
1982 Jaguar Vanden Plas
1982 Jaguar XJ6
1981 Jaguar XJ6
Oldsmobile
2004 Oldsmobile Bravada
2004 Oldsmobile Silhouette
2003 Oldsmobile Bravada
2003 Oldsmobile Silhouette
2002 Oldsmobile Bravada
2002 Oldsmobile Silhouette
2001 Oldsmobile Silhouette
2000 Oldsmobile Silhouette
1999 Oldsmobile Silhouette
1998 Oldsmobile Silhouette
1997 Oldsmobile Cutlass
1997 Oldsmobile Cutlass Supreme
1997 Oldsmobile Silhouette
1996 Oldsmobile Cutlass Ciera
1996 Oldsmobile Cutlass Supreme
1995 Oldsmobile Cutlass Ciera
1995 Oldsmobile Cutlass Supreme
1994 Oldsmobile 98
1994 Oldsmobile Bravada
1993 Oldsmobile Bravada
1992 Oldsmobile Bravada
1991 Oldsmobile Bravada
1987 Oldsmobile Toronado
1986 Oldsmobile Toronado
1985 Oldsmobile Custom Cruiser
1985 Oldsmobile Cutlass Salon
1985 Oldsmobile Cutlass Supreme
1985 Oldsmobile Delta 88
1985 Oldsmobile Toronado
1984 Oldsmobile 98
1984 Oldsmobile Custom Cruiser
1984 Oldsmobile Cutlass Calais
1984 Oldsmobile Cutlass Supreme
1984 Oldsmobile Delta 88
1984 Oldsmobile Toronado
1983 Oldsmobile 98
1983 Oldsmobile Custom Cruiser
1983 Oldsmobile Cutlass Calais
1983 Oldsmobile Cutlass Cruiser
1983 Oldsmobile Cutlass Supreme
1983 Oldsmobile Delta 88
1983 Oldsmobile Toronado
1982 Oldsmobile 98
1982 Oldsmobile Custom Cruiser
1982 Oldsmobile Cutlass Calais
1982 Oldsmobile Cutlass Cruiser
1982 Oldsmobile Cutlass Supreme
1982 Oldsmobile Delta 88
1982 Oldsmobile Toronado
1981 Oldsmobile 98
1981 Oldsmobile Custom Cruiser
1981 Oldsmobile Cutlass
1981 Oldsmobile Cutlass Calais
1981 Oldsmobile Cutlass Cruiser
1981 Oldsmobile Cutlass Supreme
1981 Oldsmobile Delta 88
1981 Oldsmobile Toronado
1980 Oldsmobile 98
1980 Oldsmobile Custom Cruiser
1980 Oldsmobile Cutlass
1980 Oldsmobile Cutlass Calais
1980 Oldsmobile Cutlass Cruiser
1980 Oldsmobile Cutlass Salon
1980 Oldsmobile Cutlass Supreme
1980 Oldsmobile Delta 88
1980 Oldsmobile Omega
1980 Oldsmobile Starfire
1980 Oldsmobile Toronado
1979 Oldsmobile 98
1979 Oldsmobile Custom Cruiser
1979 Oldsmobile Cutlass
1979 Oldsmobile Cutlass Calais
1979 Oldsmobile Cutlass Salon
1979 Oldsmobile Cutlass Supreme
1979 Oldsmobile Delta 88
1979 Oldsmobile Starfire
1979 Oldsmobile Toronado
1978 Oldsmobile 98
1978 Oldsmobile Custom Cruiser
1978 Oldsmobile Delta 88
1978 Oldsmobile Starfire
1978 Oldsmobile Toronado
1977 Oldsmobile 98
1977 Oldsmobile Custom Cruiser
1977 Oldsmobile Cutlass
1977 Oldsmobile Cutlass Salon
1977 Oldsmobile Cutlass Supreme
1977 Oldsmobile Delta 88
1977 Oldsmobile Toronado
1976 Oldsmobile 98
1976 Oldsmobile Custom Cruiser
1976 Oldsmobile Cutlass
1976 Oldsmobile Cutlass Salon
1976 Oldsmobile Cutlass Supreme
1976 Oldsmobile Cutlass Tiara
1976 Oldsmobile Delta 88
1976 Oldsmobile Toronado
1975 Oldsmobile 98
1975 Oldsmobile Custom Cruiser
1975 Oldsmobile Cutlass
1975 Oldsmobile Cutlass Salon
1975 Oldsmobile Cutlass Supreme
1975 Oldsmobile Delta 88
1975 Oldsmobile Toronado
1975 Oldsmobile Vista Cruiser
1974 Oldsmobile 98
1974 Oldsmobile Custom Cruiser
1974 Oldsmobile Cutlass
1974 Oldsmobile Cutlass Supreme
1974 Oldsmobile Delta 88
1974 Oldsmobile Toronado
1974 Oldsmobile Vista Cruiser
1973 Oldsmobile 98
1973 Oldsmobile Custom Cruiser
1973 Oldsmobile Cutlass
1973 Oldsmobile Cutlass Supreme
1973 Oldsmobile Delta 88
1973 Oldsmobile Omega
1973 Oldsmobile Toronado
1973 Oldsmobile Vista Cruiser
1972 Oldsmobile 98
1972 Oldsmobile Custom Cruiser
1972 Oldsmobile Cutlass
1972 Oldsmobile Cutlass Supreme
1972 Oldsmobile Delta 88
1972 Oldsmobile F85
1972 Oldsmobile Toronado
1972 Oldsmobile Vista Cruiser
1971 Oldsmobile 98
1971 Oldsmobile Custom Cruiser
1971 Oldsmobile Cutlass
1971 Oldsmobile Cutlass Supreme
1971 Oldsmobile Delta 88
1971 Oldsmobile Toronado
Pontiac
2005 Pontiac Aztek
2005 Pontiac Montana
2004 Pontiac Aztek
2004 Pontiac Montana
2003 Pontiac Aztek
2003 Pontiac Grand Prix
2003 Pontiac Montana
2002 Pontiac Aztek
2002 Pontiac Grand Prix
2002 Pontiac Montana
2001 Pontiac Aztek
2001 Pontiac Grand Prix
2001 Pontiac Montana
2000 Pontiac Grand Prix
2000 Pontiac Montana
1999 Pontiac Grand Prix
1999 Pontiac Montana
1999 Pontiac Trans Sport
1998 Pontiac Grand Prix
1998 Pontiac Trans Sport
1997 Pontiac Grand Prix
1997 Pontiac Trans Sport
1996 Pontiac Grand Prix
1995 Pontiac Grand Prix
1986 Pontiac Acadian
1985 Pontiac Acadian
1985 Pontiac Bonneville
1985 Pontiac Grand Prix
1984 Pontiac Acadian
1984 Pontiac Bonneville
1984 Pontiac Grand Prix
1984 Pontiac Parisienne
1983 Pontiac Acadian
1983 Pontiac Bonneville
1983 Pontiac Grand LeMans
1983 Pontiac Grand Prix
1983 Pontiac Parisienne
1982 Pontiac Acadian
1982 Pontiac Bonneville
1982 Pontiac Grand LeMans
1982 Pontiac Grand Prix
1982 Pontiac Parisienne
1981 Pontiac Bonneville
1981 Pontiac Catalina
1981 Pontiac Grand Prix
1981 Pontiac Laurentian
1981 Pontiac Parisienne
1980 Pontiac Bonneville
1980 Pontiac Catalina
1980 Pontiac Firebird
1980 Pontiac Grand Am
1980 Pontiac Grand LeMans
1980 Pontiac Grand Prix
1980 Pontiac Laurentian
1980 Pontiac LeMans
1980 Pontiac Parisienne
1980 Pontiac Phoenix
1980 Pontiac Sunbird
1979 Pontiac Bonneville
1979 Pontiac Catalina
1979 Pontiac Firebird
1979 Pontiac Grand Am
1979 Pontiac Grand LeMans
1979 Pontiac Grand Prix
1979 Pontiac Laurentian
1979 Pontiac LeMans
1979 Pontiac Parisienne
1979 Pontiac Phoenix
1979 Pontiac Sunbird
1978 Pontiac Acadian
1978 Pontiac Bonneville
1978 Pontiac Catalina
1978 Pontiac Firebird
1978 Pontiac Grand Am
1978 Pontiac Grand LeMans
1978 Pontiac Grand Prix
1978 Pontiac Grand Safari
1978 Pontiac Laurentian
1978 Pontiac LeMans
1978 Pontiac Parisienne
1978 Pontiac Phoenix
1978 Pontiac Sunbird
1977 Pontiac Acadian
1977 Pontiac Astre
1977 Pontiac Bonneville
1977 Pontiac Catalina
1977 Pontiac Firebird
1977 Pontiac Grand LeMans
1977 Pontiac Grand Prix
1977 Pontiac Grand Safari
1977 Pontiac Laurentian
1977 Pontiac LeMans
1977 Pontiac Parisienne
1977 Pontiac Phoenix
1977 Pontiac Sunbird
1977 Pontiac Ventura
1976 Pontiac Bonneville
1976 Pontiac Catalina
1976 Pontiac Firebird
1976 Pontiac Grand LeMans
1976 Pontiac Grand Prix
1976 Pontiac Grand Safari
1976 Pontiac Laurentian
1976 Pontiac LeMans
1976 Pontiac Parisienne
1976 Pontiac Ventura
1975 Pontiac Bonneville
1975 Pontiac Catalina
1975 Pontiac Firebird
1975 Pontiac Grand Am
1975 Pontiac Grand LeMans
1975 Pontiac Grand Prix
1975 Pontiac Grand Safari
1975 Pontiac Grandville
1975 Pontiac LeMans
1975 Pontiac Ventura
1974 Pontiac Bonneville
1974 Pontiac Catalina
1974 Pontiac Firebird
1974 Pontiac Grand Am
1974 Pontiac Grand Prix
1974 Pontiac Grand Safari
1974 Pontiac Grandville
1974 Pontiac LeMans
1974 Pontiac Ventura
1973 Pontiac Bonneville
1973 Pontiac Catalina
1973 Pontiac Firebird
1973 Pontiac Grand Am
1973 Pontiac Grand Prix
1973 Pontiac Grand Safari
1973 Pontiac Grandville
1973 Pontiac GTO
1973 Pontiac LeMans
1973 Pontiac Ventura
1972 Pontiac Grand Safari
1972 Pontiac Grandville
1972 Pontiac GTO
1972 Pontiac LeMans
1972 Pontiac Ventura
1971 Pontiac Grand Safari
1971 Pontiac Grandville
1971 Pontiac GTO
1971 Pontiac LeMans
1971 Pontiac Ventura
Saab
2009 Saab 9-7x
2008 Saab 9-7x
2007 Saab 9-7x
2006 Saab 9-7x
2005 Saab 9-7x
Saturn
2005 Saturn L300
2004 Saturn L300
2003 Saturn L200
2003 Saturn L300
2003 Saturn LW200
2003 Saturn LW300
2002 Saturn L100
2002 Saturn L200
2002 Saturn L300
2002 Saturn LW200
2002 Saturn LW300
Workhorse
2005 Workhorse FasTrack FT1801
2004 Workhorse FasTrack FT1801
2003 Workhorse FasTrack FT1801
2003 Workhorse FasTrack FT1802
2002 Workhorse FasTrack FT1801
2002 Workhorse FasTrack FT1802