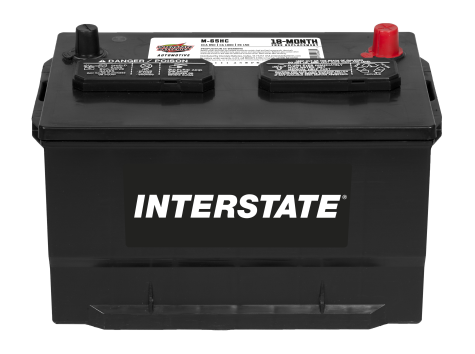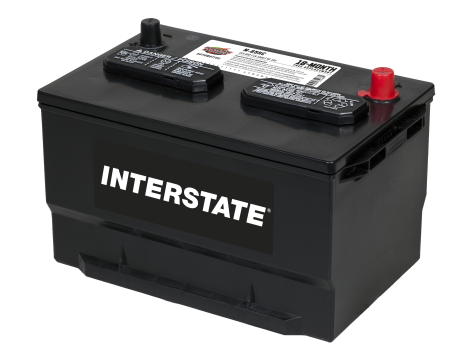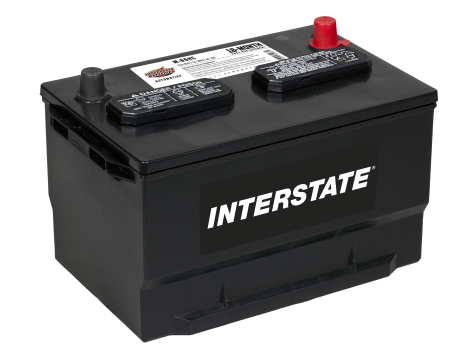 M-65HC
Price: Not Available
Group Size 65
850 Cold Cranking Amps (CCA)
18 Months Warranty
850 Cold Cranking Amps (CCA)
Group Size 65
Standard performance life with ample cranking power
Perfect for the value minded customer
Standard cycle life for accessories
18 Months Warranty
Free Replacement Warranty
Does This Battery Fit My Automobile
This Battery Fits Your Vehicle.
This Battery Does Not Fit Your Vehicle.
Suggested batteries for this vehicle, Click Here!
Enter your vehicle information
Find This Battery Near You
Hours of Operation
Contact Store For Hours of Operation
Description
Interstate's M series provides Interstate quality and standard performance for the value-minded customer.
Specifications
M-65HC

65

850

1000

150 minutes

N/A

11 3/8 inches
7 1/2 inches

7 1/2 inches

Common Code A

12

W

Flooded
Warranty
View warranty by purchase date.
For countries outside the U.S. and Canada, including Puerto Rico, please contact your local dealer for warranties and product availability.
This Battery Also Fits These Vehicles
Chrysler
2009 Chrysler Aspen
2008 Chrysler Aspen
2007 Chrysler Aspen
Dodge
2010 Dodge Dakota
2009 Dodge Dakota
2009 Dodge Durango
2009 Dodge Ram 1500
2009 Dodge Ram 2500
2009 Dodge Ram 3500
2008 Dodge Ram 1500
2008 Dodge Ram 2500
2008 Dodge Ram 3500
2007 Dodge Ram 1500
2007 Dodge Ram 2500
2007 Dodge Ram 3500
2006 Dodge Durango
2006 Dodge Ram 1500
2006 Dodge Ram 2500
2006 Dodge Ram 3500
2005 Dodge Durango
2005 Dodge Ram 1500
2005 Dodge Ram 2500
2005 Dodge Ram 3500
2004 Dodge Durango
2004 Dodge Ram 1500
2004 Dodge Ram 2500
2004 Dodge Ram 3500
2003 Dodge Ram 1500
2003 Dodge Ram 2500
2003 Dodge Ram 3500
2002 Dodge Ram 2500
2002 Dodge Ram 3500
Ford
2021 Ford E-350 Super Duty
2021 Ford F-250 Super Duty
2021 Ford F-350 Super Duty
2020 Ford F-250 Super Duty
2020 Ford F-350 Super Duty
2019 Ford F-250 Super Duty
2019 Ford F-350, F-350 Super Duty
2019 Ford Flex
2019 Ford Police Interceptor Sedan
2019 Ford Police Interceptor Utility
2018 Ford F-250 Super Duty
2018 Ford F-350 Super Duty
2018 Ford Flex
2018 Ford Police Interceptor Sedan
2018 Ford Police Interceptor Utility
2018 Ford Special Service Police Sedan
2017 Ford Expedition
2017 Ford Explorer
2017 Ford F-250 Super Duty
2017 Ford F-250, F-250 Super Duty
2017 Ford F-350 Super Duty
2017 Ford F-350, F-350 Super Duty
2017 Ford Flex
2017 Ford Police Interceptor Sedan
2017 Ford Police Interceptor Utility
2017 Ford Special Service Police Sedan
2016 Ford Expedition
2016 Ford F-250 Super Duty
2016 Ford F-350 Super Duty
2016 Ford Flex
2016 Ford Police Interceptor Sedan
2016 Ford Police Interceptor Utility
2016 Ford Special Service Police Sedan
2015 Ford Expedition
2015 Ford Explorer
2015 Ford F-250 Super Duty
2015 Ford F-350 Super Duty
2015 Ford Flex
2015 Ford Police Interceptor Sedan
2015 Ford Police Interceptor Utility
2015 Ford Special Service Police Sedan
2014 Ford Expedition
2014 Ford Explorer
2014 Ford F-150
2014 Ford F-250 Super Duty
2014 Ford F-350 Super Duty
2014 Ford Flex
2014 Ford Police Interceptor Sedan
2014 Ford Special Service Police Sedan
2014 Ford Taurus
2013 Ford Expedition
2013 Ford F-150
2013 Ford F-250 Super Duty
2013 Ford F-350 Super Duty
2013 Ford Flex
2013 Ford Taurus
2012 Ford Expedition
2012 Ford F-150
2012 Ford F-250 Super Duty
2012 Ford F-350 Super Duty
2012 Ford Flex
2011 Ford Crown Victoria
2011 Ford Expedition
2011 Ford F-150
2011 Ford F-250 Super Duty
2011 Ford F-350 Super Duty
2011 Ford Flex
2010 Ford Crown Victoria
2010 Ford E-350 Super Duty
2010 Ford Expedition
2010 Ford F-150
2010 Ford F-250 Super Duty
2010 Ford F-350 Super Duty
2010 Ford Flex
2009 Ford Crown Victoria
2009 Ford E-350 Super Duty
2009 Ford Expedition
2009 Ford F-250 Super Duty
2009 Ford F-350 Super Duty
2009 Ford Flex
2008 Ford E-350 Super Duty
2008 Ford Expedition
2008 Ford F-250 Super Duty
2008 Ford F-350 Super Duty
2007 Ford E-350 Super Duty
2007 Ford Expedition
2007 Ford F-250 Super Duty
2007 Ford F-350 Super Duty
2006 Ford Crown Victoria
2006 Ford E-350 Super Duty
2006 Ford Explorer
2006 Ford F-250 Super Duty
2006 Ford F-350 Super Duty
2005 Ford Crown Victoria
2005 Ford E-350 Club Wagon
2005 Ford E-350 Super Duty
2005 Ford Excursion
2005 Ford F-250 Super Duty
2005 Ford F-350 Super Duty
2004 Ford Crown Victoria
2004 Ford E-350 Club Wagon
2004 Ford E-350 Super Duty
2004 Ford Excursion
2004 Ford F-250 Super Duty
2004 Ford F-350 Super Duty
2003 Ford Crown Victoria
2003 Ford E-350 Club Wagon
2003 Ford E-350 Super Duty
2003 Ford Excursion
2003 Ford F-250 Super Duty
2003 Ford F-350 Super Duty
2003 Ford Windstar
2002 Ford Crown Victoria
2002 Ford E-150 Econoline
2002 Ford E-150 Econoline Club Wagon
2002 Ford E-250 Econoline
2002 Ford E-350 Econoline Club Wagon
2002 Ford E-350 Super Duty
2002 Ford Excursion
2002 Ford F-250 Super Duty
2002 Ford F-350 Super Duty
2002 Ford Windstar
2001 Ford Crown Victoria
2001 Ford E-150 Econoline
2001 Ford E-150 Econoline Club Wagon
2001 Ford E-250 Econoline
2001 Ford E-350 Econoline Club Wagon
2001 Ford E-350 Super Duty
2001 Ford Excursion
2001 Ford Expedition
2001 Ford F-250 Super Duty
2001 Ford F-350 Super Duty
2001 Ford Windstar
2000 Ford Crown Victoria
2000 Ford E-150 Econoline
2000 Ford E-150 Econoline Club Wagon
2000 Ford E-250 Econoline
2000 Ford E-350 Econoline Club Wagon
2000 Ford E-350 Super Duty
2000 Ford Excursion
2000 Ford Expedition
2000 Ford F-250 Super Duty
2000 Ford F-350 Super Duty
2000 Ford Windstar
1999 Ford Crown Victoria
1999 Ford E-150 Econoline
1999 Ford E-150 Econoline Club Wagon
1999 Ford E-250 Econoline
1999 Ford E-350 Econoline Club Wagon
1999 Ford E-350 Super Duty
1999 Ford Expedition
1999 Ford F-250
1999 Ford F-250 Super Duty
1999 Ford F-350 Super Duty
1999 Ford Windstar
1998 Ford Crown Victoria
1998 Ford E-150 Econoline
1998 Ford E-150 Econoline Club Wagon
1998 Ford E-250 Econoline
1998 Ford E-350 Econoline
1998 Ford E-350 Econoline Club Wagon
1998 Ford Expedition
1998 Ford F-250
1998 Ford Windstar
1997 Ford Crown Victoria
1997 Ford E-150 Econoline
1997 Ford E-150 Econoline Club Wagon
1997 Ford E-250 Econoline
1997 Ford E-350 Econoline
1997 Ford E-350 Econoline Club Wagon
1997 Ford Expedition
1997 Ford F-250
1997 Ford F-250 HD
1997 Ford F-350
1997 Ford Windstar
1996 Ford Crown Victoria
1996 Ford E-150 Econoline
1996 Ford E-150 Econoline Club Wagon
1996 Ford E-250 Econoline
1996 Ford E-350 Econoline
1996 Ford E-350 Econoline Club Wagon
1996 Ford F-150
1996 Ford F-250
1996 Ford F-350
1996 Ford Windstar
1995 Ford Crown Victoria
1995 Ford E-150 Econoline
1995 Ford E-150 Econoline Club Wagon
1995 Ford E-250 Econoline
1995 Ford E-350 Econoline
1995 Ford E-350 Econoline Club Wagon
1995 Ford F-150
1995 Ford F-250
1995 Ford F-350
1995 Ford Taurus
1995 Ford Windstar
1994 Ford Crown Victoria
1994 Ford E-150 Econoline
1994 Ford E-150 Econoline Club Wagon
1994 Ford E-250 Econoline
1994 Ford E-350 Econoline
1994 Ford E-350 Econoline Club Wagon
1994 Ford F-150
1994 Ford F-250
1994 Ford F-350
1994 Ford Taurus
1993 Ford Crown Victoria
1993 Ford E-150 Econoline
1993 Ford E-150 Econoline Club Wagon
1993 Ford E-250 Econoline
1993 Ford E-350 Econoline
1993 Ford E-350 Econoline Club Wagon
1993 Ford F-150
1993 Ford F-250
1993 Ford F-350
1993 Ford Taurus
1992 Ford Crown Victoria
1992 Ford E-150 Econoline
1992 Ford E-150 Econoline Club Wagon
1992 Ford E-250 Econoline
1992 Ford E-350 Econoline
1992 Ford E-350 Econoline Club Wagon
1992 Ford F-150
1992 Ford F-250
1992 Ford F-350
1991 Ford F-150
1991 Ford F-250
1991 Ford F-350
1991 Ford LTD Crown Victoria
1991 Ford Taurus
1990 Ford F-150
1990 Ford F-250
1990 Ford F-350
1990 Ford LTD Crown Victoria
1990 Ford Taurus
1989 Ford F-150
1989 Ford F-250
1989 Ford F-350
1989 Ford LTD Crown Victoria
1989 Ford Taurus
1988 Ford F-150
1988 Ford F-250
1988 Ford F-350
1988 Ford LTD Crown Victoria
1988 Ford Taurus
1988 Ford Thunderbird
1987 Ford F-150
1987 Ford F-250
1987 Ford F-350
1987 Ford LTD Crown Victoria
1987 Ford Taurus
1987 Ford Thunderbird
1986 Ford Taurus
1986 Ford Thunderbird
Lincoln
2019 Lincoln MKT
2018 Lincoln MKT
2017 Lincoln MKT
2017 Lincoln Navigator
2016 Lincoln MKT
2016 Lincoln Navigator
2015 Lincoln MKT
2015 Lincoln Navigator
2014 Lincoln MKT
2014 Lincoln Navigator
2013 Lincoln MKT
2013 Lincoln Navigator
2012 Lincoln MKT
2012 Lincoln Navigator
2011 Lincoln MKT
2011 Lincoln Navigator
2011 Lincoln Town Car
2010 Lincoln MKT
2010 Lincoln Navigator
2010 Lincoln Town Car
2009 Lincoln Navigator
2009 Lincoln Town Car
2008 Lincoln Navigator
2008 Lincoln Town Car
2007 Lincoln Navigator
2007 Lincoln Town Car
2006 Lincoln Navigator
2006 Lincoln Town Car
2005 Lincoln Navigator
2005 Lincoln Town Car
2004 Lincoln Navigator
2004 Lincoln Town Car
2003 Lincoln Navigator
2003 Lincoln Town Car
2002 Lincoln Continental
2002 Lincoln Navigator
2002 Lincoln Town Car
2001 Lincoln Continental
2001 Lincoln Navigator
2001 Lincoln Town Car
2000 Lincoln Continental
2000 Lincoln Navigator
2000 Lincoln Town Car
1999 Lincoln Continental
1999 Lincoln Navigator
1999 Lincoln Town Car
1998 Lincoln Continental
1998 Lincoln Mark VIII
1998 Lincoln Navigator
1998 Lincoln Town Car
1997 Lincoln Continental
1997 Lincoln Mark VIII
1997 Lincoln Town Car
1996 Lincoln Continental
1996 Lincoln Mark VIII
1996 Lincoln Town Car
1995 Lincoln Continental
1995 Lincoln Mark VIII
1995 Lincoln Town Car
1994 Lincoln Continental
1994 Lincoln Mark VIII
1994 Lincoln Town Car
1993 Lincoln Continental
1993 Lincoln Mark VIII
1993 Lincoln Town Car
1992 Lincoln Continental
1992 Lincoln Mark VII
1992 Lincoln Town Car
1991 Lincoln Continental
1991 Lincoln Mark VII
1991 Lincoln Town Car
1990 Lincoln Continental
1990 Lincoln Mark VII
1990 Lincoln Town Car
1989 Lincoln Continental
1989 Lincoln Mark VII
1988 Lincoln Continental
1988 Lincoln Mark VII
1987 Lincoln Mark VII
1985 Lincoln Mark VII
1984 Lincoln Continental
1984 Lincoln Mark VII
Mercury
2011 Mercury Grand Marquis
2010 Mercury Grand Marquis
2009 Mercury Grand Marquis
2007 Mercury Monterey
2006 Mercury Grand Marquis
2006 Mercury Monterey
2005 Mercury Grand Marquis
2005 Mercury Monterey
2004 Mercury Grand Marquis
2004 Mercury Monterey
2003 Mercury Grand Marquis
2002 Mercury Grand Marquis
2001 Mercury Grand Marquis
2000 Mercury Grand Marquis
1999 Mercury Grand Marquis
1998 Mercury Grand Marquis
1997 Mercury Grand Marquis
1996 Mercury Grand Marquis
1995 Mercury Grand Marquis
1995 Mercury Sable
1994 Mercury Grand Marquis
1994 Mercury Sable
1993 Mercury Grand Marquis
1993 Mercury Sable
1992 Mercury Grand Marquis
1992 Mercury Sable
1991 Mercury Grand Marquis
1991 Mercury Sable
1990 Mercury Grand Marquis
1990 Mercury Sable
1989 Mercury Grand Marquis
1989 Mercury Sable
1988 Mercury Cougar
1988 Mercury Grand Marquis
1988 Mercury Sable
1987 Mercury Cougar
1986 Mercury Cougar
1986 Mercury Sable
Mobility Ventures
2017 Mobility Ventures MV-1
2016 Mobility Ventures MV-1
2015 Mobility Ventures MV-1
2014 Mobility Ventures MV-1
Ram
2011 Ram Dakota