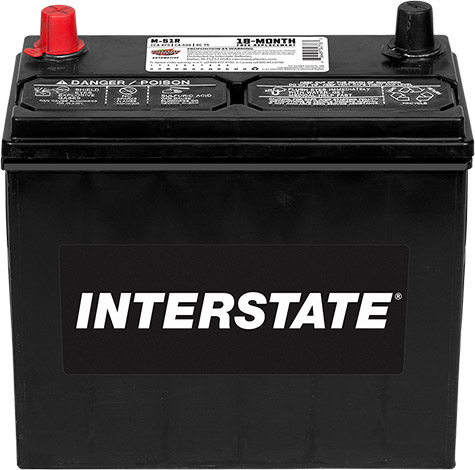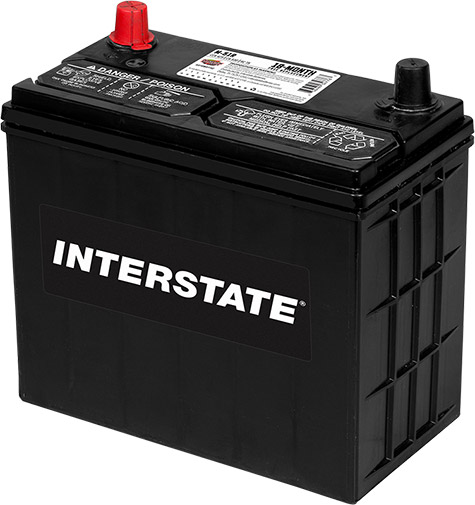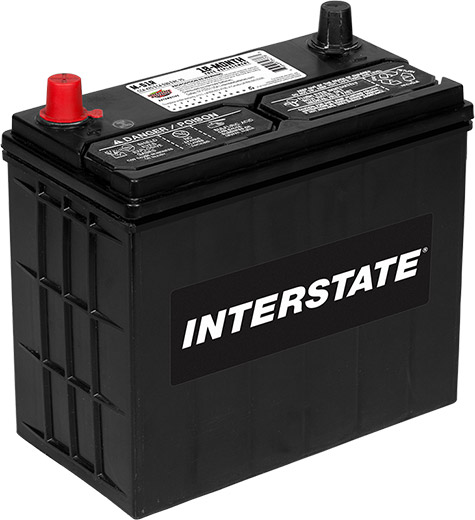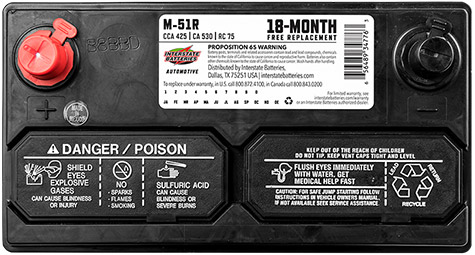 M-51R
Group Size 51R
425 Cold Cranking Amps (CCA)
18 Months Warranty
425 Cold Cranking Amps (CCA)
Group Size 51R
Standard performance life with ample cranking power
Perfect for the value minded customer
Standard cycle life for accessories
18 Months Warranty
Free Replacement Warranty
Does This Battery Fit My Automobile
This Battery Fits Your Vehicle.
This Battery Does Not Fit Your Vehicle.
Suggested batteries for this vehicle, Click Here!
Enter your vehicle information
Find This Battery Near You
Hours of Operation
Contact Store For Hours of Operation
Description
Interstate's M series provides Interstate quality and standard performance for the value-minded customer.
Specifications
M-51R

51R

425

630

75 minutes

N/A

9 3/8 inches
5 1/16 inches

8 3/4 inches

POST TYPE

12

W

Flooded
Warranty
View warranty by purchase date.
For countries outside the U.S. and Canada, including Puerto Rico, please contact your local dealer for warranties and product availability.
This Battery Also Fits These Vehicles
Acura
2018 Acura ILX
2017 Acura ILX
2016 Acura ILX
2015 Acura ILX
2014 Acura ILX
2014 Acura TSX
2013 Acura ILX
2013 Acura TSX
2012 Acura TSX
2011 Acura CSX
2011 Acura TSX
2010 Acura CSX
2010 Acura TSX
2009 Acura CSX
2009 Acura TSX
2008 Acura CSX
2008 Acura TSX
2007 Acura TSX
2006 Acura RSX
2006 Acura TSX
2005 Acura RSX
2005 Acura TSX
2004 Acura RSX
2004 Acura TSX
2003 Acura RSX
2002 Acura RSX
2001 Acura Integra
2000 Acura EL
2000 Acura Integra
1999 Acura EL
1999 Acura Integra
1998 Acura EL
1998 Acura Integra
1997 Acura EL
1997 Acura Integra
1996 Acura Integra
1995 Acura Integra
1994 Acura Integra
Austin
1972 Austin America
1971 Austin America
1970 Austin America
1969 Austin America
1968 Austin America
Honda
2020 Honda Civic
2019 Honda Civic
2019 Honda CR-V
2018 Honda Civic
2018 Honda CR-V
2017 Honda Accord
2017 Honda Civic
2017 Honda CR-V
2016 Honda Accord
2016 Honda Civic
2016 Honda CR-V
2015 Honda Accord
2015 Honda Civic
2015 Honda CR-V
2014 Honda Accord
2014 Honda Civic
2014 Honda CR-V
2013 Honda Accord
2013 Honda Civic
2013 Honda Crosstour
2013 Honda CR-V
2012 Honda Accord
2012 Honda Civic
2012 Honda Crosstour
2012 Honda CR-V
2011 Honda Accord
2011 Honda Civic
2011 Honda CR-V
2011 Honda Element
2010 Honda Accord
2010 Honda Civic
2010 Honda CR-V
2010 Honda Element
2009 Honda Accord
2009 Honda Civic
2009 Honda CR-V
2009 Honda Element
2008 Honda Accord
2008 Honda Civic
2008 Honda CR-V
2008 Honda Element
2007 Honda Accord
2007 Honda Civic
2007 Honda CR-V
2007 Honda Element
2006 Honda Accord
2006 Honda Civic
2006 Honda CR-V
2006 Honda Element
2005 Honda Accord
2005 Honda Civic
2005 Honda CR-V
2005 Honda Element
2004 Honda Accord
2004 Honda Civic
2004 Honda CR-V
2004 Honda Element
2003 Honda Accord
2003 Honda Civic
2003 Honda CR-V
2003 Honda Element
2002 Honda Civic
2002 Honda CR-V
2001 Honda CR-V
2000 Honda Civic
2000 Honda CR-V
1999 Honda Civic
1999 Honda CR-V
1998 Honda Civic
1998 Honda CR-V
1997 Honda Civic
1997 Honda Civic del Sol
1997 Honda CR-V
1996 Honda Civic
1996 Honda Civic del Sol
1995 Honda Civic
1995 Honda Civic del Sol
1994 Honda Civic
1994 Honda Civic del Sol
1993 Honda Civic
1993 Honda Civic del Sol
1992 Honda Civic
Hyundai
1986 Hyundai Stellar
1985 Hyundai Stellar
Lexus
2008 Lexus RX400h
2007 Lexus RX400h
2006 Lexus RX400h
Mazda
2019 Mazda MX-5 Miata
2018 Mazda MX-5 Miata
2017 Mazda MX-5 Miata
2016 Mazda MX-5 Miata
2015 Mazda MX-5 Miata
2014 Mazda MX-5 Miata
2013 Mazda MX-5 Miata
2012 Mazda MX-5 Miata
2011 Mazda MX-5 Miata
2010 Mazda MX-5 Miata
2009 Mazda MX-5 Miata
2008 Mazda MX-5 Miata
2007 Mazda MX-5 Miata
2006 Mazda MX-5 Miata
MG
1975 MG Midget
1974 MG Midget
1973 MG Midget
1972 MG Midget
1971 MG Midget
1970 MG Midget
Mitsubishi
1997 Mitsubishi Mirage
Nissan
2020 Nissan GT-R
2019 Nissan GT-R
2019 Nissan Leaf
2019 Nissan Versa
2018 Nissan GT-R
2018 Nissan Leaf
2018 Nissan Versa
2017 Nissan GT-R
2017 Nissan Leaf
2017 Nissan Versa
2016 Nissan GT-R
2016 Nissan Leaf
2016 Nissan Versa
2015 Nissan GT-R
2015 Nissan Leaf
2015 Nissan Versa
2014 Nissan GT-R
2014 Nissan Leaf
2014 Nissan Versa
2013 Nissan GT-R
2013 Nissan Leaf
2013 Nissan Versa
2012 Nissan GT-R
2012 Nissan Leaf
2012 Nissan Versa
2011 Nissan GT-R
2011 Nissan Leaf
2011 Nissan Versa
2010 Nissan GT-R
2010 Nissan Versa
2009 Nissan GT-R
2009 Nissan Versa
2008 Nissan Versa
2007 Nissan Versa
Porsche
1969 Porsche 912
1968 Porsche 911
1968 Porsche 912
1967 Porsche 911
1967 Porsche 912
1966 Porsche 911
1966 Porsche 912
1965 Porsche 911
1965 Porsche 912
Renault
1974 Renault R12
1974 Renault R15
1974 Renault R17
1973 Renault R12
1973 Renault R15
1973 Renault R17
1972 Renault R12
1972 Renault R15
1972 Renault R16
1972 Renault R17
1971 Renault R10
1971 Renault R12
1971 Renault R16
1970 Renault R10
1970 Renault R16
1969 Renault R16
1968 Renault R16
Toyota
2010 Toyota Highlander
2009 Toyota Highlander
2008 Toyota Highlander
2007 Toyota Highlander
2006 Toyota Highlander
2005 Toyota MR2 Spyder
2004 Toyota MR2 Spyder
2003 Toyota MR2 Spyder
2002 Toyota MR2 Spyder
2001 Toyota MR2 Spyder
2000 Toyota MR2 Spyder
Triumph
1982 Triumph TR7
1981 Triumph TR7
1980 Triumph TR7
1979 Triumph TR7
1978 Triumph TR7