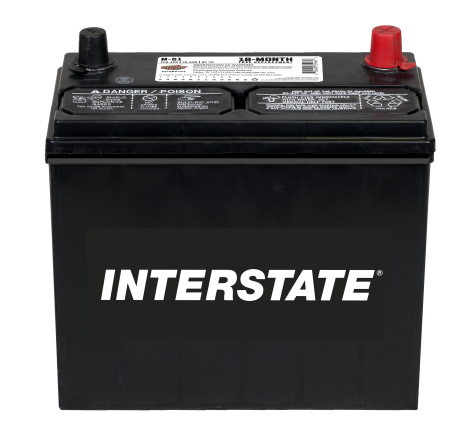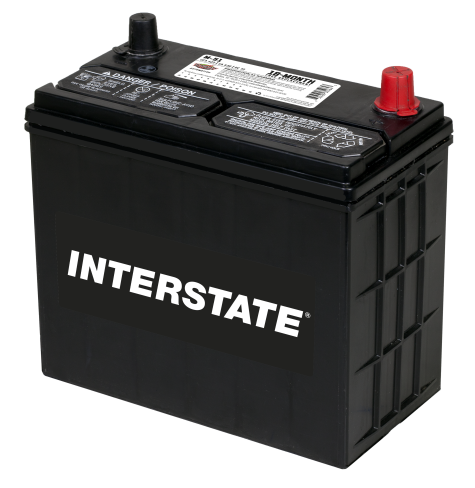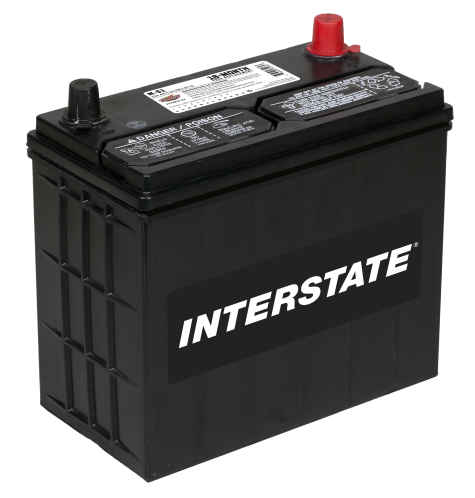 M-51
Group Size 51
425 Cold Cranking Amps (CCA)
18 Months Warranty
425 Cold Cranking Amps (CCA)
Group Size 51
Standard performance life with ample cranking power
Perfect for the value minded customer
Standard cycle life for accessories
18 Months Warranty
Free Replacement Warranty
Does This Battery Fit My Automobile
This Battery Fits Your Vehicle.
This Battery Does Not Fit Your Vehicle.
Suggested batteries for this vehicle, Click Here!
Enter your vehicle information
Find This Battery Near You
Hours of Operation
Contact Store For Hours of Operation
Description
Interstate's M series provides Interstate quality and standard performance for the value-minded customer.
Specifications
M-51

51

425

530

75 minutes

N/A

9 3/8 inches
5 1/8 inches

8 7/8 inches

Common Code A

12

W

Flooded
Warranty
View warranty by purchase date.
For countries outside the U.S. and Canada, including Puerto Rico, please contact your local dealer for warranties and product availability.
This Battery Also Fits These Vehicles
Acura
2005 Acura EL
2004 Acura EL
2003 Acura EL
2002 Acura EL
2001 Acura EL
1989 Acura Integra
1988 Acura Integra
1987 Acura Integra
1986 Acura Integra
BMW
1962 BMW Isetta
1961 BMW Isetta
1956 BMW Isetta
Chevrolet
1991 Chevrolet Sprint
1990 Chevrolet Sprint
1989 Chevrolet Sprint
1988 Chevrolet Sprint
1987 Chevrolet Sprint
1986 Chevrolet Sprint
1985 Chevrolet Sprint
Chrysler
1988 Chrysler Conquest
1987 Chrysler Conquest
Dodge
1989 Dodge Colt
1986 Dodge Conquest
1985 Dodge Conquest
1984 Dodge Conquest
Eagle
1988 Eagle Vista
Geo
1989 Geo Metro
Honda
2019 Honda Accord
2018 Honda Accord
2006 Honda Insight
2005 Honda Civic
2005 Honda Insight
2004 Honda Civic
2004 Honda Insight
2003 Honda Civic
2003 Honda Insight
2002 Honda Civic
2002 Honda Insight
2001 Honda Civic
2001 Honda Insight
2000 Honda Insight
1991 Honda Civic
1991 Honda CRX
1990 Honda Civic
1990 Honda CRX
1989 Honda Civic
1989 Honda CRX
1988 Honda Civic
1988 Honda CRX
1987 Honda Civic
1987 Honda Wagovan
1986 Honda Civic
1986 Honda Wagovan
1985 Honda Civic
1984 Honda Civic
1984 Honda Wagovan
1983 Honda Accord
1983 Honda Civic
1982 Honda Accord
1982 Honda Civic
1982 Honda Prelude
1981 Honda Accord
1981 Honda Civic
1981 Honda Prelude
1980 Honda Accord
1980 Honda Civic
1980 Honda Prelude
1979 Honda Accord
1979 Honda Civic
1979 Honda Prelude
1978 Honda Civic
1977 Honda Civic
1976 Honda Civic
1975 Honda Civic
1974 Honda Civic
1973 Honda Civic
Hyundai
1988 Hyundai Excel
1987 Hyundai Excel
1987 Hyundai Pony
1987 Hyundai Stellar
1986 Hyundai Excel
1986 Hyundai Pony
1985 Hyundai Pony
1984 Hyundai Pony
1983 Hyundai Pony
Mitsubishi
1989 Mitsubishi Mirage
1988 Mitsubishi Cordia
1988 Mitsubishi Mirage
1988 Mitsubishi Starion
1988 Mitsubishi Tredia
1987 Mitsubishi Cordia
1987 Mitsubishi Mirage
1987 Mitsubishi Starion
1987 Mitsubishi Tredia
1986 Mitsubishi Cordia
1986 Mitsubishi Mirage
1986 Mitsubishi Starion
1986 Mitsubishi Tredia
1985 Mitsubishi Cordia
1985 Mitsubishi Mirage
1985 Mitsubishi Starion
1985 Mitsubishi Tredia
1984 Mitsubishi Cordia
1984 Mitsubishi Starion
1984 Mitsubishi Tredia
1983 Mitsubishi Cordia
1983 Mitsubishi Starion
1983 Mitsubishi Tredia
Plymouth
1992 Plymouth Colt
1989 Plymouth Colt
1988 Plymouth Colt
1987 Plymouth Colt
1986 Plymouth Colt
1986 Plymouth Conquest
1985 Plymouth Colt
1985 Plymouth Conquest
1984 Plymouth Colt
1984 Plymouth Conquest
Pontiac
1989 Pontiac Firefly
1988 Pontiac Firefly
1987 Pontiac Firefly
1986 Pontiac Firefly
1985 Pontiac Firefly
Scion
2015 Scion iQ
2014 Scion iQ
2013 Scion iQ
2012 Scion iQ
Suzuki
1995 Suzuki Samurai
1995 Suzuki Sidekick
1994 Suzuki Samurai
1994 Suzuki Sidekick
1993 Suzuki Samurai
1993 Suzuki Sidekick
1992 Suzuki Samurai
1992 Suzuki Sidekick
1991 Suzuki Samurai
1991 Suzuki Sidekick
1990 Suzuki Samurai
1990 Suzuki Sidekick
1989 Suzuki Samurai
1989 Suzuki Sidekick
1988 Suzuki Samurai