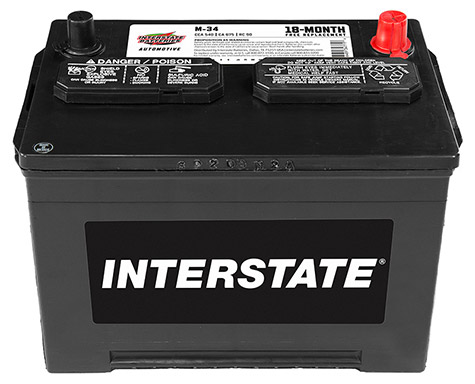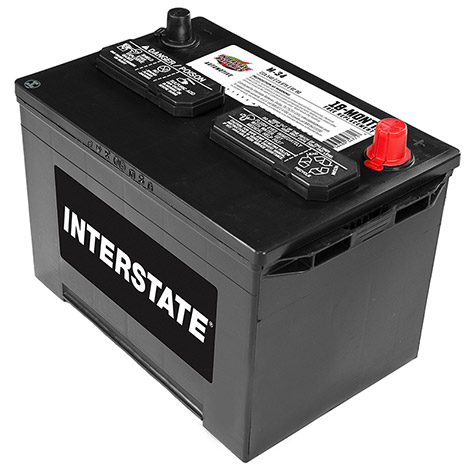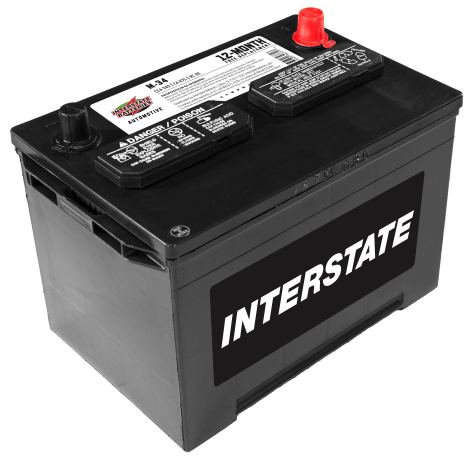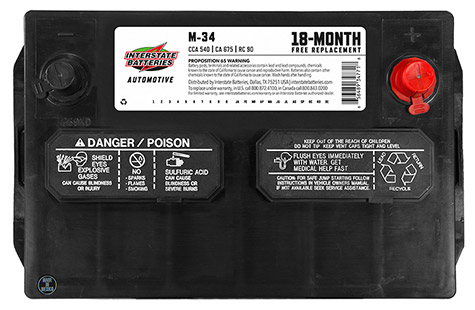 M-34
Group Size 34
540 Cold Cranking Amps (CCA)
18 Months Warranty
540 Cold Cranking Amps (CCA)
Group Size 34
Standard performance life with ample cranking power
Perfect for the value minded customer
Standard cycle life for accessories
18 Months Warranty
Free Replacement Warranty
Does This Battery Fit My Automobile
This Battery Fits Your Vehicle.
This Battery Does Not Fit Your Vehicle.
Suggested batteries for this vehicle, Click Here!
Enter your vehicle information
Find This Battery Near You
Hours of Operation
Contact Store For Hours of Operation
Description
Interstate's M series provides Interstate quality and standard performance for the value-minded customer.
Specifications
M-34

34

540

675

90 minutes

N/A

10 1/4 inches
6 7/8 inches

7 5/16 inches

POST TYPE

12

W

Flooded
Warranty
View warranty by purchase date.
For countries outside the U.S. and Canada, including Puerto Rico, please contact your local dealer for warranties and product availability.
This Battery Also Fits These Vehicles
Chrysler
2006 Chrysler Town & Country
2005 Chrysler Town & Country
2004 Chrysler Concorde
2004 Chrysler Intrepid
2004 Chrysler Pacifica
2004 Chrysler Town & Country
2003 Chrysler Concorde
2003 Chrysler Intrepid
2003 Chrysler Town & Country
2002 Chrysler Concorde
2002 Chrysler Intrepid
2002 Chrysler Prowler
2002 Chrysler Town & Country
2001 Chrysler Concorde
2001 Chrysler Intrepid
2001 Chrysler Prowler
2001 Chrysler Town & Country
2000 Chrysler Concorde
2000 Chrysler Grand Voyager
2000 Chrysler Intrepid
2000 Chrysler Town & Country
2000 Chrysler Voyager
1999 Chrysler Concorde
1999 Chrysler Intrepid
1999 Chrysler Town & Country
1998 Chrysler Concorde
1998 Chrysler Intrepid
1998 Chrysler Town & Country
1997 Chrysler Town & Country
1996 Chrysler Town & Country
1995 Chrysler LeBaron
1995 Chrysler Town & Country
1994 Chrysler Concorde
1994 Chrysler Intrepid
1994 Chrysler LeBaron
1994 Chrysler LHS
1994 Chrysler New Yorker
1994 Chrysler Town & Country
1993 Chrysler Concorde
1993 Chrysler Daytona
1993 Chrysler Dynasty
1993 Chrysler Imperial
1993 Chrysler Intrepid
1993 Chrysler LeBaron
1993 Chrysler New Yorker
1993 Chrysler Town & Country
1992 Chrysler Daytona
1992 Chrysler Dynasty
1992 Chrysler Imperial
1992 Chrysler LeBaron
1992 Chrysler New Yorker
1992 Chrysler Town & Country
1991 Chrysler Daytona
1991 Chrysler Dynasty
1991 Chrysler Imperial
1991 Chrysler LeBaron
1991 Chrysler New Yorker
1991 Chrysler TC Maserati
1990 Chrysler Daytona
1990 Chrysler Dynasty
1990 Chrysler Imperial
1990 Chrysler LeBaron
1990 Chrysler New Yorker
1990 Chrysler TC Maserati
1989 Chrysler Daytona
1989 Chrysler Dynasty
1989 Chrysler Fifth Avenue
1989 Chrysler LeBaron
1989 Chrysler New Yorker
1989 Chrysler TC Maserati
1988 Chrysler Daytona
1988 Chrysler Dynasty
1988 Chrysler Fifth Avenue
1988 Chrysler LeBaron
1988 Chrysler New Yorker
1988 Chrysler Town & Country
1987 Chrysler Daytona
1987 Chrysler Fifth Avenue
1987 Chrysler LeBaron
1987 Chrysler New Yorker
1986 Chrysler Daytona
1986 Chrysler Executive Limousine
1986 Chrysler Fifth Avenue
1986 Chrysler Laser
1986 Chrysler LeBaron
1986 Chrysler New Yorker
1986 Chrysler Town & Country
1985 Chrysler Daytona
1985 Chrysler Executive Limousine
1985 Chrysler Fifth Avenue
1985 Chrysler Laser
1985 Chrysler LeBaron
1985 Chrysler New Yorker
1985 Chrysler Town & Country
Dodge
2006 Dodge Caravan
2006 Dodge Grand Caravan
2005 Dodge Caravan
2005 Dodge Grand Caravan
2004 Dodge Caravan
2004 Dodge Grand Caravan
2004 Dodge Intrepid
2003 Dodge Caravan
2003 Dodge Grand Caravan
2003 Dodge Intrepid
2002 Dodge Caravan
2002 Dodge Grand Caravan
2002 Dodge Intrepid
2001 Dodge Caravan
2001 Dodge Grand Caravan
2001 Dodge Intrepid
2000 Dodge Caravan
2000 Dodge Grand Caravan
2000 Dodge Intrepid
1999 Dodge Caravan
1999 Dodge Grand Caravan
1999 Dodge Intrepid
1998 Dodge Caravan
1998 Dodge Grand Caravan
1998 Dodge Intrepid
1997 Dodge Caravan
1997 Dodge Grand Caravan
1996 Dodge Caravan
1996 Dodge Grand Caravan
1995 Dodge Caravan
1995 Dodge Grand Caravan
1995 Dodge Spirit
1994 Dodge Caravan
1994 Dodge Grand Caravan
1994 Dodge Intrepid
1994 Dodge Shadow
1994 Dodge Spirit
1993 Dodge Caravan
1993 Dodge Daytona
1993 Dodge Dynasty
1993 Dodge Grand Caravan
1993 Dodge Intrepid
1993 Dodge Shadow
1993 Dodge Spirit
1992 Dodge Caravan
1992 Dodge Daytona
1992 Dodge Dynasty
1992 Dodge Grand Caravan
1992 Dodge Shadow
1992 Dodge Spirit
1991 Dodge Caravan
1991 Dodge Daytona
1991 Dodge Dynasty
1991 Dodge Grand Caravan
1991 Dodge Shadow
1991 Dodge Spirit
1990 Dodge Caravan
1990 Dodge Daytona
1990 Dodge Dynasty
1990 Dodge Grand Caravan
1990 Dodge Monaco
1990 Dodge Omni
1990 Dodge Shadow
1990 Dodge Spirit
1989 Dodge Aries
1989 Dodge Caravan
1989 Dodge Daytona
1989 Dodge Diplomat
1989 Dodge Dynasty
1989 Dodge Grand Caravan
1989 Dodge Lancer
1989 Dodge Omni
1989 Dodge Shadow
1989 Dodge Spirit
1988 Dodge 600
1988 Dodge Aries
1988 Dodge Caravan
1988 Dodge Dakota
1988 Dodge Daytona
1988 Dodge Diplomat
1988 Dodge Dynasty
1988 Dodge Grand Caravan
1988 Dodge Lancer
1988 Dodge Mini Ram
1988 Dodge Omni
1988 Dodge Shadow
1987 Dodge 600
1987 Dodge Aries
1987 Dodge B150
1987 Dodge B250
1987 Dodge B350
1987 Dodge Caravan
1987 Dodge Charger
1987 Dodge D100
1987 Dodge D150
1987 Dodge D250
1987 Dodge D350
1987 Dodge Dakota
1987 Dodge Daytona
1987 Dodge Diplomat
1987 Dodge Grand Caravan
1987 Dodge Lancer
1987 Dodge Mini Ram
1987 Dodge Ramcharger
1987 Dodge Shadow
1987 Dodge W100
1987 Dodge W150
1987 Dodge W250
1987 Dodge W350
1986 Dodge 600
1986 Dodge Aries
1986 Dodge B150
1986 Dodge B250
1986 Dodge B350
1986 Dodge Caravan
1986 Dodge D100
1986 Dodge D150
1986 Dodge D250
1986 Dodge D350
1986 Dodge Daytona
1986 Dodge Diplomat
1986 Dodge Lancer
1986 Dodge Mini Ram
1986 Dodge Ramcharger
1986 Dodge W100
1986 Dodge W150
1986 Dodge W250
1986 Dodge W350
1985 Dodge 600
1985 Dodge Aries
1985 Dodge B150
1985 Dodge B250
1985 Dodge B350
1985 Dodge Caravan
1985 Dodge D100
1985 Dodge D150
1985 Dodge D250
1985 Dodge D350
1985 Dodge Daytona
1985 Dodge Diplomat
1985 Dodge Lancer
1985 Dodge Mini Ram
1985 Dodge Ramcharger
1985 Dodge W150
1985 Dodge W250
1985 Dodge W350
Eagle
1994 Eagle Vision
1993 Eagle Vision
1991 Eagle Premier
1990 Eagle Premier
1989 Eagle Medallion
1989 Eagle Premier
1988 Eagle Medallion
1988 Eagle Premier
Jeep
2001 Jeep Cherokee
2001 Jeep TJ
2001 Jeep Wrangler
2000 Jeep Cherokee
2000 Jeep TJ
2000 Jeep Wrangler
1999 Jeep Cherokee
1999 Jeep TJ
1999 Jeep Wrangler
1998 Jeep Cherokee
1998 Jeep TJ
1998 Jeep Wrangler
1997 Jeep TJ
1997 Jeep Wrangler
Plymouth
2001 Plymouth Prowler
2000 Plymouth Grand Voyager
2000 Plymouth Prowler
2000 Plymouth Voyager
1999 Plymouth Grand Voyager
1999 Plymouth Prowler
1999 Plymouth Voyager
1998 Plymouth Grand Voyager
1998 Plymouth Voyager
1997 Plymouth Grand Voyager
1997 Plymouth Prowler
1997 Plymouth Voyager
1996 Plymouth Grand Voyager
1996 Plymouth Voyager
1995 Plymouth Acclaim
1995 Plymouth Grand Voyager
1995 Plymouth Voyager
1994 Plymouth Acclaim
1994 Plymouth Grand Voyager
1994 Plymouth Sundance
1994 Plymouth Voyager
1993 Plymouth Acclaim
1993 Plymouth Grand Voyager
1993 Plymouth Sundance
1993 Plymouth Voyager
1992 Plymouth Acclaim
1992 Plymouth Grand Voyager
1992 Plymouth Sundance
1992 Plymouth Voyager
1991 Plymouth Acclaim
1991 Plymouth Grand Voyager
1991 Plymouth Sundance
1991 Plymouth Voyager
1990 Plymouth Acclaim
1990 Plymouth Grand Voyager
1990 Plymouth Horizon
1990 Plymouth Sundance
1990 Plymouth Voyager
1989 Plymouth Acclaim
1989 Plymouth Caravelle
1989 Plymouth Gran Fury
1989 Plymouth Grand Voyager
1989 Plymouth Horizon
1989 Plymouth Reliant
1989 Plymouth Sundance
1989 Plymouth Voyager
1988 Plymouth Caravelle
1988 Plymouth Gran Fury
1988 Plymouth Grand Voyager
1988 Plymouth Horizon
1988 Plymouth Reliant
1988 Plymouth Sundance
1988 Plymouth Voyager
1987 Plymouth Caravelle
1987 Plymouth Gran Fury
1987 Plymouth Grand Voyager
1987 Plymouth Reliant
1987 Plymouth Sundance
1987 Plymouth Voyager
1986 Plymouth Caravelle
1986 Plymouth Gran Fury
1986 Plymouth Reliant
1986 Plymouth Voyager
1985 Plymouth Caravelle
1985 Plymouth Gran Fury
1985 Plymouth Reliant
1985 Plymouth Voyager