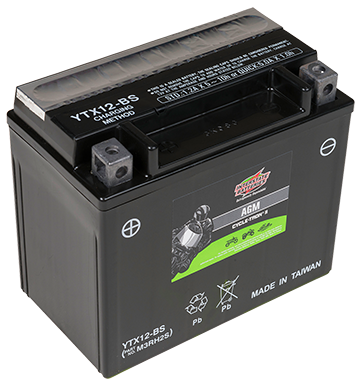 CYTX12-BS
$88.95srp (usd)
Group Size MC
180 Cold Cranking Amps (CCA)
12 Volts
180 Cold Cranking Amps (CCA)
(Wet:W, Dry:D) =D
6 Months Warranty
Nonspillable Design and Sealed Case
Vibration resistant
6 Months Warranty
Free Replacement Warranty
Does This Battery Fit My Automobile?
This Battery Fits Your Vehicle.
This Battery Does Not Fit Your Vehicle.
Suggested batteries for this vehicle, Click Here!
Enter your vehicle information
Find This Battery Near You
Hours of Operation
Contact Store For Hours of Operation
Description
For powerful, reliable fun, turn to Interstate Cycle-Tron Powersports absorbed glass mat (AGM) batteries.
Specifications
CYTX12-BS
MC
180
10 minutes
10
6 inches
3 7/16 inches
5 1/8 inches
12
D
Flooded
Warranty
View warranty by purchase date.
For countries outside the U.S. and Canada, including Puerto Rico, please contact your local dealer for warranties and product availability.