Back To Blog Home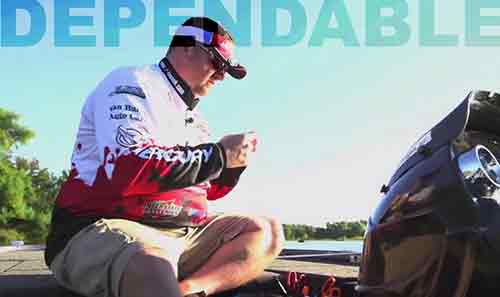 Everyone Panicked. He Didn't.
No charge? No problem when you've got an Interstate onboard.
Pro anglers depend on their trolling batteries for their livelihood—as well as on power sonars, anchor systems, oxygenators and sound-based fish bait systems.
Charging these batteries overnight is an absolute must. When the circuit breaker tripped at a three-day fishing tournament, it left several pro anglers with drained trolling batteries. Everyone was in a panic to replace their batteries, except Interstate marine batteries fan and pro angler Aaron Beshears.
Instead of lining up for a chance at a fully charged replacement, Aaron checked his Interstate 31-AGM7 batteries and discovered he still had 100% power.
"These batteries continued to have full power on the second day, enabling me to fish for an entire worry-free day," Aaron said. "I assure you, I have tried all batteries, and the Interstate 31-AGM7 is by far the best!"
Watch His Story