Back To Blog Home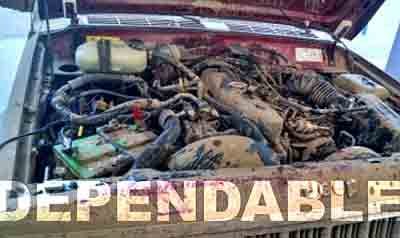 Two Cars, One Battery, No Alternators -- Zero Problems
And you think you had a hard day? Two mudding buddies in New Mexico lost both alternators in two Jeeps. But they only needed one Interstate battery to get home.
What do you do when you and your friend's alternators short out, you're in the mud and you're miles away from home? For one Interstate Batteries® fan from Albuquerque, New Mexico, you just keep driving, thanks to the Outrageously Dependable® power of your battery.
Christopher Decker and his buddy Mike are Jeep® fanatics and enjoy taking their XJs off-road almost every weekend. On July 19, the two were "playing in the mud" with their Jeep Cherokees near Rio Rancho, New Mexico — but after a couple hours of driving through clay-like mud, both of their cars' alternators fried up and almost left them stranded.
"Mike's alternator went out about 10 minutes into our adventure and mine went out about 20 minutes in after jumping his truck twice," Chris said. "I was running on only the battery."
As auto mechanics will tell you, alternators are crucial for a vehicle's performance because they charge the battery and power the electrical system when its engine is running. Without a working alternator, well, let's just say you won't want to accidentally leave your headlines on all night.
With only the battery to get them home, Chris' 1989 Jeep Cherokee towed Mike's for 30 miles all the way back home to the North Valley area of Albuquerque. Chris then continued to drive to his house and to work the next day without a functioning alternator, which is almost unheard of.
After realizing just how reliable his battery had been through the whole trip, Chris took to social media to tell his tale.
"I have never made a testimonial for any brand or product, but I have full faith in my Interstate battery now," he posted to Facebook. "Not only did I have to drive for two hours home on just the battery, but I was towing another Jeep behind me. And it didn't cough or sputter once. I got him home and still made it to my house. I'm glad I got an Interstate battery."
Chris has always worked on his own vehicles and is the General Manager of Four Hills Turbo automotive repair shop in Albuquerque. After buying his 1989 Jeep Cherokee in January 2014, Chris bought an Interstate battery and said he hasn't had any problems with it.
"I've had good experiences with [Interstate] before," Chris said. "I've used them in my previous vehicles such as my Mk1 Volkswagen Golf GTI and my Mk2 Jetta Coupe."
Thanks for believing in Interstate, Chris! Take an extra turn in the mud on us!