Back To Blog Home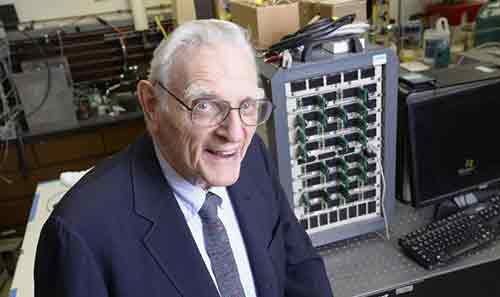 Will His Breakthrough Spark a New Energy Revolution?
Professor John Goodenough, co-inventor of the lithium-ion battery, claims his latest breakthrough. But fellow scientists are skeptical. Does an all-solid-state battery break the laws of physics?
A couple of years ago, Interstate Batteries was fortunate enough to spend time with the co-inventor of the lithium-ion battery, John Goodenough.
He described the winding path to the first lithium-ion battery, the missed opportunity to patent his invention and his lifelong passion to overturn man's relationship with energy, leading to a second battery invention in electric cars.
At the end, he mentioned a third project.
But he wouldn't say what it was.
Two years later, he has unveiled his latest breakthrough. Remember how lithium-ion batteries transformed society? Think about life in the early 1990s and life in 2009.
Well, it sounds like he might have done it again. According to the release from the University of Austin at Texas where he teaches materials science, he and his team have built, tested and proven an all-solid-state battery in their labs. It's a notable breakthrough because it introduces completely new materials in the world of battery technology. John Goodenough describes the prototype's performance in his scientific paper.
What are the team of engineers saying this new battery can do?
High-energy density. Minutes to recharge, not hours. More than 1,200 discharge-recharge cycles per gram of material, outperforming common rechargeable lithium-ion batteries. A solid-glass electrolyte that can be made with sodium (as common as table salt) instead of lithium (a relatively rare element on the periodic table) – meaning potentially low costs. It can operate at -76 F. And no liquid means no potential for explosion.
However, the recent announcement has raised a few doubts about whether Goodenough and team broke a few laws, specifically, the first law of thermodynamics. After all, pure sodium or lithium is on both sides of the battery, the electric potential should be zero. Where does the energy come from?
While scientists are not disputing the team's measurements, the physics suggest a mystery to be solved with more tests and prototypes.
In the meantime, we're watching to see whether Goodenough's latest invention is enough to dethrone the current king of consumer batteries, the lithium-ion battery.