Back To Blog Home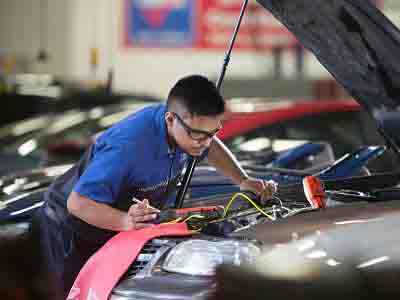 Interstate Batteries® Continues Its Efforts to Champion Automotive Technicians, Joins Forces with Universal Technical Institute Among Others
According to a 2017 report from the Bureau of Labor Statistics, 74,100 new automotive and diesel technicians must be added to the workforce every year until 2026 to meet the demand. Realizing the impact this will have on the automotive industry, Interstate Batteries®, the No. 1 automotive replacement battery brand, is taking a stand for the technicians of today and tomorrow by raising awareness about technician careers.
Welcoming its newest partner Universal Technical Institute (NYSE: UTI), Interstate will provide the latest technology and curriculum support to help students excel in their education, as well as increase awareness of the opportunities available in the automotive industry.
Even though today's automotive technicians must be well-versed in both traditional technician skills and complex electronic diagnostics, a recent study conducted by Interstate found that one-third were unsure whether this is a long-term career. The collective goal of these partnerships is to share industry success stories and educate the technicians of tomorrow, in order to inspire them to pursue a career as skilled mechanics—ultimately decreasing the current technician shortage by 2020.
"This industry is facing many challenges, including older technicians approaching retirement, increased vehicle age and population, complexity of vehicles, and a misunderstanding of the skills and growth opportunity for this career," said Tom Gray, vice president of marketing, Interstate Batteries. "Many think that being a mechanic is not a lifelong career choice, when in fact, it offers innovation and immense opportunity for professional growth. By collaborating with UTI and TechForce, we'll be able to effectively shift this thinking."
Interstate will provide batteries and battery testers for all of UTI's automotive and diesel technician training campuses, giving students hands-on experience with the products they will use on the job. To promote the partnership, Interstate will have their own branded lab space on each of UTI's campuses. Also, leaders from Interstate Batteries will have the opportunity to serve on UTI's Program Advisory Councils to help inform curriculum and provide industry insights and expertise.
"It's important that we nurture our existing students as well as those who show interest in becoming an automotive technician," said John Dodson, vice president of business alliances, UTI. "While TechForce Foundation focuses on those in the early stages of exploring future career paths, UTI develops and trains students to prepare them for the workforce. And now with Interstate serving as a preferred vendor and industry partner, our students will have even more access to innovative tools and resources, which give them more confidence and support toward successful careers."
Interstate is entering its second year as a main sponsor of TechForce Foundation's FutureTech Success® campaign, which informs parents and influencers of the career potential in the transportation industry.
"Most don't realize that auto technicians have high earning potential and job security," said Jennifer Maher, executive director, TechForce Foundation. "Bringing on Interstate Batteries to help shed light on the benefits of pursuing this profession gives this cause so much more clout. We are excited to add this powerhouse to our list of partners and look forward to changing the industry for the better."
Learn more about Interstate Batteries and how its working to shift the myth of the technician.
###
About Interstate Batteries
For more than 65 years, Interstate Batteries® has powered people down roads, trails and waterways and businesses to succeed. Best known for its starting, lighting and ignition (SLI) batteries, this product has been under car hoods since 1952, each one backed by the company's service, quality and value. Interstate All Battery Center® provides portable power in both retail and commercial markets. Headquartered in Dallas, Texas, Interstate Batteries is an industry leader in recycling efforts, as well as a global leader in safe lead handling practices. Guided by a set of common values, the company's purpose is to glorify God and enrich lives while delivering the most trustworthy source of power to the world. For more information, visit www.interstatebatteries.com.
About Universal Technical Institute
With more than 200,000 graduates in its 53-year history, Universal Technical Institute, Inc. (NYSE: UTI) is the nation's leading provider of technical training for automotive, diesel, collision repair, motorcycle and marine technicians, and offers welding technology and computer numerical control (CNC) machining programs. The company has built partnerships with industry leaders, outfits its state-of-the-industry facilities with current technology, and delivers training that is aligned with employer needs. Through its network of 13 campuses nationwide, UTI offers post-secondary programs under the banner of several well-known brands, including Universal Technical Institute (UTI), Motorcycle Mechanics Institute and Marine Mechanics Institute (MMI) and NASCAR Technical Institute (NASCAR Tech). The company is headquartered in Scottsdale, Arizona. For more information, visit uti.edu.
About TechForce Foundation
TechForce Foundation is a nonprofit, 501(c)(3) with the mission to champion students to and through their education and into careers as professional technicians in the transportation industry. The Foundation distributes more than $1.2 million in scholarships and grants annually, thanks to its generous corporate sponsors and donors, and is spearheading FutureTech Success® the industry-wide initiative to help encourage and support more young people to pursue the vehicle technician profession. For more information, visit www.techforcefoundation.org.