Back To Blog Home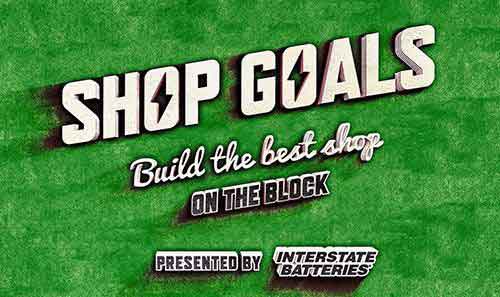 Interstate Batteries Continues to Advocate for Technicians and Shop Owners
The company was recently recognized on the local and national level for its Shop Goals and Shift the Myth campaign.
Interstate Batteries' Shop Goals campaign received an Automotive Communications Award in the social media campaign category, as presented by Women in Auto Care. Winners of the Women in Auto Care Automotive Communications Award were honored at the Women in Auto Care press conference and reception on Tuesday, Nov. 5 during AAPEX in Las Vegas, Nev. The annual Automotive Communications Awards are given to companies that produce outstanding communications collateral for advertising, marketing and public relations efforts.
"It is an honor for us to receive the Women in Auto Care Automotive Communications Award for our Shop Goals Campaign," said Nicole Cavin, marketing director for Interstate Batteries. "We set out with a goal to embrace and amplify the passion owners and their technicians have for their shop as well as empower women to pursue an automotive career. Real people are invested in this industry, and Interstate Batteries wanted to provide a platform through Shop Goals for those people to share their stories and be a champion for others."
The Shop Goals campaign launched in June 2019 with the founder of the "Women Auto Know" movement Audra Fordin, The Humble Mechanic Charles Sanville and Ralph Parente.
Through the words and experiences of these three automotive technicians, audiences have learned how to build the best shop on the block, how to keep it running, being a good mentor to younger technicians, as well as new strategies for auto repair industry trends, such as mobile auto repair and conflict between old- and new-school mechanics.
"Not only do generational differences between seasoned and newer techs exist in the industry, but we also experience a stereotype that all technicians are males and that women don't belong in the shop," said Fordin. "There's a real opportunity for female technicians to write their own stories of success. Interstate's Shop Goals advocates for women in the industry, educates women-drivers on proactively maintaining their vehicles, and Women in Auto Care's recognition of the campaign speaks to the community of females that is changing an outdated narrative in the automotive world."
This isn't Interstate's first initiative to provide resources and a platform for mentoring in the workplace. The company took a stand for the technicians of today and tomorrow with its #ShiftTheMyth campaign and continues to advocate for those pursuing this career through its partnership with Universal Technical Institute. This movement sought to combat the industry's labor shortage by debunking negative misconceptions and enlightening younger generations about the benefits of an automotive technician career. This initiative also recently received a Social Media Award of Honor from the Dallas chapter of the Public Relations Society of America for its outstanding public relations and communication efforts.
The passion technicians and shop owners have for the industry rings loud and clear through Shop Goals and further defines the need for additional industry resources like the #ShiftTheMyth campaign. Their shop is much more than nuts and bolts – it's part of their community, and Interstate will continue to champion for those already in the automotive profession and those who are considering pursuing a career in it.
Join Interstate Batteries in building the best shop on the block and the best place to buy a car battery as it continues to pave the way for a better future for all automotive professionals.
---