Back To Blog Home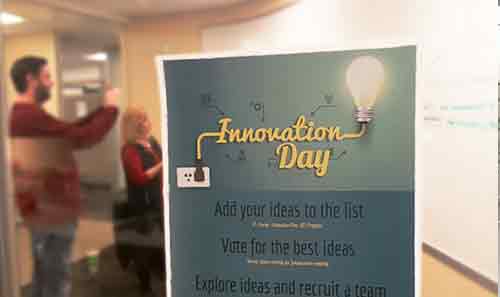 How IT at a Major Battery Brand Draws on Every Watt of Brainpower
To get better every day, you have to step out of everyday thinking. That's the point – and the promise – behind a new workplace discipline for the Interstate Batteries information technology team: Innovation Day.
Last Friday, Jan. 27, was a day filled with what-if scenarios, whiteboard schematics, napkin drawings, and "What else could work?" questions. The team, dubbed IT@IB, stepped out of their day-to-day work to add every watt of brainpower to solve some of the biggest technology challenges with unique, innovative solutions.
"Innovation is sometimes messy and always necessary," Chief Information Officer Onyeka Nchege said. "Exploring ideas can take time and teamwork, but it's hard for your team to just squeeze in an hour to develop truly creative solutions. So, we make the time."
Team members themselves proposed the idea for Innovation Day a few months ago. The point is to ideate, design and solve as many nagging issues as possible in a 24-hour period.
"The point isn't to make a ton of ideas. The point is to make ideas happen," Onyeka said.
In a series of meetings, they drew ideas from everyone, voted for the best ones, explored ideas and found teams – all leading up to last Friday. That's when IT@IB team members tackled a few key items, such as improving the system monitoring, which watches the software that field and office team members rely on everyday – and alerts the technology team early if an issue arises. With an active monitoring system, this feedback can help IT@IB solve issues before anyone knows there's a problem.
Interstate Batteries team members said Innovation Day is energizing, especially since some tasks that seemed insurmountable now have viable plans and solutions.
Turns out Innovation Day itself is a pretty innovative idea.