Back To Blog Home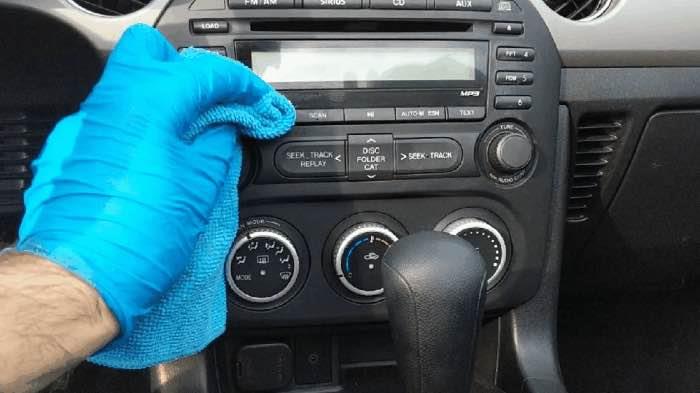 Sanitize Your Car's Interior Completely — Without Damaging It
Clean out COVID-19 — plus every other common bug or germ the kids might be passing around.
The Other High-Traffic Area: Inside Your Car
You've sprayed and wiped every high-touch space in your home. Now, it's time to give your car a thorough sanitizing, too.

Your car interior builds up with germs and grime, whether you're used to shuttling three kids, running a mobile office or spending an hour a day in the daily commute. Kelly Blue Book's advice columnist Mark Elias and managing video editor Micah Muzio recently published an overview on how to sanitize your vehicle in light of COVID-19. Plus, with flu season ahead and spring allergies afoot, you have many more microscopic reasons to clean your car interior.

British universities have done the studies that compare steering wheels to toilet seats. If you're squeamish (and thinking about 240 germs a square centimeter puts you off), then trust us.

If you take care of your car, it's far less likely to get you sick.

Sanitizing may take 30 minutes at the most, and we want to make it simple. While there's no guarantee you'll overcome flu season entirely just by cleaning your car, wiping away 99.9% of the germs in your car can definitely minimize your risks.

First, we'll show you what tools and products you can use.

Then, where to use it.

What to Use for Sanitizing Your Car
• Isopropyl alcohol
• gloves
• a foam paint brush
• cotton swabs
• microfiber cloths (3)
• nail wipes
For the official list of what will remove COVID-19 from surfaces, check the EPA's up-to-date list here. Make sure you compare any product you plan to use with their guidelines.

A solution of water and at least 60% isopropyl alcohol is the safest on your car interior. You may have nail wipes, household cleaning wipes or another alcohol-based wipe available for just this use.

Ammonia-based products can ruin the surfaces in your car. Leave any blue- or green-colored sprays under the bathroom sink. These cleaners can undo the protective coatings on your dash and steering wheel and the anti-glare coatings on your touchscreens. So can hydrogen peroxide, a common household abrasive.

Apply your cleaner with a lint-free cloth or microfiber towel. No paper-based products such as paper towels or tissues since those can leave tiny scratches and lint.
For hard-to-reach places where germs like to hide, your smaller tools will come in handy:
• cotton swabs
• a foam paint brush

Before you begin, wash your hands and put on gloves.

Car Sanitizing Checklist
Clean these often-touched, never-remembered spots inside and around your car.
1. Your key fob or remote
2. Door handles and access panels
3. Seatbelt buckles and fasteners
4. Steering wheel (and all its control levers)
5. Gearshift and parking brake
6. Console controls and center touch screens
7. Door edges
Is Your Now-Clean Car Ready for the Road?
If your car has been parked long enough, its battery may be running low.
Check out why and what to do about it.