Back To Blog Home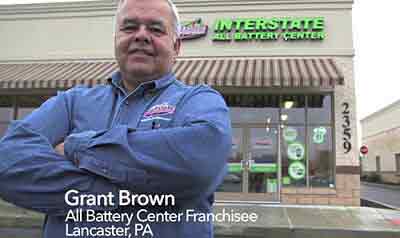 Horse-drawn Buggy, Battery-Powered Lights
What do the Amish need with batteries? One business owner's drive to think local led to a partnership he wouldn't have imagined in his wildest dreams.
When you see LED lights on an Amish buggy near Lancaster, Pa., you may be watching the result of the Lancaster Chamber of Commerce's Think Local pledge.
Since business owner Grant Brown lit his Interstate All Battery Center® sign, he's worked hard to think local. Almost all of his store supplies come from local vendors: his computers, his paper products – and with a little creative thinking, even his customers.
After a local fire company auction in 2012, Grant stopped at an Amish business that converts lights in buggies to longer-lasting LEDs. Could Grant provide an efficient power solution that improved his Amish neighbor's business?
On their first conversation, he was able to sell a few solutions right out of his truck. Since then, Grant has developed one of his best customers in the local community. Together, they're still testing more ways to improve the LED conversions, even looking at lithium-ion batteries to keep the weight down and meeting the power needs longer.
Think Local Pledge
Grant's become a big believer in the Think Local pledge.
"At the end of the day, [the Think Local pledge] tells people, 'Before you go out and buy something online, can you pick up the phone and call the guy next door?'"
Grant's advice to other chamber members – or just any business – is to think local. Since the initiative started in the summer of 2011, Grant's grown his business with a local mindset, from finding local vendors to local customers. It can be a challenge, but "you need to think of that as part of your business culture," Grant said.
Meeting needs in the community
Thinking locally also means looking around the community for what needs your unique business can meet.
For Grant, that has meant providing free battery recycling to the local hospitals, supporting the Manheim Township Educational Foundation through advertising through the local high school, and even rebuilding power tool batteries for the numerous cottage industries among the Amish population.
Thanks to mostly word-of-mouth advertising, Interstate All Battery Center in Lancaster rebuilds power tools for many local businesses. Rebuilding the batteries also saves waste in the community and lowers costs for his customers, whether they pull up in an American-made car or an American Saddle pony.
After getting involved with his chamber of commerce, Grant found opportunities to deliver portable power solutions where you least expect.