Back To Blog Home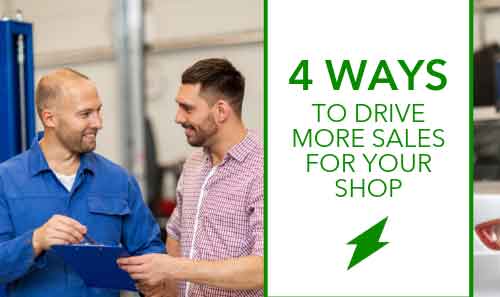 4 Ways to Drive More Sales for Your Shop
There are a lot of factors that determine whether a customer will become loyal to your shop. With so much competition for automotive repair business, can you say you are doing enough to build loyalty with those who visit your shop?
Laura Wood, Interstate Batteries Consumer Insights Manager, helped attendees answer this question during her presentation at the Auto Care Association's 2019 Young Auto Care Network Group (YANG) Leadership Conference. Her rapid-fire talk, "Slow Down to Speed Up," provided YANG attendees with four tips on how to best engage their customers and ultimately drive more sales, as supported by the results of Interstate Batteries' 2018 Multi-Point Inspection Survey of more than 1,000 individuals:
1. Communicate in Person and on Paper
While we live in a digital world, customers still prefer paper reports. Nearly 54% of customers surveyed said a paper report is their preferred form of communication, and only 34% of customers said they want a verbal discussion. And, while you may think being a mobile-first society means email and text would be high on that list, only 10% said that's how they would want to receive communication. So, make sure you give your customer the information they need in the form they like.
Pro tip: Provide a written report when giving a customer feedback and an in-person explanation. That way, they hear your reasoning and have a written report to refer to later on.
2. They Need to See It to Believe It
They say a picture is worth a thousand words, but to you, it can mean so much more. Don't leave money on the table by failing to show your customers what they need – literally. Eight out of 10 customers say being shown a photo or physical part makes them more likely to do a repair when presented the option. By making the problem real and tangible to your customer, you are more likely to capture a sale, making that picture worth actual money in your pocket.
3. Don't Get Technical
Think about the last time you visited a doctor or an accountant. You ask a question, and they start speaking in what sounds like a foreign language. You try to follow along, and you may even feel intimidated to ask a question. The same is true for your customers; you are the industry expert, and they look to you for a recommendation. According to our survey of more than 1,000 customers, 44% are more likely to use your service if you make it simple for them. For example, instead of telling a customer that their car battery is functioning at less than 50%, explain that their battery has about two weeks left. Using terminology they can understand will help both you and the customer.
4. Go the Extra Mile
Going the extra mile for you customers can be the difference between building loyalty and being a one-time stop. Simply delivering on the customer's expectations isn't enough anymore if you want them to return for a second, third or eighth service. Now, you must go the extra mile. Be thorough in your communication, in your work and in your follow up.
Give those that work for you enough time to offer excellent customer service. Encourage them to take the time to give a multi-point inspection, to thoroughly explain the results of a repair that needs to be made or even to make light conversation with the customer. The world is moving at a fast pace but slowing down and putting in that extra effort will help you make huge strides toward building trust and gaining a lifetime customer.
If you're looking for a couple extra ways to take you shop to the top, these tips can help power up your business and make your shop a positive and pleasant experience for all.