Back To Blog Home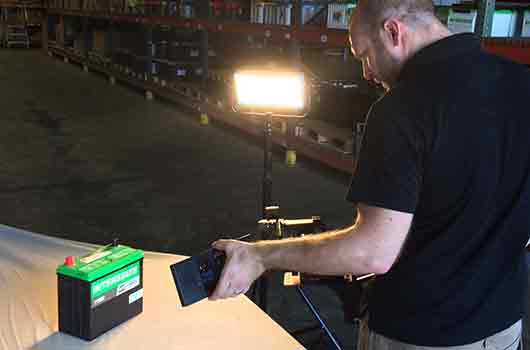 Interstate works with BCI for Training Video
Lithium batteries are becoming more prevalent in the battery industry today. However, lithium batteries cannot be recycled like lead batteries. If lithium batteries make their way into the lead battery recycling stream unnoticed or slip by at the recycling plant, they can cause an explosion or fire,damage battery breaking equipment or injure employees.
In an effort to educate battery handlers at scrap yards and other recycling facilities about this danger, Battery Council International's (BCI) Lithium Battery Awareness committee is creating a training video for battery handlers to learn the differences between the batteries they receive. The committee is made up of representatives from across the industry such as lead battery manufacturers, retailers and secondary lead recyclers.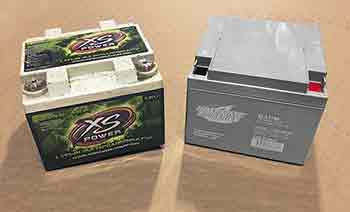 On Aug. 28 Interstate All Battery Center of Indianapolis became the shooting set for a portion of this video. Each day, the All Battery Center receives a variety of different types of batteries from their customers including lithium, Ni-MH, Ni-Cd, lead acid and other rechargeable batteries that are sent off for recycling or proper disposal.
All Battery employees were used in the video to demonstrate proper handling of the different types of batteries. One particular comparison showed a lithium motorcycle battery almost identical in size to Interstate's SLA 1146 battery commonly used in alarm panels. Besides the different types of terminals atop both batteries, the lithium battery is about 1/3rd of the weight of the comparable-sized Interstate battery. Employees at Indy's All Battery Center inspect every battery that comes to their shop, so they are well versed in the different types of batteries and how they should be handled.
Besides shooting footage comparing the different types of batteries for educational purposes, the film crew from SmithBucklin Associates Creative Design Department shot additional B-Roll footage highlighting images of Interstate Batteries. These images will be used in this BCI video and possibly future BCI videos. Once the training video is produced, it will be available on the BCI website as well as on Interstate's IBR webpage so battery handlers across the industry can be educated on proper battery handling procedures.
Featured: Remy Vaudelle of SmithBucklin Associates Creative Design Department tests lighting needed to shoot video of an Interstate lead battery that will be used to help educate battery handlers about the differences between lead batteries ad lithium batteries.