Back To Blog Home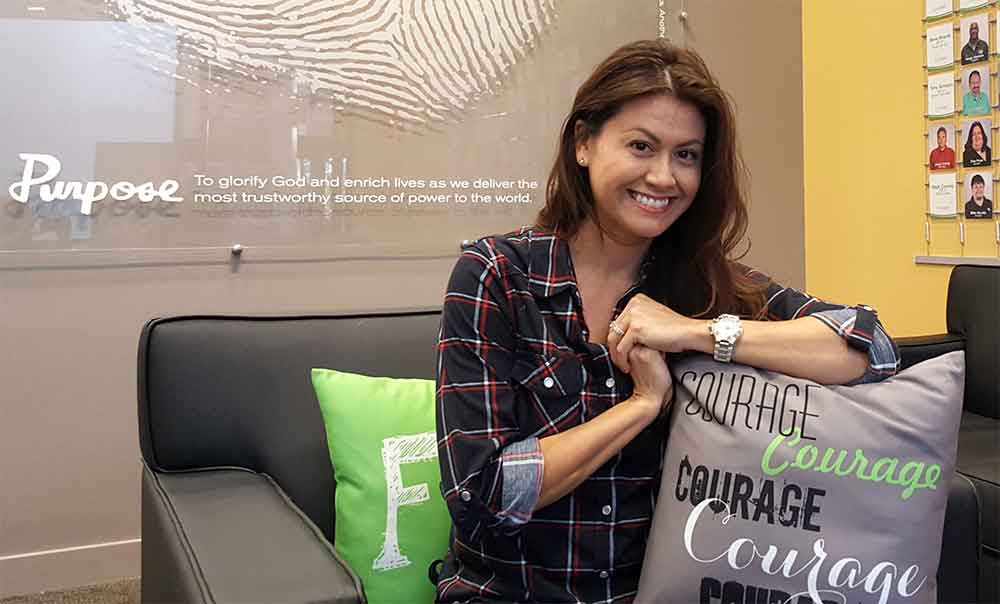 Giving Thanks and Gratitude Can Change Your Company — and the World
Giving thanks is more than a mere holiday routine for families to muscle through at Thanksgiving dinner.
Gratitude is actually a discipline. One that could change everything.
Interstate's seven values inspire our team, and our team members inspire and encourage each other by naming one of their own.
This holiday season, a few team members with the eighth value of Gratitude shared what they're thankful for. They also explained why everyone would benefit from a daily helping of thanksgiving – and how to get it.
"It's the one thing you can control. Gratitude is reminding yourself of what's great in your life," said Jess Gauhs, an instructional designer for Interstate.
"Gratitude gives you a sense of perspective," said Kristy Tinsley, Interstate's Director of Talent Management, "When you experience bumps along way, and that happens everywhere on any given day, being grateful makes those easier to go through."
These team members steep themselves in gratitude every day of the year. What they've learned could transform your perspective, your company's culture, and if it catches on, the world.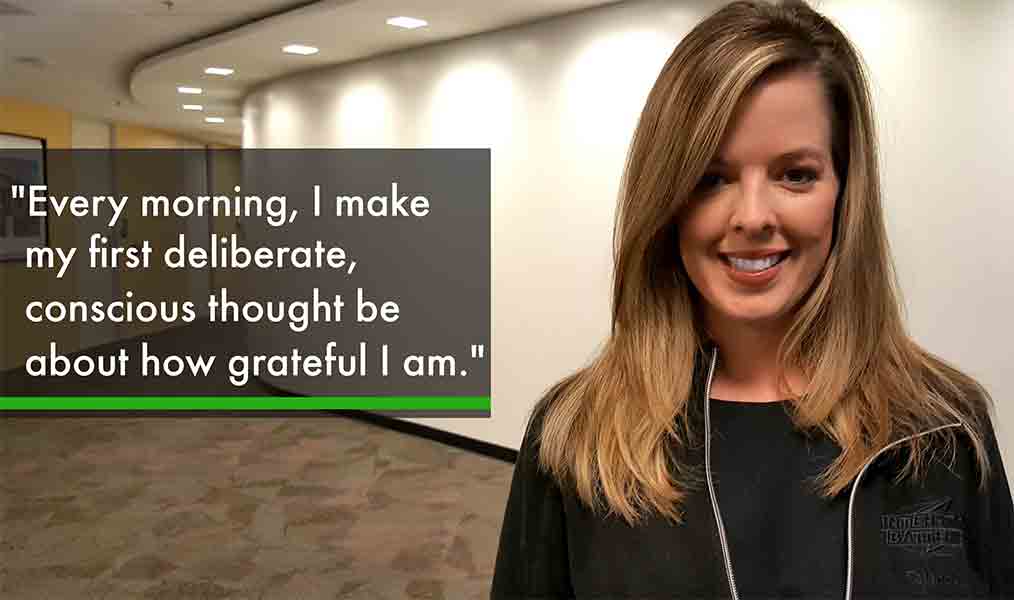 Gratitude's a Muscle. Flex It.
We've all felt grateful on occasion. Interestingly, that's not what Jess, Kristy and other gratitude-focused team members described.
Instead, they painted a picture of gratitude as an inner discipline as rigorous as martial arts or marathon running.
Instead of developing abdominals and reflexes, gratitude boosts the mind's resilience and sharpened its ability to spot opportunities. Jess said she sees a palpable difference in her day when she's not taken time to remember what's good around her. Doing so dials volume down on distractions, worry and doubt. In turn, Jess's outlook primes her to spot opportunities to act, to make a real difference. Whatever's uncontrollable in your world, gratitude trains you to build a better one.
How you flex your gratitude? It's memory plus discipline, based on our unofficial thanksgiving experts. And at the center, choice.
"Every morning, as soon as I walk through those doors, I make my first deliberate, conscious thought be about how grateful I am to work with good people, to work at a place that's people-first," Kristy said.
Making that choice every day takes discipline.
We're grateful for all of our team members.
Interested in becoming one of them? Browse our listings for job openings in the U.S. and Canada. Working at Interstate could be a good fit for you.
"It's something I constantly work towards," said Misti Orr, administrative professional for the Chaplain's Group, who also picked gratitude as an eighth value. "Part of it is taking the time to be aware of how much you've received, the joys and blessings on a daily basis you enjoy."
Choosing to acknowledge the good things builds a gratitude habit in your mind. Even a few moments acknowledging everyday gifts like sunshine or a comfortable shirt, lends to better stress management, a tendency to help others and reduces depression.
That's potentially world-changing. The National Institute of Mental Health estimated in 2015 that 16.1 million U.S. adults have had at least one major depressive episode – and that's only those diagnosed.
How might we change the world if the average workplace instilled the very mental habit that defends against such a widespread issue?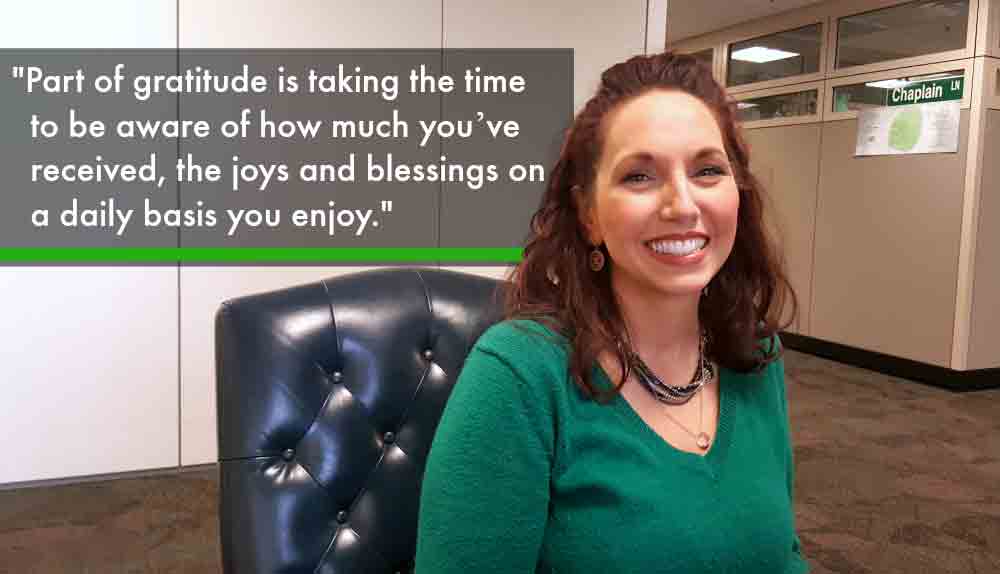 What are you thankful for this year?
"Wow, so many things," Misti said. "I'm always beyond thankful I live in the U.S. and have so many freedoms. And for my family – both my Interstate family and my relatives."
For Kristy, every day in her office reminds her of gratitude. True or not, many job seekers feel like they don't get to choose the company that hires them. Before she joined Interstate, Kristy had a few different offers, plus the opportunity to choose. Interviewing at Interstate Batteries, she said, was the first experience she had of wanting to join a specific company.
"I'm grateful for the opportunity to work at a place with a God-centered purpose. That purpose was not lost on me, nor is it common in the marketplace," she said. "In my role, I occasionally get to talk to people who feel as if they're at a crossroads, and I try to remind them what a unique place this is."
Jess knows exactly how unique Interstate can be. Alongside designing the online courses team members can take at Interstate Batteries University, Jess sets our new team members off to a right start. She leads new team members through a tour of Interstate's history, culture, benefits and more.
"What am I not grateful for?" she said with a laugh. "Everything in my life, everyone in my life – it's too many to pick just one."
That's when you know you're great at gratitude.
How can your company inspire an atmosphere of gratitude?
1. Make thank-yous official, optional and easy to give
Set clear, obvious ways for your colleagues to appreciate each other. Make it a mini-award that anyone can give at any time. Then lead by using it.
At Interstate Batteries, we give each other green stars. It's a note with a specific, earnest thank-you, signed and delivered either in person or in team meetings. Team members enter more than 50 green stars a quarter into our intranet – and randomly drawn green stars yield prizes for the receiver and the giver.
Imagine what this might look like in your company. A stack of "You're Awesome" cards. A new practice of handwritten notes. Announcements with gold star stickers.
That may seem cheap. Then again, if you receive it from a team member looking for a meaningful way to say thank you for a report you cranked out at 5 p.m. on Friday, maybe not.
What counts is practicing the art of thanks.
2. Create time and space to volunteer
Invest a few hours away from productive office time – and you'll reap the benefits of a perspective-widening experience for your team.
Serving in soup kitchens and fundraising for nonprofits for those less fortunate reminds you of how fortunate you are. It's a natural reminder of how much you have to be grateful for. And in that light, complaints about emails or the office coffee sound hollow.
Now, that's not why Interstate Batteries devotes a month to volunteering in its community and creating donation opportunities at team-building events. But it's nice side benefit.
Doing good in your community does good for your team.
3. Encourage gratitude and make it a leadership skill
As you develop your team into tomorrow's leaders, coach them in the discipline of gratitude.
Maybe your up-and-coming manager is a novice in emotional intelligence. Offer a few articles about gratitude, and talk about your experiences with the discipline. Maybe you're the neutral party in a conflict. One of the first steps to gaining credibility on both sides is expressing gratitude consistently, evenly and purposely. And if you're talking a team member through an ambiguous situation, ground the conversation in gratitude. That's one way Kristy wields the power of gratitude.
"I'd love for gratitude to catch on," Kristy said. "If I could influence one person and remind them to be grateful, then job well done."
Want to work toward a higher, greater good? Let's do something powerful.
We take pride in developing a culture where our team members strive to enrich the lives of every person, every small business, every community that connects to our batteries. If that sounds like a fit for you, we'd be grateful if you checked out our latest job openings.