Back To Blog Home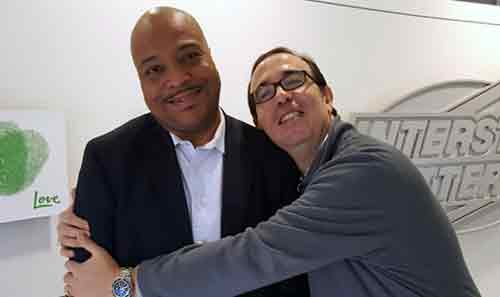 Love as a Company Value and Showing Co-workers You Care
Of all the holidays, Valentine's Day — the red hearts, chocolate, romantic love — seems like an odd one to celebrate with co-workers.
But what if it's the holiday your workplace needs?
You spend more than half of your waking life away from your loved ones.
Yet, the bonds at work grow and deepen, too. Energize those connections with your company values, and you have a powerful recipe for workplace culture. At Interstate Batteries, we have a series of values we work by. A few are probably familiar: Excellence, Integrity, Courage.
Then there's Love.
Interstate's the first company I worked for that committed to love as a way to do business day in, day out. When love is in your company culture, you discover all of love's broader definitions. Brotherly love. Empathy. Charity. Treating others like you'd want to be treated.
As social creatures, beings who live by being with others, you and I and all of our co-workers need meaningful connections in our lives. The biggest wedge in that pie chart is our work life. Most working adults – including you – spend more hours in the workplace than at any other place in your life, according to the American Time Use Survey from the Bureau of Labor Statistics. And love is one of the keystones to retaining talented team members and making your teams more productive.
That's the gist of a quirky finding in a Gallup 1999 workplace study. One of the 12 key dimensions of a great workgroup is that team members can say "I have a best friend at work." That's essentially what C.S. Lewis called philia love, the friend bond, in The Four Loves.
Besides romantic love, Lewis defined three other loves: friendship, empathy, and charity. Each one enriches your work life. Each keeps talented people close and attracts new rock stars.
Love a chance to work at a place like this? Let's talk.
We have new listings every day across the US and Canada, and our recruiters are looking for three things: character, chemistry and competency, and in that order. Browse our page and learn more about working at Interstate Batteries.
We may know this on an instinctive level. Yet we rarely act on it.
This Valentine's Day, let's practice.
Here are four ways you can add a culture of love to your workplace.
1. Love with recognition.
If you see a job well done, call it out. It's easy to find the one mistake in a thousand right moves. Yet it's rare to see recognition for someone who's made a thousand right moves and one mistake. So, write a kind note to someone — and hit Reply All. At Interstate Batteries, we have a formal recognition called "Green Stars" where we compliment co-workers on a job well done. Could your workplace use more structure to make recognition part of the work day?
2. Love with appreciation.
A handwritten note, a phone call, even a brief email — just compliment someone. You can absolutely change someone's work day with positive words. And wouldn't you want one of your most difficult days brightened with good, sincere thoughts of gratitude from a colleague?
Want to go the extra mile? Compliment someone who doesn't always stand out. Apply your strategic thinking to jotting down a sincere compliment to someone who doesn't receive many.
3. Love with sincerity.
Can you love someone enough to be hard with them?
It's easier to love someone just enough to not have to upset them, to press them, to show them how they can become better. When you're kindly giving feedback, you're using your special access to a person to deliver a message that normally they couldn't hear. That's a trusted position we haven't all earned. If you have, then showing love like this may help someone grow.
4. Love with kindness.
Simply holding this mental posture can foster a work environment that makes other people glad to work beside you.
So, hold the door. Carry the copies that have piled up on the printer – and with a smile. Thank someone for organizing a meeting. Offer to carry something. In short, treat them the way you'd like to be treated.
Lastly, One Big Idea
Now, I'm going to break a rule and end this post by introducing a new idea, one that I hope to see discussed on LinkedIn or Twitter.
Could love equip professionals to be better than they are?
Could love be the trick to unlocking our emotional IQs, to make us sharper strategists, smarter marketers and better analysts?
All while making us better people?
We'd Love to Connect With You
Interstate Batteries opens new roles across the US and Canada, perfect for a variety of skills and experience, even yours. Now, let's see if our culture fits the kind of workplace you're looking for.