When Good Bikes Go Bad
Why motorcycle batteries fail
Motorcycle battery failure:

The more you know, the farther you'll go.
The weather warms up and you head out to the garage for a bike ride. The battery is dead.
You're not surprised; you have to buy a new one every year - right? Wrong! Here are common reasons motorcycle batteries fail and what you can do about them.

Your Voltage is Irregular.
Faulty regulators or alternators can suck the life from your battery. Check all of the connections and resistance from the regulator to the alternator per your manual.
You're Not Grounded.
A bad ground connection between the frame and your battery can interfere with the charge. Check and clean connections.

It's the Circuit Suck.
Often with accessories like alarms or a GPS, a leaky circuit can slowly suck your battery dry. Use a volt ohmmeter to check for leaks of an amp or more, then seek out the source of the leak.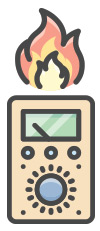 Heat and Bad Vibrations.
Some motorcycle batteries just can't stand up to high temps and a lot of vibration. Our motorcycle batteries optimize your bike's performance under the toughest of conditions.

Self-discharge.
Motorcycle batteries self-discharge 1% every day even when they're not in use. Use a trickle charger or battery tender to keep your battery charged and ready to go.
Buy a Great Battery.
Hit the road confidently with a long-lasting motorcycle battery from Interstate. With versatile options ranging from conventional to factory-activated AGM technology, you'll go farther.